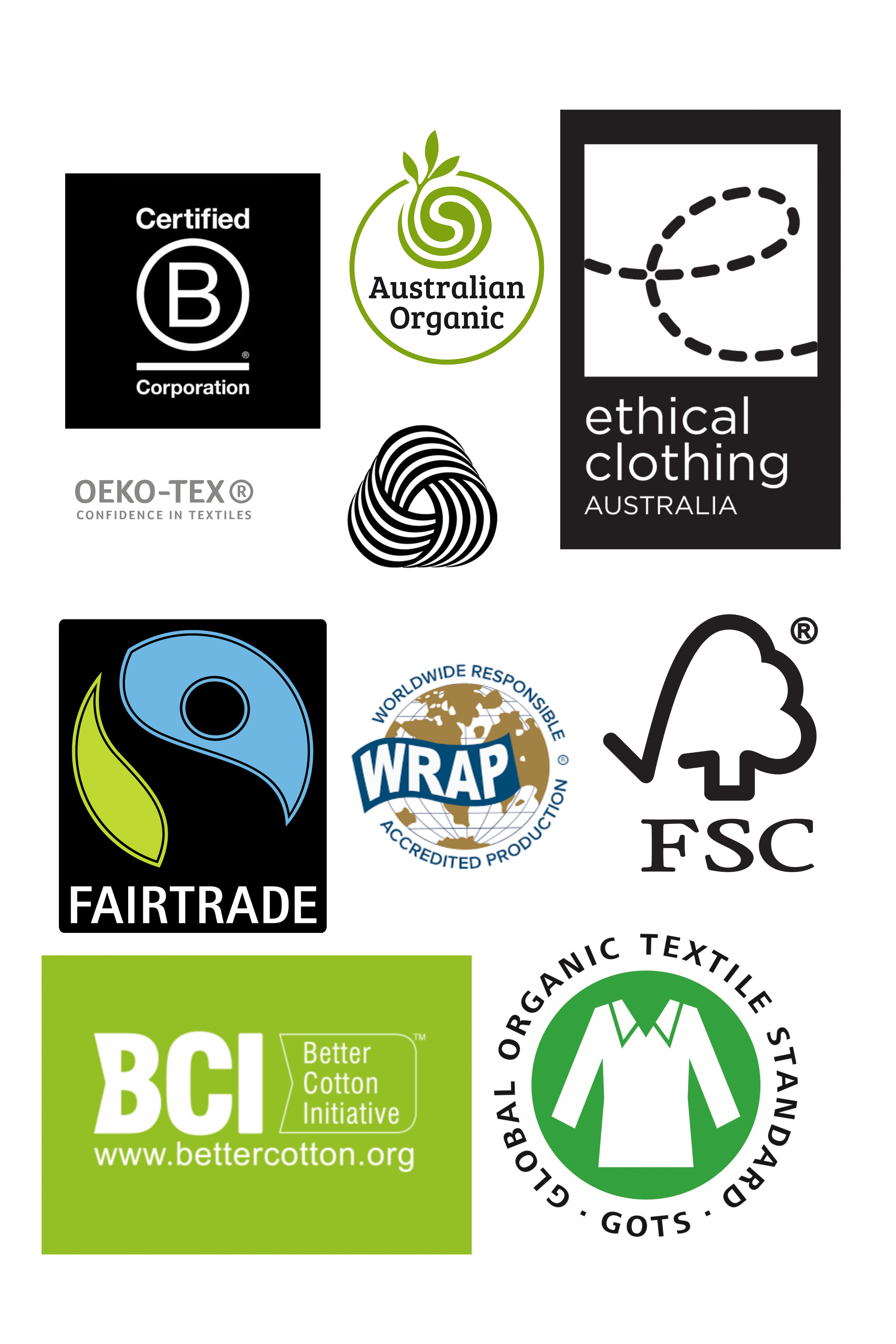 These days it's hard to know which brands can back up their grand claims of sustainability and ethics, and which ones are telling fibs through the evil powers of greenwashing. One quick and easy way to find out if a brand is walking the walk is by searching for their ethical fashion certifications.
It's important to know what these particular certifications mean so you have the ability to make your own decisions confidently without fear of being greenwashed. That's why we've put together a list of 10 ethical fashion certifications that you'll often find slapped onto swing tags of ethical fashion products in the form of a logo. Keep calm and read on 'cause these definitions will definitely come in handy the next time you want to make an ethical purchase.
An organic product is produced without the use of any harmful chemicals. If a product is Australian Certified Organic (ACO), that particular product has met and complied with Australian production standards and every ingredient in that product is completely traceable.
The Better Cotton Initiative (BCI) works towards making cotton a sustainable mainstream commodity, and improving the environmental and social impacts brought about by cotton production. If a product includes the BCI label, the process of the cotton used in that item has been mindfully grown and exported.
If a business is labelled as a Certified B Corporation it means that it has been recognised as a corporation that is playing its part in driving positive change towards a more sustainable economy. Certified B Corps balance profit and purpose, are completely transparent, and meet the highest standards of social and environmental performance.
Fairtrade advocates for the protection of the rights of farming and worker communities all around the world. If a product carries the Fairtrade Mark they are supporting the rights and the livelihood of these workers; workers who, with the material or item they are producing, are meeting social, economic, and environmental standards agreed upon internationally.
The Forest Stewardship Council is an organisation that works with a global environmental, social, and economic network to set standards for what defines a responsibly managed forest. Products certified by the FSC have proven their processes are appropriate through every aspect of the supply chain.
The Global Organic Textile Standard (GOTS) is exactly as it sounds; it sets the standard for textiles made from organic fibres. GOTS certified products adhere to strict environmental and social criteria, and must contain a minimum of 70% organic fibres.

The STANDARD 100 by OEKO-TEX is a third-party textile certification that tests at all levels of processing against a strict criteria. Finished or raw yarns, woven and knitted fabrics, accessories including buttons and zips, and garments of all types are examples of the materials that can be tested and Standard 100 Certified.
The Woolmark Certified logo is applied to products that have been tested and approved as 100% pure new wool. This means that every product adorned with the Woolmark logo has gone through a five-step process to earn the endorsement.
Ethical Clothing Australia (ECA) is an accreditation body that works collaboratively with local textile, clothing and footwear (TCF) businesses to protect and uphold the rights of Australian garment workers. An ECA accredited business has had its manufacturing operations audited from design to dispatch to ensure that workers are being paid appropriately, receiving all their legal entitlements and working in safe conditions.
Worldwide Responsible Accredited Production (WRAP) is the largest independent facility certification program in the world focused on apparel, footwear, and sewn products. They're in the business of certifying factories, not brands, so you might not see this certification on swing tags, but rather a supplier's website. WRAP certifies each factory based on its compliance with their 12 core principles. These principles are based on generally accepted international workplace standard local laws and workplace regulations.
So, there you have it—10 ethical fashion certifications to help you fight the evils of greenwashing and shop confidently.
A quick disclaimer:
Because they are often small and self-funded, a lot of ethical brands can't afford to pay for certifications despite their best efforts . Therefore, not every ethical brand will have a certification. However, it is an easy way to discern whether a brands—particularly a big company—can back up their claims of being ethical.