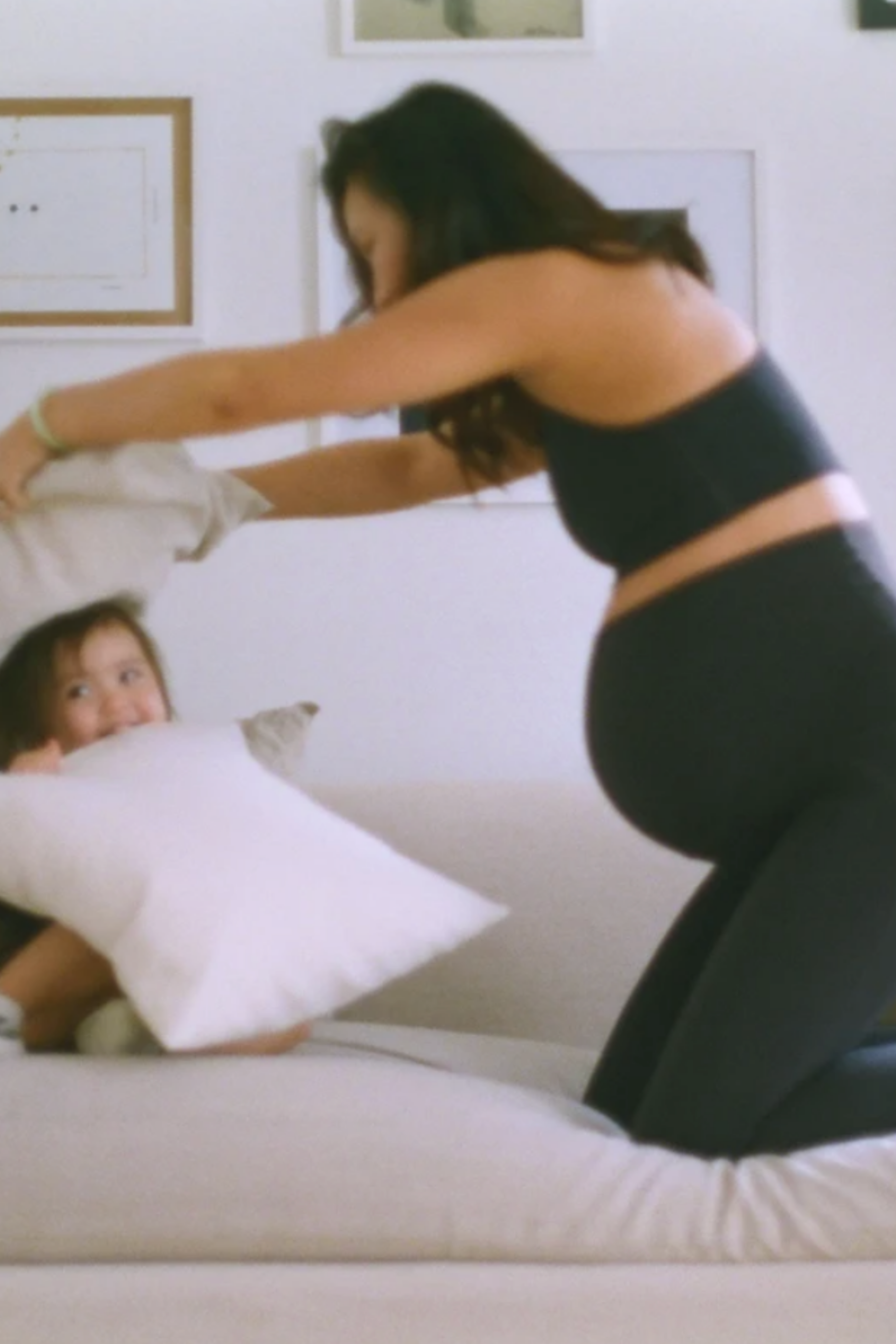 Image by Girlfriend Collective
We've all grown up being told to recycle our household waste. We have recycling bins, we avoid products that can't be recycled, and some of us are just plain old recycling perfectionists—and goddam are we here for it?! Unfortunately this mindset generally stops at rubbish, and rarely applies to clothing. So-much-so that less than one percent of the materials used to produce clothing is recycled into new clothing. But we're here to make that a thing of the past. This is your definitive guide to recycling your old clothes so the items you buy don't have to fall into that disappointing statistic.
Before you recycle
We must make it clear that the most important thing you can do is shop less and shop better. Secondly, you should only be recycling your old clothes, not ones you're simply sick of.
Our rules are:
Wear what you already own
Buy high quality, ethical and sustainable clothes if you have to shop
Wear them for a long time
If you're over them (and you shouldn't be if you've shopped well), consider selling, donating*, or swapping them
Recycle them once they're beyond repair
You can learn more about this topic in our blog post, Toxic disposability: The fashion issue no one talks about.
A disclaimer about op-shopping
Is op-shopping as good as we think? Unfortunately, only about 5% of donated goods actually make it to the shop floor; the rest are sent to landfill (at a huge cost to the charity), or shipped overseas to third world countries. We're not saying you should stop donating to op-shops—some are making sure nothing ends up in landfill—but please consider the quality of your clothes before sending them to a charity shop and making them someone else's problem. Or, as mentioned, only buy and wear high quality clothes you love so you don't want to give them away!
So, what do you do with your favourite jeans after wearing them for 10 years and they're tattered, paint splattered and ripped beyond repair?
Consider composting
1 Million Women has a comprehensive step-by-step guide to help you compost your clothes. Here are a few takeaways from that post:
Textiles that are made from natural materials can be returned to the earth to create resources, including cotton, silk, wool, cashmere, hemp, bamboo, linen
Non-biodegradable fabrics, basically anything that is manufactured and synthetic, can't be composted
For eco fashion brands to label themselves 'compostable' 60-90% of the product must break down into C02 within 180 days in commercial composting facility.
Send it back to where it came from
Some brands have their own recycling programs, so when you buy from them you can return the garments at the end of their lifecycle and the brand will take care of it. Some of these brands include:
Obviously we don't support fast fashion brands and would only recommend purchasing from a handful of the brands above that deserve your support. But if you do happen to have any clothes in your wardrobe from any of these brands that need to be recycled, it's great to know programs exist.
Call in the experts
On the other hand, there are brands and businesses that solely exist to solve the waste crisis. These might be not-for-profits that provide recycled running shoes to those in need around the world, or the world's first Circular Subscription Club. These include:
UPPAREL
UPPAREL's (previously Man Rags) mission is to reduce the number of textiles that end up in landfill, due to massive garment overproduction and non-existent recycling initiatives. They do this by offering you the chance to return your unwanted textiles, including clothing and shoes. This saves your items from landfill and allows UPPAREL to reuse or recycle them.
SCRG
SCRgroup is Australia's largest and most innovative company for the recovery of Australia's unwanted clothing. Each year, they divert over 18 million kilograms of clothing from landfill and instead find new homes for them, giving them a second life in local and global communities where they are needed most.
Business recycling
Australia's most comprehensive online database that helps small to medium businesses find recycling collection and support services for the workplace.
Australian Clothing Recyclers
According to Australian Clothing Recyclers they are the most efficient cost effective textile recycling company, furnishing second hand clothing and usable accessories to assist the third world countries and our community. They collect all wearable clothing items, shoes, manchester, accessories and handbags.
Recycle Smart
Addresses the waste issue with tech solutions that increase recycling rates and reduce the amount of recyclable materials ending up in landfill. They help people recycle materials such as soft plastics, wearable clothing, e-waste and problem waste. They also have an app that provides you with information on how to recycle over 180 items in over 550 Councils in Australia, and they've removed more than 30,000 kilograms of waste from landfill to date.
King Cotton
Is a professional resource recovery company that coordinates the recycling and reuse of clothing and household textiles in Australia. Their tailored made programs focus on the collection process of clothing and household textile materials through clothing bins.
Love Not Landfill
Based in the UK, Love Not Landfill is a non-profit encouraging fast fashion fanatics to buy second-hand, swap, recycle, or give to charity through pop-up shops and events with fashion influencers, and they put clothes banks around London in an effort to remind consumers to recycle.
Shoes for The Planet
An Australian based non-for-profit organisation started in 2009 by people who love to run and want to give something back. They work with local and international communities to provide recycled running shoes to those in need around the world.
ASGA SOS Initiative
The ASGA and Save Our Soles, and a number of major sporting brands have come together to create the Save Our Soles Footwear Recycling Initiative Victorian pilot program to move the needle towards supply-chain sustainability. Their goal is to divert worn-out sports shoes (destined for the dump) and convert these once useless waste items into a range useful recycled products.
Thread Together
Their mission is to deliver new, good quality clothing and shoes to people in our community who are doing it tough. They want to restore dignity and hope for men, women and children going through a difficult time by providing the opportunity to choose a complete wardrobe of new clothes.
---
Where does it all go?
If all of these programs exist but that big ol' stat you read at the start of this article—Less than one percent of the materials used to produce clothing is recycled into new clothing for those playing at home—is also true, where are the textiles going?
According the an extensive report by The Ellen Macarthur Foundation called A New Textiles Economy most of it, "cascades to other industries and use in lower-value applications, for example, insulation material, wiping cloths, and mattress stuffing", and even though countries like Germany have high collection rates for reuse and recycling, most of it is exported to countries with no collection infrastructure of their own. These valuable efforts increase clothing utilisation, though ultimately most of these clothes end up in landfill or are cascaded to lower-value applications.
The Sydney Morning Herald also reported that textile recycling is possible but the technology and the costs associated are not viable. One of the reasons is that recycling shortens fibres in materials like cotton making the yarn weak.
The answer is circular
The Ellen Macarthur Foundation may have raised some grim points but they've also put forward a way to fix the recycling issue in the future; the circular economy. They describe the Circular Economy as:
"A circular economy aims to redefine growth, focusing on positive society-wide benefits. It entails gradually decoupling economic activity from the consumption of finite resources, and designing waste out of the system."
In their New Textiles Economy report, the Ellen Macarthur Foundation proposes the following steps to reduce the waste problem:
Phase out substances of concern and microfibre release
Increase clothing utilisation
Radically improve recycling
Make effective use of resources and move to renewable inputs
In Australia, The Australasian Circular Textile Association (ACTA) is another organisation addressing the need for a circular economy. The ACTA exists to: "Promote inclusive, collaborative and strategic projects across the broader textiles sector. Our approach is informed by the principles of the circular economy, focusing on preserving value in materials by directing them to the highest order of recovery, reuse or recycling."
Their strategy A Common Thread outlines the goals they hope to achieve by 2030, which include:
Reversing the growth in textile consumption
A ninety-five percent (95%) recovery and reprocessing rate of all textiles in Australia
Creating a National Textile Stewardship Scheme
---
You can play your part in supporting the circular economy. All you have to do is scroll to the top of the article and read the section called Before You Recycle. See? We told you it was important!