All that glitters isn't gold: The ugly truth behind mica mining
Have you ever wondered what ingredient is added to your highlighter to give your cheekbones a glow even James Charles would be envious of? There's a good chance it's a natural mineral called mica and it harbours an ugly secret that will make you take a good hard look at the contents of your makeup bag and question the point of shimmer in every product you own. What's the truth behind mica mining, you ask? Let's take a look.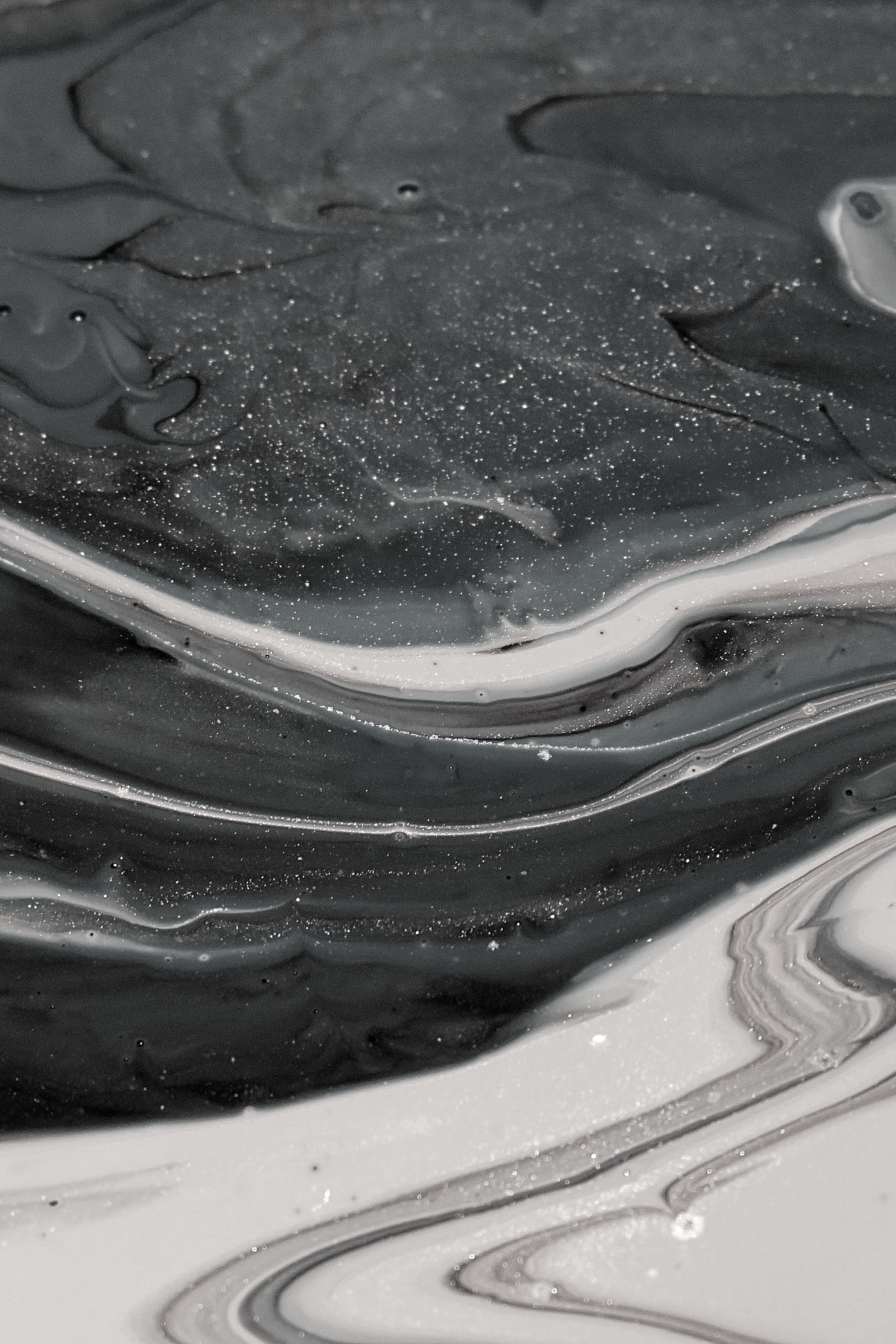 Have you ever wondered what ingredient is added to your highlighter to give your cheekbones a glow even James Charles would be envious of? There's a good chance it's a natural mineral called mica and it harbours an ugly secret that will make you take a good hard look at the contents of your makeup bag and question the point of shimmer in every product you own. What's the truth behind mica mining, you ask? Let's take a look.
What is mica?
A mineral mined from rock, mica is added to various products from eye shadow and BB cream to automotive paint and even toothpaste to create shimmering effects. It's also essential in the electronics industry for its strength and flexibility. Yep, there's even mica in the smartphone or computer you're reading this from right now.
We can give mica some brownie points for the fact that it's a natural mineral rather than a man made product—like plastic that will never break down—but it's not the sustainable aspect of the product that's problematic.
Mica's supply chain relies on child labour, dangerous conditions, black markets and illegal practices. Not so sustainable anymore, huh? It's a well-known and documented fact that the demand for this dangerous product is still high, but why do we turn a blind eye to such an ugly situation for a subtle lustre on our faces?
The children caught up in mica mining
In 2014 Fairfax Media ran a story about the child labour that's rife in India's mica mines. Journalists followed a 12 year-old boy called Salim as he carried out his days as a mica miner in Jharkhand, a state in easter India. Salim collected around 10 kilograms of mica each day, which earned him 50 rupees or just under one Australian dollar in 2020. On the international market that very same mica could be sold for up to $1000 per kilogram (at the time of Fairfax's reporting).
Some companies, including Lush, made efforts to remove mined mica from their supply chain in the years that followed these revelations. But in 2016, Reuters investigated the same mines over a three month period and found child labour was still widespread in the area.
In May 2019, Refinery29 told an all too familiar story about an 11 year-old girl called Pooja. Here's an expert from their investigation:
"Pooja and her friends — some as young as five years old — will spend the rest of the day shimmying into small, man-made tunnels in embankments all around the area. Armed with ice picks, hammers, and baskets, they carefully chip into the sides and backs of the small pits to loosen rock and dirt before carefully hauling it out of the mine."
Although Pooja's story was told almost a decade after Salim's and the industry's exploitation had since been exposed, both children were working in eerily similar conditions in the area of Jharkhand.
Then in January 2020, the international children's rights charitable humanitarian organisation, Terre Des Hommes, released a report that uncovered "at least half of the mica from Madagascar is mined by minors between the ages of 5 and 17"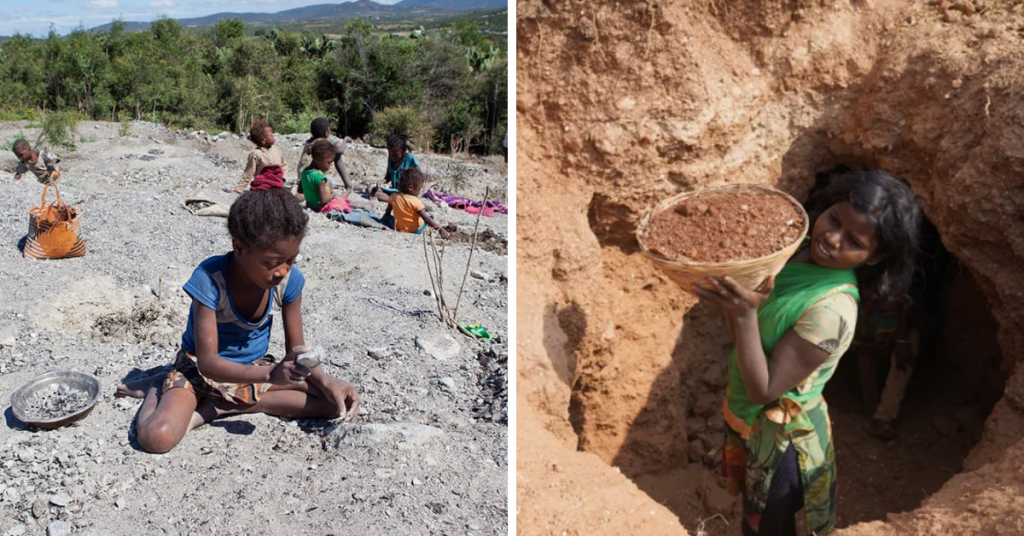 It's gets worse
This illegal operation forces children out of school and into high risk conditions that, in some cases, have led to death. The mineral can cause respiratory problems for those who breathe it in and the mine shafts are known to collapse, leaving children scarred, injured, paralysed or killed. The deaths go undocumented and families are given absurdly inadequate pay outs to keep the passing of their children under wraps.
Why is this still happening?
The families who work in the mica mines simply have no choice but to continue risking their lives because it's the only viable employment available to them. Many of the individuals interviewed in the investigations said they need to work in the mica mines to put food on the table. In many cases it was an entire family that went to work in the mines everyday.
Furthermore, the demand for mica and natural products from countries China, Japan, the United States, the Netherlands and France are high.
Many of the issues associated with mining are swept under the rug by officials, and the local governments claim they don't have the facilities to conduct investigations or hand out licenses to make the mines legal and subsequently make them safer. Several of the investigations into mica mining have described those running the mines as the "mica mafia" due to illegal operations and a "mica black market".
Why don't brands do something?
The good news is, some brands have made efforts to stop supporting the mica mining industry. As previously mentioned, Lush has committed to making its own shimmer, and has spoken extensively about their stance on mica mining.
According to Refinery29's report, other brands like L'Oreal decided to continue purchasing mica and to instead focus on transparency, traceability and independent verifications to ensure the families caught up in mica mining didn't go without income. You can read our article on why giving people jobs is not an excuse to buy fast fashion to understand why we are skeptical of claims such as this.
A not-so-shiny supply chain
Much like the fashion industry, the mica supply chain is complicated and hard to track. Terre des Hommes says that "mica collected by children is easily, and often, sold to foreign entities under the license of a legal mine; traders just lie about where they got it". That's why it's no surprise that when brands like L'Oreal make statements about transparency and traceability they rarely back them up with evidence. In fact, every single company that Refinery29 reached out to as part of their investigation "declined to comment on how they guarantee where in India their mica comes from".
Whose responsibility is it to dull the sparkle on mica mining?
If you're reading this and feeling helpless or deflated by the fate of mica miners, we're right there with you. If governments won't step in due to corruption and brands continue to purchase mica, who is left to clean up this glittery mess?
Fortunately there are organisations committed to making a change. Responsible Mica Initiative (RMI) was started to create an ethical, transparent supply chain by 2022, which has seen L'Oréal, Estée Lauder Companies, LVMH, Coty, Chanel, and Shiseido sign up. There is also Bachpan Bachao Andolan (BBA), India's largest movement for the protection of children. The organisation offers education and legal services to affected villages to help them get the healthcare, education, and infrastructure they've been denied.
Can I do something?
The burden shouldn't fall on us as the consumer, but if you are feeling impassioned by the issues associated with mica mining, there are ways you can help. We all have the power to drive down demand on products that contain mica.
To identify mica in beauty products look for the following ingredient names:
Mica
Potassium aluminium silicate
Glimmer
Kaliglimmer
Muskovit
CI 77019
Although it's hard to know whether the mica in every product is mined illegally or by children, you can choose to avoid products with the above ingredients just to be safe. You can also support members of RMI, some of which include The Body Shop and Burt's Bees. And if it's possible to do so, you can donate to Terre Des Hommes or BBA.
Finally, you can put pressure on brands that include mica in their products—send them an email or a DM on social media with this template:
---
Dear [INSERT BRAND NAME],
I am an enthusiastic customer who adores your brand but I would love some clarification about an ingredient you [may] use in your products.
After reading and article [INSERT ARTICLE LINK] on Ethical Made Easy it has come to my attention that the ingredient mica is often mined by children in dangerous conditions and sold illegally to make beauty products. I was shocked and appalled by these revelations and I want to ensure my favourite beauty brand is aware and taking action against illegal mica mining.
Myself and many of your adoring consumers request that you answer these questions in as much detail as possible and make them transparent to the public:
Is there mica in your products?
If so, do you know where your mica comes from?
How do you ensure the people who mine the mica in your products are adults and do you ensure they have safe work environments and are paid a fair wage?
Hypothetically, would you be proud to take me on a tour of the mica mines that your suppliers purchase from?
I am incredibly grateful for the time taken to respond to these answers in full detail, and I look forward to hearing from you shortly. Any extra details around your production would be welcomed too.
Kind regards,
[INSERT YOUR NAME]
---
Much like the supply chain issues in the fashion industry, the ugly truth behind mica mining is hard to track and change but with the help of your activism we can make a difference. Plus, you don't really need shiny cheekbones when you're busy changing the world, right? And if you do, there's always natural balms and oils that do the trick.
Further reading: Mica in electronics
Mica has become an essential mineral in the electronic industry, not for its shimmering qualities but for things like insulation in electronics and electrical products. The electronics industry is the main purchaser of mica and accounts for 26 percent of mica purchases, followed by paints and coatings (24 percent), construction (20 percent) and beauty (18 percent). Because Ethical Made Easy has vested interest in the beauty industry and we regularly promote natural beauty products, we're specifically concerned with how the beauty industry is complicit in this issue and what we as consumers of natural makeup can do to mitigate this issue. If you would like to know more about the electronic industry's involvement in mica mining, this report is a great place to start.