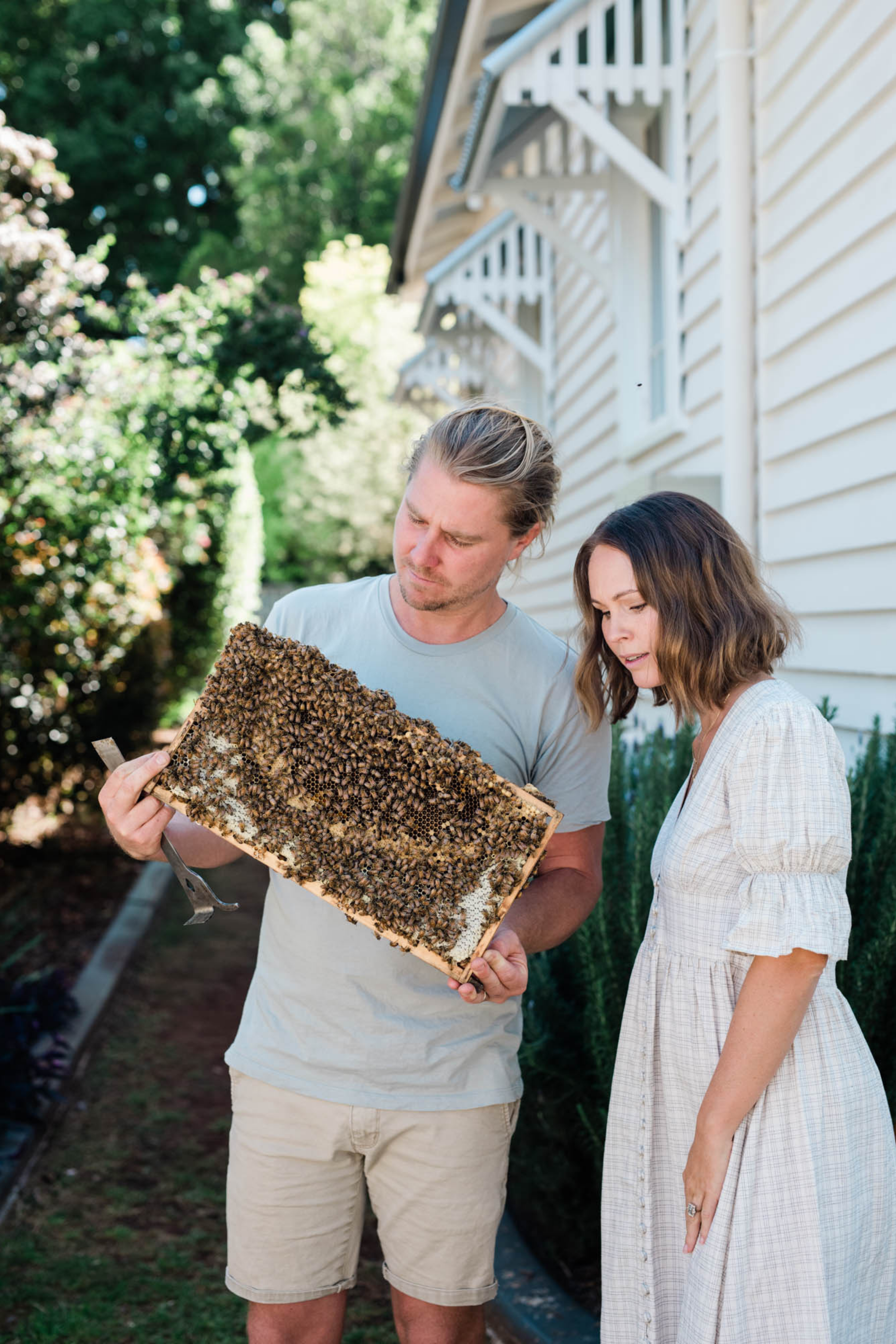 High school sweethearts Hayley and Roger Mason got their first beehive when they were living in a barn on a blueberry field in Canada (#goals). That first encounter with bees turned into a lifelong love affair and now the duo have pared back their once busy lifestyle to spend their days in the great outdoors and feed Australia's precious bees so they in turn can feed us. We picked the brains of the Settler Hives founders about beekeeping and gardening, running a sustainable business, and living life more simply.
Can you tell us a little bit about yourselves and how you met? We hear it's a great love story!
Roger: We met at a youth group when we were 12/13 and lived fourteen houses away from each other. Hayls' school bus used to stop out the front of my bedroom window every morning and we'd wave and put signs up for each other. These were the days of being allowed 30 minutes of MSN per day and sending texts on Nokia phones.
Hayley: We both moved to Brisbane after school and got married when we were 20/21. Roger is a carpenter by trade and I eventually started a small events management business. Then one day we packed it all up and threw it into two suitcases to travel North America and Europe for nine months. We had a motorhome, hired cars, a sailing boat and developed an early love affair for Airbnb. When we got back a year later we bought an investment house in Toowoomba, installed some tenants, and moved to Canada for three years! We came back when our working visas ended.
How did you start Settler Hives?
Hayley: We always knew we wanted to work together – we just didn't know in what way. Settler Hives started out as just an Instagram account to show our friends and family our hilarious amateur attempt of beekeeping. I think it grew because we enjoyed sharing what we learnt. We got our first beehives when we were living in a barn on a blueberry field in Canada and just loved the whole feel of it. Not wanting to be commercial beekeepers (which needs a whole lot of kilometres, heaps of time and a tolerance for high losses), we kept brainstorming what we could do to help the whole 'loss of pollinator' scenario. We haven't experienced the same phenomenon as the USA, but there is an occurrence called Colony Collapse Disorder, which is where the honey bees of a particular colony simply disappear and no one fully knows why.
Roger: This really impacted us learning about how important bees are to our ecosystem and our passion grew just learning so much more about them. It was a whole year after getting our backyard bees (and many beers and coffee conversations) when one day the idea just dropped. We were in the car together and Hayley turned to me and said, 'Seeds! To feed the bees!'
Hayley: Now just three years later, Roger said goodbye to his 50 hour work weeks in construction and we get to operate our own business together from home in daylight hours!
Both: Our mission with Settler Hives is to inspire others to live simply. Our little mantra at the moment is 'savour life outdoors – feed your soul, eyes and colony'. Basically go breathe that beautiful air outside and enjoy the sunshine together, plant your feet on the earth and get your hands dirty. Enjoy the ultimate satisfaction of growing something beautiful that really does change the world, feeds the bees and ultimately your own tribe.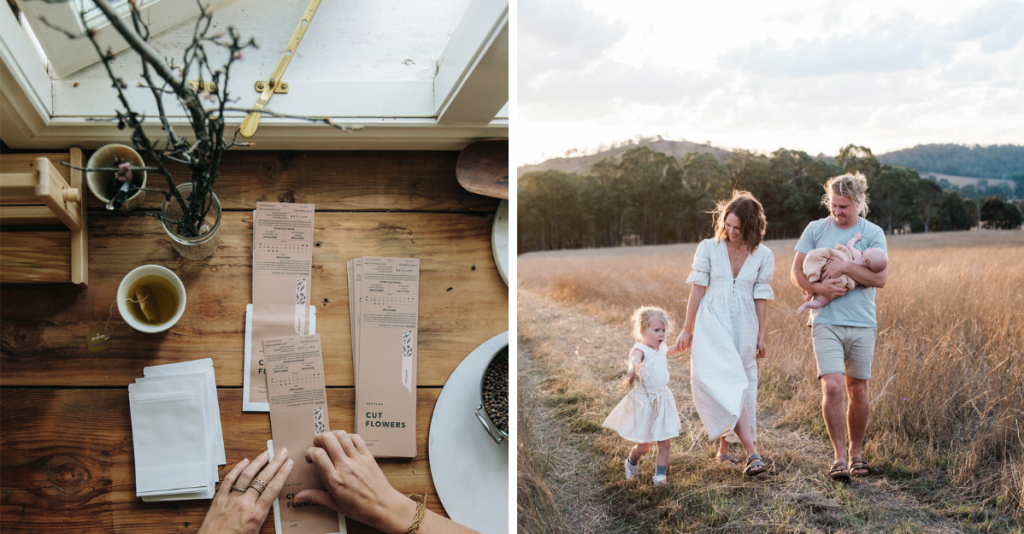 How do you run your business sustainably?
We are constantly thinking this through and improving where we can as we come across better options. Our packaging has been carefully considered to preserve the life of our precious cargo, keeping it tucked in safely for at least two years without exposure to the elements (think: moisture, light and temperature). We also chose a resealable ziplock packet to store away for later – you don't have to use all the seeds at once – and our local printer uses recycled materials and vegetable-based ink.
We have sourced our seeds from the best seed houses in the world, and almost our whole range of garden greens comes from Australian soil. It's been interesting to learn about Australia's seed bank compared to other parts of the world. Long story short: it's not very big! So we get as many varieties as locally as possible – such as sunflowers, broad beans and snow peas – and pick the best of the rest internationally. Every packet of Settler Hives seed is prepared by hand.
What should we be planting and when?
We were so excited to release our seasonal seed sets for this very reason! They are hands down the number one favourite seller. We knew it would make it easier for new gardeners to just get in and get started. We are always trying to remove roadblocks for people so they will give gardening a go.
In summer, I always like to plant sunflowers. They are easy to grow and just look SO summery! I also love lupin and larkspur for cut flowers you can bring inside in a vase. And then to eat, make sure you've got plenty of oregano growing for all those pizzas! Baby spinach is a quick and easy addition, as well as some micro kale to make all those no-effort dishes look fancy! And finally I'd plant some marigolds under your tomatoes to keep the pests away.
In autumn, we love to plant some baby spinach and cucumbers, as well as some parsley and mint. And then I love poppies, sweet peas and foxgloves for flowers.
In winter, it's not true that nothing grows! We pop some snow peas and radishes in the ground, and they come up reliably. We also keep the micro kale going for a boost in nutrients to any meal. Winter is perfect for planting paper daisies, forget-me-nots and sweet peas too.
In spring, plant all your nectar flowers, like lavender. And you'll want to get your cut flowers like dahlias, zinnias and stocks in the ground, ready for summer. We also love chamomile and cosmos to add some texture and height to the garden beds.
What's your advice for first time gardeners?
First thing is trial and error, baby. Don't be afraid to have a crack. And secondly, get composting! Put your food scraps back into the ground: 50% lawn clippings, cardboard and newspaper, plus 50% food scraps. Why do you think Grandma's garden was so good? They kept putting it all back into the dirt, creating really healthy soil.
Why are bees so important?
Globally there are more honey bees than other types of bee and pollinating insects, so it is the world's most important pollinator of food crops. It is estimated that one third of the food that we consume each day relies on pollination. It's pretty simple: if we don't have pollinators, we don't have food!
What are your tips on becoming a beekeeper?
The best thing you can do is head to your local beekeeper association. The groups usually meet monthly and are a wealth of knowledge for anyone wanting to get started. The beekeepers in our club are 60+, hilarious and super nice.
Other than that, we'd say to hold off on buying your honey bees until you've spent some time learning about them – what is it going to take to handle them and keep them healthy? There are so many diseases in Australia that can quickly move from one hive to the next, devastating colonies along the way. It's a responsibility to make sure you know what you're looking at and manage them to thrive – it's not just about collecting the liquid gold.
Winter is a great time to read up (or watch videos like we did!) before you get into it. Plus it would be devastating to purchase a colony of bees early spring and then they fly away in a swarm! It happens all the time; it's their natural cycle of procreation. Oh, and don't forget to register your beehive with the Department of Agriculture and Fisheries so they can keep you informed and keep track of these clever stripy friends.
Tell us more about your pared back lifestyle?
We're just trying to be as present as we can at this stage in our lives. We lived in the city (Brisbane) for eight years, moved to a smallish town in Canada for almost three years and now we're back in a medium size town.
Starting Settler, we feel we had an opportunity to create a brand that can satisfyingly offer others a solution and complement the lifestyle we want. Consumerism feels like it sucked the souls out of us for the longest time. The pursuit of happiness has led us to try and live a life slowly, being present in what we do, how we feel and how we connect with others. It feels like our current culture isn't thriving in a healthy way. There is not enough time left in the day/the week to enjoy what you've worked so hard for. Surely we're not alone with this feeling and frustration. Growing something from seed is so satisfying, because you do have to give it your attention (watering, protecting it from pests) and it takes time and a fair bit of patience. Forcing us to not demand the instant, not be in a rush.
Beekeeping also massively helped us notice what trees and plants are doing and how that affects the beehives. We feel like when we're not in a rush or trying to cram every (good) thing in, our happiness actually increases.
Finally, what's your advice to other entrepreneurs?
To actually just start. Back yourself, but also be a sponge of opinions. You'll cringe one day looking back… that's a good thing! DO IT ANYWAY!
I think professional branding is an important investment, so find the right people you can afford to do the job. Take opportunities when they come. Know your target market like the back of your hand (not just your product). What's your point of difference? This will help you continue to improve your product or service. Listen to feedback. Understanding what they want/need to hear.