Bethany Killicoat from The Periodical is fighting poverty one sustainable period at a time.
Anything you put inside your body should be free from toxins, period! But did you know some tampons actually contain bleach?! Bethany Killicoat set out to change that with her organic cotton tampon brand The Periodical that is also helping to educate girls in the developing world (the most important tool in reducing poverty). We synced up with the creator of The Perodical to talk about the ways we can love our cycle while helping the environment, our bodies and women in Uganda all at once.
What made you start The Periodical?
So I could say period and vagina and break some taboos!

But more importantly, I want people to have access to more sustainable and healthy options for their periods, at the same time as supporting girls to stay in school in the developing world. Educating girls is the number one solution to climate change and ending poverty. So why can't the sisterhood get in sync and support each other?

I had been working in ethical fashion and international development and saw a gap in the market for organic and sustainable products. Now there are plenty of options, but the more the merrier, right?!

The more I've gone down this road into period health, the more I've discovered how much we don't know and the shame that has been placed around our periods. We've been peddled products full of toxic chemicals to conceal our periods, all while missing vital information about how wonderful our menstrual cycle is.

So The Periodical has become much more than providing a sustainable alternative. It's become empowering people to love their cycle!
Do you have a morning routine? If so what is it you do to set yourself up for the day ahead?
My morning routine changes depending on where I'm at in my cycle. But the non-negotiables for me are meditating and a walk in nature listening to a podcast followed by a healthy, hormone supporting breakfast.

During menstruation I take it easy, and might only get one of these tasks done. And during ovulation I'll do everything and more. I've learnt to listen to my body and do what it needs.

I try not to check social media and just be in the present, cultivating gratitude for the day. Though that's usually easier said than done!

I've never really had a morning routine until Covid. I'd usually rush around getting ready to go to work, but working from home has forced me to create some habits for the sake of my sanity. These will definitely stick going forward. It makes such a difference!
What's the biggest barrier you've found to succeeding as a socially conscious business?
Price point for sure! You don't want price to be a barrier for people making an ethical/conscious choice, but you need to build a business that will be sustainable financially. I'd love my product to rival the cheaper offerings in the supermarket, but we produce small runs with minimal environmental impact, so the price is a bit higher. As I grow, I look forward to offering more products and more competitive price points.
Within the ethical fashion community, there's a big question that we ask which is 'who made my clothes?'. In the scope of The Periodical, who made the things you sell? Can you tell us a bit about them?
I have my roots in ethical fashion, so this question is really important. My tampons are made in Milan, Italy in fair trade conditions with no toxic chemicals. Offering one product range (for the time being) it's easier to track my supply chain.

When I bring on other products, like my tea and chocolate, I make sure they're organic and have fair trade principles. I won't work with a business that isn't transparent and aligns with my values.
Why did you pick the fabrics you have chosen to work with?
I use organic cotton, nothing else, in my tampons. When we use conventional pads and tampons we're using products made with a lot of toxic chemicals. These toxins can disrupt our endocrine system, leading to some serious health issues like infertility and even cancer. It's pretty shocking that we're taught to put these products into the most absorbent part of our bodies, for days, weeks, months and years of our lives without ever knowing the full impact they can have. Period products are considered a medicine, so they don't have to publish their ingredients list. Sneaky!

Conventional cotton is grown with pesticides and the final product can include toxins like parabens, polyethene (which is a common plastic) sodium lauryl sulphates and dioxins (one of the most dangerous products on the planet) from bleach. Yep, tampons and pads are often bleached. And you know that 'silky' tampon marketing you see on ads? That's actually a synthetic lining that covers the tampon. So it takes 500 years for a tampon to decompose, all for a 'smooth' tampon.

That's why I've set out to make sure that more women know about these health concerns and give them a great alternative. My tampons might not be as 'smooth', but you can be confident from tip to string there is nothing toxic about them.
Best piece of advice you have ever received?
Don't read the comments section! You're always going to have haters!
What's next for you and The Periodical?
I'm always looking for ways to improve. We'll be bringing in some more products like pads and other sustainable period products. As well as other items that are good for our hormone and hoo-ha health. So stay tuned!
One book and/or documentary everyone should read/watch? Why?
Women Code. It's a book about living in sync with our cycles and optimising our lives around our natural hormonal changes. I'd love every woman to read it! It's such powerful information we were never taught in school.

Understanding our cycles is so much more than whether or not you're trying to get pregnant. We're conditioned to see our period as just a marker for pregnancy. But it's actually a report card for our health every month. It's the fifth vital sign! When we start paying attention to our cycle, we can optimise so many other areas of our lives. It's game changing.
Are there any other Movers & Shakers out there in your world that you think people should know about?
There are so many amazing people in this world. But the people I think make the biggest difference are those working so tirelessly and sacrificially in the hidden places in the world. I've met people who have given up everything to help others, from Northern Uganda, to India to the Philippines. They're my heroes.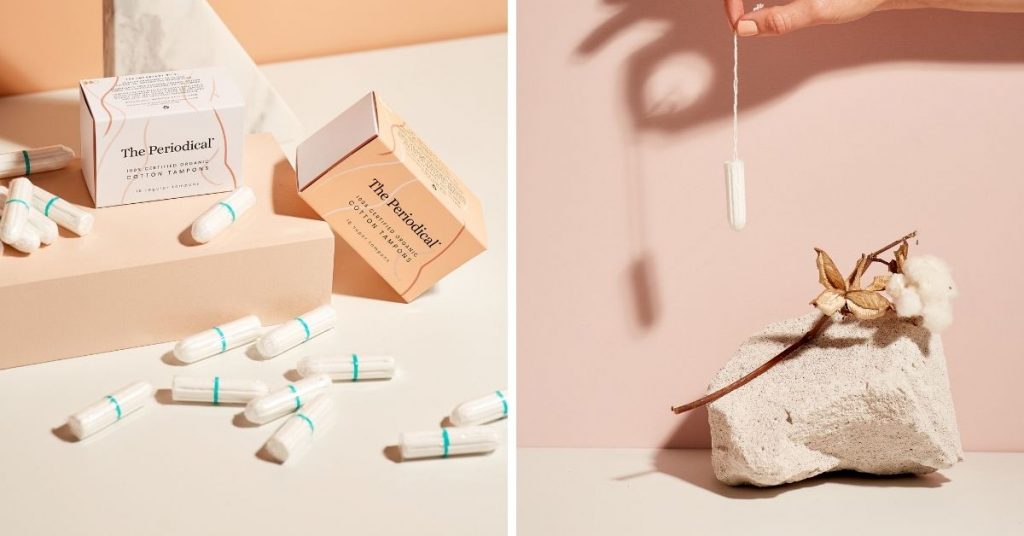 Want to see more of The Periodical? Take a look here and score yourself 15% off with the code 'ETHICALTAMPONS15'.