Danni Duncan is fighting fast fashion with a side of sass.
If you're a fan of pastels, cute vintage clothing, retro interiors, cats with attitude, honest conversations, and slow fashion you're going to love Danni Duncan. She's this week's Mover and Shaker and a gal after our own hearts here at EME. We've been following this cute but sassy (in all the best ways possible) Kiwi for some time now and we're in love with her honest presence and eye for all things vintage.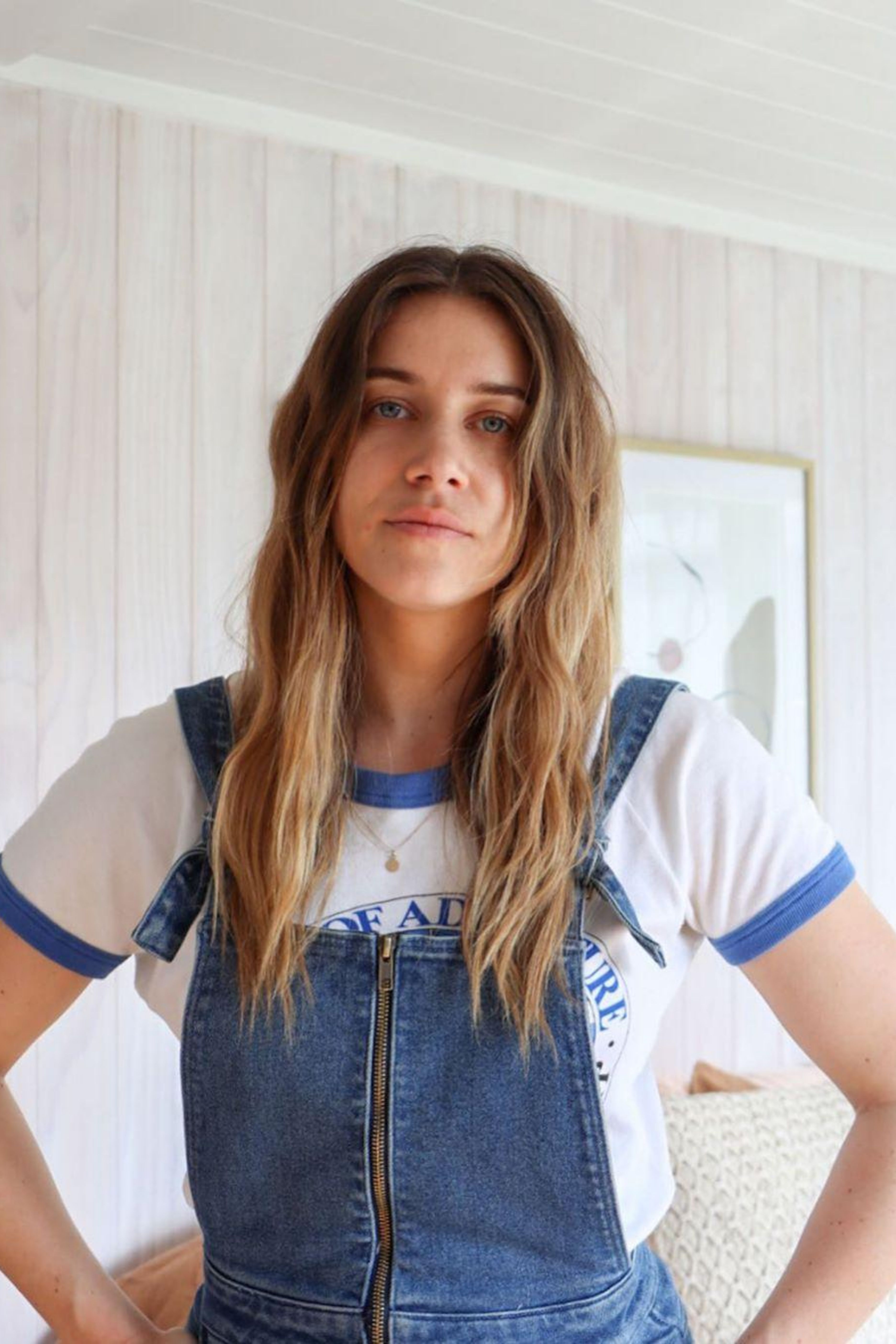 If you're a fan of pastels, cute vintage clothing, retro interiors, cats with attitude, honest conversations, and slow fashion you're going to love Danni Duncan.

She's this week's Mover and Shaker and a gal after our own hearts here at EME. We've been following this cute but sassy (in all the best ways possible) Kiwi for some time now and we're in love with her honest presence and eye for all things vintage. In this interview she talks about how she quit her full time job to focus on her love for slow fashion, the moment that gave her a second chance in life, and how she made the most out of a rough year.

Mover and shaker – Noun. A person who wields power and influence; "a shaker of traditional beliefs".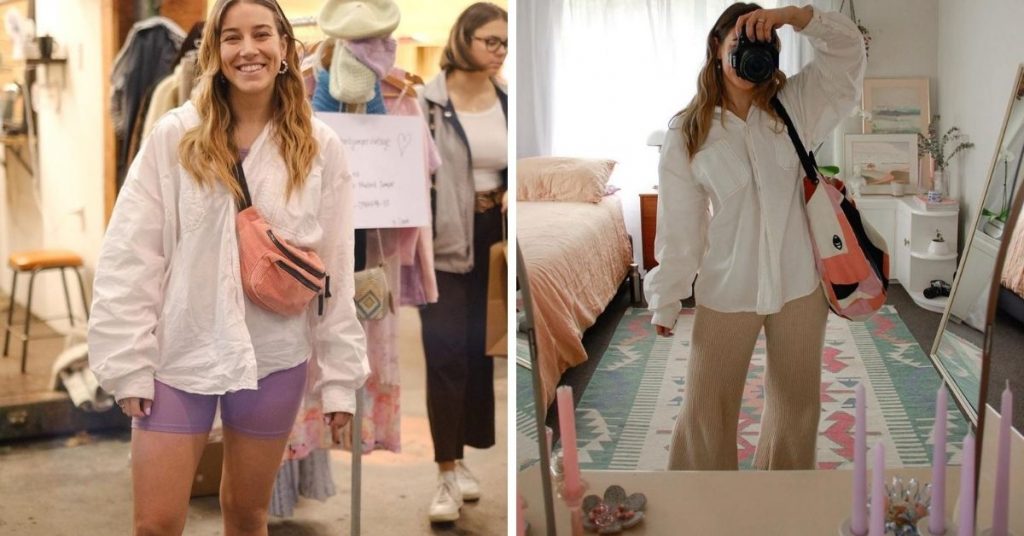 Can you please tell us a bit about yourself?
My name is Danni Duncan, a Kiwi living in a little beachside suburb in Christchurch, NZ. I am a newly-wed who is just about to go on my honeymoon after a post-lockdown wedding, love surfing (in summertime), binge watching shows like Friends (I'm on my second time through back-to-back), boxing to keep fit and my little black and white cat Stan is the love of my life (and 100% the cuddliest, coolest cat ever).
How did you start Mustard Jumper Vintage and Slow Muse Store?
My vintage store started out of an obsession I have with vintage and a small wardrobe that couldn't keep up with my purchases. One day I decided to sell some pieces I no longer wanted on Instagram and after everything sold out super quickly I realised I now had a way to make my hobby more sustainable and earn a bit of money from it and from there it just grew.

Slow Muse Store is my second store baby, a project I started with Alex (husband). As someone who regularly partners with brands and small businesses I saw an opportunity to bring them together and really shine a light on people who are creating both ethical and sustainable products here in NZ and Australia.
I see you recently quit your full time job to work for yourself—congratulations! Can you tell us a bit about how you got there?
Thanks! It's both really exciting and scary but so far so good (It's only been about a month and I haven't cried yet so I count that as a success haha). The transition to going full time started about a year ago. At this time I was working full time as a Speech Language Therapist and started having one or two days off a week to work on my business. Eventually it got to the point where I was working most nights and weekends to keep up with all my own work and decided it was time to just take the leap and resign from my career. I'm absolutely loving it and wish I had made the change sooner.
Why is slow fashion so important to you?
After watching The True Cost just over two years ago and seeing the way (primarily) women are being mistreated and exploited I knew that as a consumer of fashion I needed to do something about it, even if it was just in my own personal life. The cool thing is, so many people who follow me have been really interested in learning about how negative fast fashion can be and have wanted to join me, so now I am part of this awesome community of like-minded people rather than just doing it on my own.
What does a normal day look like for you?
A sleep in, every single morning, because I am a night owl and although I set my alarm for 8am I always seem to end up getting out of bed at around 9am (I know…living the dream right!?). From there I work till around 10/11pm. Every day is different. Some days I'm taking photos of vintage clothes to be listed, some days I'm packing orders and some days I'm arranging little cakes on top of my bed for a creative photo-shoot and cleaning up spilt tea (that's what I was doing today haha). At around 6/7pm I'm always on my phone listing the new vintage pieces for that day and I always spend way too much time on Instagram (but I guess when your job exists on social media it's to be expected).
What brings you the most joy?
Goofing around with Alex (we often have spontaneous dance parties), playing with Stanley (the cat) and surfing on a sunny day with lady waves (not too big, not too small).
What are you reading, watching and listening to right now?
Reading: I've just started Red, White and Royal Blue by Casey McQuiston and so far I'm really enjoying it. It has great reviews!
Watching: Friends, I just watched the final episode tonight and decided I wasn't ready to say goodbye yet so I went right back to episode one. I think this will be my fifth time through (I watch it while I'm working – it's a comfort thing)

Listening to: Shameless Podcast without fail every Monday and Thursday – Michelle and Zara (the hosts) are brilliant at putting words to so much of what I think and feel about the world. They are always unapologetic about their values too and I feel through listening to them I have become much more confident in the way in which I express myself on social media.
Who or what is your biggest inspiration?
Sounds cheesy but I honestly think nature inspires me the most. There is something about the raw beauty of being in the ocean, or the bush, or looking at the sunset (gross that sounds so predictable and corny!) that makes me feel really connected to life (oh my gosh someone shut this girl up haha).
What keeps you inspired?
Making sure I pop my head up from what I'm doing every once in a while. I naturally plough through things and go go go. Stopping and just taking some time out (yup, normally in nature haha) always seems to be really good for inspiring new creativity in me.
Is there anything that completely changed your life? (book, movie, holiday, person, etc.)

This is gonna get real deep real quick, but my whole entire life changed in March 2017 when I made a decision to leave an emotionally abusive marriage. Before then I was an incredibly broken and lifeless person. Making the decision to value my life and my future completely changed everything for me. That decision was like giving myself a second chance at life… I could go on forever about what getting free from emotional abuse meant for me but that's a whole other story (one that I've spoken about heaps on my Insta though so if you scroll back you'll find posts and IGTVs about it).
What do you wish you could tell your 18 year old self?
"Don't marry the guy who doesn't treat you right." "Enjoy your twenties – stop being so serious and stop being so hard on yourself" "Some people aren't going to like you but that's okay – you'll meet people who really love the goofy, sassy and a little bit weird you!", "Keep opshopping – it's going to make you money one day!" (I stopped doing it for a good couple of years because someone told me it was gross).
What do you want your future self to remember about this moment?
That I made the most of a pretty f'd up year. For example rather than letting lockdown ruin what was meant to be my wedding day, we held a non-wedding with our flat and had an epic dance party with just the 7 of us – little moments like that have been pretty special.
What advice would you give someone who is starting out in their career?
If someone asked me – I would say don't be worried about having it all together and being perfect. The best thing you can do is just start!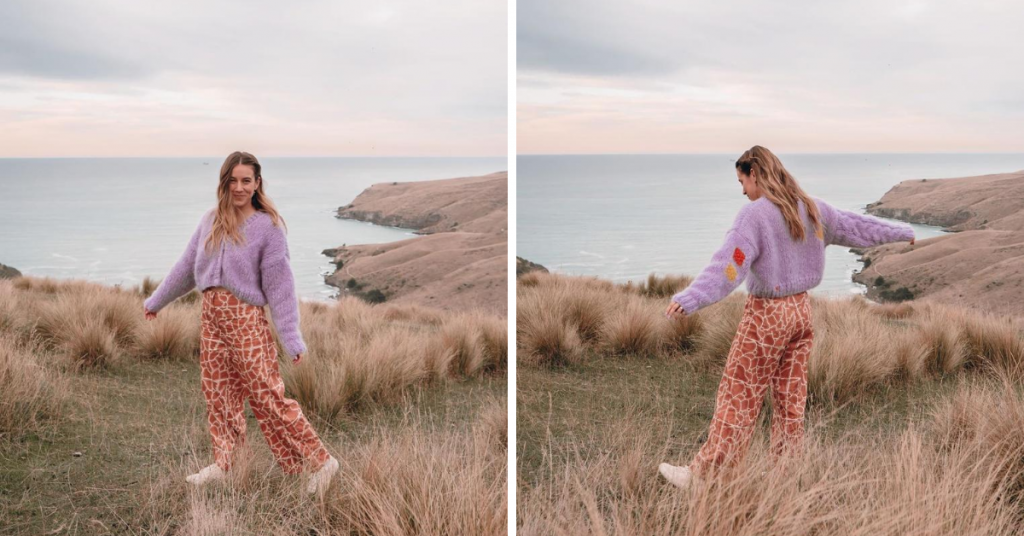 What's next for you?
In the near-near future – honeymoon (fingers crossed NZ doesn't go into full lockdown), and as for my career… I'm really enjoying how things are going at the moment and kind of just taking it as it comes. I would love to work (in a paid role) with brands as an ambassador for all things sustainable and ethical fashion (but we all know that there isn't a heck of a lot of money in that yet….YET…so when brands are ready – I'm ya girl! haha).

I also have a big dream of partnering with a clothing label and doing a documentary behind the scenes to show the ins and outs of the supply chain and where clothes come from – I think that would be really powerful (kind of like The True Cost documentary but just following one label and focusing on all the positive things).