A growing list of ethical Menswear brands from Australia and beyond.
If we've learnt anything over the course of Ethical Made Easy's lifetime, it's that it's not only women who care about the clothes they put on their backs. With a growing number of sustainable fashion companies producing men's clothing, ethical menswear is becoming more accessible to the wider population.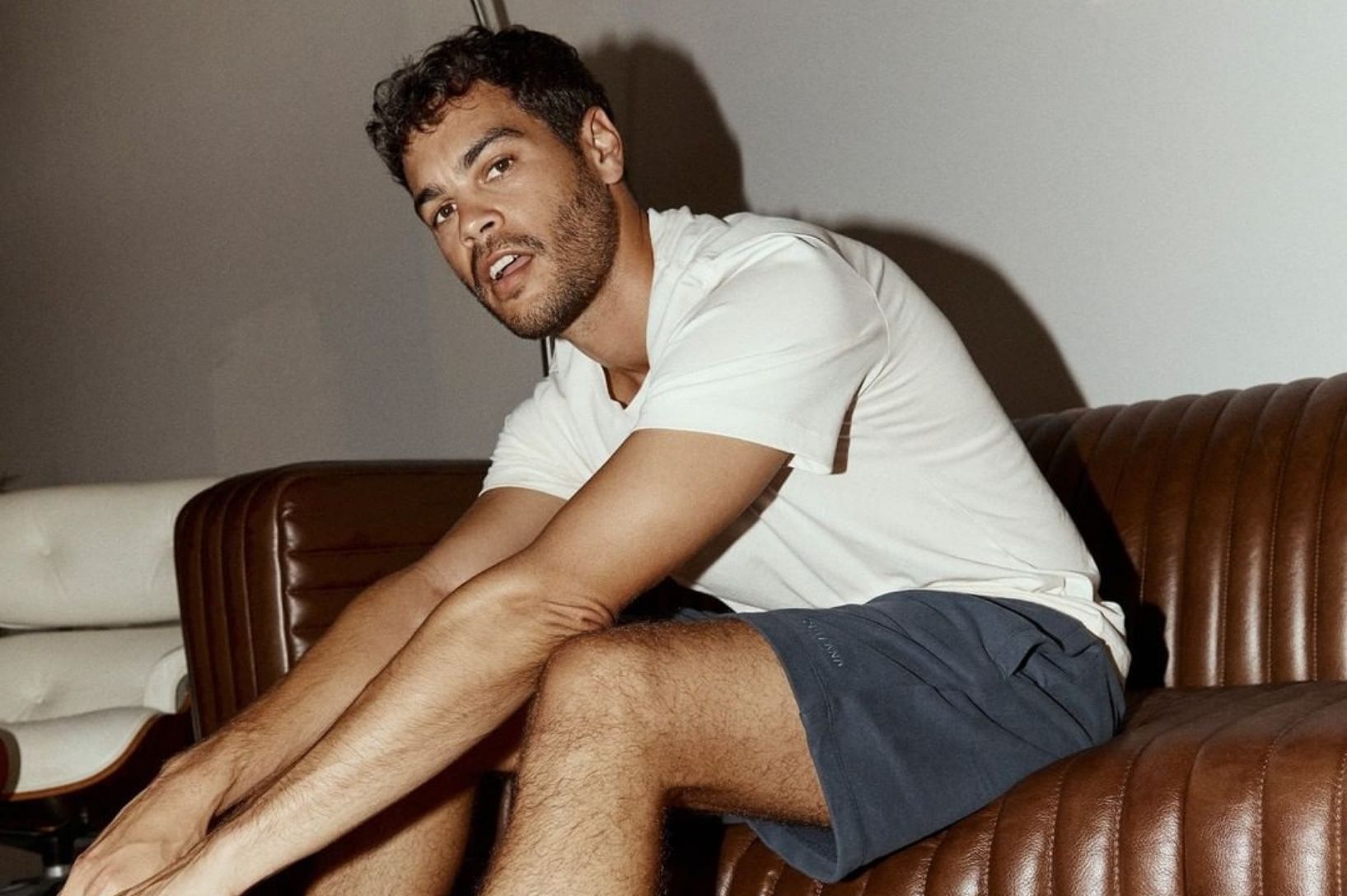 So, in the spirit of sustainable men's clothing, we've put together a list of ethical fashion labels based in Australia, New Zealand, America, the United Kingdom, Canada, Asia and Africa providing ethical menswear, including unisex and gender neutral designs, to the wider population.



Location | Australia
Outland Denim is an Australian ethical clothing company redefining what it means to do good business by producing sustainably-made men's clothing whilst simultaneously providing financial freedom and empowerment to women in need. Good, right? Outland Denim's range of ethical menswear encompasses denim jeans and jackets, as well as organic cotton tees, crews, shorts and hoodies, just to name a few. Oh, and they can also trace the entire supply chain of their denim from seed to garment. No biggie.

---
Location | Australia
Dorsu is their name, ethical men's basics is their game. Dorsu's range of affordable ethical menswear includes joggers, sweatshirts, crewnecks and pocket tees, and each and every piece has been fairly brought to life in their Cambodian studio. With a strong commitment to transparency and socially and environmentally friendly practices, Dorsu is firmly within the ethical and sustainable fashion world, and for this, your sustainable wardrobe (and, you know, the earth) will be forever grateful.

Shop Dorsu here

, and use EME10 for 10% off your purchase.



---
Location | Australia
Have you been on the hunt for extremely affordable men's ethical tees and beanies? Well, my friend, you are in luck. Not only is The Common Good Company's sustainable men's clothing designed in Melbourne and ethically-made in India, but in order to minimise the use of virgin materials, wastage, and excessive water use, all their garments are made with recycled pre-consumer textile waste. What a (common) good company!

---
Location | Australia
Yuki Threads specialises in gear for the slopes, but their range of ethical menswear is fit for whenever the weather turns a bit chilly. Yuki Threads range of sustainable men's hoodies, quitters, jackets and more is not only made from GOTS certified fabrics and materials made from recycled plastic water bottles, but is also certified Fair Trade, and every single supplier that Yuki Threads works with holds a current SA8000 or BSCI (or equivalent) social compliance certificate. How's that for ethical menswear.

---
Location | Australia
RUPAHAUS is an ethical fashion label focusing on interweaving traditional artisan methods with ethical and sustainable methods fit for the modern world. The result of this is beautifully-crafted sustainable men's clothing that is designed to stand the test of time, both in terms of durability and style. The RUPAHAUS garments are the embodiment of ethical craftsmanship, sustainable production, beauty and functionality, and their range of ethical menswear is no different.

---
Location | Tunisia
TUNIQ is an ethical and sustainable fashion brand "championing radical labor ethics and the art of traditional handwork in a time of mass production." Each and every one of the divine TUNIQ pieces, from the men's tailored cloaks to the exquisite men's jackets, is hand-crafted from responsibly-sourced wool. TUNIQ is a shining example of what happens when we, as conscious consumers, use our purchasing power for good, so if you're looking for some beautifully hand-crafted menswear for your sustainable wardrobe, check out TUNIQ's incredible range.
---
Location | Australia
Meaning "Mother Nature" in Italian, madre natura was born from a desire to respect the earth. You know what they also respect? Gender neutrality. Utilising crisp, subtle trims, quality and durable fabrics and natural and earthy colour palette, madre natura's gender-neutral designs are a credit to the ethical and sustainable fashion movement. Although this incredible Sydney-based ethical fashion label doesn't solely produce ethical menswear, what they do create is an exquisite range that provides wearers with a variety of gender neutral garments for personal self expression.

---
Location | Australia
"Born in Australia and now loved worldwide", Boody is redefining what it means to do comfort well, as the products under the Boody name have all been created with ethics, sustainability, and quality in mind. Boody's brilliant bamboo (try saying that three times really fast) is FSC certified, Ecocert(ified), and PETA Vegan approved, and their products are SGS tested, made in a WRAP certified factory, and meet STANDARD 100 by OEKO-TEX. Boody's range of men's ethical clothing, from their crew neck shirts to their sweatpants, stays true to the company's ethics.

---
Location | New Zealand
Chances are you've already heard of this epic New Zealand-based company due to their incredible range of sustainably-made footwear, but what you may not have known is they've dipped their toes (get it?) into apparel, including into the world of men's ethical clothing. Although the Allbirds range is predominantly sustainable activewear, the 21st century has taught us that activewear is a perfectly acceptable substitute for everyday attire, so if you're in need of some multi-functional ethical menswear, run on over to Allbirds. We'll stop now.

---
Location | Indonesia
SukkhaCitta is an ethical fashion company wholly focused on empowerment, ethical and sustainable production and environmental responsibility, and this is reflected in each and every single way this great business operates. Their range of sustainable men's clothing, for example, encompasses gender neutral pants, handwoven chinos, cotton blazers and linen long sleeve shirts (+ many more), and each and every garment was made to empower both the people who created it and the people who wear it.

---
Location | Australia
The ANJELMS Project is a breath of fresh air in the polluted fashion industry we have today. Social responsibility, sustainable practices, uniqueness, community, and quality are the pillars by which this incredible company is supported, and it's just an added bonus that their garments are as absolutely beautiful as the company's mindset. The ANJELMS Project's range of ethical menswear, including their selection of unisex and gender neutral clothing, allows for freedom of expression, and the fact that it's all ethically and sustainably made is a huge bonus.

---
Location | Australia
Sustainable men's clothing for the active soul. Zorali specialises in outdoor gear designed to get you outside and enjoying nature, but more importantly, they're doing so with sustainability goals in place, so you can enjoy the environment whilst also protecting it. Zorali has got you covered (literally) for everything from hemp socks and fleeces made from recycled fabrics to organic cotton tees and corduroy caps, and we guarantee their range of ethical menswear will have something for even the pickiest of outdoorsmen.

---
Location | Australia
The Hemp Temple seeks to provide consumers with more ethical and sustainable alternatives to fast fashion, as "the time of cheap profit and selfish gains is at an end." Aah, a brand after our own heart. These "ethical and sustainable alternatives" we speak of are a selection of ethical men's pieces crafted from sustainably-sourced hemp, including dreamy pants, long sleeve shirts and button-down tees. Think Javier Bardem Eat Pray Love bohemian vibes. Mmm.
---
Location | United Kingdom
Born from a love of music, design, and nature, Ponch is providing consumers with funky rainwear that is simultaneously breathable, durable, and stylish. But what is a sustainable raincoat company doing in a list of ethical men's clothing brands, you ask? Well, the way we see it, raincoats are a completely under-utilised, 100% essential item of clothing; especially if you live in a rainy climate or are an avid festival go-er. Also, Ponch's designs really do pack a ponch. You should, too.

---
Location | Canada
Chromosome Apparel is a Canada-based ethical fashion company for everybody and every body. With a heavy focus on inclusion, Chromosome Apparel is making moves to "use style as a means to unearth the beauty of real human beings – in all our variations – as we remove outdated stigmas attached to disability, mental health, addictions, size & gender." In true Chromosome Apparel fashion (get it?), they have a range of ethically-made men's sweatshirts and tees, all of which are as inclusive as they are comfortable.