For the love of dogs (and all animals) with Diana Scott of Frontier Pets
Diana Scott is a dog mum an animal-lover who's goal is to end factory farming. It's a huge vision, but it's one she's slowly but surely achieving with her ethical and sustainable dog food brand, Frontier Pets. We spoke with Diana about the 100% ethical produce that she sources from free range farmers and why convincing people that Frontier is the real deal has been the biggest barrier she's come across in the business so far.
What made you start Frontier Pets?
Frontier Pets was born out of a deep desire to find an ethical food option for my dogs (pets) and my passion to end Factory Farming.
Our vision is to End Factory Farming. This is the ultimate goal of the business and it's a big one. I want to support this cause by changing labelling, educating people and changing the way that pet food is made. This is a huge task and will require a massive financial input.
It's about getting farm animals out of cages and back on the land where they can be farmed in a sustainable and humane manner.
I started this journey because I realised that, next to humans, pets are our biggest consumers of Factory Farmed food. In fact, the pet food manufacturing industry props up Factory Farming by using the off-cuts of industrialised animals. Australians alone spend $8 billion a year on pet food and 50% of that would be on meat. If Frontier Pets can re-funnel some of that expenditure on free-range farmed animals then it could make a substantial impact. It may well also generate value in the supply chain, whereby factory farms could see free range farming as a more valuable revenue – and make the conversion.
I have spent years donating to advocacy groups, and that's great, but moving this kind of mountain would be significant. While thinking about this I also started to look at what I was feeding my dogs and really looking at the labels. You don't have to be an animal nutritionist to work out that it's mainly crap. So I started looking for pet food that contained ethical produce and looked like it would be nutritionally beneficial for my dogs. I couldn't find any!
I contacted an animal nutritionist and asked her where I could find an ethical food that was nutritionally sound. She (Dr Kathy Cornack) told me that there wasn't anything around and that I'd have to make it myself. I started preparing raw food, but it was very messy and took up all of my freezer space. Plus I didn't know if the proportions were correct.
I went back to the nutritionist and asked her to make a biologically appropriate recipe for me and then I went about finding a way to process that enabled me to feed raw, without any of the hassles.
I discovered freeze-drying (a process that extracts the water from wet ingredients, leaving a dry product with all of the nutritional content intact).
I then spent 2 years setting up the business: finding free-range suppliers, working out the process and contracting the manufacture. Frontier Pets was formally launched in January, 2017. After 12 months I decided to bring all of the manufacturing in-house and set-up our facility in Evans Head, Northern NSW.
What's the biggest barrier you've found to succeeding as a socially conscious business?
As strange as it seems – the biggest challenge is getting people to believe you! There are so many companies claiming to be 'sustainable' or 'ethical' or 'environmentally aware' and they're just not. They are simply capitalising on the areas that consumers are now conscious of.
We are 100% ethical and don't, ever, compromise. We are offered produce all the time that doesn't meet our ethical standards from suppliers trying to win the business. Their prices are cheaper for a reason. We pay more because we want to change the world!
Getting people to believe that we are not mucking around here and playing semantics with words. We are who we say we are.
That the barrier but we've achieved a lot too. In our first year we generated just under a thousand customers and had a five-figure turnover. I was running the business by myself out of my study at home on the Gold Coast. Today we have over 9,000 customers, employ 23 people and have a turnover exceeding $2 million. Our turnover for 2020-21 will be close to $4 million, we are growing at between 5-25% per month.
Since January 2017, Frontier Pets has spent $1.5 million on ethical produce.
Why did you pick the ingredients you have chosen to work with?
We've sourced 100% ethical produce from free range farmers, and organic produce from local growers. It is human grade food for our beloved dog!
Best piece of advice you have ever received?
Follow your passion and remind yourself all the time why you're doing this. (This has enabled me to get through the tough times).
What's next for you and your company?
I'd like to see the first factory farm see the value in free range farming, and transition their operations. Unit then we'll be giving customers the option for healthy dog food, that's good for the dog, animal welfare, and the planet.
We're ending factory farming on bowl at a time, and would love all dog owners to join the movement.
Are there any other Movers & Shakers out there in your world that you think people should know about? 
Philip Lymbery is certainly right up there. (I'd love to meet him!). There are of course the celebs that lend their name to various causes, but honestly, It's the unknown individual that we should be paying attention to. All of us that are making change through as small a contribution as buying Free-Range at the supermarket. Let us 'band together' and then you'll see some shaking!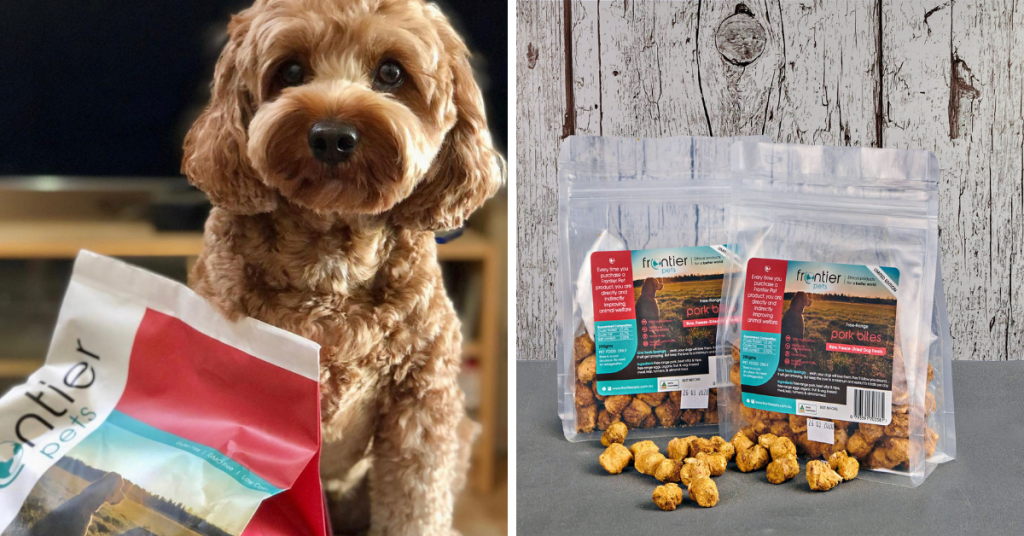 Check out Frontier Pets for yourself here.