Inspired By Nature with Rory Douglas from Flora Originals
A quick flower sketch by Rory Douglas from Flora Originals bloomed into a bold idea—to create a clothing label inspired by nature that also considered nature in the process. We spoke with Rory about how it all started, why he chooses the materials he works with, and what's next for Flora Originals.
What made you start your Flora Originals?
To be totally honest it all started with doing a simple sketch of my favourite flower, the Waratah, and thinking 'Man, this could look cool on a shirt!'
It snowballed from there. I realized there was a clash between what I wanted in a shirt, and what was normal in the floral genre. Where I wanted something subtle, classy and understated – a quick google search for floral shirts would bring up anything but.
I'd never been particularly eco-conscious in my life choices, but I realized there was something fundamentally off with creating designs inspired by nature yet detrimental to her health. And so from there came the realization that not only could we create floral designs that broke the mould in terms of style; we should also practice what we preach, and use our brand's platform to set the right example and do our bit to push the industry toward more sustainable, ethical practices.
Do you have a morning routine? If so what is it you do to set yourself up for the day ahead?
Exercise if I'm feeling motivated enough, but aside from that its a wholly unoriginal combo of coffee and to-do lists.
What's the biggest barrier you've found to succeeding as a socially conscious business?
I think the major barrier at this stage is being something that most consumers are unaware of. While our environmental impact on this planet is (quite rightly) coming more and more into public awareness, taking action to change our habits and behaviours seems to be a much slower process and at this stage I don't believe many people are aware of the options available to them. That and the fact that 'fast fashion' is often so much cheaper and more convenient. But hopefully as perceptions and consumer preferences change so will ease of access to more ethical and sustainable products.
Within the ethical fashion community, there's a big question that we ask which is 'who made my clothes?'. In the scope of Flora Originals, who made the things you sell? Can you tell us a bit about them?
We actually source our clothes pre-made as 'blanks', on which we print (using water-based, biodegradable inks) or embroider, from external suppliers. We use two companies for this: Stanley/Stella and Continental Clothing (of the latter we use only the 'EarthPositive' range). We encourage anyone interested in our products to check our their websites for specific details on supply chain but for the sake of brevity we'll summarise it here. All our tees are made from sustainably-farmed, 100% organic GOTS certified cotton from India, and produced to the highest standards in factories in India and Bangladesh, under ethical working conditions (FairWear Foundation certified).
Why did you pick the fabrics you have chosen to work with?
Using 100% organic cotton was an easy choice for us, it's sustainably-farmed and ethically made, so its better for the planet and the people who make it. Not only that, but its incredibly soft and comfortable, and really gives our tees that premium, high-end feel.
Best piece of advice you have ever received?
Whatever you do, or dream you can do – begin it. Boldness has genius, power and magic in it.
– Goethe
What's next for you and Flora Originals?
We're hoping to expand the kind of products we're offering from mostly tees into sweaters (for autumn/winter), jumpsuits, dresses, dungarees, button-up shirts. All with that signature simplicity and quality feel.
Material-wise we'd love to experiment with hemp and other eco-friendly materials.
One book everyone should read? Why?
This may be totally irrelevant to the ethical fashion scene but 'Shantaram' by Gregory David Roberts is an amazing story of an escaped Australian convict finding love, purpose and honour in the Bombay underworld, that if nothing else broadens cultural horizons and sheds light on a different way of life in an alien world.
Are there any other Movers & Shakers out there in your world that you think people should know about?
Idioma are a seriously cool, unisex brand with some classy designs inspired by the language and cultures of the world.
SeaWolf Apparel have some great stuff in that surf/skate genre, but with an emphasis on sustainable/ethical practice, and they're also donating some profits to ocean conservation/marine habitat protection etc.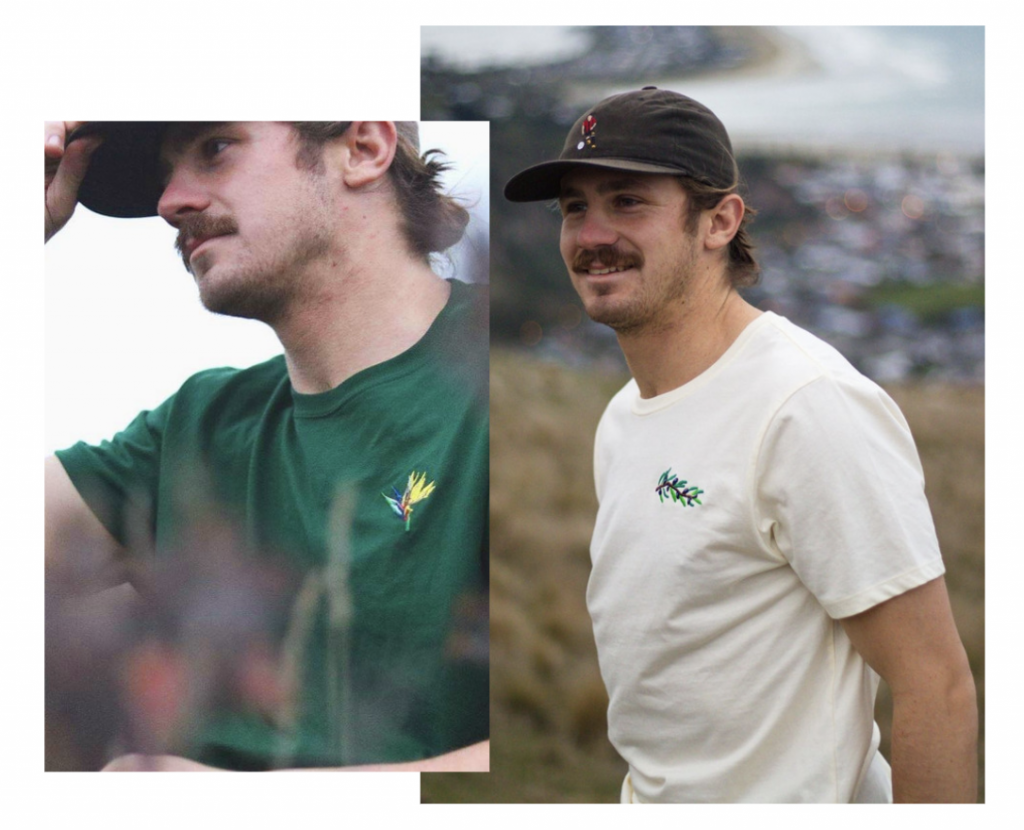 Want to learn more about Rory and Flora Originals? Us too, we're obsessed with an understated tee with a great story behind it. Go check out Flora Originals for yourself.