We speak to jet setter, trend setter, and founder of namesake fashion label, KOPAL.
Kopal is a powerhouse for creative collaboration – when she isn't producing clothing in India, she is working with organisations and artisan groups to help bring her collections to life. She's also just uprooted from the Big Apple to dreamy Byron Bay, and we cannot wait to see what she does next.
What made you start Kopal?
Fed up with working as a Design Director in New York, I started Kopal as a means to pay help highlight and sustain the amazing and ancient traditions and techniques of artisans in my native India. Applying a more modern and western approach to bring their amazing work to a mainstream audience.
Do you have a morning routine? If so, what is it you do to set yourself up for the day ahead?
My day always starts with a furious review of emails and messages from my team in India. No matter how late I go to bed there are always messages and issues for me to resolve first thing in the morning. Then once I am settled I love to cook and spend time with my son in the morning, walk him to school with my dog, and try to enjoy a few moments of peace and quiet. Then time permitting a quick work out and off to my studio for a day's work.
What's the biggest barrier you've found to succeeding as a socially conscious business?
Definitely the biggest barrier is educating buyers and consumers the difference and detail in hand made goods and the natural defects, versus what they are used to buying from machine-made goods. More people are increasingly aware of the nuance and subtle difference, but when you buy something handmade there are always little imperfections and differences, which is really the mark that something has been made by a skilled artisan.
Within the ethical fashion community, there's a big question that we ask which is 'who made my clothes?'. In the scope of Kopal, who made your clothes? Can you tell us a bit about them?
Yes, this is something that has really taken off in recent years, and something that I am proud to work with and support. I work with several different organisations to create my lines – The Widows of Vrindavan, and Self Employed Women's Association – that function as cooperatives that employ women and underprivileged classes. Then I work with small and select Artisan groups to make every single piece of my line. All my clothes are made in India, and I spend 4-6 months a year there working hand in hand with them. It truly is a labour of love for me.
Why did you pick the fabrics or materials that you have chosen to work with?
As I only produce in India, by default I work only with goods that are readily available to me. This means that I use a lot of natural fabrics and dyes, as well as incorporating ancient traditions and techniques for the skilled artisans who make them.
What's next for you and Kopal?
As you know we've recently moved from New York to Byron Bay, which is both amazing and scary all at the same time. We have recently built out our own showroom which is like a creative little slice of India I have brought with me, and we are planning to open our own little store in Byron Bay very soon. Watch this space!
Are there any other Movers & Shakers out there in your world that you think people should know about?

Yes! I like to try to highlight them on my journal, to bring their work to the forefront and really shine a light on them. Some of the people I have featured recently whom I have worked with over the years and have inspired me are Amy Abrams, the Founder of Artists and Fleas, and Rebecca van Bergen from Nest – both are amazing powerful and empowering women whom I respect.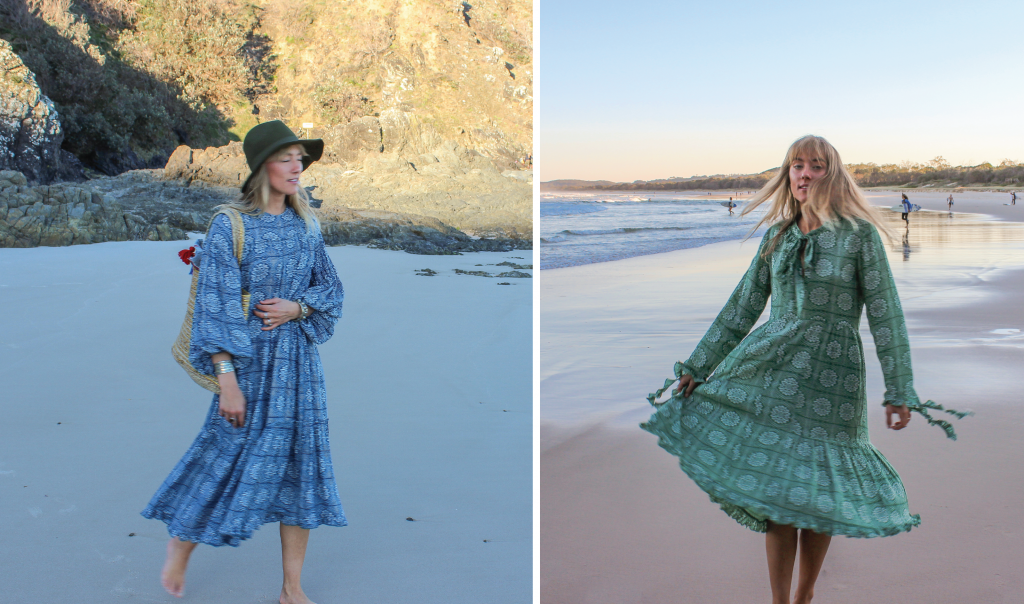 Love Kopal as much as us? We're unsure if that's possible, but if you're in need of a new outfit, use the discount code EME10 for 10% off storewide.