Liam Dillon and his hunt for the world's most ethical leather.
Liam Dillon searched high and low for an ethical and sustainable leather that aligned with his values but also kept his passion for leatherwork alive. We spoke with Liam about why he landed on kangaroo leather and how he couldn't get through his days of leatherwork without his beloved dog Rosie by his side.
What made you start Liam Dillon Design?
My business evolved naturally as I developed and explored my passion for leather and design. While living in London in my early 20's and working in a café I made a friend who was studying to become a cordwainer, I was inspired by the ancient skills and techniques used in shoemaking that my friend spoke about. After moving back to Melbourne I enrolled to study custom made footwear at RMIT. I had always been drawn to working with my hands, had an interest in design and making, and had a fascination with leather. After the course I got my own studio where I continued to explore and refine my skills, values and designs, originally focusing on footwear. I got a job working at Parigina Shoes, a family owned business established in the 60's that make formal men's footwear. While working here my own practice evolved from footwear to leather accessories, enjoying the greater design possibilities of these products. After years of working away in my own studio developing a range of products, Liam Dillon Design was born.
Do you have a morning routine? If so what is it you do to set yourself up for the day ahead?
The morning routine begins with coffee. While I make a batch of filter coffee I send in our dog into the bedroom to wake up my partner. Once the coffee is made, and my partner is up, we take our dog for a walk along the Merri Creek. Rosie is a Border Collie x Kelpie and she will makes sure we take her for a walk – rain, hail or shine. Once we get home I have breakfast and then cycle to the studio as Rosie runs alongside me.
What's the biggest barrier you've found to succeeding as a socially conscious business?
It was difficult for me to find the material that aligned with my values but still had all the characteristics of leather that I am fascinated with. I enrolled into the shoe making course before I became a vegetarian, and I only realised the conflict of interest after it was too late.
While studying I learned about the environmental and ethical issues that come with most materials used in footwear and accessories. While it is claimed cowhide is a by-product of the meat industry the profits from their skin is still a large percentage that contribute to success to the industry. Exotic leathers come from animal that are farmed just for their skin. 90% of all leather on the market is chrome tanned, a process that uses harmful chemicals to speed up the process.
It took a lot of time and research to find the exact material that aligns with my ethical and sustainable values, while also inspiring me to work with, but to me kangaroo leather ticks all those boxes.
Within the ethical fashion community, there's a big question that we ask which is 'who made my clothes?'. In the scope of Liam Dillon Design, who made the things you sell? Can you tell us a bit about them?
I design and make all the products myself from my own studio in Brunswick, Melbourne. Rosie, my dog, is with me everyday but she tend to sun-bake out the front more than she works.
Why did you pick the fabrics you have chosen to work with?
I never really picked leather. Leather was where it all started for me. I had always had a fascination with the material and just wanted to learn all I could about it.
The leather that I use is a specific type of vegetable tanned kangaroo leather from Packers tannery in Queensland. It is made for whip making, to be trimmed down very thinly while maintaining incredible strength. Vegetable tanning is an ancient process that uses natural dyes, takes time and skill, and in the end produces a non-toxic and biodegradable material. Packers tannery themselves are assessed against international best practice in leather manufacturing by the Leather Working Group, they hold a gold rating – the highest available. The Leather Working Group seeks to improve leather manufacturing with a focus on environmental priorities and continual improvement.
All kangaroo products are a true by-product of the government enforced cull to stem the over-population of these wild animals, so resources and land don't go towards farming them. Kangaroos are one of the few species, including humans, that have a regular census of their population. This helps the states produce a quota of animals to be culled by licensed harvesters that have to follow very strict guidelines.
On top of the material aligning with my values, it's also inspiring to work with. It is incredibly seductive and rich, it naturally ages with use and time and changes with you. Kangaroos are wild animals, so their skin is often scarred or marked. I love embracing these imperfections in the leather because they tell a story. Kangaroos get in fights, they bound through the harsh Australian bush, they get bitten by insects. These things leave marks on their skin in the same way they would ours. Our products are a reminder of our connection to nature and the land we live on.
Best piece of advice you have ever received?
"Slowly, slowly"
While travelling around India my partner and I loved this saying that we heard throughout the country. Originally it helped us deal with the unpredictable way things can work in India, but it really is a way of life. I believe this is something we need a lot more of in our western culture. We have such a focus on things happening quickly and when we want them to that we have developed a society so full of anxiety and stress. Good things should take time and we should all be ok with that.
What's next for you and Liam Dillon Design?
Creating and designing is what I enjoy the most, so I intend to continue to learn and explore the design and product possibilities of kangaroo leather. While I enjoy creating traditional products, I also enjoy thinking outside the box and using leather in ways that is unconventional, pushing the boundaries of what is possible. I have many ideas bubbling under the surface I intend to explore and share.
One book everyone should read? Why?
Dark Emu by Bruce Pascoe is definitely a book every Australian (and everyone else) should read. It gives a true depiction of indigenous culture on this land before white settlement, shattering the stereotypical image that has been taught for generations in the mainstream.
Are there any other Movers & Shakers out there in your world that you think people should know about?
I am really inspired by the community of shoe makers that I work with and source materials from. Many of these people own second or third generation family businesses or are migrants that have been working in the industry their entire lives. What was once a thriving industry in Australia is now threatened as more people source and produce overseas. While I wouldn't necessarily say that any of them are 'movers and shakers', I think we should all know about them because they are really inspiring.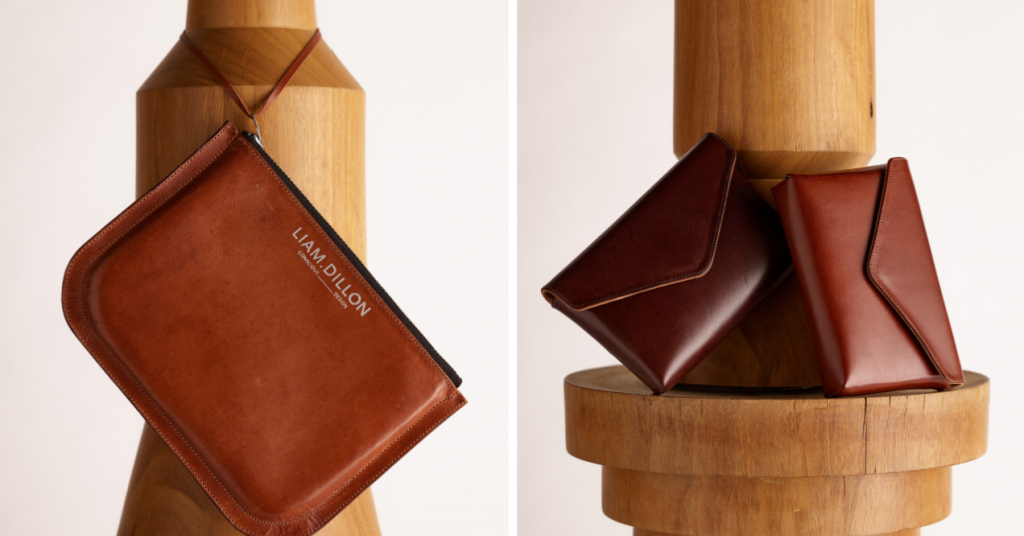 Loved this interview and want to check out Liam Dillon Design? Here's the website.