Living intentionally with Olivia Halle of slow fashion label, HALLE.
When Olivia Halle started her fashion degree, she had never sewn a seam. Fast forward and Olivia has recently quit her full-time job to pursue quality over quantity fashion label from her beautiful home of Newcastle. We spoke to Olivia about how her mum inspired a love of fashion and fabrics, and how she learnt to always back herself as a business owner.
What made you start Halle?
My story isn't your usual, "I've always wanted to do design-conscious clothing". Growing up in an all-female household with a mother who has impeccable taste & keen eye in vintage stores, clothing was always a hot topic. Her love for natural fibres & motto of quality over quantity must have rubbed off on me. Creativity has always been a part of me and it took me some searching to find my outlet.

After travelling I decided on a whim to enrol in a Fashion Design course. I had no expectations having never really sewn two seams together. It was there my love for fashion grew & I started to appreciate the true value behind the creation of a garment.

As I progressed in my studies my eyes opened to the fast fashion industry & I came to the realisation that the industry that I had fallen in love with wasn't all luxurious fabrics & glamorous collections. I struggled to find my place knowing what I knew but realised I would feel unfulfilled if I didn't pursue a life in the fashion industry & try to create a business that advocated mindfulness towards purchasing an item of clothing – from there HALLE was born.
Do you have a morning routine? If so what is it you do to set yourself up for the day ahead?
Yes I love routine & I am absolutely a morning person. I do my best work before lunch.

My day starts relatively early. I am usually woken by the smell of coffee & a mug under my nose from my partner. I then take some time to comb through emails & make a TO-DO list, which usually consists of 90% of things I should have done the day prior.

I am a notorious list maker, if it's not written down it won't get done. Next is a light workout & stretch followed by a walk around the block with the pooch, then breakfast. After that my days are divided between working from home in the studio or Maker Store & Studio where I can connect with my beautiful & conscious-minded customers.
What's the biggest barrier you've found to succeeding as a socially conscious business?
The biggest personal barrier I've found in the first few years of HALLE is sourcing materials within Australia. Getting your foot in the door is quite difficult. A lot of local suppliers have high quantity minimums which are really hard to reach when you are starting out as a micro business who is conscious of waste & over-producing.

I am lucky to have found some really amazing suppliers over the last year who are willing to work with young designers. These suppliers are my "pantry staples" so to speak who I keep going back to time & time again.
Within the ethical fashion community, there's a big question that we ask which is 'who made my clothes?'. In the scope of Halle, who made the things you sell? Can you tell us a bit about them?
All HALLE garments & collections are nurtured inhouse from concept to production by the hands of yours truly. Nothing is outsourced & every item that leaves the studio or finds its way to the floor at Maker Store my hands have created. Because of this I feel a direct link to the customer & know that all pieces that go to their homes are absolutely perfect & will serve their new owners well.
Why did you pick the fabrics you have chosen to work with?
From day dot natural fibres have been ingrained into me. Not only are they beautiful to work with, but they of course also have less of an impact on the environment through their lifecycle. My linens are sourced from a proud Australian owned family business who are passionate about ethical & sustainable fabrics. Their mills in Japan are known for their sustainability & fair conditions for workers. They pride themselves on minimal water & electrical usage, do not use child labour as well as pay proper wages for all employees who work in strict occupational health & safety environments.

I source deadstock fabrics locally also, meaning I am putting to use end of line fabrics that would ultimately end up as landfill. I reuse fabrics through multiple seasons, this means I have minimal waste & each collection can be paired back with the previous adding to garment versatility. I have recently started using a South Korean supplier who prides themselves on shipping in biodegradable packaging & have an extensive selection of natural fibre fabrics with low minimums.
Best piece of advice you have ever received?
It would be to not second guess myself. As a sole trader, you are often your own worst enemy when making decisions. I have found in the past the times I second-guessed myself, my gut instincts were right. I now approach all aspects of HALLE with true belief that I am capable of overcoming obstacles so I can stay true to HALLE's core values.
What's next for you and Halle?
I have recently quit my part-time job (YAY) to work on HALLE full time so at this point, I'm just revelling in the newfound freedom to create without time restraints. I have a few more micro drops up my sleeve coming into the warmer months as well as some new ways HALLE can start giving back to the community.
One documentary everyone should watch? Why?
I recently watched "David Attenborough's A life On Our Planet". It addressed environmental issues that I hope everyone is aware of. It's a good foot in the door for those who are interested in starting a conscious journey and also serves as a reminder for everyone how important it is we shape a future where we live in balance with nature.
Are there any other Movers & Shakers out there in your world that you think people should know about?
Yes absolutely. My powerhouse Maker Girls. They are a force to be reckoned with. I stumbled across these 4 women by chance & they have changed my life. They are a constant source of inspiration & the support I receive is immeasurable. It's so special to be on this journey with them.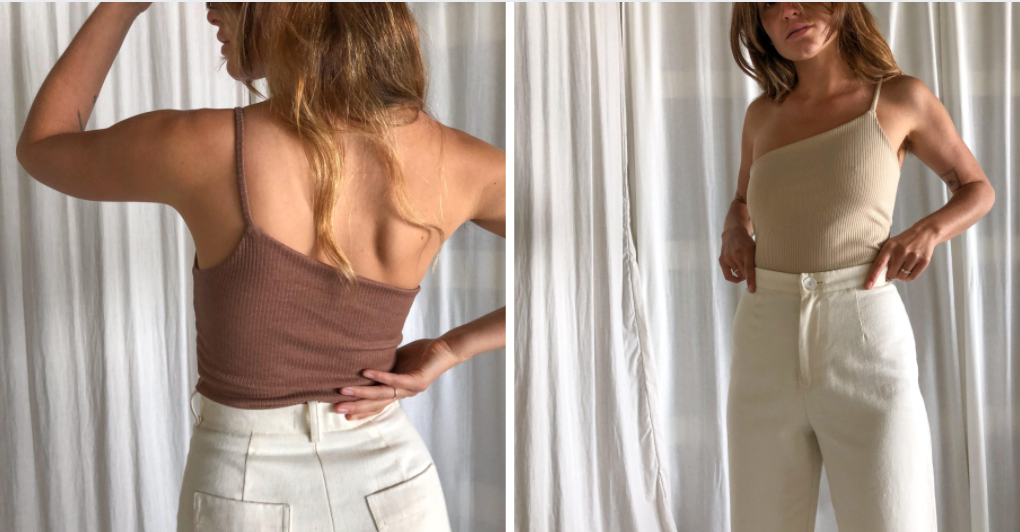 Love both Olivia and HALLE? Us too. Make sure to check them out here.