Living loudly (quietly) with Jess Molina
Jess Molina is a storyteller. More than that, she's a storyteller who knows when to take the mic and when to pass it on to someone else more deserving; when to raise her voice and when to listen. That's why she create Loudly Quietly, a space for storytelling and amplifying diverse voices to create an inclusive dialogue on topics such as beauty, fashion, food, features and living slowly. We spoke with Jess about the launch of Loudly Quietly, what inclusivity looks like, and the importance of waiting your turn.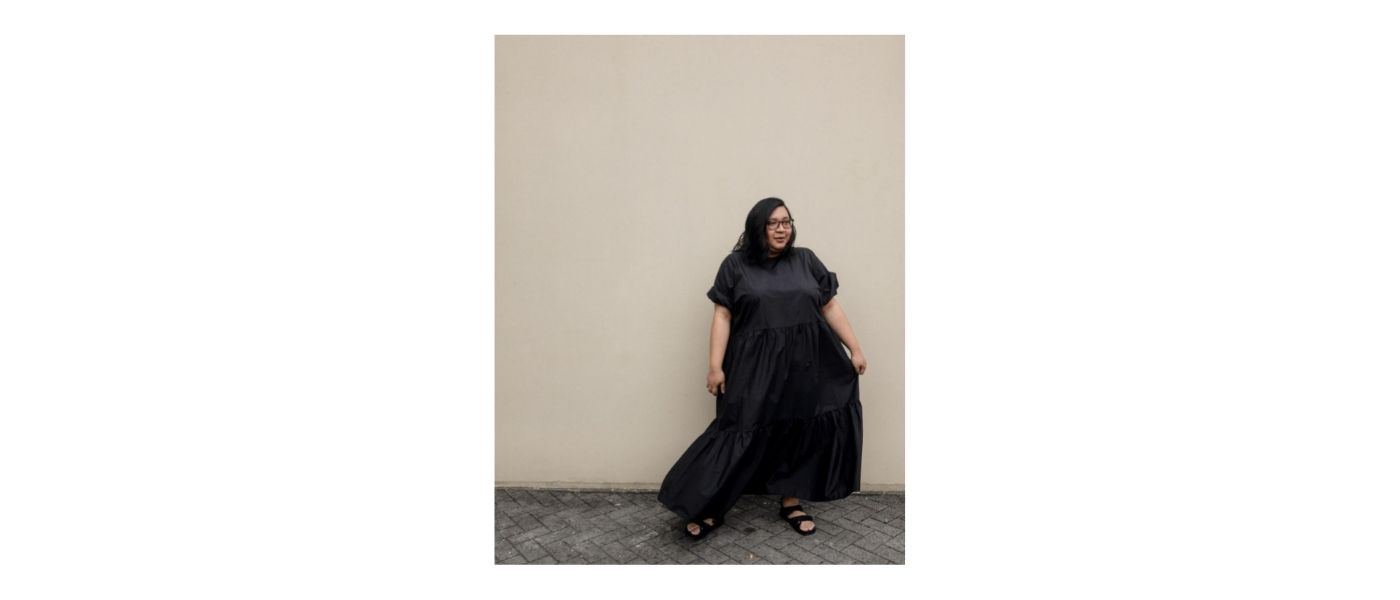 Jess Molina is a storyteller. More than that, she's a storyteller who knows when to take the mic and when to pass it on to someone else more deserving; when to raise her voice and when to listen. That's why she created Loudly Quietly, a space for storytelling and amplifying diverse voices to create an inclusive dialogue on topics such as beauty, fashion, food, features and living slowly. We spoke with Jess about the launch of Loudly Quietly, what inclusivity looks like, and the importance of waiting your turn. 
Can you please tell us a bit about yourself?
I'm Jess Molina and for a very long time I struggled to answer this question! Haha. I realised back in 2014 that the word that captured what I do was 'storyteller' – I tell stories through writing, acting, and social media. I've been a blogger for about 16 years now and tend to overshare on the internet quite a bit. I grew up sharing my life online and it's the biggest privilege to be able to have a voice and share it. I have a background in publishing and digital marketing. I'm also a very keen pasta eater and have a penchant for decorating my space with a lot of candles to the point where it starts looking a bit more sacrificial than romantic. Ha!
You've just launched a platform called Loudly Quietly. Congratulations! Can you please explain what it's all about?
Thank you so much! It's been years in the making and I'm so glad it's out there! I used to be the managing editor of Blacklisted Magazine until it folded in 2015. It's always been my dream to edit a magazine and while I've always had a creative outlet with my blog, I loved the idea of having something tangible to hold and also collaborating with others. After the magazine folded, I started thinking about what was next for me. I still had my blog but I missed the buzz of having an editorial team, writers, and just that collaboration of creating something great. I also was starting to grow out of my blog a bit in a sense where I can't keep up with events and content on my own anymore and people were guest writing for me and it was getting awkward to publish their work and name under jess-molina.com! Lol.
So loudlyquietly.com is the next stage of my blog. It's a lifestyle site in terms of category – we cover beauty, fashion, food, features, and interviews – but it's also its own unique genre in a sense that I want it to be a place for people's passions to come through. I'm all about slow consumption and Loudly Quietly to me is a rebellion against the fast, micro content that is all the rage nowadays. My biggest fear is that I'm just contributing to the noise online and not actually adding any value. So I'm going with the approach of slow, thoughtful, well-written pieces about life and the world around us. I'm currently working on beauty stories where product reviews are reviewed by different skin tones and types. Fashion pieces where you can see it in different body types etc. I'm also really passionate about publishing fresh voices so most of my contributors are people who have never been published elsewhere and are looking to develop their voice.
What does living 'loudly quietly' mean to you?
The name came to me in April 2019. The Christchurch Terrorism Attack really had been a shock and we were all reeling from it. Especially the Muslim community. I have had a lot of conversations with people in the community via Instagram and it took a few months for me to post 'normal' content again as I had felt like my platform could be better used to support the community and gave it to whoever needed it. I was thinking about allyship in general and what we can actually, tangibly do to help not just post-attack but in eliminating racism in general. I started thinking about how in order for things to change, we needed to know when to be loud and when to be quiet. When to raise our voice, when to listen. Loud cannot exist without quiet and vice versa. So I rushed to brunch with my friend and while we were chatting I grabbed my phone and registered the domain and social handles. I couldn't believe it was available!
"Living 'loudly and quietly' to me means living in that balance, creating spaces for inclusivity, knowing when to shut the hell up and listen instead. Being louder about the things I care about. Living both a loud and quiet life."
What does ethical fashion mean to you?
Ethical fashion for me is fashion that stands the test of time. I used to feel shy around participating in conversations about ethical fashion because I felt like I didn't belong. As a fat person, my options for clothing are already limited. I also happen to like that clean, neutral, aesthetic and found that most clothing brands that cater to larger people don't really suit my style. I feel like there's this perception that fat people should only wear bright clothes, loud prints, and things that are 'bold'. And for a very long time I felt ashamed that not only do I go into clothing stores and not fit the clothes most of the time, but the clothes that I do fit and feel great in (you know that feeling of finding an outfit that feels like you, that makes you confident and happy? Yeah, that) were from fast fashion outlets.
But I've always been resourceful, always shopped secondhand and knew how to make an outfit work. So while my options are limited, I make sure that when I buy anything, it's a piece that I will wear for years to come. I'm also excellent at looking after my clothes! I love fashion. My pieces are like my babies so I take great care of them. I feel like that's one of the most ethical things we can do – only have pieces we love and make us feel good about ourselves and take care of it.
I've also always loved #OOTDs and being a fashion blogger so I wanted to show that you can still look cool and stylish in clothes that you have owned for years. Most of my outfit posts usually feature something I've owned for at least 5 years that still look new because of how well loved and looked after it is.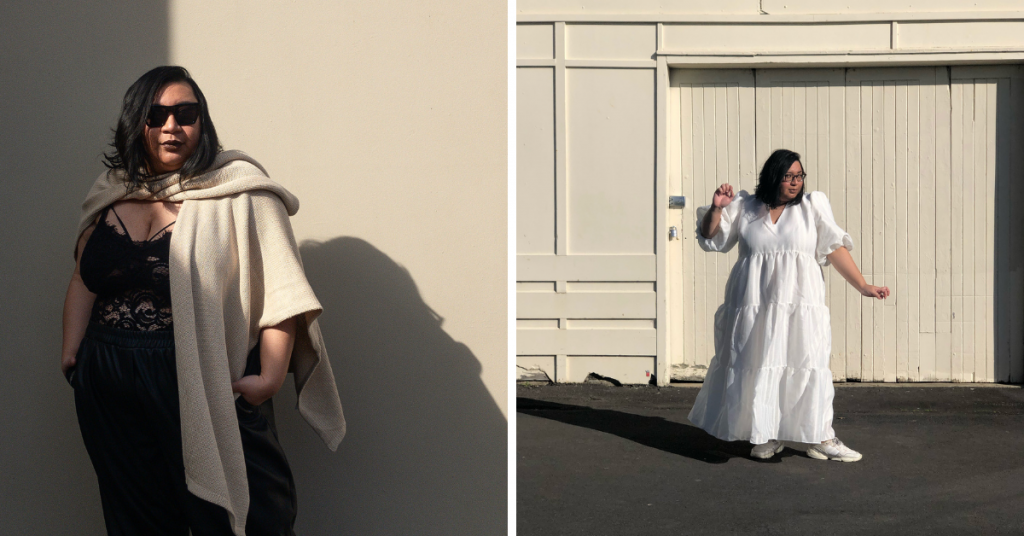 What does a normal day look like for you?
I still have a corporate job at the moment so I'm at work 9 -5 and then I move into what I call my 'night job' which is the website, content creation on social media etc. I'm unfortunately a night owl and get the best ideas/work done late so I'm most creative at like 10 pm… which isn't ideal when some days I start work at 7:30! I like to cook so that's usually my way of relaxing and breaking up my day. Pre-pandemic I was lucky enough to do a lot of movie reviews on my website so my weekdays usually had a few film premieres at night and I'd go home and write my notes after! I'm trying to get better at just chilling out and prioritising down time at night more. I'm still working on that balance!
What brings you the most joy?
Eating good food, being around friends and family, writing and creating, throwing dinner parties, flowers, fresh sheets, and my cat Ginger!
What are you reading, watching and listening to right now?
I always have a few books on the go so right now I'm rereading Lin Manuel-Miranda's Gmorning, Gnight. One of the most uplifting books I've ever read! My friend Lisette also published a YA fantasy novel called Bianca de Lumiere and it's been years since I've read this genre and I'm hooked again! Also it's really handy to be friends with the author because I can freakout to her directly everytime there's a plot twist! Haha!
I'm watching Sensitive Skin on Acorn TV as I'm a huge Kim Cattrall fan, Schitt's Creek, and Emily in Paris! Shows and films are my escape and right now I really need something light and uplifting.
Listening to a musician called Francis and the Lights. I haven't obsessed over an artist's full discography in years but Francis is an enigma and his music is incredible! He's the muse to artists like Drake and Kanye West and now that I've seen clips of Francis' work, I can totally see his influence in pop culture. "May I Have This Dance" with Chance the Rapper and "Friends" with Bon Iver and Kanye West is amazing!
What are you in the process of learning more about?
I'm getting back into photography and shooting with my big camera again! It's been really fun to get creative without really that pressure of creating something great. I also went halves on a Masterclass account with a friend so doing courses on there. Quite excited to do creative writing with Neil Gaiman and photography with Annie Leibowitz!
Is there anything that completely changed your life? (book, movie, holiday, person, etc.)
The Shopaholic Series by Sophie Kinsella. I read the first two books when I was 12/13 and it just blew my mind. For as long as I can remember, people ridiculed 'chick lit' as a genre but in hindsight I think that has a lot to do with sexism more than the genre itself. But I read Shopaholic and for the first time ever I met a character like Becky Bloomwood – strong willed, witty, clever, powerful, strong while also being completely into fashion and beauty and all the things we deem as 'shallow'. I felt seen! But more than that I realised that women can be powerful while caring about makeup, smart while still loving shopping, have substance while being interested in the frivolous things too. It was mind blowing as a young adult to realise that my love for fashion doesn't mean I'm shallow. As a creative fiction writer, it also made me want to write characters that were flawed and strong and nuanced like Becky. It is the book that seriously made me want to write and I still reread the series every Christmas break!
What do you wish you could tell your 18 year old self?
"One day it will be your turn. It will be your turn to be heard. It will be your turn to get the opportunities you deserve. It will be your turn to tell your stories and harness a community. "
But best of all, one day it will be your turn to send the elevator down and uplift more people with you the higher your rise. It will be your turn to offer someone an opportunity of a lifetime. It will be your turn to encourage and give them a leg up in achieving their dreams. It will be your turn to extend the same grace, love, and encouragement to people who used to be where you were.
But until then you just gotta keep showing up. Keep dressing the way you want to even though you don't see many visibly fat people with your style. Keep writing and blogging even if only your parents and your grandma read it. Keep contributing to the conversations you deeply care about. You don't know it yet but one day you will be asked by your friend to write a letter in support of marriage equality and you will pour your heart out in a tiny box on the website and submit it at 3 am, feeling passionate and driven and like something has been lit within you. You don't know it yet but you'll wake up with personal letters from MPs about how moved they were by your words and that your letter is the talk of parliament. A news site will publish your story in full and you will go viral. You'll sit there, bewildered that your words have been read by hundreds of people. And you'll realise the immense power you have in that moment and you will feel it time and time again as your words get shared more, as your vulnerabilities and insecurities about your own body gets shared to 6 million people, as you get messages from strangers who feel the same feelings you thought only you were feeling.
One day it will be your turn and when that day comes, it will be great. Keep having faith in you and enjoy every single step of getting there.
What do you want your future self to remember about this moment?
I've just turned 29 this week and exactly on my birthday I got an email from IRD saying I had paid off my 45K student loan! That was huge for me. 7 years of hard work, blood, sweat, tears and just sticking with jobs that made me feel miserable. So I want my future self to remember how it feels to have that one-step closer to freedom feeling and to living the life I truly envision for myself on my own terms.
What's the best piece of advice you've ever received?
"You can if you think you can" is my favourite saying/advice and has helped me through a lot! I love it because it reminds me that mindset is everything and it helps me feel in control about the things I can't control!
What's next for you?
I'm currently working on the next phase of Loudly Quietly post launch, do a big Spring clean (my family got me my dream shelf for my birthday and I've been wanting to do a makeup/skincare edit and display my collection nicely!), writing a piece on being fat in fashion, and preparing to participate in NaNoWriMo in November!