'Essential Services' with Maddy Rawlings from The Essentials Club
Getting crafty may not exactly be essential but it's something getting a lot of people through the coronavirus pandemic. Sewing, in particular, is a great way to exercise that creative muscle and it's also an ethical boost to your wardrobe. Not to mention the satisfaction you get when you can say "Oh this old thing? Yeah, I made it". Someone who knows exactly what that's like is Maddy Rawlings from The Essentials Club.
She's the multidisciplinary creative responsible for The Essentials Club, the hub for creative doers with how-to tutorials, handcrafted projects, and explorations that encourage us to live a simple yet full life with only the essentials. Maddy is also responsible for EME's branding via her branding studio The Binding. We sat down with this creative powerhouse and picked her brain about The Essentials Club and tips on getting crafty.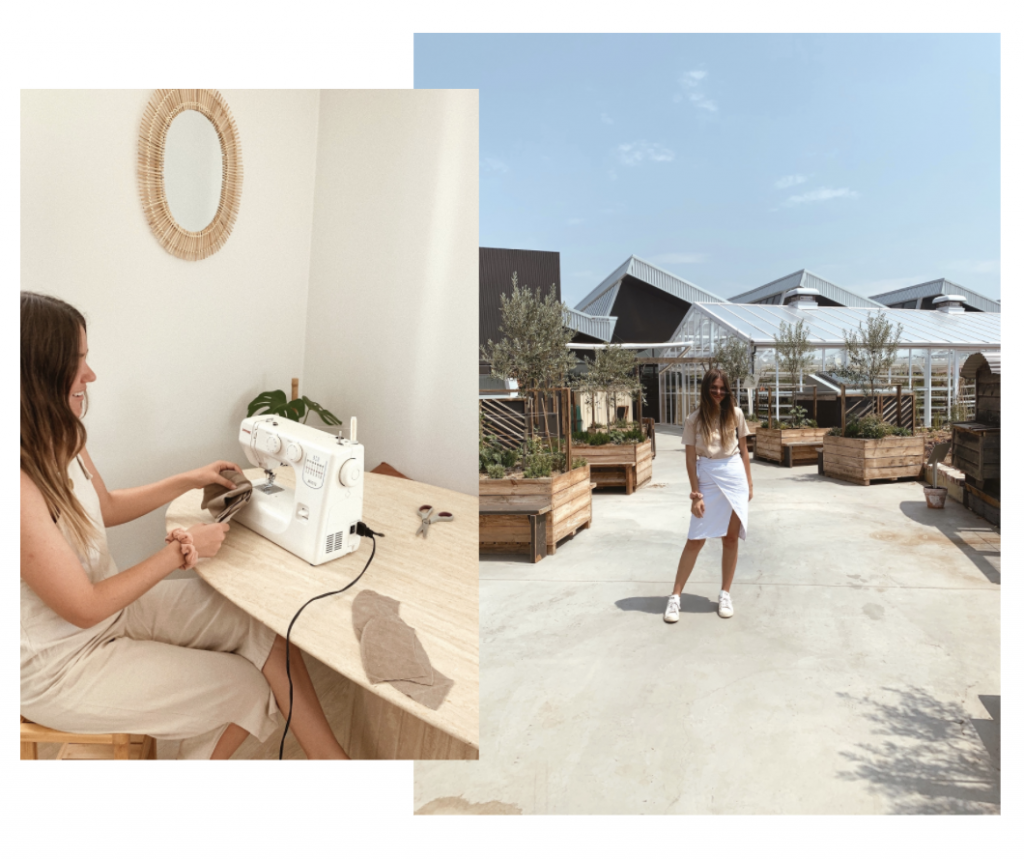 What made you start The Essentials Club?
There's a lot of reasons that drove me to start TEC but I'd say the main journey that led to turning it from an idea into a reality was to hold myself accountable for maintaining a sustainable wardrobe and to take the time to get creative away from the screen. I've always made clothes as a fun outlet, but it also really opened my eyes to the time and effort that goes into making one piece. So, it just made sense to establish a platform that has a deeper meaning by sharing these tutorial processes all while helping others on their sustainable journey.
When did you first start creating your own pieces? Do you use a pattern or just go off something you see?
Ever since high school when I learned to sew, I've always been dreaming up garments and then bringing them to life. Sometimes it's seeing the potential of a second-hand item and evolving it into something that's more suited to my style. Otherwise, most of the time I'll create something that starts off as a very rough sketch, then by using measurements and fits of similar garments I'll begin a process of trial and error to get it to a point where it looks and feels right. This piece will then become a starting point for the next time I want to create something like it.
How do you source the fabrics you use?
I enjoy the process of physically going somewhere and seeing/feeling the available fabrics. Sometimes I'll have an exact colour and material in mind for a garment, other times I'm open for what I come across in the moment and think will work. My main sources of fabric at the moment are The Fabric Store and every now and then I'll score at op shops.
What practical tips do you have for those of us who are yet to DIY our own clothing?
Ideally go to a workshop/class or reach out to a friend who can help guide you through making a garment. If you're doing it for the first time, it's so handy to be able to turn to someone who can talk you through any problems/queries you might face. As much as it is a creative outlet it can get quite technical.
Also, don't put too much pressure on yourself to make it perfect. Take it slow, sip it in and enjoy the process. Sewing is an incredibly rewarding skill that you'll only get better at the more you do it!
What or who inspires you to do what you do on a daily basis?
The thought that I'm somehow making a positive impact by helping people explore the idea of making their own clothes and take a more intentional path keeps me motivated. It's crazy how aligning with who I truly am has helped attract more resourceful, creative and inspiring people/opportunities that make me absolutely light up with purpose all because I followed a passion of mine.
Best piece of advice you have ever received?
Let fear be a tailwind not a headwind – Seth Godin.
Follow your passions because the two scenarios are it either all works out or you take away what you can and learn something from it. To me, that's a win-win situation.
Do you have a morning routine? If so, what is it you do to set yourself up for the day ahead?
I have two non-negotiables which are: taking the time to enjoy my coffee and getting out of the house for a walk. I work from home so getting outside first thing in the morning helps me feel like I've ticked that off and I feel less guilty if I stay glued to the screen for most of the day from there on. Apart from that I'm honestly not one for a set-in stone routine. I'd rather wake up see how I'm feeling, what the day is like and adapt to that. Sometimes that means taking things a bit slower, while other days I might be up before sunrise and ticking off a million things.
How do you define success?
Success is not a final destination. Every time you think you've hit your definition of success it continues to evolve. So no matter what you're doing, take in the journey, be authentic and don't neglect yourself or those who love you. Because there's no point reaching this idea of 'success' and having no one to enjoy it with.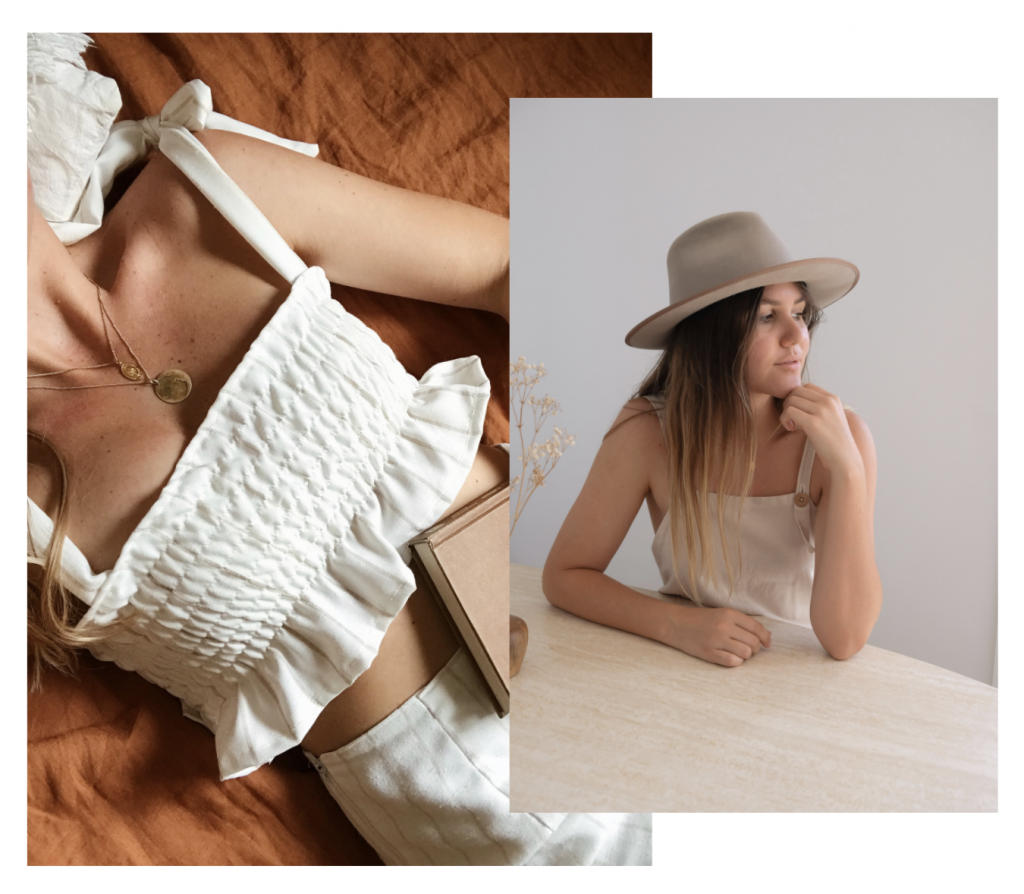 One book everyone should read? Why?
I just finished Big Magic by Elizabeth Gilbert and deeply connected with everything she dove into. It was just SO inspiring and comforting to read something that perfectly articulated the way I felt about all the ebbs and flows of being a creative.
One documentary everyone should watch? Why?
This question got me real good. I have so many favourites for different reasons. If you want a good slap across the face to give you more reason to refine your lifestyle and environmental impact then watch Blue, Minimalism, or The True Cost. I also love connecting the dots as to how people, places, cultures, business, etc. came to be what they are today and that's an endless list of inspirational documentaries depending on what category you want to focus on – I find it's such a good eye-opener that just because we live a certain way doesn't mean it's the only way.
Are there any other Movers & Shakers out there in your world that you think we should all know about?
I love seeing people being courageous enough to turn their passions into careers, then using that platform and 'influence' as a way to bring people together, spread positivity and act as a way to elevate others doing good in the community. People that come to mind are Nat Woods from Clean Coast Collective & The Corner Palm and Tess Robinson (and obviously EME).
Give Maddy's bucket hat tutorial a try and tag us in your result on Instagram!