Meet the creative founder of Isla In Bloom, Misha Smits.
Misha Smits created Isla In Bloom after she struggled to find a swimsuit that ticked all her boxes. We spoke with Misha about the importance of trusting your own instincts and why eco friendly products were a non-negotiable when creating her swimwear label.
What made you start Isla In Bloom?
I started Isla In Bloom because I wanted to create swimwear that women who love beautiful, feminine prints to express their style, would feel confident in. With a background in business and marketing, I've always enjoyed working on building a brand and the creative aspect of marketing. I wanted to create a swimwear label that encapsulated my love of wanderlust, sustainability and beautiful bold prints, with a need for functional and purposeful swimwear for women to feel confident, feminine and happy in.

Inspired by a love of the ocean and wanting to feel confident in a bikini all summer long, though never being able to find the perfect swimsuit, I've designed styles based on the female figure and noting how our bodies are forever changing. My ultimate goal for Isla In Bloom was to create classic swimwear styles that flatter your figure and that are designed to fit more women.

Each design consideration that has been made always took me back to making them adjustable where possible, and having fabric that is soft enough to not cut-in, but firm enough to be supportive and long-lasting. This is why most of the pieces in the collection include timeless shapes, featuring tie-side bikini bottoms, adjustable over the shoulder straps and soft edging to mold to every woman's body. Being able to adjust each piece to your figure makes the suits versatile for women looking to find the ultimate flattering suit for summer.

I really struggled to find swimwear when I lived in the UK (I was based in London for 6 years). I was looking for vibrant colourful prints, that still had a level of sophistication and that fit well. I ended up wearing surf brands because they were the only brands that had bold prints, but the bikini bottoms would be so baggy (front and back!) and the prints weren't elegant / feminine. As I was getting older, my body was changing and I could never fit fixed side bikini bottoms of these brands, so I had to get tie-sides but this limited me further in what I could choose and the fit was really poor. I wanted to create swimwear that met the following requirements:

– Vibrant, feminine prints
– Soft, sustainable fabrics
– Ethically made
– Premium quality with luxe feel
– Classic styles with adjustable straps and tie-sides to fit more women
– Quality of fit is a top priority, no more baggy bikini bottoms or ill fitting bikini tops
– Sophisticated styles which also include full coverage bikini bottom options
Do you have a morning routine? If so what is it you do to set yourself up for the day ahead?
My morning routine includes the gym and a nice coffee! Exercising helps me to sleep better and its the only thing I stay consistent with even when I'm really busy I force myself to go! I'm also really into coffee, being originally from NZ my standards are very high so I bought a proper coffee machine and I get locally roasted beans – its the highlight of my day! I work full time in marketing while building my brand on the side so my mornings are always really busy, squeezing in any work where possible before I head to my day job.
What's the biggest barrier you've found to succeeding as a socially conscious business?
I would say availability of materials and suppliers means less to choose from to create your product and also much higher price points. Throughout the year I spent on product development and trying to find the right suppliers in Australia to make my swimwear, I had a number of barriers at each stage. Eco-friendly swimwear fabrics are very limited and even more so if you want to go for a premium, high quality finish. Most sustainable swimwear brands use a recycled polyester, whereas I wanted to use a recycled nylon material as the feel and durability is far more luxe – this created many barriers for me because it was near impossible to find a printer in Australia who printed on nylon, they all mostly do polyester. The printer I eventually found was x 3 the price of polyester. I have now found one other printer who is better priced but its taken me a year and a half later to find it! The fabric options are very limited so if we want to branch out we would need to work with a manufacturer to create our own sustainable fabrics from scratch, this unfortunately isn't possible until we're more established as the cost is too high as a start-up. Basically at every stage of our production of our swimwear and packaging we've paid more of a premium price to use high quality eco-friendly materials and be able to use suppliers that work with those materials. It would be great to see more suppliers in this space so it can be priced more competitively, this is the reason why many brands produce offshore.
Within the ethical fashion community, there's a big question that we ask which is 'who made my clothes?'. In the scope of Isla In Bloom, who made the things you sell? Can you tell us a bit about them?
All of our makers and suppliers are based in Sydney. I have a pattern maker in Alexandria who's previously worked for some of Australia's biggest swimwear brands. My cutter is based in Marrickville – its a small family owned business. My binder is in Moorebank – again a small family owned business. My fabric printer is in Alexandria – they are specialists in printing on nylon fabric which is quite the process – there is a lot of prep required to get the fabric ready for printing. My swimwear maker is in Marrickville based next door to my cutter, she has a small workshop of swim makers and for any Australian made swimwear brands, she is likely to be the maker – they work with some very well known household labels, mostly mid market to premium brands.
Why did you pick the fabrics you have chosen to work with?
Using eco-friendly fabrics was a non-negotiable for me, from start to finish I wanted to ensure we create swimwear with a high end result that is a better choice for our planet. Isla In Bloom uses Italian sourced fabrics that are made from Regenerated Econyl®, a nylon fabric that is 100% regenerative, made from recycled plastic and ocean waste. Each piece is handmade in Sydney and printed with water based, eco friendly inks. The swimsuits are packed in compostable mailing bags and wrapped in acid free, recycled tissue paper. The swimsuits lining is even made with recycled polyester yarn derived from plastic bottles. Producing collections in small runs to reduce waste, using eco-friendly materials and production processes, right down to the packaging the customer receives the finished product in, being that recycled and biodegradable. We only work with local suppliers and manufacturers in Australia to produce our swimwear to achieve the ultimate ethical collection.
Best piece of advice you have ever received?
The best advice has come from my own self-talk, learning and understanding along the way. No one understands my vision but me so a lot of advice at the start either left me confused, or deterred me / made me doubt what I was doing. You have to build up your own evidence that you can do it so I have a book where I've written all the reasons why I can achieve my goal and I remind myself of these when I'm having tough days. I have listened to a lot of podcasts and read advice to business start-ups that say to trust your gut as you know what's best for your business and it's not something I really understood until time after time it was proven to me that my instinct is always right.

Another thing I've learnt is that I can only rely on myself to get the outcome I want. Because I work in marketing I know all of the possibilities available (which can be curse!), it means that someone else's great is never my great as I know what great should look like. So in the last year I've taught myself photoshop, video editing, I designed my own logo, built my website, I do all of my creative for emails, currently learning the technical world of FB ads and even forcing myself to write more copy. Some of these things I dislike a lot! But I am the only one who will get the outcome I want because I am invested and have the vision and by learning these things it gives me freedom from relying on others too much when my budget is still really small.
What's next for you and Isla In Bloom?
We're currently working on new products that aren't swimwear! We're launching boho beach umbrellas and woven picnic throws to compliment our swimwear collection, featuring our beautifully bold signature prints. They're perfect for sunshine filled days at the beach and having picnics with family and friends! We're all about surrounding ourselves in vibrant, summery prints while we make unforgettable memories with our loved ones. Keep an eye out for the announcement of pre-orders, launching very soon!

We've also made 4 new classic swimwear styles, but as like many other small businesses impacted by Covid, these will be now be released in Summer 2021.
One book and/or documentary everyone should read/watch? Why?
Hmm the documentaries I have watched in the past are not really something to recommend! More crime solving! I actually don't have time to read / watch TV anymore as I have a full time job in marketing so every spare minute outside of work is spent on building my business. I would love to read more and I do like watching documentaries, I have a long list that people recommend to me but haven't found the time yet.
Are there any other Movers & Shakers out there in your world that you think people should know about?
I focus on the entrepreneurs who've created a brand that is highly engaging. In a world where most small businesses start online, its all about how you communicate with your audience and how you add value. We're constantly targeted with a high volume of advertising each day so consumers need to see your brand 10-20 times before it sticks – as well as the fact that only 2-3% of website visitors convert and only 1% of those visitors convert on their first visit – its extremely tough to get your brand out there so I follow brands who do that really well and have an audience that have become a true community, with a goal of creating my own community for Isla In Bloom. There are a number of beauty brands that are doing this really well like Frank Body, Tribe Skincare and Bangn Body – their marketing efforts do not go unnoticed, you see them everywhere! Its all about multiple touch points these days, creating your usp's and being true to them as well as maintain a consistent tone of voice.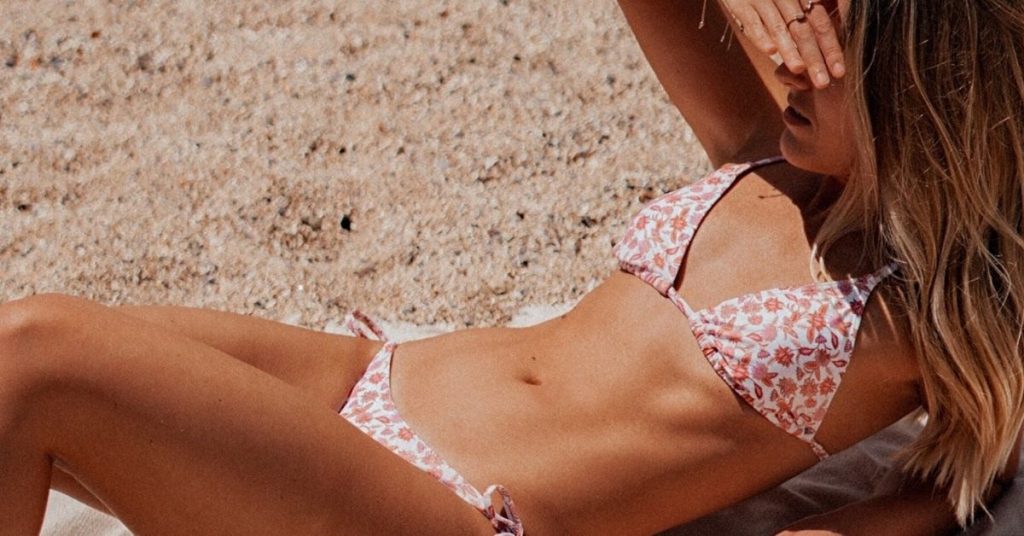 Love Isla In Bloom just as much as us?
Check them out for yourself here.