TJ Cowlishaw – The First Nations fashion designer with a deadly message
Teagen (TJ) Cowlishaw grew up surrounded by the best of the best in First Nations fashion design. She's since gone on to carve her own path in the industry with her sustainable streetwear label AARLI and as the newly appointed National Coordinator of First Nations Fashion and Design. We spoke with TJ about why slang terminology is so important to First Nations people, how her elders inspired her to use a method of upclycing to produce her designs, and what non-Indigenous allies can do to support First Nations fashion.
Can you please tell us a bit about yourself?
My family kinship lies with Nyikina people and paternal connections are with Bardi and Nyul Nyulpeople on the Dampier Peninsular, Western Australia. (Grandmother's ancestry. Family name: Hunter). I am also a descended from the Chinese Pirates of Shanghai (Grandfather's ancestry. Family name: Jan). I was born in Darwin, Northern Territory but raised and grew up between in many nations from Darwin (Larrakia), Broome (Yawuru) and Perth (Noongar). Since childhood, my mother has always shown the importance of working grass roots, knowing your culture and being proud of self-identity.
Tell us about AARLI?
My label is called AARLI, which in Bardi language means fish. The naming was influenced by my grandmother, Rosemarie Jan. AARLI a fashion label with a conscience. We're a First Nations fashion brand that specialises in producing sustainable and ethical garments and accessories, including custom made streetwear and deadstock apparel.Since its establishment in 2014, AARLI has endeavoured to build its own unique aesthetic through the use of upcycling remnant textiles/products, contemporary urban prints, and limited-edition streetwear and apparel.
Why is sustainability and ethics so important to you as a designer but also as a First Nations woman?
Promoting sustainability and the use of upcycled practices within in my brand are extremely important to me.
As a Next Gen designer, I always want to draw attention to over consumption of the world's natural resources and reflect on our First Nation traditional practices.
Our elders and art centres practice slow fashion techniques of working on country and producing quality locally hand made products that are authentic and not mass produced for commercialisation. Anindilyakwa who work with local resources such as ghost net and upcycled fabric to make woven baskets or Rujaki Designs using traditional bush dyes, which have healing properties. These brands are role models by continuing the use of traditional Indigenous creative practices, their creations are unique and sustainable, which is the continuation of their ancestors' storylines and cultural preservation.
Why do you choose upcycling as your method of design?
Over the last eight years, I have always stuck to my ethics and principles of sustainability and by choosing an upcycled production process. We need to learn from our elders and First Nation traditional practices like recycling animal skins for ceremony. Mangkaja Arts have been upcycling since the 1960s by using old Dingo flour bags to make dresses. Especially as a First Nation designer, saving our world's natural resources and protecting our waterways is incredibly important. These are some of the reasons why we incorporate the use of deadstock apparel and upcycling production techniques: It takes 2720 litres of water to make a t-shirt and 10,850 litres for one pair of jeans. Plus the over production of Polyester textile, which is the killer of the world by releasing fine particles of plastic into our waterways and into our fish/animals.
What's the significance of the words Deadly and True Gawwd that are featured on your designs?
I wanted people to understand that I am part of a generation that has lost our language. Due to my Nanna being part of Stolen Generation, I don't have much knowledge of her native language. As Next Generation, this is why I use slang terms in my apparel collection. These slang words are commonly used within our communities:
• Deadly is a Next Generation slang term for Aboriginal and Torres Strait Islander people which means "cool" or "awesome"
• Budju means "good looking person"
• True Gawwd is either an agreement or adding that extra passion to your or someone's statement. Like, "I swear to God" I want to use fashion as a platform to promote positive quotes with our designs and for Mob to show how deadly they are when wearing our garments.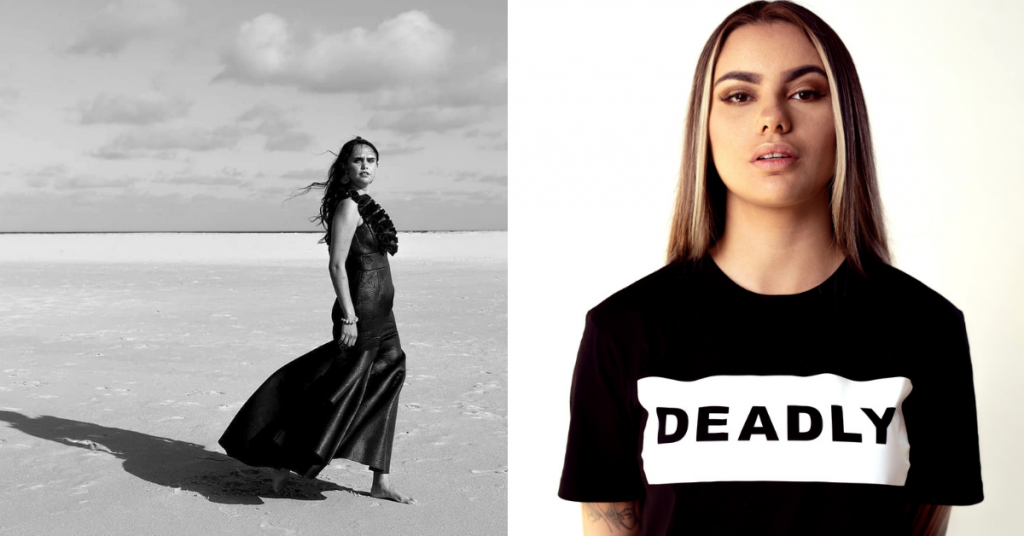 You have a family history in fashion. Can you tell us a bit about your influences and how you came to carve your own path in the industry?
I was so lucky that my deadly mum, Sarina Jan was a powerhouse. As an only child and my mum a single parent, she loved fashion and made me model as a child.She coordinated fashion events in communities throughout Darwin and around the Northern Territory. She took me out onto country to work with Mob in community to do fashion workshops and modelling in fashion parades. I was so blessed to be introduced to fashion at an early age. I was surrounded by some iconic designers that paved the way for me and many others in this industry. From aunty Lenore Dempski from Paperbark woman who collections have been acquired by Powerhouse Museum to my uncle Ron Gidgup who I call the "Godfather of indigenous fashion", and the one and only queen Linda Jackson! These designers inspired and influence me to this day. Look out for Linda Jackson and Jenny Kee's upcoming documentary on ABC!
What role does fashion play in the First Nations community?
Fashion and design play a huge role in our communities. The Creative Industries are a strong contributor to the Northern Territory economy in their own right with a total economic contribution of $735.4 million in direct and indirect gross outputs. These industries provide employment and export opportunities and enable the growth of many other industries.
I have seen that First Nation fashion and design has the power to create impact and changes in social, economic and political landscapes. It has the power to educate and drive consumers to be aware of the social issues within a community.
As fashion inspires creativity and expression, I believe First Nations fashion is walking art, which creates accessibility for the wider community to support but educate themselves.
What does it mean to be named the National Coordinator for First Nations Fashion and Design?
When Grace Lillian Lee asked me to join the movement there was only one answer: YES! I was truly honoured to be asked to become the National Coordinator for First Nations Fashion and Design. I always wanted to be part of a cause that would create change within our industry for the next generation. First Nations fashion has always been a passion of mine, like a call to action. I have always wanted to ignite and spark an Indigenous fashion revolution. Grace asked me because I have a fashion background in production management from working with other brands in the past to develop their collections and supply chains. As the National Coordinator, I work with FNFD designers through FNFD Mentorship program to help guide and develop them into self-sufficient entrepreneurs and start up brands. I specialise in links to economic opportunities, supply chains and business development and work with the FNFD designers to develop their branding, sample collections, marketing campaigns and provide continuous support through mentoring.
How can non-Indigenous allies support First Nations fashion?
I want all Indigenous and non-Indigenous consumers to wear our clothing with a sense of pride. Not only are they supporting 100% Indigenous owned and operated business, but are wearing clothing with a conscience. I have seen major social issues like Black Lives Matter supported through the buying of fashion and jewellery from Black businesses and using fashion as a platform to not only promote social injustice at a rally or event, but to spread the words of the unheard voices in our communities. I saw a great post from Nungala Creative "How to guide: I want to be an Ally but I don't know what to do". This is my list below on how you can be an ally long and short term:
Use your privilege – vote for legislative change, petition or use your voice in protests
Get uncomfortable – Spark a conversation and ask questions
Get Educated – Do your research and take initiative to find out more
Don't be afraid to be wrong – Don't be quiet, and take on the feedback if wrong
Contribute – Support Black businesses or donate to not-for-profits
What keeps you inspired?
My community and family, as I want to be a role model within my family and First Nations fashion community.
Is there anything that completely changed your life?
Being selected to be part of the Australian Indigenous Fashion Week mentor program in 2013.
What do you wish you could tell your 18-year-old self?
Never give up on your dreams and remain persistent! It took me four rejections and on the fifth application I got accepted for ACCELERATE British Council Development Program.
What's the best piece of advice you've ever received?
Stay true to yourself, your ethics and the vision for your brand.
What advice would you give someone who wants to follow your career path?
Don't ever give up. Stay strong and be resilient!
What's next for you?
Piinpi Exhibition with Bendigo Art Gallery, building the growth of FNFD by stepping up as FNFD Executive Director and being featured in an upcoming ABC documentary.