Name a more iconic duo than minimalist chic and ethical fashion. We'll wait. Just like Elizabeth Bennet and Mr. Darcy, or fudge brownies and ice cream, these two concepts were made for each other. Basic, timeless and versatile pieces are at the core of both minimalist chic and ethical fashion, and so too is a buildable, layerable, and trans-seasonal wardrobe.
Minimalist chic in fashion is essentially the art of simple styling. By simple we're talking clean, crisp lines; understated fits; a more neutral selection of colours including whites, greys, and beiges; and more basic pieces that can be paired easily with other garments. Minimalist chic fashion also allows for more room to accessorise with sleek sunglasses, versatile bags, bespoke jewellery, and a range of footwear.
Ethical living is all about a considered approach to the everyday, and both being aware of and understanding where everyday items have come from. Ethical fashion is essentially the same, though targeted specifically on garments, shoes, and accessories. With ethical fashion, we place an emphasis on the way in which a piece is made, and how transparent the supply chain of that particular piece is.
So, we've cherry picked 7 ethically-made pieces from Ethical Made Easy Store that nail the minimalist chic brief, and they've also been chosen for their trans-seasonality, their ability to be layered upon, and also just because we think they would take any outfit up a notch. There's neutral tones like brown, black, and white, though be on the lookout for some greens – soft, delicate greens, not Shrek, Mike Wazowski greens.
The Wilde Tee – White
Brand: Seer & Wilde
Price: $139

It'd be rude not to start with a plain white tee. The Wilde Tee by New Zealand-based ethical fashion brand Seer & Wilde nails the brief for minimalist chic. This little number is crafted from a hemp and cotton blend (cause comfort), is trans-seasonal and layer-able (cause versatility), and is also available in Black (cause choice). Is there anything she can't do?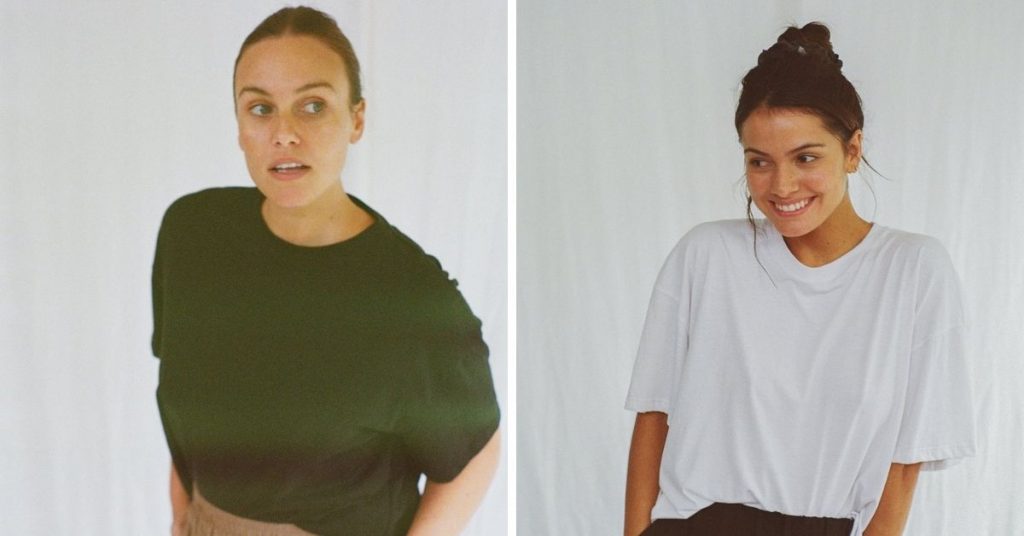 Abigail Jean

Brand: Outland Denim
Price: $229.90

Every girl needs a pair of simple, sustainably-made jeans in her consciously crafted wardrobe, and our pick is the Abigail. Ethically-made from organic cotton and available in five different shades, the Abigail Jean by Australian ethical fashion company Outland Denim is a pair of bottoms that nail the minimalist chic criteria. It's high-waisted style and straight cut leg will keep your outfit effortless and flawless, whether you pair it with stilettos and a Dorsu turtleneck or a long coat and a bandeau top.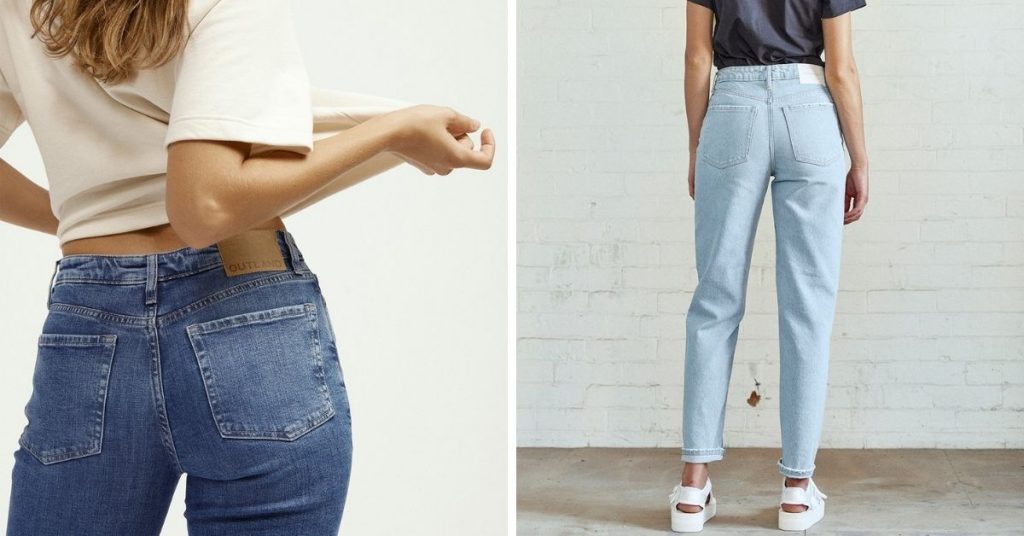 Pillar Slip – Moss

Brand: Lois Hazel
Price: $325

Lois Hazel does minimalist chic incredibly well, and the Pillar Slip in Moss is a prime example. With its clean, simple lines, its understated cut, its relaxed slip style, its flattering ankle length, and its soft moss green colour, this ethically-made dress will go with just about anything in your wardrobe, and can be worn to just about all of the events in your social calendar. Tie a denim jacket around the waist and wear with your Veja's, or accessorise with a hand-made clutch and some sleek black sunglasses.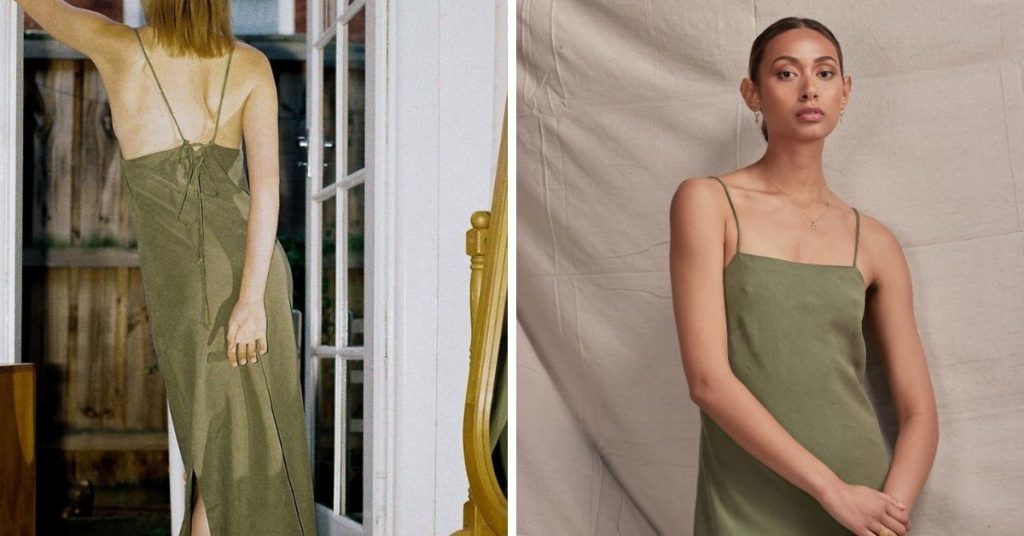 Silk Satin Slip Skirt – White

Brand: NATALIJA
Price: $298

Ethical fashion label NATALIJA's Silk Satin Slip Skirt in White has got you (and your booty) covered when it comes to slow fashion and minimalist chic. The bias cut effortlessly flatters the body of the wearer (regardless of shape or size), the satin silk fabric drapes beautifully over the silhouette, and the elasticated waistband comfortably cinches in the waist. This best-selling skirt pairs exquisitely with high neck tees in the cooler months and playful cami's in the warmer, and any shoes that your little heart desires.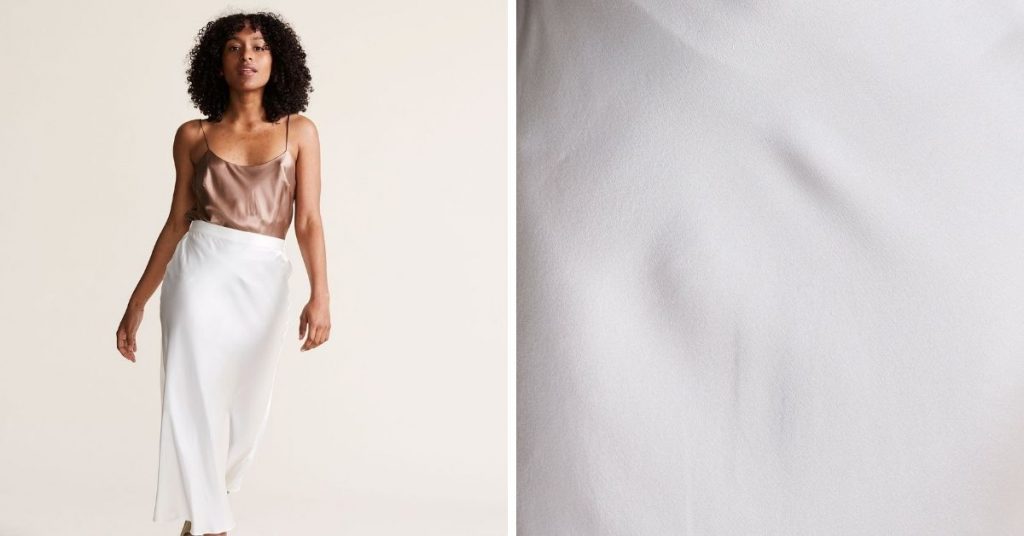 Puff Sleeve Blouse – Black

Brand: MANE Project
Price: $159

MANE Project is a New Zealand-based ethical fashion company creating garments both vibrant in their colour and minimalist in their design. The Puff Sleeve Blouse in Black nails the brief for minimalist chic; both the puff sleeve design and peplum-style feature are enough playful detail to carry the outfit, regardless of the simplicity of the bottoms. This one's available in White and Honeysuckle as well, and all of the colours go just as well with a midi skirt or a sustainably-made jean.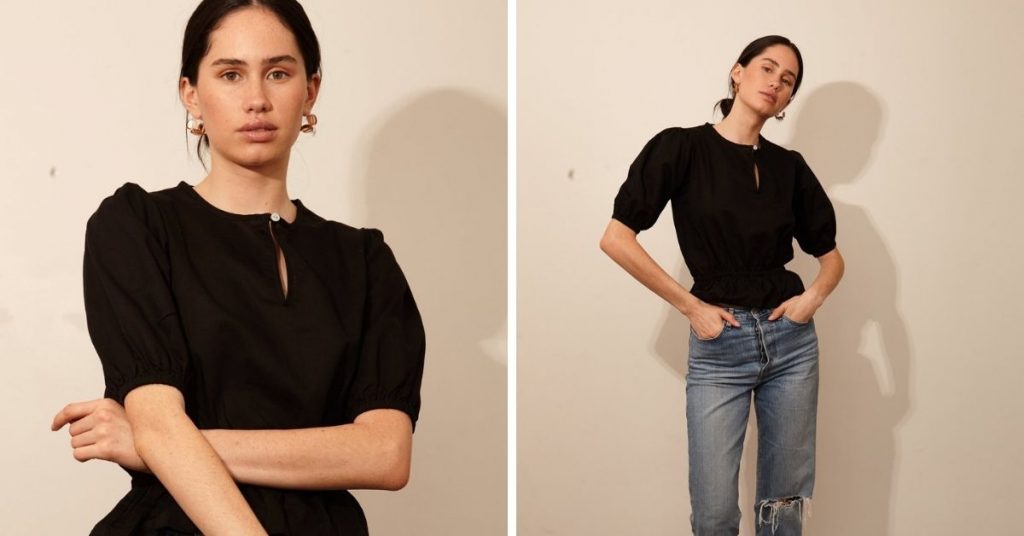 Weekday Trousers – Avocado

Brand: Bilboa
Price: $199

The Weekday Trousers in Avocado by Byron Bay-based ethical fashion label Bilboa are the perfect investment for your ethical wardrobe. The delicate avocado green of these ethically-made trousers may not be the colour that typically comes to mind when we think of minimalist chic, but the design of the pants most definitely is. The slim, straight leg is as flattering as it is buildable, the slightly cropped ankle makes pairing with neutral-toned boots or mules a breeze, and the high-waist style ensures easy pairing with longer tucked-in style shirts or tie-able oversized t-shirts.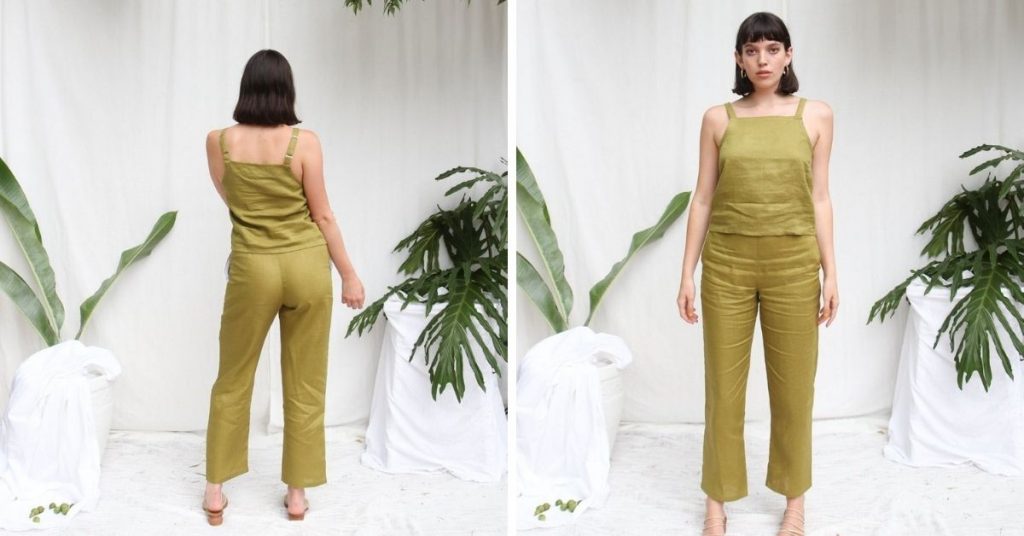 V-Neck Mini Silk Slip – Black

Brand: NATALIJA
Price: $228

Another entry from Sydney-based ethical fashion label NATALIJA. Surprise surprise. The V-Neck Mini Silk Slip Dress in Black is the little black ethically-made dress that nails the briefs for both sustainability and minimalist chic. The V neckline and spaghetti straps provide just enough flattering detail, and the bias cut is perfect for building on top of or layering beneath. We would pair with a plain white tee and some flats for a casj look, or some exquisite jewellery to zhuzh it up a little.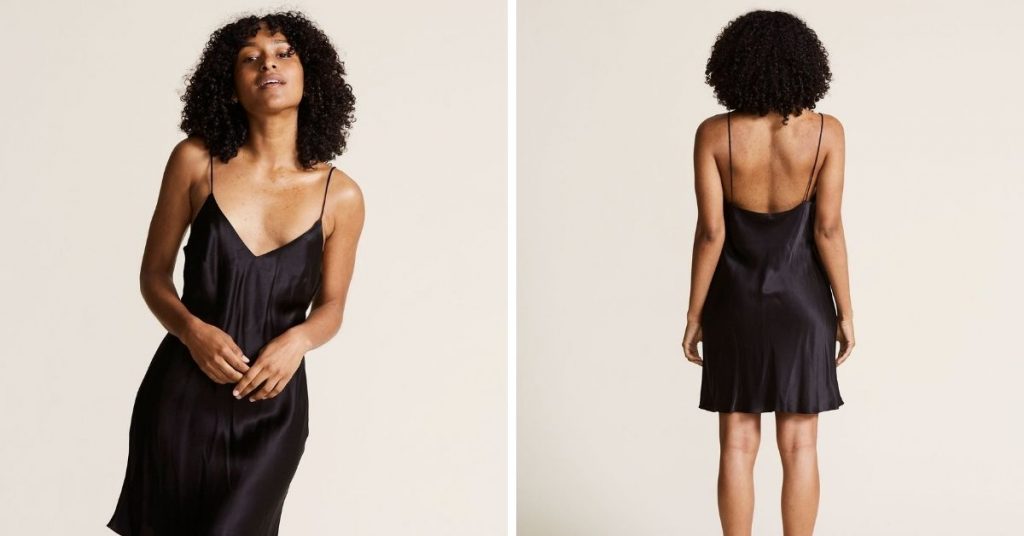 There you have it, folks. 7 ethically-made garments that nail the minimalist chic brief. These pieces are layerable, buildable, and simple enough to style with other pieces though beautiful enough to be the hero of any outfit. They may be a little pricey on initial purchase, but we know that because of the amount of wear you will get out of these garments, you will get the cost-per-wear of each down to less than the price of a coffee in absolutely no time at all.
Main image by Outland Denim.