Natural, Non-Toxic Australian Cleaning Products That Actually Work
If we can take one positive from this pandemic, it would be that it has forced us to prioritise our health. We'd bet our best pair of vintage Levi's that (like us) you've taken your household cleaning game up a few levels, but do you know what's in the products you've been using?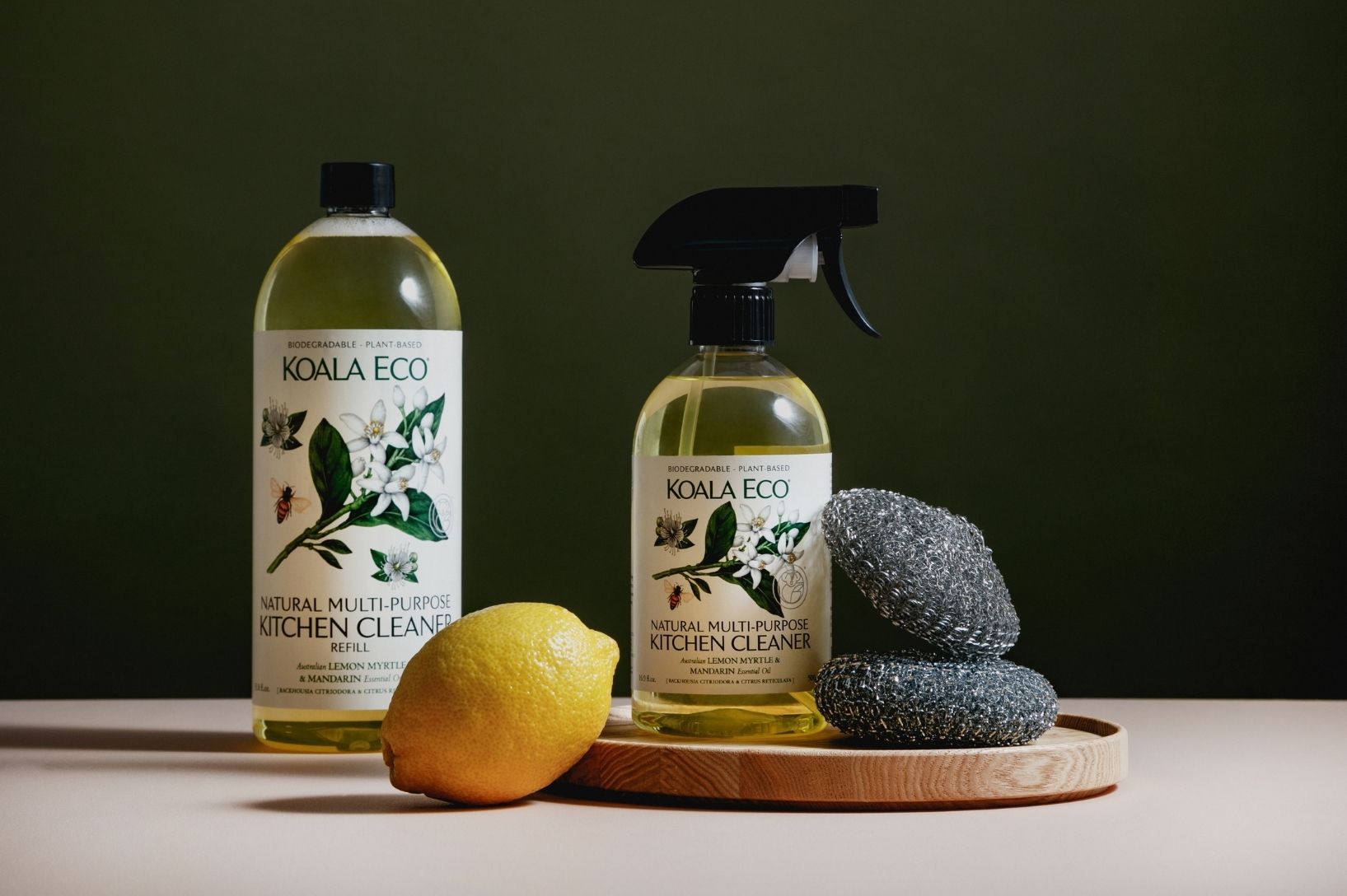 Conventional cleaning products can contain a toxic cocktail of questionable substances, including (but definitely not limited to) formaldehyde, a substance that is banned in countries including Sweden and Japan; ammonia, an irritating gas; and chlorine, a chemical used for disinfecting. Not ideal.

This is the part where we tell you that natural cleaning products are a better alternative, but with the rise in "natural" cleaning products, it can be hard to differentiate between the ones that actually deliver what they promise and the ones that are nothing more than a plastic container of greenwashing.

So, we're kid-in-a-candy-store excited to share with you today an Australian natural cleaning company that truly delivers what they promise: Koala Eco.



Who is Koala Eco?


Koala Eco is an Australian sustainable cleaning company creating natural products that are not only safe for your family and the environment, but that are also just as effective as your usual suspects. Koala Eco is a company we've been working with for over two years, and for good reason – they marry pure botanicals and plant-derived ingredients with research-backed evidence for a match made in ethical, sustainable and natural cleaning heaven.

Their products are vegan, all natural, environmentally-friendly, anti-fungal, disinfecting; they don't contain dyes, synthetic fragrance, masking agents, palm oil, SLS or phosphates; they're refillable and are packaged in 100% recycled and recyclable materials, so no new plastic is needed to create them; and, in our humble opinion, they're up there with the very best of what natural eco cleaning has to offer.



What makes Koala Eco's cleaning products "natural"?


What makes Koala Eco's cleaning products "natural" is the ingredients they use (and, in turn, the ingredients they don't). Koala Eco's quintessentially Australian, high-grade hero ingredients are responsibly sourced, plant-based, biodegradable, child and pet safe, and include Eucalyptus, Lemon Myrtle, Peppermint, Pink Grapefruit, Tea Tree, Mandarin, Rosalina and Rosemary essential oils. Let's take a closer look:

Lemon Myrtle has antibacterial, antifungal and antimicrobial properties, and packs a punch when utilised as a cleaning tool; Peppermint is the "all-rounder", and is not only antimicrobial, antibacterial and antifungal, but also contains antioxidants and insect-repelling properties; Tea Tree is antibacterial and anti-inflammatory, and as we all know, is a powerful antiviral; and Rosemary is healing, stress relieving, antimicrobial, antifungal and antibacterial.

Sulphates, parabens, phosphates, formaldehyde, synthetic fragrance, chlorine, bleach, petrochemicals, dyes, perfumes and animal by-products are all nasties that can be found in some conventional cleaning products, though will never make their way into a Koala Eco recycled plastic bottle.

Don't know about you, but we know which one we'd rather clean our benchtops with.



Do "natural" cleaning products actually work?


Depending on the brand, natural cleaning products work just as well, if not better, than conventional cleaning products. Don't @ us. There are natural cleaning companies like Koala Eco that are ethically and sustainably producing cleaning products that do not make you choose between quality, the environment or your health (but more on the last two at a later date).

Koala Eco's products have been extensively and independently lab-tested, and their range of surface sprays and sanitisers have been found to kill 99.9% of germs and bacteria when used properly. Their eco-friendly cleaners have also been tested on a multitude of different surfaces, including marble, concrete and porous stone, not only to ensure that their products will cause no damage to these surfaces but also to make sure the correct amount of essential oils have been used.

Yep, you read that correctly. Koala Eco's secret sauce is essential oils. Essential oils aren't just for applying to your pressure points or popping in your diffuser to cleanse yourself of bad juju; essential oils can also be harnessed as a powerful tool to fight germs, as well as to deodorise, clean and purify. The 100% pure essential oils used in Koala Eco's natural cleaning products are derived from natural botanicals, and are then blended with sugar-derived alcohol and powerful plant-based antiseptic and anti-bacterial surfactants.

See? Natural, eco-friendly cleaning at its finest.



Why should I make the switch to natural cleaning products?


You should make the switch to natural cleaning products as there's no longer a barrier between choosing effective cleaning products and safe, sustainable and natural cleaning products. We've tried, tested and fallen in love with Koala Eco's range of natural, non-toxic home cleaning items, and you know we wouldn't be backing a brand this vehemently if we didn't 110% believe in them and their products.

With Koala Eco, you no longer have to sacrifice your health, your ethical and sustainable values or your wallet in your home cleaning routine. Trust us when we say you won't be flushing your hard-earned money down your freshly sanitised toilet.





This article was written in collaboration with Koala Eco. Whilst this was a paid partnership, we genuinely only promote brands we wholeheartedly believe in, and that we ourselves believe to be examples of the best in the ethical and sustainable sphere.