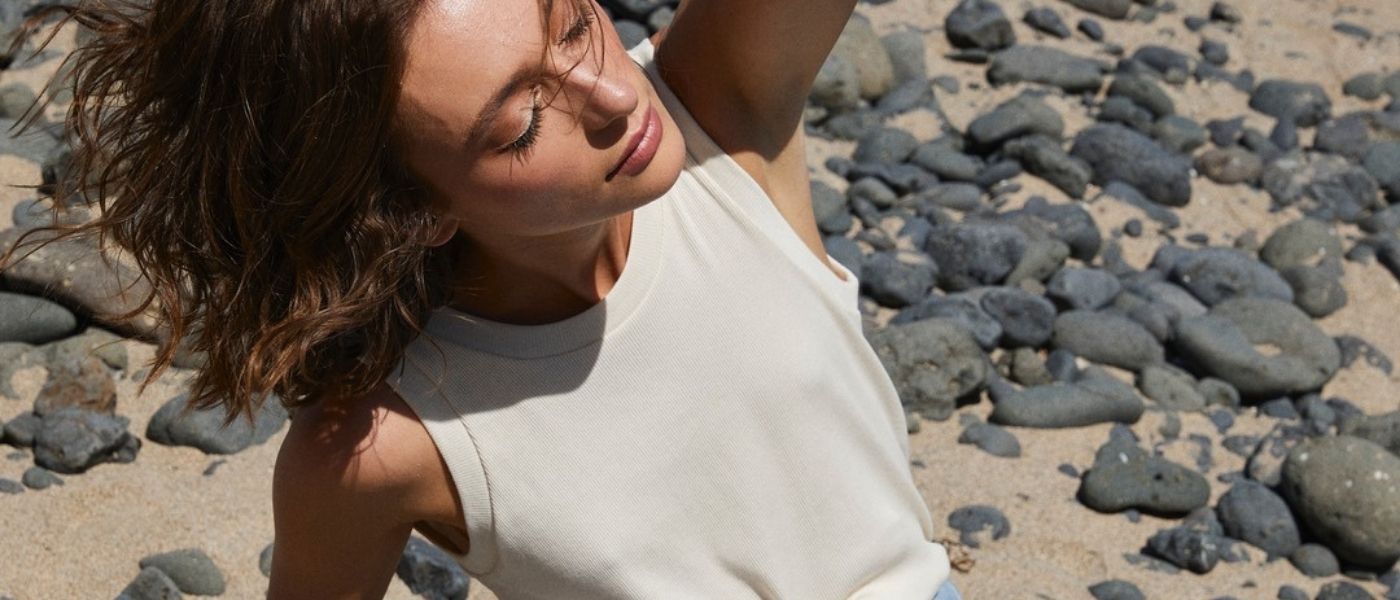 It might be the pang of regret you feel when your Uber Eats order comes in four separate plastic containers. Or perhaps it's the feeling of shame that overcomes you when your friend asks where you bought your new *cough* fast fashion *cough* dress. It's called Eco Guilt and it's the feeling of remorse, regret, guilt, shame or even self-punishment we experience when we feel we haven't made the 'right' choice for the environment.
The magnitude of the climate crisis is causing many of us to experience climate anxiety, "a fairly recent psychological disorder afflicting an increasing number of individuals who worry about the environmental crisis," according to Psychology Today. Add in the knowledge that our actions, consumption and literally just being alive have an impact on the state of the world and it's no wonder we're feeling guilty for ordering too many takeout containers or for buying a cheap dress.
If it sounds familiar, you aren't alone. Even the most prominent figures in sustainability experience the feeling of eco guilt. Founder of our favourite sustainable fashion magazine, Kelley Sheenan, is no stranger to it, despite her best efforts to live as environmentally-friendly as possible. Kelley has always led by example, not only via her work at Peppermint Magazine but also through her personal choices and day-to-day actions. Or so it may seem.
On the 27th of January 2021, Kelley posted a photo of herself on her personal Instagram account wearing a bright and summery dress from none other than popular discount department store Kmart.

It probably doesn't seem like breaking news, but for Kelley and the sustainable fashion community, it was kind of a big deal. Kmart is far from being sustainable or ethical and received a Not Good Enough rating on the world's leading source for fashion brand ratings, Good On You. Kelley admits that prior to events of 2020 she wouldn't have even told her friends where the dress was from, let alone posted it on Instagram. "Years ago I would never have posted that, as I believed that aspiration came from showing the best way to live, and of course, I wanted to be seen as a leader in this field," she explains.
So why did she do it? On one hand, it was about being vulnerable and showing that perfection isn't achievable, even for a sustainability leader. For years Kelley was met with apologies from friends who shopped with companies like Kmart when in reality, she was no different to them. It's easy for outsiders to assume sustainability influencers like Kelley do everything perfectly, so she decided to post about it, "to show that it's ok to admit imperfection and show the reality behind the shiny Instagram veneer."
Privilege and eco guilt
It wasn't just the problematic culture of perfection on social media that inspired Kelley to publish the photo, it was also the topic of privilege.
2020 was a year that held the proverbial mirror up to each and everyone of us. Many thought the pandemic would be a sort of leveller, but it highlighted once again how minority groups are disproportionately affected in times of crisis. The climate crisis is no different. While everyone around the world feels the effects of climate change, the most vulnerable are people living in the world's poorest countries.
Kelley says the past year motivated her to face the nuances of privilege, including her own.
"The reality for me personally is that I can't always afford sustainable brands, I don't have a lot of spare time and I don't often fit into the very limited sizing range of many small, sustainable brands," she says. On the flipside, Kelley is also in a privileged position as a person who is often gifted clothing through her job. "I'm very aware of the optics that it may appear I constantly buy sustainable products, which is not the case," she says.

Systemic change is accessible to everyone
While it's crucial that we have ideals to aspire to through publications like Peppermint Magazine, and access to local and ethical brands through platforms like Ethical Made Easy Store, it's also important to consider the reasons why someone might not be able to be an ethical consumer.
"There are many layered reasons for why sustainable brands may not be within reach for someone: accessibility, culture, time, size, geography, finances and even preference," Says Kelley, "Acknowledging your privilege is important if you are able to shop sustainably, and being dismissive of those who can't needs to stop."
The fashion industry needs to change but ethical consumption is only part of the solution. Elizabeth Cline, activist and sustainable fashion author says it best: "If you feel like you're not allowed to participate in the conversation because of the way you shop, then we're losing a lot of people that would otherwise be involved in fixing problems."
Kelley, like Elizabath, believes that the way forward is through systemic change, something that's accessible to everyone. "Guilt is not an empowering emotion—we need to go easy on ourselves and on others. While individual actions are important, working towards systemic change is crucial."
What does systemic change look like?
If you can't buy ethical fashion for one of the many reasons listed above (and even if you can) there are other ways to play your part. Stay informed through platforms like this one, Atmos, Fashion Revolution, Ethically Kate, Eco Warrior Princess, The Green Hub, Peppermint (obvs), Britt's List and heaps more. You can release your inner activist through protests or via digital petitions like #PAYUP campaign. And don't forget that you can make a difference even if your clothes aren't 'perfect' or you forgot to bring your reusable coffee cup. Find your fight, focus on progress not perfection, and forget the eco guilt once and for all.