Raising the bar with Katie Hennah from NueBar.
Katie Hennah and her partner Kerry have both successful careers as both businesswomen and mothers, but it wasn't until they joined forces and started NueBar that they truly found their calling. Together they've created a beautiful plastic-free alternative to your everyday beauty products to care for the planet and their community, and we were lucky enough to talk to Katie all about it. 
What made you start your NueBar?
My partner Kerry has always wanted to go into business making a product with me, she has amazing marketing and business skills and I have a Naturopathic background. I have always resisted her pleas! However we have been together 27 years now and have two kids together, I decided the time was right. I was also on my own personal journey with trying to reduce plastic and generally step more lightly on the Earth when it occurred to me that I could make a bigger impact by creating something that could also help move others in this direction.

Together we wanted to create natural, plastic free products that would have broad appeal because of aesthetics and effectiveness, not just "hippy, environmental appeal". It was the realisation that "ethical, natural, environmentally positive products" needed to move beyond their niche and gain broad acceptance within the community if they were really going to make a difference that motivated both of us.
Do you have a morning routine? If so what is it you do to set yourself up for the day ahead?
Step one – Don't touch your phone!
Step two – Shower with my NueBar products. I usually shower with cold water only, but have to admit from June-August the warm does tend to sneak back in!
Step three – Cup of tea, drunk mindfully and restfully (T2, Blue Mountain with Almond milk)
Step four – 10 – 30 minutes meditation (I use Sam Harris' Waking Up app)
What's the biggest barrier you've found to succeeding as a socially conscious business?
It is so much harder to drive traffic to a website than you think! People think that you can just put something up on the web and if it is fabulous it will sell. It is hard work and a lot of what we do is simply work on driving that traffic so that people actually know that we exist!
Within the ethical fashion community, there's a big question that we ask which is 'who made my clothes?'. In the scope of NueBar, who made the things you sell? Can you tell us a bit about them?
With NueBar, it is 100% us making the bars. Literally we measure, blend and mix in small batches by hand and pour into individual moulds. At the moment my 21 year old daughter is our chief maker. She took over from me so that I could devote more time to the other parts of the business and it is so great to be able to offer her employment in this COVID world where young people are struggling to find work. Occasionally I pop back on the tools and make them myself again and her boyfriend helps out from time to time as well, so very much a family affair!
Why did you pick the ingredients you have chosen to work with?
I spend about 12 months formulating, investigating raw ingredients, teaching myself the basics of cosmetic chemistry (and doing a short course and talking to a cosmetic chemist).

The hardest thing to get out of the products was palm oil (it is just so prevalent and hidden in personal care products) and we definitely pay a premium for having our products palm oil free.

I also needed to find ethical sources of ingredients like Cocoa butter as the industry is fraught with exploitation and poor agricultural practices. I use an amazing Fair Trade, Organic Cacao from a farmers collective in Peru and the scent of it just doesn't even compare to the standard "off the shelf" Cacao that you can commonly purchase. Coconut Oil is another one where I found an amazing supplier located in the Solomon Islands where 100% of the profits go back to the local community who produce the oil.
Best piece of advice you have ever received?
Remember to pause and observe your mind, reactions and emotions.
What's next for you and NueBar?
Well, we are getting to that stage in our growth where making all the bars ourselves in our back studio will soon no longer be manageable. So we are currently looking into ways of mechanising and scaling some of the processes but it is really important for us to keep everything made here in Australia and keep our formulas that have proven to be so successful just as they are. Initial investigations are going well and it looks like we will be able to scale AND keep our ethics which is great news, because so often scaling is where companies trip up and start to make compromises. We are very aware that this is not how we want to play it.
One book and/or documentary everyone should read/watch? Why?
Cowspiracy, the effect of animal agriculture on the planet (not to mention the animals themselves) is shocking and definitely something that we need to address as a species.
Are there any other Movers & Shakers out there in your world that you think people should know about?
Pre-Covid we used to do a lot of Markets and I loved meeting all the other makers and people out there having a go at doing their own thing.

One business that I would like to give a little shout out to is my friend Thomas at Asuvi deodorants. He uses a re-useable plastic wind up stick (you only buy it once and then buy cardboard refills after that). His formulations are really effective and glide on smoothly. I think it is another clever example of taking a product that may only have niche appeal (natural deodorant, usually done as a paste) and making it more user friendly so that it can have broader appeal. Plus, like us, he is palm oil free, vegan and makes his products himself.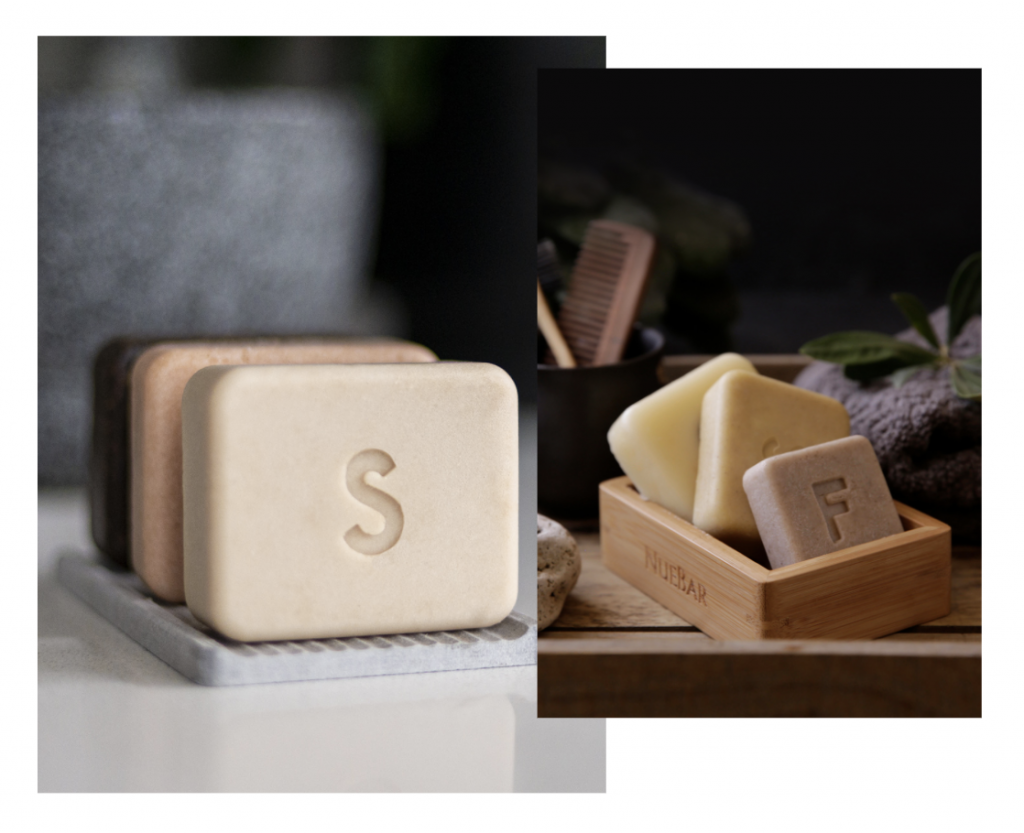 Love NueBar as much as us? We don't know if that's possible but we highly recommend you checking them out for yourself, here.