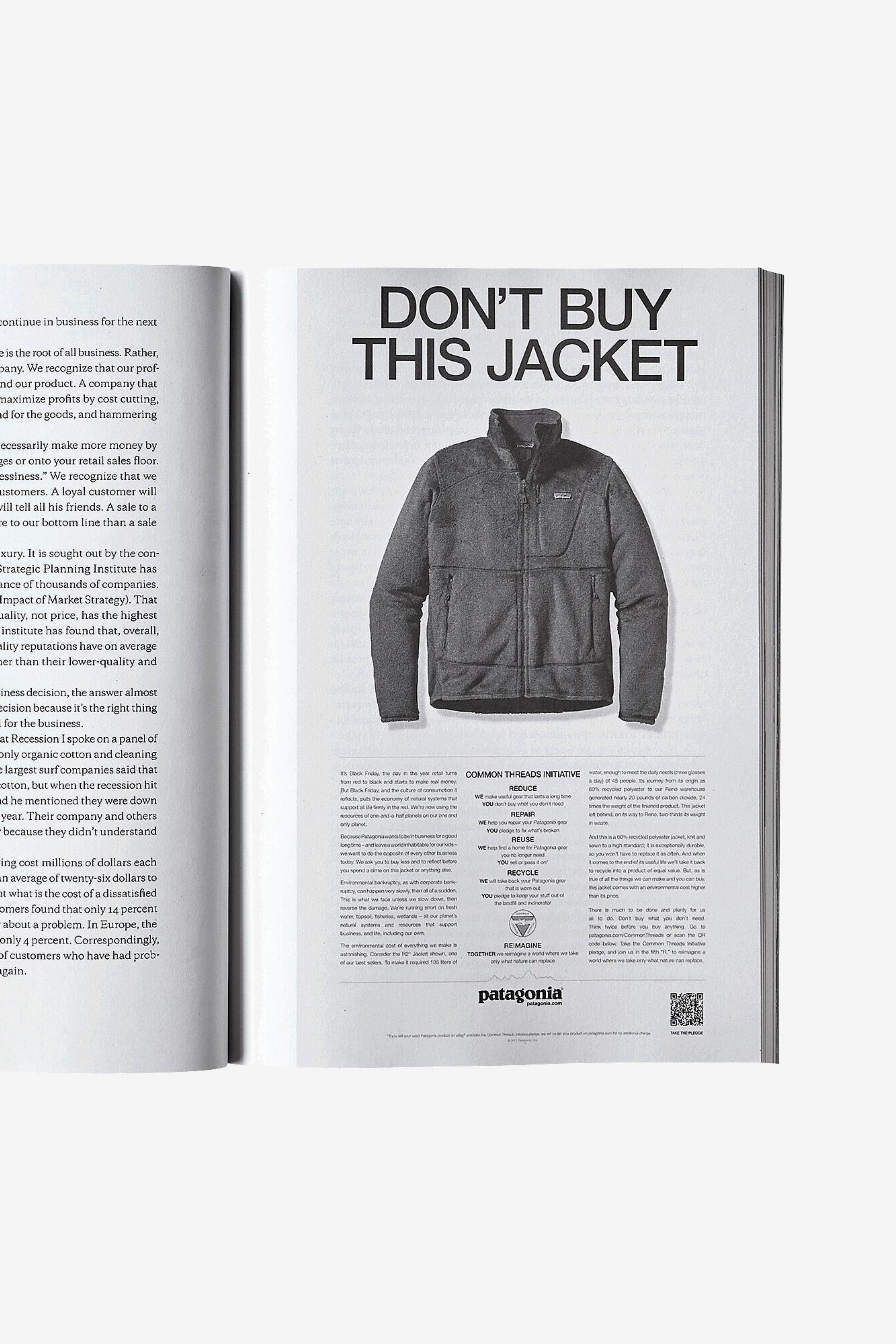 One of the best ways to arm yourself with the right information on your journey to becoming a more ethical consumer, is to read as much as you can directly from the experts. If you're new to ethical fashion or you simply want to continue your education towards making better decisions about the things you buy, there are a number of great books available that can help you to do so. We've read and reviewed our seven favourite ethical fashion books that will inspire you into action and support your journey towards being a conscious consumer.
---

Ask anyone working in the ethical fashion space (us included) which fashion brands they look up to the most and we can almost guarantee they will mention Patagonia. With a mission that states, "We're in business to save our home planet" and half a century of creating better clothing and products you can understand why. Founder Yvon Chouinard penned one of our favourite ethical fashion books Let My People Go Surfing to share the story behind Patagonia and how, as a reluctant businessman, he decided he was not interested in doing business as usual. This is essential reading for anyone starting a business, not just those in the ethical fashion space. 

---


Firstly, if you've never heard of Clare Press, do yourself a favour and go follow @mrspress on Instagram right now. As the first sustainability editor ever appointed at Vogue (in the world), Clare is an important voice in ethical and sustainable fashion. Wardrobe Crisis is an eye-opening read (and also the name of her popular podcast) that investigates the truth of our fashion ecosystem, and uncovers the depth of the question 'who made my clothes' and why few people can answer it. Clare Press takes you through the history of what we wear and why, and her description of our fashion ethics and real life anecdotes urges you to reflect on your own wardrobe decisions. Wardrobe Crisis will help you to come to the realisation that your wardrobe should be treated as an investment and long-term commitment, not an ever changing flow of cheap items that cost the price of a coffee.


---


As the Ethical Living columnist at the Observer, Lucy Siegle knows a thing or two about the inhumane and environmentally devastating story behind our clothes. To Die For: Is Fashion Wearing Out The World? is an exposé on the industry that offers a vision of how it could be if we looked at things through a more sustainable lens. This book uncovers the issue with mindless overconsumption of both big-name brands and cheap and fast fashion. Siegle provides possible changes that can be made by both industry and consumer and gives us the opportunity to become 'ethical fashionistas'. To Die For weighs up the economic and environmental issues associated with the fashion industry and reveals the importance of a 'new sustainable design era where we are assured of value for money: ethically, morally and in real terms.'


---
Bestselling author and journalist Dana Thomas travelled the globe to uncover why the clothing industry's exploitation of fellow humans and the environment has reached such epic levels. The result was the amazing ethical fashion book, Fashionopolis: The Price of Fast Fashion and The Future of Clothes. Inside it investigates fast fashion, provides a blueprint for how we get to a more sustainable future, and celebrates the activists, artisans, designers, and tech entrepreneurs fighting for change.
---

After purchasing seven pairs of identical shoes from Kmart purely because they were half price, Elizabeth Cline realised something was deeply wrong with her personal shopping habits and the fashion industry in general. As an everyday consumer who brought home a new item of clothing on a weekly basis from discount brands like Target and H&M, Cline set out to investigate the truth behind cheap fashion. Overdressed is sure to inspire you to vote with your wallet and feel good about the items in your wardrobe. 

---


Wear No Evil answers the age old question, "How can I do good while looking good?". Spoiler alert: the answer is yes! It proves that style and sustainability are not mutually exclusive and can in fact live in harmony. Our favourite part of this book is the Integrity Index that identifies the ethics behind any piece of fashion with a simple rating system. Wear No Evil offers a roadmap to an eco-friendly wardrobe and even provides natural beauty recommendations. Think of it as a cleanse for your wardrobe and your self care routine. 


---

Ask many people what they think of slavery in the modern world and they're likely to tell you it no longer exists. The sad truth is that the fast fashion business model is based on slave labour. Author Safira Minney is the founder of People Tree, the fair trade, environmentally-friendly fashion company and the developer of the first Fair Trade standards for fair trade, organic cotton growing and garment manufacture. She set out to write Slave to Fashion to introduce fair trade, social justice, ethical fashion and new economics to those who want to learn more. In her book she interviews the men, women and children caught up in slavery to offer the facts, stories and actions needed to eradicate modern slavery. 

---

We hope these important ethical fashion books inspire you as much as they have inspired us. Let us know in the comments below if there are any more ethical fashion books we should add to our reading list. Happy reading!