Slavery, racism and uncovering the truth with Boohoo.
When I sat down to write this article about the recent Boohoo shit-show, I assumed it'd be a pretty clear-cut story stating the facts around the recent exposé from The Sunday Times. But two hours into researching the story, I've gone from aiming to share the facts, to diving into the mountain of issues that surround fast fashion, including supply chains, billionaires' responsibilities, racism, slavery, COVID-19 and the list goes on.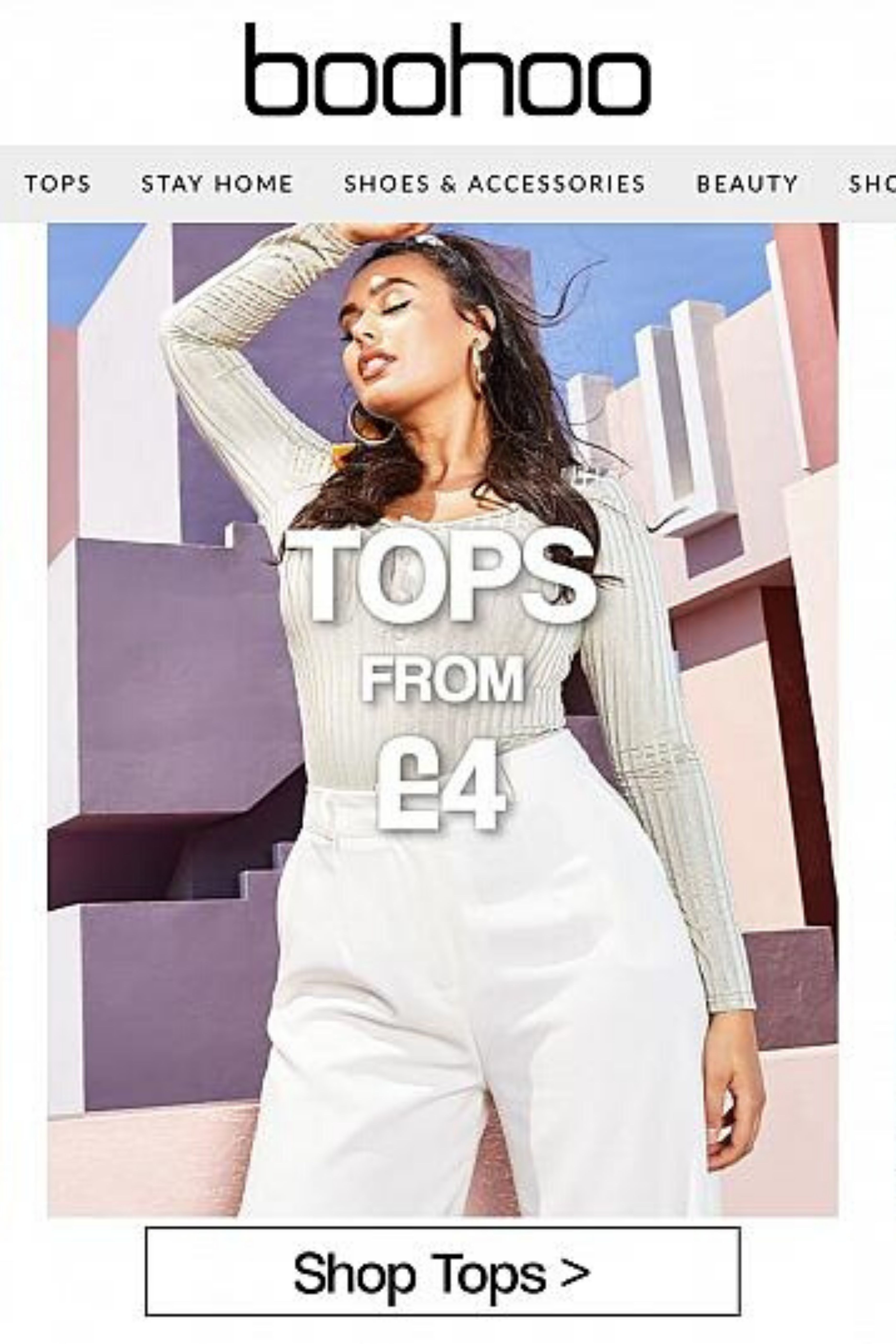 When I sat down to write this article about the recent Boohoo shit-show, I assumed it'd be a pretty clear-cut story stating the facts around the recent exposé from The Sunday Times. But two hours into researching the story, I've gone from aiming to share the facts, to diving into the mountain of issues that surround fast fashion, including supply chains, billionaires' responsibilities, racism, slavery, COVID-19 and the list goes on. The mix of all these problems combined makes stories like this less clear-cut and more of a deeper investigation into why this is still happening. To know the truth behind what's going on here requires a broader look at the issues of capitalism and racism, because stating the facts is one thing, but getting to the bottom of this issue is a different ball game that would require, if I'm honest, a dismantling of the whole f*cking system…

But let's start with the facts, shall we:
This all started when the UK government excluded Leicester, a city in England's East Midlands region, from the nationwide lockdown-easing measures on the 4th of July due to a high number of COVID-19 cases reported in the weeks prior. The Sunday Times reporter Vidhathri Matety decided to investigate the textile packing and manufacturing factories that are part of one of the major industries in the city, which appeared to have been operating normally in the lead up to the announcement.
On the 5th of July, he posed as a student looking for work and within hours was hired at a factory called Jaswal Fashions where he explains the conditions were, "Hot and cramped… There were several people at work but only a couple wore masks, most of the time pulled uselessly down to their chins… no one wore gloves and there were no health warning signs, no hand sanitiser and no evidence of social distancing measures." Keep in mind this was a day after the government had enforced strict lockdown measures in the city.
Further to the concerns surrounding coronavirus, he uncovered that the workers were being paid as little as £3.50 an hour, well below minimum wage. Some of the quotes from workers in that factory include:
"These motherf***ers know how to exploit people like us. They make profits like hell and pay us in peanuts."
"You are working illegally, so do not discuss or talk anything with people about working here. You have to be discreet. Don't discuss this with anyone. I mean no one at all."
"Anywhere in Leicester you will only find textile factories that pay up to £4 an hour… I've been here for five years and I'm still on just over £5 an hour."
This issue in Leicester is one that has apparently been an 'open secret' for years, and one that wouldn't have been uncovered in the mainstream if it weren't for coronavirus.
Money talks
So, what was the infamous brand name printed on the clothing tags in that factory? None other than Nasty Gal, one of the companies under the Boohoo banner. Founded in 2006 by Mahmud Kamani and Carol Kane, Boohoo has since expanded thanks to their ultra-fast-fashion model to own Nasty Gal, Pretty Little Thing, BoohooMAN, Misspap, Karen Millen, Coast, Oasis and Warehouse. Boohoo's revenue is over £580m and sales grew by 45 percent to £367.8 million, from March through May, according to the company. The founders are now billionaires and the company board recently approved a package that would pay up to £150 million to the company's founders in the next three years.
So what the heck is ultra-fast-fashion and is it as bad as it sounds?
Moving even faster than fast fashion (believe it or not), ultra-fast-fashion follows social media and celebrity trends and is aimed at the Gen Z market. Joining Boohoo in this arena is Fashion Nova and Missguided, brands loved by the Kardashians and stars of shows like Love Island.
According to The New York Times it fulfills, "shoppers' relentless demands for new products as quickly as possible [and] means working with factories close to home, which is why Fashion Nova sources a significant proportion of its collections from Los Angeles, and Boohoo from Leicester." Furthermore, ultra-fast-fashion undermines fast-fashion brands like Zara by getting their designs from conception to sale in as little as two weeks, as opposed to Zara's five weeks.
The response
In response to The Sunday Times story, Boohoo's market value plunged by more than £1.5 billion and brands like ASOS dropped Boohoo from their range. The group CEO of Boohoo responded by saying, "As a board we are deeply shocked by the recent allegations about the Leicester garment industry. We wish to reiterate how seriously we are taking these matters and we will not hesitate to terminate any relationships where non-compliance with our Code of Conduct is found."
The company then published a statement on its website, saying it would begin an independent review of its British supply chain to eradicate malpractice. It said it would report on its supply chain review in September with further updates in January 2021.
Furthermore, they said, "Our investigation to date has not found evidence of suppliers paying workers £3.50 per hour. However we have found other evidence of non-compliance with our Code of Conduct and the Group has taken the decision to immediately terminate its relationship with both suppliers."
Swimming with turds
One of our favourite commentators on issues such as this, Aja Barber urges us not to forget the other brands who have been accused of similar issues in the past. Sure, ASOS dropped Boohoo almost immediately when this occurred, but they're not innocent in this. This has to be one of our favourite quotes we've read on the internet in recent times:
"It's really weird to see companies like ASOS, Next and Amazon try and swim away from Boohoo like Boohoo shit in the pool and they haven't all been collectively swimming in turds for years. Absolute jokes. Don't fall for it gang. When you stop being involved in fast fashion you find the time to keep up with this."
A quick note: So Aja can continue to keep writing wonderful things like this, go support her on Patreon.
We're not falling for it Boohoo
According to Boohoo, this factory was not a direct supplier but, "A different company is using Jaswal's former premises and we are currently trying to establish the identity of this company." This sounds like the onus falls into the hands of the factory and suppliers but this is not the first time these issues have been brought up with Boohoo and to claim they had no idea is a big 'boo-hoo' that we just don't buy. According to the extensive Labour Behind The Label report a major study was commissioned by the Ethical Trading Initiative in 2015 that found most workers were paid significantly below the National Minimum Wage in Leicester. Furthermore, Labour Behind the Label has demanded that Boohoo improve their working conditions and supply chain countless times.

How this happens and why it's a race issue
The biggest question we (and most likely you) have is: why can't these billionaires just pay their garment workers correctly? Surely they can spare a bit of their earnings, right? Well, there's a broader problem here and it's what's fundamentally wrong with the fast fashion industry. This is where uncovering the truth becomes difficult.
Consumers want cheap products and these companies have worked out how to exploit the most vulnerable and often marginalised members of society to make that happen. And sadly, in this instance it mostly comes down to race. Labour Behind the Label estimates that most garment workers in Leicester are from minority ethnic backgrounds with 33.6% born outside of the UK. "These workers are vulnerable to abuse as a result of their immigration status, language skills, integration in the community (and support mechanisms such as union membership etc) as well as higher unemployment rates. There have also been numerous allegations of links to modern slavery and trafficking." Labour Behind The Label's report states.
This results in unauthorised subcontracting, which is why Boohoo can claim they had 'no idea' this was going on, "Unauthorised subcontracting often means production from unaudited and unknown suppliers with poor working conditions, low wages, and the potential of other irregularities."
Why doesn't #Payup get a front page story?
Although it's been amazing to see this story gain such important media coverage, it begs the question: Why doesn't the issue of garment worker wages and conditions in countries like Bangladesh receive the same coverage as the same issue happening in the UK?
Of the 74 million textile workers worldwide, 80% are women of colour. Although the issue in Leicester is affecting mostly ethnic workers, it's also closer to 'home' and therefore apparently more shocking and worthwhile to plaster on the front cover of The Sunday Times than the same issue happening in other countries.
Even in the report by Labour Behind the Label, there's a line referring to the workers in Leicester that says, "Those without the right to stay in the UK or work were sometimes reportedly earning only £1 per hour. This translates to half the hourly minimum wage in Shenzhen, China." Shocking, sure! But why is it written in such a way that it insinuates it's the norm for this to occur in China? Why aren't we as appalled by these numbers as we are when it happens on 'home soil'?
#Payup is a campaign that sets out to help garment workers across the globe that have been affected by cancelled orders due to COVID-19 but it hasn't received half as much coverage as the Boohoo story. Remake has created a petition to urge companies to #payup. Here's an exceprt from their petition page:
"COVID-19 has ravaged garment makers around the globe with a majority of fashion brands cancelling orders after a constriction in retail sales during the months of March and April. The result of this has caused millions of garment makers to be left unpaid for work they had already completed. With no access to savings, healthcare, or severance, these makers face critical food and housing insecurity. As one supplier stated, 'If coronavirus doesn't kill my workers, then starvation will.'"
So who fixes this?
It's not all bad—there are so many ways in which this can change. The Labour Behind the Label report has listed short, medium and long term goals for Boohoo and others responsible. One of the long term goals is aimed at the UK government to ensure companies comply with their responsibilities under the UN Guiding Principles on Business and Human Rights. And herein lies the need for total system overhaul from the top down. It's not (just) up to us!
While we always say it's important to vote for the type of world you want with your wallet, the burden most definitely does not come down to the consumer. By all means, if you feel helpless in situations like this, go and sign the #Payup petition, write a letter to a fast fashion brand, or vow to never buy from a fast fashion label again—we can help with that. But never forget that this has been allowed to occur for too long and there are things people in power, including the billionaires, can do to make sure this type of slavery is eradicated.