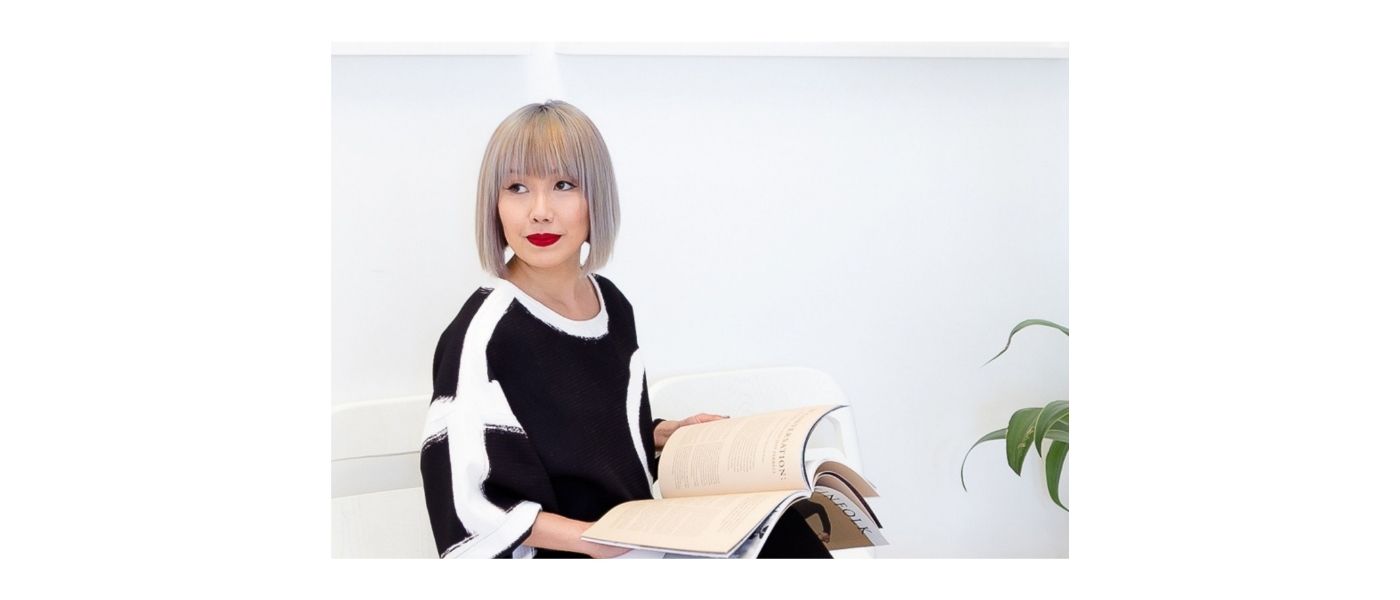 Slowing down corporate fashion with Jacalin Ding of The Rushing Hour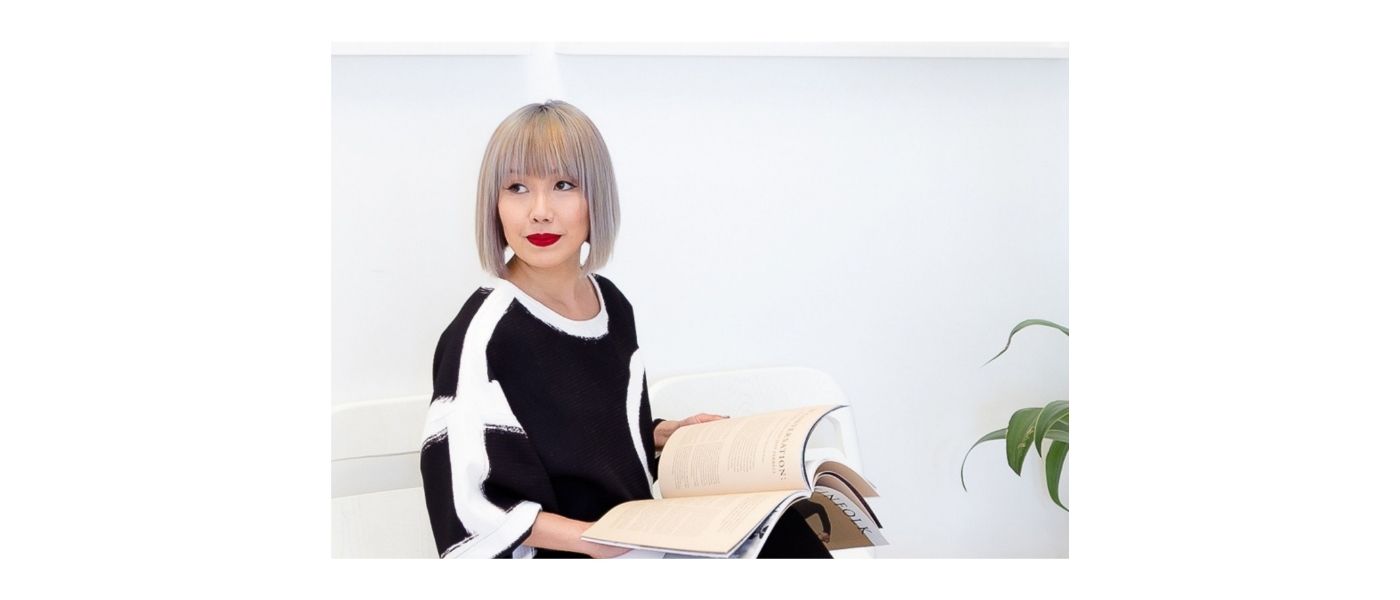 When Jacalin Ding was working in a corporate career she had no time in the mornings to think about the clothes she was going to wear that day. So she opted for clothing from big fast fashion brands despite the fact that she always cared about sustainability and didn't agree with their business model.
When Jacalin Ding was working in a corporate career she had no time in the mornings to think about the clothes she was going to wear that day. So she opted for clothing from big fast fashion brands despite the fact that she always cared about sustainability and didn't agree with their business model. She realised there was no one out there making clothes for the morning rush (or the rushing hour) that made it easy to get dressed in the morning while remaining sustainable. She created The Rushing Hour to fill that gap in the market while working with the best of the best, from Patagonia's suppliers to Zimmermann's pattern maker. We spoke with Jacalin about how it all began and her overall life vision to make the world a better place.
EME: I love this statement from your website: "I never planned to become a fashion designer, but I have social statements to pass on, and fashion is one of the best canvases I could find to do that." So where did it all begin?
JD: Going back five years ago I was my last full time job where I had to go into boardroom meetings a lot. I'm also in the creative industries and I was a creative director but now I teach user experience. Anyway, I constantly found that fashion was a statement, for people in an office especially. I always wanted clothes that made it easy to get ready in the mornings, that made a statement, and were easy to mix and match. But I found myself becoming really lazy towards the end of that job. I didn't have time to get ready in the morning so I'd just throw on anything in black and white. And then my style just became really bland Zara and Uniqlo basics. I wondered why there wasn't any brand with edgy monochrome pieces that were tailored but with an edgy twist. I also have a background in textile design and I always cared about textiles and sustainability anyway. So I decided to start creating clothes out of repurposed fabrics, so fabrics that had been overstocked by other brands. That was the first collection. It was perceived really well and it just sort of rolled on from there. My positioning for this brand has always been about research, because when I started there weren't many sustainable brands in Australia. There was locally made, but not much else and so I was like a little fish in a big pond. at fashion trade shows. People weren't as concerned about sustainability.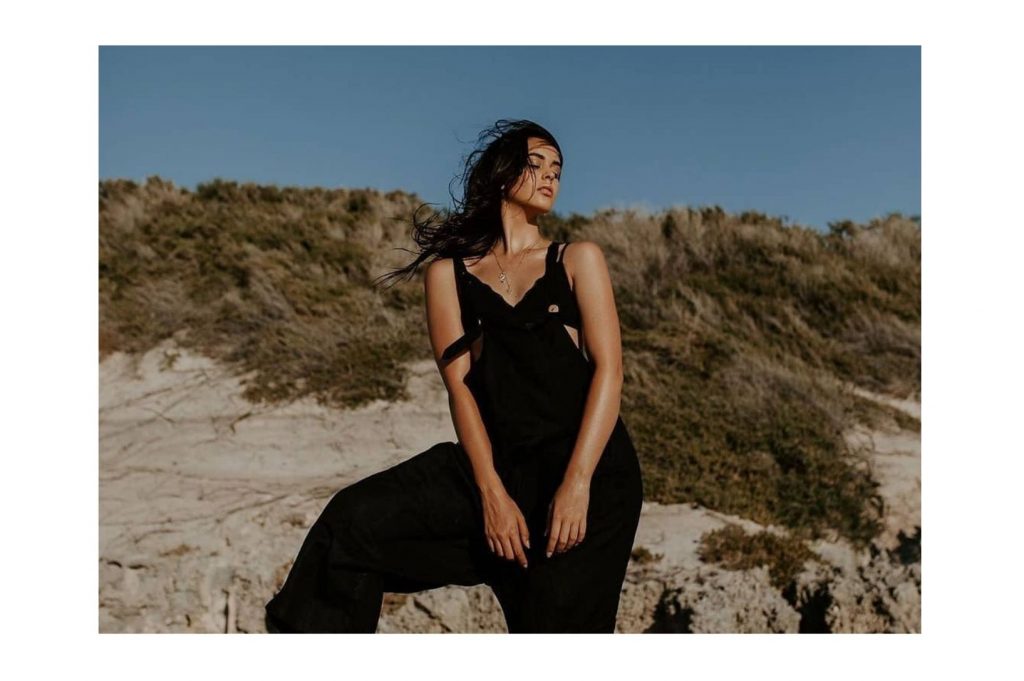 EME: Yeah, of course. So tell us about your fabrics and suppliers
JD: I wanted to know who makes the clothing and where my fabric comes from. People care that things are made in Australia but they don't really care raw material comes from. We don't have any industry that produces raw materials in Australia. Even organic cotton is not produced here. We don't even have a recycling and repurposing facility. Fabric is like 70% of the process. So I travelled and I looked into Patagonia's suppliers and I found this factory, which is also in my home country of China. And I understand that China really doesn't have a good reputation in that sense, but I feel like a lot of people are blindsided by it. People say if it's made in that country it's bad. I feel like it's a generalisation. I feel like it's about how it's made. So that supplier works with Patagonia and it's one of the first factories approved by that brand. They also look after all the hemp farmers. I visited and I had to fly into a city and drive another six hours. The founder of the factory was born in that small town, so he wanted to start it there and now he employs pretty much the entire town. When I visited two years ago they had about 85% recycled energy. But what I also love is that they have shuttle buses to transport employees to and from home. They also provide homemade lunch that's cooked by the community, and they even grow their own potatoes in the gardens and work with local farmers. It's like everyone has a job in a way. They also collect all the offcut fabrics and they have another facility that's doing all the recycling and sorting out the offcut fabrics. I wanted to work with someone like that who I knew I could trust, because I'm just a tiny brand. I wouldn't be able to control every part of the process, and working with someone like that—when it's already approved by Patagonia—then half my job is done. They are fully fairtrade and certified, they also supply to Eileen Fisher and other smaller brands.
EME: Amazing, and what about the design process? I read you work with a pattern maker from Zimmermann.
JD: I work with one of Zimmermann's patternmaker to sample everything here. Sometimes the sample takes 10 tries and it's really costly. And I don't want to produce it unless it's 100% because there's so much overstock from other brands. I had some overstock in the first collection and I've since learned the lesson that the audience here prefers a different type of comfort. Since the second collection, the linen collection, I made sure that the garment is either double sided and can be worn multiple ways. That extends the life of the garment as well, and I want to consider that in all the design elements in each collection—like how deep the pockets are and all of those kind of things. That's something that I really enjoy as a designer. I'm always going to stand for using quality fabrics and making small runs. I only produce 15 pieces of each style.
EME: So how does that work with your suppliers who work with the likes of Patagonia?
JD: Yes, the factory produces for massive brands, and they are really supportive. Patagonia produces lots of hoodies and tees, but they like that I'm a brand that takes this direction that's different to what they are producing at the moment.
EME: So what made you go down the sustainable route in the first place?
JD: I think it's my upbringing. My entire family is a low waste kind of family. My dad was the one that always made us think about how we could reuse things before throwing it away. He was constantly thinking about how to save things and I still do that. So it's a mindset. And of course our generation is more aware of what's happening in the world. With this brand it gets the message out there, and my point of view with fashion. Is that I don't need to make another sustainable t-shirt brand. You know what I mean? That was the earlier conception about creating my sustainable brand. Why is sustainable fashion so boring? I wanted it to be more refined like Chanel or Victoria Beckham-inspired, and then back to the board room situation. For women that are successful and on the go. Women who are going from the boardroom to a date and they can wear this without having to think about it.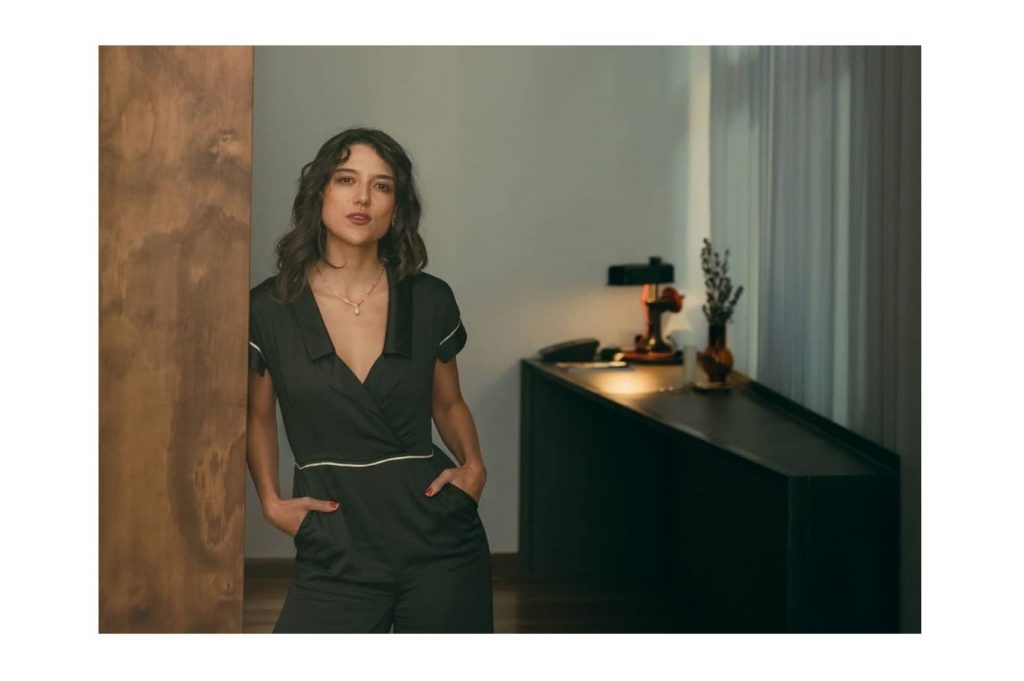 EME: And that's obviously what the name, The Rushing Hour, was inspired by?
JD: Yep. It's for the customer who has no time for bullshit.
EME: Haha! I love it!
JD: One thing I would love to mention is that all of my garment labels have inspirational quotes. From women game changers in the world like Maya Angelou. So that's a little extra surprise that I like to put into it. When you go through the closet in the morning, the clothes speak to you based on that day's energy. And you can live your day by the quote on the tag. Another thing I've made a conscious decision of is that every single piece has pockets. All men's clothes have pocket and women's don't because traditionally women are just expected to carry handbags. But I was like, "Uh, no!"
EME: Yes, pockets are so important! What is the biggest barrier for you succeeding as a socially conscious brand?
JD: You need to have a lot of cash flow and PR. I was originally with a large online retailer and I made a decision to withdraw, even though they have started to introduce a green section. But even with that, the whole idea was racing towards the bottom dollar. It's really not something I'm a big fan of. As with many of those aggregation websites, they wouldn't list me unless I had new items and something like a minimum of 40 new styles every season.
EME: Wow. So you said this will be your last collection. Is that because you're doing your corporate job and this is your side gig?
JD: I've got like three jobs haha.
EME: So will you keep producing the same collection or when it sells out you'll finish?
JD: Last month I've started to sell some of the stuff in a storefront in Mossman and it was flying out the door. So that is the difference between a shopfront and online, right? People eventually want to touch and feel everything. For online I'm relying on organic and word of mouth. So because that shopfront is going so well I might do a slow production of a couple of styles.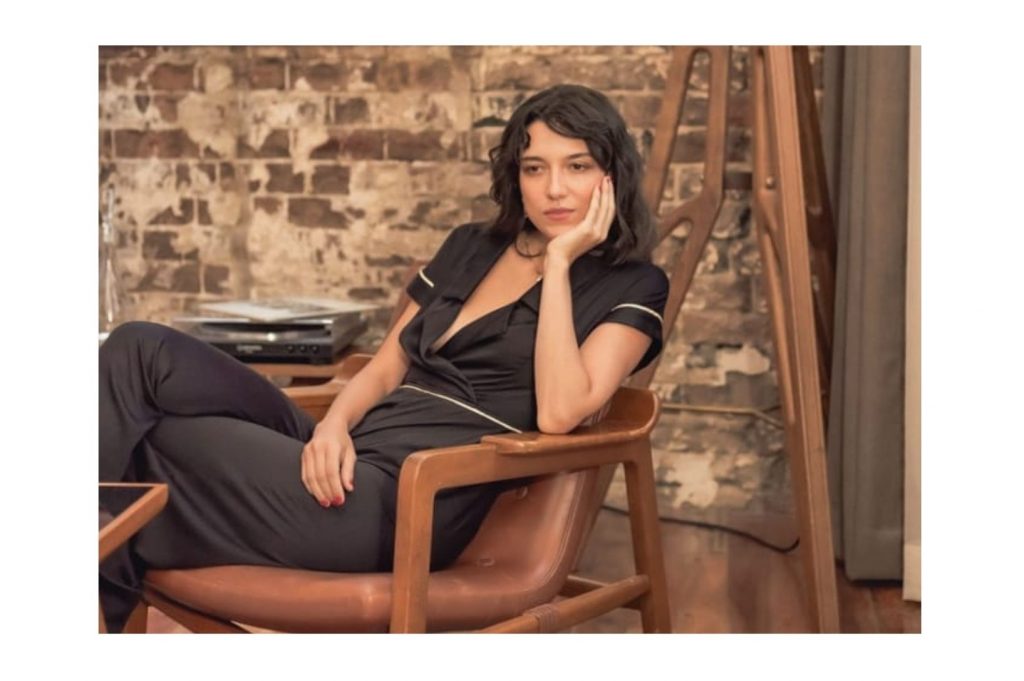 EME: So where do you want to be in five years?
JD: I feel like my whole vision as a human is to do things to make the world a better place. Whether it's by producing clothing or not. This year I'm doing a lot of education. I'm doing a lot of digital design and user experience. And the whole ethical practice of digital design is a huge topic that I'm passionate about and I speak a lot about that as well. For people who come up with new product ideas, we all have the obligation to consider the afterlife of our product. That's the responsibility of it. And many designers don't think about that at. So that's my main mission. Whether that's fashion or interior or education. I'm going to constantly be the voice of that.
EME: Amazing, I love it! So would you consider yourself an entrepreneur?
JD: Yeah I think so. I've got way too many lightbulb moments. I teach at General Assembly for user experience and I also mentor designers. My other website is called dingdingding.co.
EME: You have a beautiful new collection, Celebrate You. Tell us a bit more about it.
JD: "Celebrate You" is a collection to celebrate the strength of the human race after a roller coaster year our world had been through. It is a collection to remind ourselves that we're strong, resilient yet graceful, and a reminder to be kind and celebrate ourselves.
This 100% biodegradable collection of ready-to-wear sings versatility in every piece – fabrics are made from 100% TENCEL® (made from the pulp of eucalyptus trees). They're more absorbent than cotton, softer than silk, and cooler than linen.
The design of every garment in this collection is based on a day in the life of a "The Rushing Hour" women. Classic (she believes in classic silhouettes never gets out of date. Inspired by shows like "Queens Gambit", "Breakfast at Tiffany's" "In the mood for love"). Functional (pockets, pockets in every dress/jumpsuits she own, because when she's on the go, that's where she keeps her phone and lipsticks). Sexy yet elegant. Quality (Every piece is tailored to perfection, finished with organic cotton lining OR french seamed). Versatile (Each garment are designed to go from boardroom to a pub). Comfort and elegant – with such soft material, it almost feels like you're wearing loungewear while looking at your best. Truly the best #WFH looks.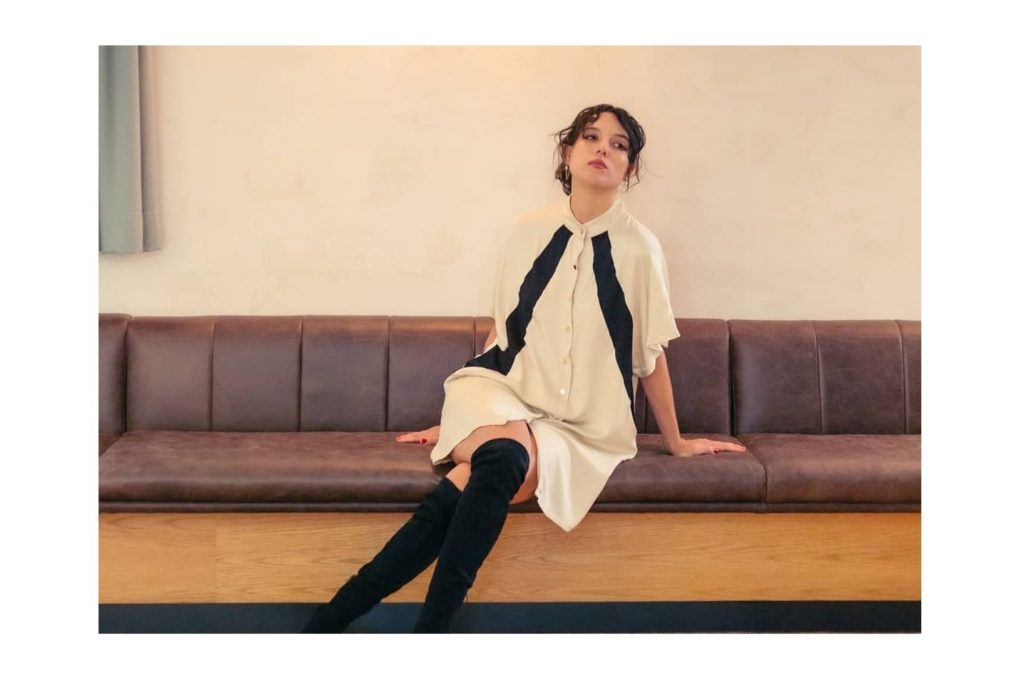 EME: How long have you been working on Celebrate You?
JD: Two full years. This collection was mean to be ready by mid-2019. But the pandemic hit, our production were forced to close down to ensure all workers are safe and their workload are being kept at an absolute minimum. Meanwhile, I took the chance to further refine all the samples.
Some styles may look simple, but the samples could took 7-15 rounds to get it perfect.
EME: What was the inspiration behind this collection?
JD: Whenever I work on a new collection, I often based it on a story that inspired me, or a character. This is the poem behind "Celebrate You" collection :
Working on yourself.
Dancing with your fears.
Rewriting your stories.
Embracing your light and your shadows.
Live full, lush and dense.
Celebrate you – Inspired by the strong women around me.
"Whoever you love in this life, Make sure your greatest love story is all your own. Beautifully yours. Faithfully yours. Forever yours. All on your own." @frassyaudrey

We believe good designs are those that celebrate effortless silhouettes with uniquely designed modern details. We also don't understand why most sustainable garments on the market now are so "shapeless". We are pushing the envelope to the extreme, challenging the status quo, so that we can achieve the best quality because well-designed garments last longer.
Each garment is carefully tailored with the most sophisticated fabric we could find. – "It's so comfortable I feel like I'm in sleepwear all day." Every dress/jumpsuit is functional – with pockets; most garments are designed to be worn multi-ways – more purposeful; and each garment is labeled with a unique inspiring quote by a women game-changer in history.

EME: What are you most proud of about The Rushing Hour?
JD: I'm very proud of having returning customers who wait patiently and come to the store and want the new collection. That is the moment when I'm like "oh my god" and I feel like everything is worth it. And all of our overstock items are donated to Dress For Success and Thread Together charities to make sure not one item goes to landfill.