Sustainable fashion stylist Jenna Flood wants to drop terms like ethical fashion.
We spoke to Jenna about how she got into sustainable styling, the must have item in for a capsule wardrobe, and why she hopes terms like ethical fashion don't exist in the future.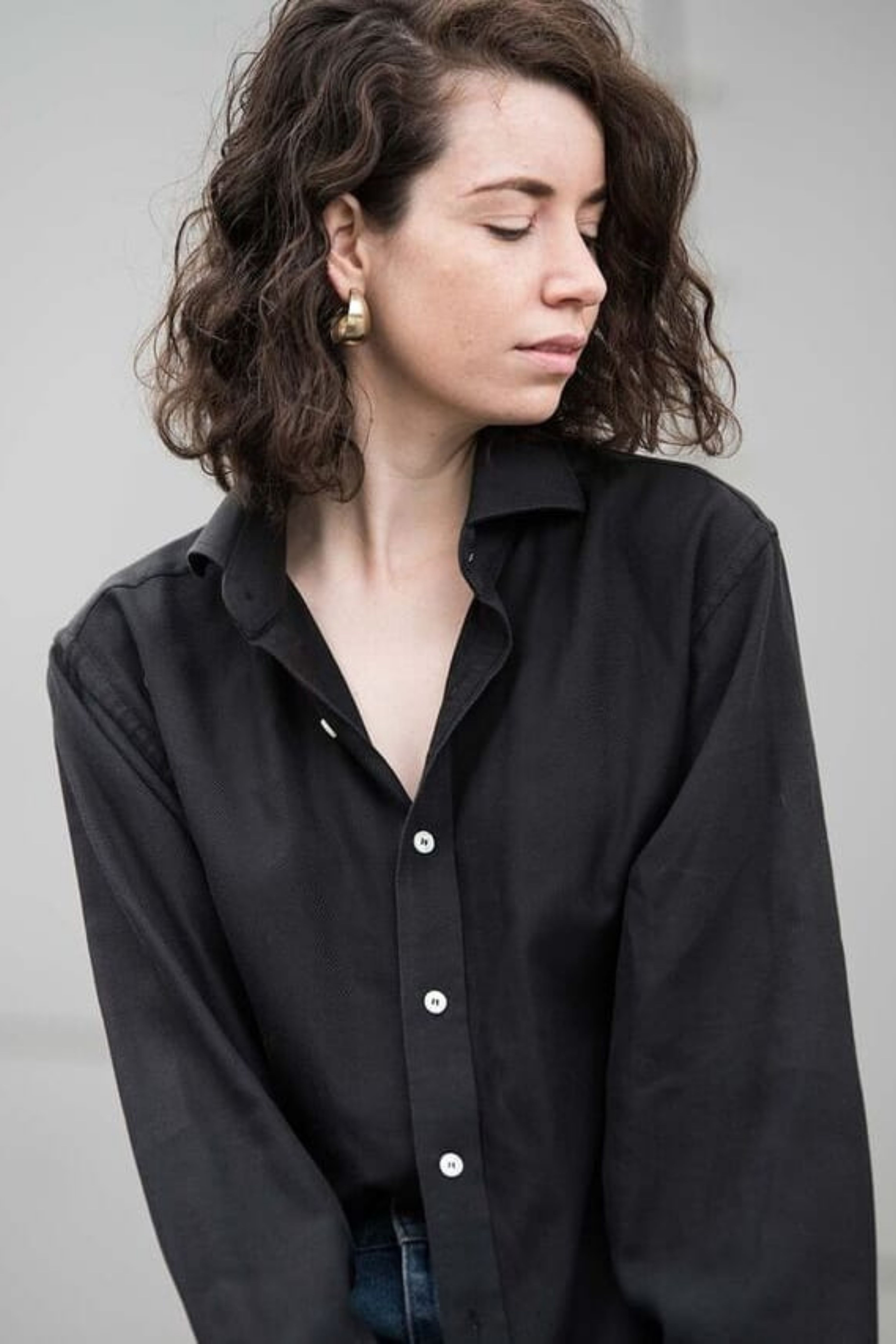 When most people think of stylists they picture huge wardrobes, high end fashion, and over the top photoshoots that rarely consider the final consumer (aka us normal folk). But Jenna is flipping that trend-driven, consumption-fuelled stereotype on its head with her sustainable styling platform The Ironic Minimalist. We spoke to Jenna about how she got into sustainable styling, the must have item in for a capsule wardrobe, and why she hopes terms like ethical fashion don't exist in the future.
Can you please tell us a bit about yourself?
Hello! I'm Jenna and I live in the inner suburbs of Melbourne with my partner Julian. I am a personal stylist who focuses on the sustainable side of fashion. I created "Ironic Minimalist' as a tool to help educate people on the issues that surround fast fashion.

I also work at the consignment style store, Mutual Muse. I am fur mother to two cute cats known as Captain Cuddles (CC) and Beans.
I am also an avid op shopper, I just love to immerse myself in clothing and find hidden gems.

My current guilty please in lockdown is watching The Block!
What led you to becoming a slow fashion stylist?
When I was studying at Australian Style Institute, I saw that not many stylists were concentrating on ethical fashion of where our clothing comes from at all. I was still discovering the sustainable side of fashion then. When it came time to finding some pro bono clients I advertised on a Melbourne Rough Trade page (you trade skills/things for other skills/things instead of money), I saw that people were interested in shopping sustainability. So that's when I started to concentrate on the sustainable fashion world.

Once I started to take paid clients, I saw that the demand was high for shopping sustainably, so I focused in on that niche and made it my own.
Why is slow fashion so important to you?
It's hard to put into words just how important slow fashion is to me. If I want to buy a beautiful garment, I want to make sure that my dollar is going to support fair systems. I want my money to encourage ethical creation of garments (or anything really!)

It's my hope that eventually we won't need to use terms such as 'ethical fashion' anymore, because it will all be made fairly.
How can we adopt a slow fashion mindset in such unpredictable times (when we're all working from home in our pyjamas)?
It's so tempting just to buy everything we see on our feeds during lockdown. I know I have been tempted by many things! I find making a list of those temptations instead of just buying them. Put at least 24hrs between you and hitting the checkout button. Often you will find that you don't actually need it!

I have also been shopping in my wardrobe and trying out new combinations of clothing. This is a great way to figure out what you really need before a new season Often you will find that you need nothing at all!
If you'd have to choose a favourite, what is one thing you always recommend to have in a capsule wardrobe? Sorry, that's probably like picking a favourite child!
Oh that is hard!
Im going to say a jacket. Obviously they keep us warm but having one in the right style and colour for your lifestyle can really pull an outfit together.
What's the one thing about the fast fashion industry that frustrates you the most?
Fast fashion brands are amazing at marketing. They make you think that you need the latest $10 top. They then feature a new one only a week later – that you then buy! Before you know it you are overwhelmed by a mismatched wardrobe with absolutely nothing to wear!

We have to turn a blind eye to this marketing and learn to ignore the pull of cheap things.
What does a normal day look like for you?
As I am still in lockdown, my day is pretty average right now!

On my days off from Mutual Muse, I have a slow morning after waking up around 8/9am ( I am a night owl) I then answer some emails and work on my website or the articles that I write for ASI. I try and go for a walk if the weather is nice. Usually, my day ends up with me cleaning or decluttering something, I can't stand messy spaces!
What brings you the most joy?
Honestly, just watching my little fur babies sleep or play! They are just so cute!
Yes, I am a crazy cat lady. Haha!
What are you reading, watching and listening to right now?
I always have a lot of books and podcast on the go. I just finished 'Foot Work' by Tansy E. Hoskins. It's all about our shoes and how they are manufactured. I highly recommend it!

I have been listening to 'She's on the Money', 'Wardrobe Crisis' and 'Fashion Fix with Charli Howard' on my walks to and from work.
I have also been watching 'Fight for planet A' with Craig Reucassel on ABC. It's really encouraging to see more of Australia take steps to beat climate change!
Who or what is your biggest inspiration?
I am in awe of all the change makers that I have meet in the sustainable fashion movement! (yes, you too Jasmine!)
I am constantly inspired by all the projects, interviews, workshops, talks, podcasts… EVERYTHING that this community does. The support is also incredible, whenever I reach out with a question I am welcomed with open arms. It's incredible!
What keeps you inspired?
The positive change that I see daily has kept me inspired (especially during these lockdown periods).
Stories of community kindness, people power and new discoveries keep me inspired and ready for action.
Is there anything that completely changed your life? (book, movie, holiday, person, etc.)
Moving to Melbourne really changed my life. I feel that if I had stayed in Tasmania, I would not be doing what I love. I took moving out and creating a whole new life to push myself in a new direction.

One documentary that did change my life and set me on to a more sustainable lifestyle, was the Minimalism documentary, it really made me question my lifestyle. After watching it around 3 times in one day! I started to educate myself on why I thought I needed so much stuff, what I learn about myself was really eye-opening.
What do you wish you could tell your 18-year-old self?
I have never regretted what I have done when I was younger, it has helped shape where I am today. But I would say "save your money!" – you don't need to spend it just because you have it!
What do you want your future self to remember about this moment?
One thing I have noticed during the lockdown is that my sense of FOMO has disappeared! Mainly because most of the people I know are in the same situation, but it has been so freeing to realise that I don't need to be doing it all at once!
I've enjoyed the slow moments and I have been learning to recognise that if I am having an off day, I need to embrace it and fill my own glass before anyone else's.
What's the best piece of advice you've ever received?
To trust your gut instinct. If something doesn't feel right, voice your opinion and discuss other options. There have been so many times I have just ignored that feeling or done what I was told was 'right' and it has not worked out well!
What advice would you give someone who wants to follow your career path?
Don't compare yourself to other stylists. I used to do this so much at the start. I would always wonder why I hadn't achieved what they had. But truth be told, their path was different from mine, so it was like comparing apples and oranges.

I would also say, find a mentor. All of the stylists I have spoken to from ASI have been so helpful and open to questions, it's such a warm community.
What's next for you?
During the lockdowns, I've slowly been building my website and working on taking my styling to a virtual level. Since I can't physically be in people wardrobes, I want to arm them with the tools and knowledge to start the journey themselves. I want people to come out of this lockdown with more confidence and be on the way to building their dream wardrobe!

I also have some collaborations and events planned, they will be popping up on my Instagram soon!

Once the lockdown lifts, I hope that there may be some more (socially distanced) events in the future. I love talking about sustainable fashion and answering all the questions people have!