The delightful Gen Z 'slashie' reminding us why we downloaded Instagram in the first place.
All it takes is a quick chat with Maggie Zhou, otherwise known at @yemagz, to remind us why we haven't given up on social media and its unattainable influencer culture, detox teas and fast fashion copycats (just yet anyway). This Gen Z slashie intertwines slow fashion selfies, lemon cake appreciation posts and important conversations around race, sex, mental health and ethical fashion to offer a unique and delightful perspective on the world.
Can you please tell us a bit about yourself?
Hey, I'm Maggie! I'm a lover of slow, considered fashion, meaningful words and a good chai latte. I'm currently studying at university, but I work as a freelance writer and social media coordinator.
What led you to becoming a slashie (writer/'grammer/podcaster/regular Fashion Journal contributor) at 21 years old?
I was one of those overachieving kids, I still am one if I'm honest. I'm interested in too many things – fashion, writing, photography, design and media – and like the greedy gal I am, I want to do all of them! It came very naturally to me, I started my Instagram in my early high school days, then created a blog after that. I guess I just never stopped documenting my outfits and writing stories.
Why is slow fashion so important to you?
Fashion is beautiful; it's art and it's important. But if we are exploiting workers and the planet for just a fleeting moment of beauty, it has then been twisted into such an evil, self-serving thing.

Slow fashion is important to me because sustaining our environment has to be a priority. And that can't happen without caring for the vulnerable workers in the system. A big reason I chose to actively support slow fashion is because of the cognitive dissonance I was experiencing. This is my way of being true to myself and my values.
What does a normal day look like for you?
Every day's different but I can always count on having my laptop with me! I'll usually be working on various projects at once, so the average day could look like watching uni lectures, scheduling Instagram posts and liaising with influencers for a brand, shooting photos for my own Instagram and working on an article. I confess I overwork myself and am working on enjoying non-digital or commodified hobbies like reading and baking.
What brings you the most joy?
Spending time with my partner. Hand me a toasted cheese bagel and an overwhelmingly average TV show and I'm all set.
What are you reading, watching and listening to right now?
My 'to read' pile is always more exciting. I'm about to devour Pandora Sykes' "How Do We Know We're Doing It Right" and Clare Press' "Wardrobe Crisis: How We Went from Sunday Best to Fast Fashion."

I listen to so many pop-culture podcasts like The High Low, After Work Drinks and Shameless. Me and my friend just started one too, called Culture Club (shameless plug, sorry).

I'm working my way through The O.C. and loving it. I'm a Gen Z so I've never watched it before, but I am loving the drama, the early 00s fashion and outrageous storylines.
Who or what is your biggest inspiration?
So many women for so many reasons! My older sister Cindy, for her courage and intelligence. My mum, for her kindness and love. And so many others found on Instagram. I'm forever indebted to the digital world for the connections I've created.
What keeps you inspired?
I'm one of those gooey romantics that finds meaning, beauty and love in everything. Today I saw two dogs across the road from each other who were absolutely pining to say hello to one another. They were causing such a fuss that one owner crossed the road (practically sprinted) so the dogs could meet – then these strangers headed to the park together. I find myself constantly in awe of humans.
Is there anything that completely changed your life? (book, movie, holiday, person, etc.)
Nothing specific springs to mind in my own life. But I definitely reflect on my parents' choice to migrant to Australia from China and how different my life would've been if they hadn't.
What do you wish you could tell your 15-year-old self?
I'm proud of you. I'm glad you're true to yourself. I can't wait for you to meet the future you.
What do you want your future self to remember about this moment?
I truly am happy, and I really love myself. That's two things I really don't take for granted. I hope you're taking more time to relish in the little joys of life and aren't too consumed by work.
What's the best piece of advice you've ever received?
I read a quote in a book once, and it resonated with me so much I cut out the letters from some scrap paper, painted them rose gold and stuck them on my wall. It reads, "have a vision, unclouded by fear."
What advice would you give someone who wants to follow your career path?
I'm still a baby so who knows what I'll be doing in five, 10 years. But I think it's important to know the why behind the what. I want to be a storyteller because I think other people have stories that need to be heard. I want to be an advocate for slow fashion because I want to help make the world a better place.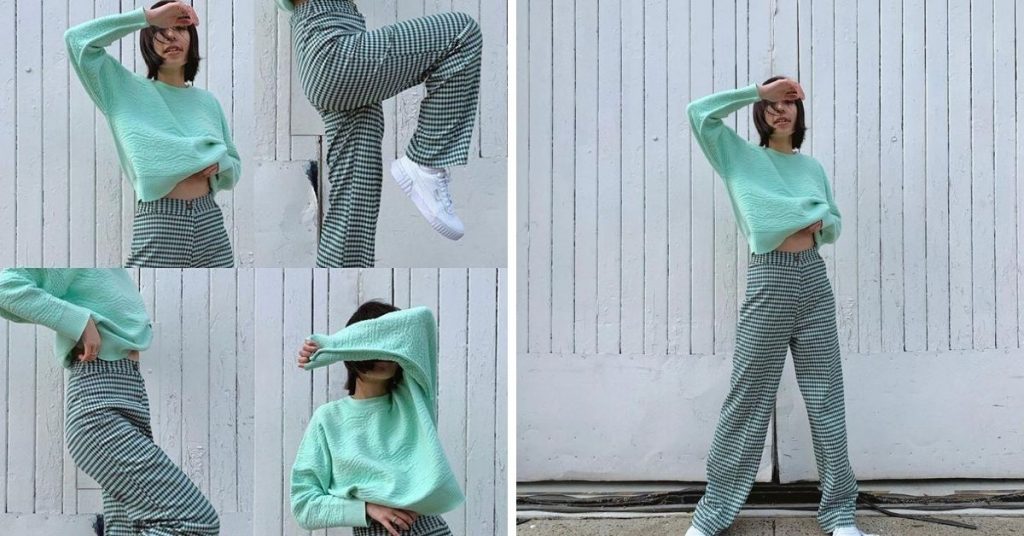 What's next for you?
Learning more, listening more. Writing more, creating more. I'm trying to take things slow, what's the rush anyway? I'm enjoying the journey.