The devastating effects of fast fashion copycats
Earlier this week, sustainable swimwear brand Cleonie Swimwear had two original bikinis blatantly copied and sold for a fraction of the price by fast fashion e-commerce giant Shein. This devastating blow for Cleonie, a small sustainable label from North Avoca in New South Wales, Australia is a familiar tale for many independent designers, and sadly it won't be the last time this happens.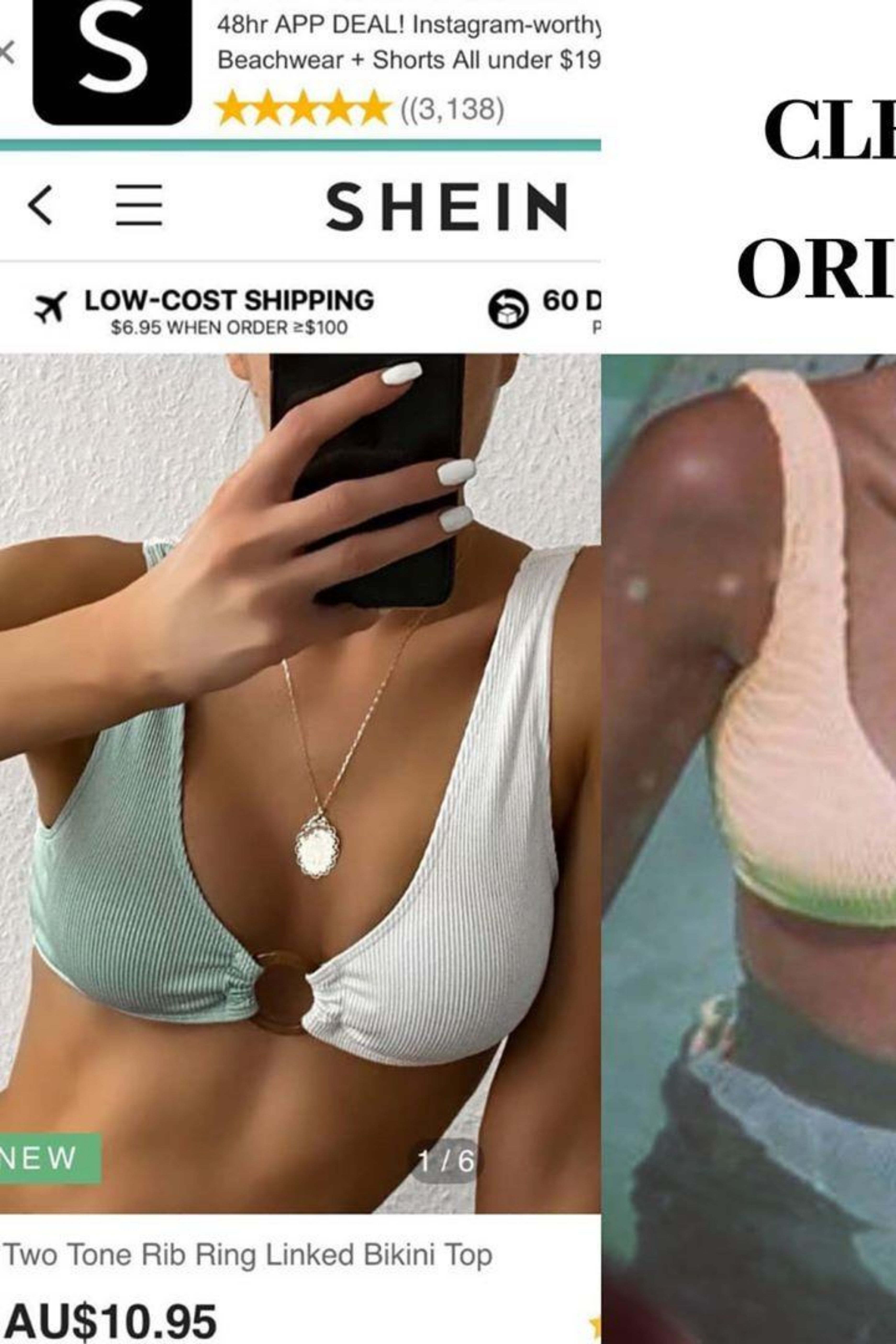 By Caitlyn Spanner.
Earlier this week, sustainable swimwear brand Cleonie Swimwear had two original bikinis blatantly copied and sold for a fraction of the price by fast fashion e-commerce giant Shein. This devastating blow for Cleonie, a small sustainable label from North Avoca in New South Wales, Australia is a familiar tale for many independent designers, and sadly it won't be the last time this happens. It begs the question: can we fight these fast fashion copycats with something as simple as an Instagram tag?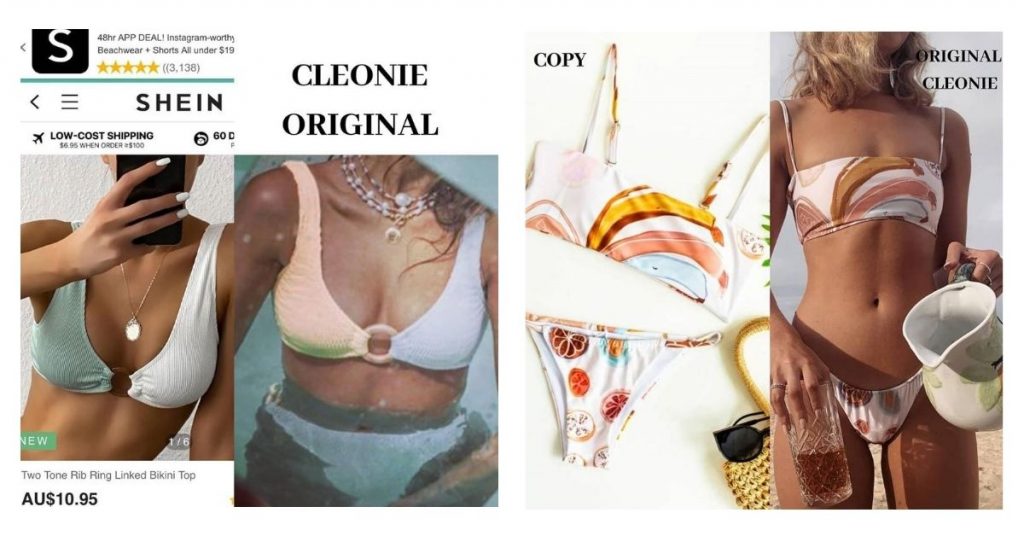 The underdog: Cleonie Swimwear
We've proudly featured Cleonie Swimwear on Ethical Made Easy for about a year now. The brand is known for beautiful and unique pieces made sustainably and ethically from recycled materials. Founder and head designer, Kitty has focused on designing and making locally with sustainable practices from day one.
When Kitty received a direct message from a loyal customer via Instagram this week, she never expected to see what appeared to be an image of her original bikini for sale on fast fashion company Shein for $10. Initially Kitty felt a little shocked and even had a giggle to herself thinking it was a joke. But then reality kicked in, "Once I saw how blatant the copy was in the textiles art and in the design of the bikini I was overwhelmed with disappointment and sadness. My beautiful friend and artist Bonnie Gray who collaborated with me on this print, worked for months preparing it. And after the print was made, I worked for many more months preparing the collection. I always knew the print was something very special, which is why I framed it and have it hanging at home. But for it to be abused in this way and sold for $10, is just heartbreaking, especially when it is from a company with such low ethics," She says.
You can't ignore the irony of a fast fashion giant ripping off a brand that is driven by consciously creating swimwear with high morals and integrity, both on an ethical and sustainable level. Kitty says she and her team makes each piece to order with sustainable fabrics, they ship everything in eco packaging and spend off time daydreaming of new ideas to bring to the loyal Cleonie community, "to show them newness with pieces made with class and longevity."
"I just wish someone would offer me the same budget Shein is given. I would create unique pieces for the masses, with an affordable price point that are sustainably produced," She says. "Whoever is running these massive production houses needs to spend a week travelling through third world countries to see the devastation they are adding. To see the lives they are destroying just to make an extra dollar. To me it is not only robbery, but it is the lowest a business and a person can go. Be integral with your decisions and better this planet, not destroy it."
The fast fashion giant: Shein
Founded in 2008, Shein is a fast fashion E-commerce company covering more than 220 countries around the world with the tagline "Everyone can enjoy the beauty of fashion". Dig a little deeper and what that translates to is, 'we produce clothing as fast and cheaply as possible'. We took a tour around their website and here were a few comments we came across:
"Through effective communication and cooperation [with our factories], we are able to see shortened production cycles to release new products."
"We keep up with the latest fashion trends around the world and quickly bring these styles to the market."
"We have established a well-organised warehouse that is continually developing methods of increased efficiency."
It's no wonder the brand is copying other labels; it seems almost impossible to come up with anything original when you're issuing 500 pieces a day at extremely low prices—$8.95 tops, $13.95 dresses, $9.95 jeans. According to SCMP's Chinese news site Abacus, the company's sales amounted to $2.83 billion in 2019. It goes without saying this is a sustainability issue, but the missing piece of the puzzle here is the people making Shein's eye-wateringly cheap clothing. With no transparency in sight, very little is known about Shein's supply chain, but one can only imagine the true cost of producing clothing this cheap.
A familiar story
This isn't the first time Shein has made headlines. In fact, in the last couple of months the 12-year-old company has been called out for producing a necklace in the shape of a swastika and, according to CBS, for selling rugs that resemble "Muslim prayer mats, with some featuring illustrations of the Kaaba, one of Islam's most sacred mosques." Shein issued apologies for both incidents in the space of a week.
Only a few weeks prior to the Cleonie incident, Shein was called out by Diet Prada, an industry whistleblower with the tagline "ppl knocking each other off lol", for copying a design by French sustainable brand Maison Cléo. Diet Prada is an Instagram account with 2.2 million followers that calls out brands for copycatting, cultural appropriation and racism.
Here's Diet Prada's caption regarding the Maison Cléo copycat from Instagram:
"Sometimes it makes you wonder if there's like a cartoon supervillain running some of these companies. @sheinofficial , which came under fire recently for selling a gold-plated pendant in the shape of a swastika, is back on their shady s**t. This time, they're making direct copies of @maisoncleo 's handmade blouses for less than the price of a takeout lunch. The cult brand, launched in March 2017 and run by mother-daughter team Cléo and Marie Dewet, only makes a few pieces a week available for purchase. Each is made by hand from deadstock fabric, and they take care to explain their pricing, which is due to the higher costs associated with making small runs in specially sourced materials. The blouse Shein copied, with a vintage-inspired oversized collar edged in pleated lace, was first released by MaisonCléo last spring. The "maid-inspired" black version dropped in April of this year, and quickly sold out at the €220 price point. Shein's version is already marked down to $8 in the US. Marie Dewet called out the newest copy in her own Instagram post, saying, "my stomach hurts". This isn't the first time MaisonCléo has been copied by a fast fashion brand, and sadly it probably won't be the last. In a 2019 interview with CR Fashion Book, Dewet shared her concerns regarding these brands. "I'm more angry about the type of brands that do this—the way they handle production, the quality, the way they treat their workers etcetera. Even if it's the same blouse it's made in cheap polyester—who will want to buy it?" We asked Dewet for comment on this instance, and her feelings haven't changed. "I don't even know how they can sell pieces at this price when it's not even the price of the material." Cheap fabric, questionable labor, and not having to pay the development costs to make their own styles all converged to make the Shein blouses available for $8, just something to keep in mind if for anyone considering a fast fashion purchase."
Baiia Swimwear is no stranger to copycat fashion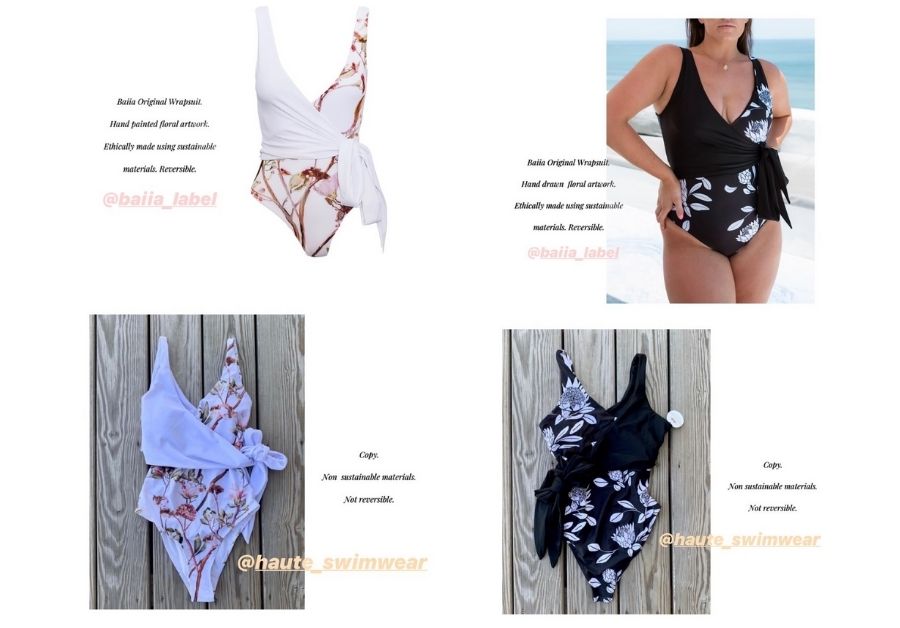 Another brand featured on Ethical Made Easy that's all too familiar with fast fashion copycats is Baiia Swimwear. Baiia founder, Amber Boyers was kind enough to speak to us about the not one, but three times she has had her beautiful and sustainable swimsuits copied by other brands, including the time a brand even used Baiia's own brand images in their Facebook ads.
"As a brand you put thousands of dollars into photoshoots when making sure that content is aligned with your brand. When you find out that people are seeing your imagery associated with other brands it's pretty disheartening," says Amber.
While she's fortunate that her fast fashion copycats were housing their content on Shopify and Facebook, meaning the content was removed from both platforms in a matter of hours, it breaks her heart to think of the sustainable implications of pulling a fast fashion item.
"I can deal with it on the brand side and I can get their things taken down, but what happens to the materials afterwards? Have they already spent thousands of dollars getting all this virgin synthetic fabric made and printed and where do they put it now they can't sell it?"
Amber also points out that because she was able to have the copies removed from Shopify and Facebook she didn't pursue legal action but the issue of time and resources definitely came into play, "When you're a smaller brand trying to grow your team and look after customers and you don't have a lot of time to fight a war."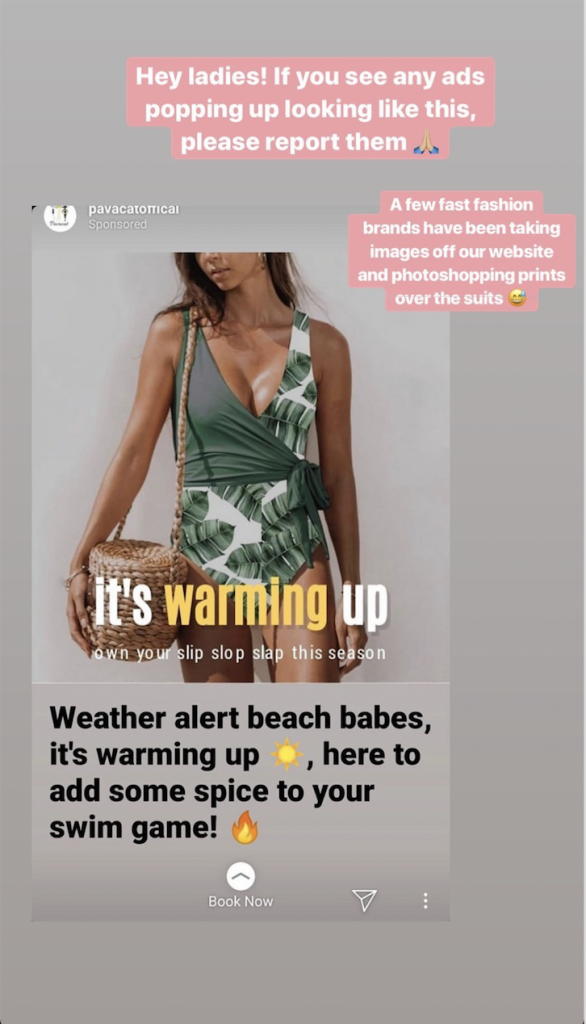 Going to battle
Ethical Made Easy believes that Shein and other fast fashion copycats are privy to the fact that small, independent brands don't have the resources to take legal action on cases such as this, otherwise they wouldn't be copying on such a regular basis. But perhaps their time is up because Kitty from Cleonie Swimwear isn't prepared to let this one slide.
"After seeking advice from an IP lawyer, there is enough solid evidence to pursue this legally. Even if we are the little business in this, we have enough heart to get through it, with integrity and calm."
And regardless of the outcome, Cleonie already has a small but determined army ready to join in on the battle.
"Our beautiful Cleonie community has been absolutely incredible since we posted. We are feeling the love alright and are nothing but grateful for every single one of them! Maybe we are a little bit like the underdog, where the crowd can't help but cheer for you. That gorgeous Aussie spirit is shining through. We have had people from near and far reach out to us with their sadness, and so many shares of anger and disappointment towards the industry and the business that take and take and take not only from independent labels but from our planet too. We hope that our community can help spread awareness to the masses, teaching them how our purchase power is so important, each one a vote towards the healing of our planet or the destruction of it."
Amber from Baiia swimwear shares the same love for the sustainable and ethical fashion community.
"When you're fortunate to have a brand in our space. You tend to attract customers who are really respectful of the craft and the ethics story and the founder behind the brand. If anything I get more support each time it does happen. Your followers want to help and support and they feel like they have some impact now."
Join the army
Since speaking to Kitty, she's already had slow fashion campaigner Venetia La Manna and many others share images of the copies or tag Diet Prada in the posts; something all of us can spend 30 seconds doing today.
Kitty hopes her situation can shed some light on the impact of fast fashion copycats in the future and lead shoppers to hold themselves accountable.
"Think before you shop," she says. "Ask yourself—if something is costing me less than $10, how was it even made?—We as the consumer have the power to end these companies. We all just have to stop buying from them."
Shein had not responded to our request for comment at the time of writing.