The Baptist World Aid Ethical Fashion Report – Helpful or harmful?
For the last six years Baptist World Aid (BWA) has released its annual Ethical Fashion Report with the express purpose of providing "... a picture of ethical sourcing practices in the fashion industry as a resource for consumers, corporations, investors, and policymakers."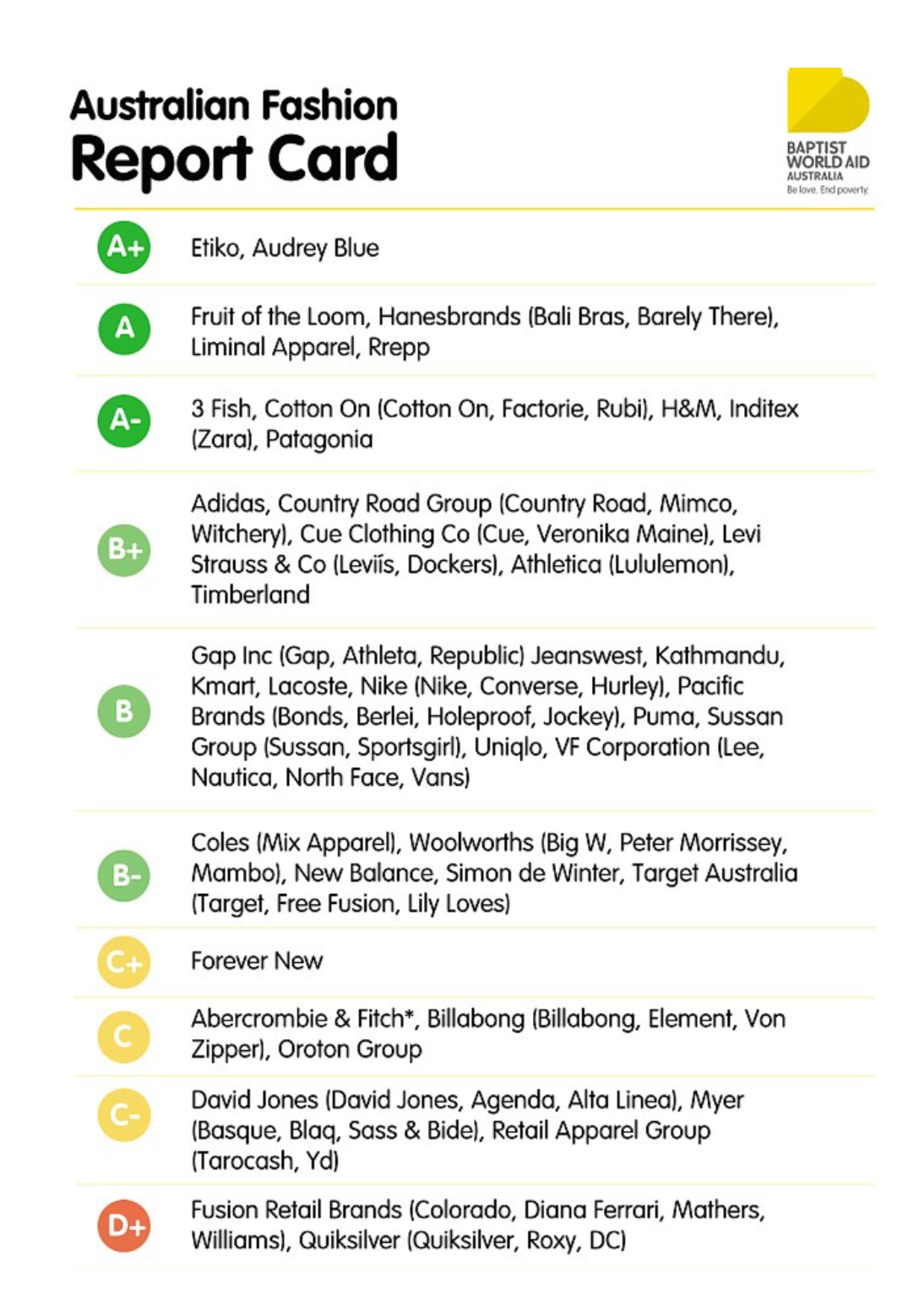 The report grades 130 fashion companies from A+ to F based on responses to a survey that focuses on labour rights and more recently environmental management. Theoretically, these grades are supposed to empower consumers to make ethical purchasing decisions. But how useful is the report really?

The methodology behind the research is facing increasing criticism from brands and experts alike for failing to paint an accurate picture of the fashion industry. Jacinta Fitzgerald, sustainability consultant at Made Good notes that, "By attempting to aggregate the enormous complexity of the apparel manufacturing supply chain into one score, the Ethical Fashion Report fails to deliver a truly representative picture to consumers, in fact misleading them more than it is educating them."

35 brands declined to participate in the BWA survey this year, with many disputing the relevance and accuracy of the report, among them, online Australian retailer The ICONIC. The company states that, "…we believe reducing the complexities involved in supply chain management into a single score is potentially misleading. We also feel the significant time and resources required to respond to the Baptist World Aid questionnaire is better spent on our continued work with our supply chain."

Some companies challenge the grade they have been assigned. Cue was given a C- and was marked as unresponsive to the BWA survey in the report. The brand disputes this claim and states that, "Cue was responsive throughout the survey process and decided in the final stages to decline involvement due to disagreement with the assessment criteria. The survey does not display or elaborate on the auditing process of the grading system, and in turn has the danger of misrepresentation and defamation." Cue iterates that it will no longer formally participate in the survey in the future.

Despite this criticism, BWA continues to encourage consumers to use the grades as a guide to shopping more ethically. To understand exactly why this is problematic, let's dig a little deeper.

Are brands honest?

All surveys are filled out by the brands themselves with what appears to be minimal verification. BWA claims that, "…responses are reviewed and clarification and supporting documentation are sought where necessary. In some instances, the audit data provided by companies is relied upon to verify conditions and benefits that workers receive." While BWA does everything within its means to make sure the information they are receiving is accurate, whenever possible working with brands to answer the survey, in a lot of cases confirming the legitimacy of every answer given by 130 brands would be almost impossible.

Structured in this way, the report must rely on a certain level of honesty from those filling out the survey. Can large corporations and companies be trusted to always provide accurate and truthful information if there is a possibility that it might damage the company's reputation and they know there is limited capacity for verification? If not, how much can we really trust the validity of the report itself?

Comparing apples and oranges
Just like the delicate snowflake, no two brands are alike. Variations in the quantity of clothing being made, location of factories, fabrics, resources, sourcing decisions and so much more means that each company's operations are unique. How then, can an organisation assign a rating with any reliable consistency? It's like comparing apples and oranges, both fruits but completely different in nearly every other aspect.

To demonstrate this point, let's take a look at two brands rated by the Ethical Fashion Report, Zara and Etiko. Zara is owned by parent company Inditex which also owns Bershka, Oysho and a whole host of other brands. In 2017, Zara recorded over US$16 billion in net sales, had 2251 stores in 96 different markets and over 171,000 employees, and worked with over 1800 suppliers and more than 7000 factories. It is safe to say that the brand manufactures millions of garments a year from many different fabrics, sourced from across the world.

In contrast, Etiko is a vastly smaller operation with a significant focus on ethics and sustainability. A registered B Corp, the brand works with Fair Trade certified factories in India, Sri Lanka and Pakistan to create clothing and shoes using GOTS certified cotton and other sustainably sourced fabrics. The brand has 4 full time employees, 1 store, almost $900,000 in sales this year and manufactures about 42,000 units (garments and shoes) annually.

Comparing Zara and Etiko is kind of like comparing a giant fast food chain to your local coffee shop. Both deal in hospitality but are very different in their offering, operation and scale. Yet, in the Ethical Fashion Report the two brands receive similar grades. Zara was awarded an A and Etiko an A+. How is this possible?
Confusing consumers

Baptist World Aid does not set out to sing the praises of the fast fashion model. They acknowledge that, "… a high grade does not mean that a company has a supply chain which is free from exploitation. Rather, it is an indicator of the efforts the company is undertaking and the strength of its systems to reduce the risk of exploitation." Their priority is improving the conditions of those suffering from damaging industry practices. However, the way BWA communicates the findings to consumers is confusing and misleading.

The title of the research, The Ethical Fashion Report, suggests those brands that score well are consequently, ethical. But how do we define the term 'ethical'? It is broadly understood that 'ethical fashion' refers to clothing and accessories that are made in a way that respects people and the planet. BWA has a much narrower definition. For the purpose of the report, the organisation measures how ethical a company is using the 44 criteria outlined in its methodology. This definition is not necessarily in conflict with the more broader concept of ethical fashion but we run into trouble when it is applied to fast fashion.

The majority of companies assessed by BWA are fast fashion brands that have traditionally prioritised price and efficiency over human rights and environmental impact, not exactly shining examples of ethics and sustainability. Scoring well in the survey does not negate the fact that many of these companies are still producing excessive amounts of clothing as cheaply as possible in countries known for exploiting garment workers. Their impact is not front of mind when designing and manufacturing new products. How ethical can that really be?

Most consumers who read the report will not have a solid understanding of the complexities of the fashion industry nor the time and energy to investigate the research and BWA's disclaimers. They will interpret a good rating as an endorsement to continue shopping as usual. The comments on Facebook posts about the BWA Ethical Fashion Report are filled with people celebrating the high grades of their favourite fast fashion brands like Cotton On, Zara, H&M and Kmart.

The report is also damaging for ethical fashion brands and the ethical fashion movement as a whole and it begs the question, why are more ethical brands not included in the report? Australian label Pure Pod is a pioneer in the sustainable fashion space, operating for over a decade. For the last 5 years, founder Kelli Donovan has asked BWA to include Pure Pod in their research. Each year, she has been turned down without explanation. Donovan has lost potential customers who have told her they would prefer to shop at a brand that is rated highly by BWA. This is not an isolated incident. Other ethical Australian brands have reportedly been advised by BWA not to participate in the survey because they won't score well.

The organisation defends its decision to not include more of, what they term, niche ethical fashion brands in the report. BWA states that it targets corporate companies as their operations are much larger and as such, their potential to improve the lives of those people in their supply chain is greater. This is a valid strategy that has likely had some success shifting these bigger brands towards more ethical practices. However, consumer behaviour change is a large part of moving the industry forward and it's not helpful to, intentionally or not, portray fast fashion brands as an ethical option. Smaller and it could be said more ethical brands are flying in the face of business as usual and are choosing to create products that respect people and planet. This is not an easy feat in a world that is designed for high speed and low costs. A report that purports to guide consumers to shop more ethically but fails to acknowledge the small but mighty leaders in the space, does consumers an injustice and damages efforts to educate them on truly ethical alternatives.

What does that A really mean?

BWA states that they grade brands on a bell curve. What does this mean and why is it problematic? Let's break it down.

Once brands have completed the BWA survey, the organisation lines up all the scores from best to worst, plots them on a bell curve and assigns them a grade based on where they fall. This means that the actual score you receive is not as important as where you rate comparatively to the other brands that took the survey.

Take a look at the graph below and you can see that the least number of brands received an A+ and a D-, the highest and lowest grades (F doesn't appear to count for the purpose of this bell curve), and most brands received a B, B- and C+ which are average grades. Grades are not based on attaining a specific score as the nature of a bell curve means that a certain number of brands will always receive an A+ and a D-, regardless of how much individual survey scores vary within these grades. There could in fact be a huge variation in scores between brands that received an A+, like Etiko, and brands that received an A, like Zara, but without access to those original survey scores we can't really know and BWA does not share this information publicly. Etiko for example could have scored 99% while Zara scored 56% but Zara was given the A because the company's results were better than the rest of the lower scoring brands that took the survey.
BWA defends its use of the bell curve. The organisation explains that every two years, after consultation with industry experts, the survey is adjusted. New questions are added and existing questions may be edited. Grading on a bell curve allows brands to compare their grades year on year, even though the survey differs, because the grades reflect where the company sits in relation to its peers. BWA claims that this motivates brands to improve their grade. If the aim of the report was revised to only serve as a guide for the brands themselves then perhaps the organisation would have a stronger argument and the grading process would be less contentious. Realistically, BWA needs to share the research with consumers in order to persuade brands to participate in the survey or risk reputational damage. As it stands, the grades are likely to be confusing and misleading to consumers.

Founder of Etiko, Nick Savaidis, a brand that received an A+ in the recent report puts it this way,

"It is entirely possible for a fashion brand to achieve a high ranking in this report while still using animal products, while still tanning leather using toxic chemicals in countries with questionable disposable techniques and eyebrow-raising workplace health and safety.

It is still possible for a company to achieve a high ranking in this report while utilising cotton that isn't organically farmed, and rubber derived from petrochemicals instead of sustainably grown and tapped rubber trees.

It is still possible to achieve a high ranking while producing synthetic clothing at a fast-fashion rate, that sheds microfibres with every wash, pollutes our waterways and never, ever, biodegrades.

There are ethics, and then there are 'ethics'."

Some food for thought.

Size matters

This year BWA included an environmental management section in the survey. It included questions about water use, emissions reductions, chemical management and clothing take back programs. This was a welcome addition to the survey and has a great deal of potential to create environmental change but unfortunately BWA fails to ask the most critical question – how many garments does a brand produce annually?

The fast fashion model is inherently unsustainable. Based on speed, efficiency and low cost, brands are churning out hundreds of billions of garments a year. Billions! We cannot praise a brand for reducing its emissions and correctly managing chemicals while ignoring the fact that it is using non renewable resources to create millions and millions of cheap disposable products that we currently have no way of recycling effectively. A clothing take back program is not a sufficient solution. BWA recognises the volume of waste generated by the fashion industry in the report but does not go far enough to push for real change in this area. Brands need to be held accountable for the sheer magnitude of waste they are generating. Business as usual is not sustainable.

The impact of the report?

The BWA Ethical Fashion Guide is viewed by hundreds of thousands of people annually. It has been downloaded between 50-60,000 times this year and tens of thousands of copies are handed out at events and through partner organisations. There is no disputing that the guide reaches a broad range of people, many of who have likely never stopped to consider the impact of their fashion purchases previously. But what is the effect on consumer behaviour? Does the guide catalyse a journey of discovery into the ethics and sustainability of fashion or do consumers take the grades at face value and go no further? At this stage no data exists to help us understand how the guide is impacting consumer awareness and behaviour.

Similarly, when it comes to brands, there is a lack of research into how the Ethical Fashion Report is affecting change in fashion supply chains. It's evident that in the six years that the report has existed companies have improved social and environmental practices. How much this improvement can be attributed to BWA and the Ethical Fashion Report is unclear.

We can't truly begin to understand the effectiveness of the report at achieving BWA's aims until more research is undertaken by the organisation itself to measure its impact on both brands and consumers. BWA has recently initiated this review process, an important step forward, that will provide insight into how they are really tracking.

More harm than good?

BWA's overall aim for the research is noble, with the organisation stating that it is designed to make, "…the biggest impact in ending exploitation for garment workers," and that their chief concern, "…is for the poor and vulnerable and the environment that they inhabit." The organisation's strategy to focus on the scale of its impact by concentrating their research on those larger companies with greater resources and capacity for change is admirable. Fast fashion is a wicked problem and we can't wave a magic wand and make it disappear. We need to encourage those big players to use their size and scale to do less harm and BWA is potentially playing a key role in this.

However, the way the report is communicated to consumers is not helpful. Made Good sustainability consultant, Jacinta Fitzgerald, argues that, "The report is doing the industry and shoppers a disservice by presenting itself as an ethical shopping guide, it should stick to its core objective of pushing for transparency and increased sustainability programs from retailers and brands, rebranding itself as a Policies and Progress report."

The BWA Ethical Fashion Report is a good introduction for those people who have never stopped to consider how their clothes are made. Nonetheless, it is by no means a reliable indicator of a brand's overall ethics and sustainability and consumers need to understand that grades should be taken with a grain of salt.

So what can you do?

Let Baptist World Aid know what you think

BWA is in the process of reviewing their methodology. At this stage, most of the feedback the organisation receives is from the brands they work with and many think that the report is too severe. BWA disclosed that brands believe consumers make a ruckus on social media about the injustices of fast fashion but ultimately will still buy that $2 t-shirt when it comes down to it. We need to raise our voices and share our experiences to demonstrate that consumers do actually care.

Write a polite email to hello@baptistworldaid.org.au and include one or both of the following:
Share your thoughts on the Ethical Fashion Report. What do you think? Is it helpful? Is it harmful?
Share your personal journey. Why do you care about creating a more fair and equitable fashion industry? Include specific stories about how your shopping behaviour has changed, the brands you choose to shop at and why. Help BWA to demonstrate to the brands they engage with that we do care!
Shopping Ethically
How can we shop ethically?
This is not very popular advice but just don't buy anything. Australians already consume 27 kg of new textiles and clothing every year. We could afford to slow down a bit.
Repair and rewear what you already own, buy second hand, borrow or rent. 
Otherwise, if you're still interested in shopping new, use brand directories like Ethical Made Easy (us) and The Kind Guide. Support brands that are transparent about labour rights and their impact on the environment and don't be scared to ask questions.
Further Research
If you want to learn more there are some amazing resources out there: