The scent of transparency with Liz Cook of One Seed Perfumes
Starting a 100% natural perfume brand is one thing. Launching Australia's first 100% natural and completely transparent perfume brand in 2009 while educating customers who were used to using traditional perfumes based on 100 years of synthetic production, is another. But that's exactly what Liz Cook did over a decade ago with her brand ONE SEED perfumes and went on to become a pioneer in natural perfume and beauty in Australia. We spoke with Liz about exactly what planted the seed for her business to grow and the criteria she uses to select the ingredients for her beautiful natural perfumes.
What made you start ONE SEED?
I started experimenting with perfume creation while I owned three natural beauty stores in South Australia. We are custom-blending skincare for customers – often with line-ups out the door! – and people started coming in saying they had switched all of the products to natural, and could we create a perfume similar to the commercial ones they loved. That planted a seed that grew very quickly, and I started researching, reading and experimenting, and expanding on my foundation of aromatherapy blending and product formulation.

When I sold that business in 2007, I had an idea in the back of my mind to start Australia's first natural perfume company, and 18 months later ONE SEED was launched. I love product development and have a passion for natural beauty and wellness, and I always think it's up to me to do something – I never think it will be someone else, so I just jump in and get it done!
Do you have a morning routine? If so what is it you do to set yourself up for the day ahead?
Two years ago I started waking up ridiculously early – like 4:30/5am. I actually love it, and I never set my alarm! I get so much done in the wee hours of the morning, so often by the time by kids wake up for school I'm half done with my day! My morning routine usually consists of enjoying a cup of tea while watching NBC news on TV, checking emails, organising paperwork for the day, and enjoying the sunrise on the deck. Once the kids are up, I usually make myself a breakfast of loads of veggies with poached eggs, and a coffee or raw cacao drink with a teaspoon of lion's mane and marine collagen. I am definitely a morning person! On the weekend, I will often go for a walk before 7am. Early mornings are so peaceful!
What's the biggest barrier you've found to succeeding as a socially conscious business?
The perfume industry has been drenched in synthetics for 100 years, so trying to carve out a niche in natural perfume has been a tough decade-long marathon! And it's still going. Lots of education required when you're establishing a business with a social and eco conscience! Eleven years into it, we can now see we are making headway, and people and businesses trust us and want more of what we do and what we stand for.
Within the ethical fashion community, there's a big question that we ask which is 'who made my clothes?'. In the scope of ONE SEED, who made the things you sell? Can you tell us a bit about them?
We make everything we sell. And we are neck-deep in every single aspect of the business. We don't outsource, and we will keep it that way as long as possible. I would much rather employ people that corporations.
Why did you pick the ingredients you have chosen to work with?
The ingredients we choose need to meet three criteria: they must be natural and plant-derived, they must be beautiful and superior quality, and they must be ethically sourced and sustainable/well managed. We also choose organic or wildcrafted ingredients wherever possible.
Best piece of advice you have ever received?
That's a tough one. I'm sure I've received a lot of great advice, but, to be honest, the best lessons come from life itself and leaning into the learnings and the pain rather than running away from the difficulties. One of the really important lessons I've been learning in the last few years is listen more, talk less. We could all do better at that one, I think. And it makes the world of difference in every aspect of life as a human.
What's next for you and your company?
We have just launched Laundrette, our new natural laundry and linen fragrance collection. So more of that on the way, as well as exciting new additions to our personal fragrance line. We are launching this month into 12 stores in the UAE, so that's pretty exciting! And we have our sights firmly set on cracking the US market in a big way in the next 12 months.
One book and/or documentary everyone should read/watch? Why?
I am an avid non-fiction book reader, and there a few which have been life-changing for me. If I had to pick one it would be Originals by Adam Grant. It celebrates non-conformists and unique thinking, and encourages action and outside-the-box thinking. I think I dog-eared almost every page of that one, and probably said "Amen!" a few hundred times!
Are there any other Movers & Shakers out there in your world that you think people should know about?
Yes, quite a few. (BUT I see "my industry" as anyone who is leading the way in ethical and conscious wellness, which includes beauty, fashion, food, etc) Some are already known and some fly under the radar. I will pick three (but I love so many of them and meet new ones all the time!) – Alexx Stuart of Low Tox Life (of course), Annie Jackson (co-founder of Credo Beauty in the USA) and Katie Wells (founder of Wellness Mama).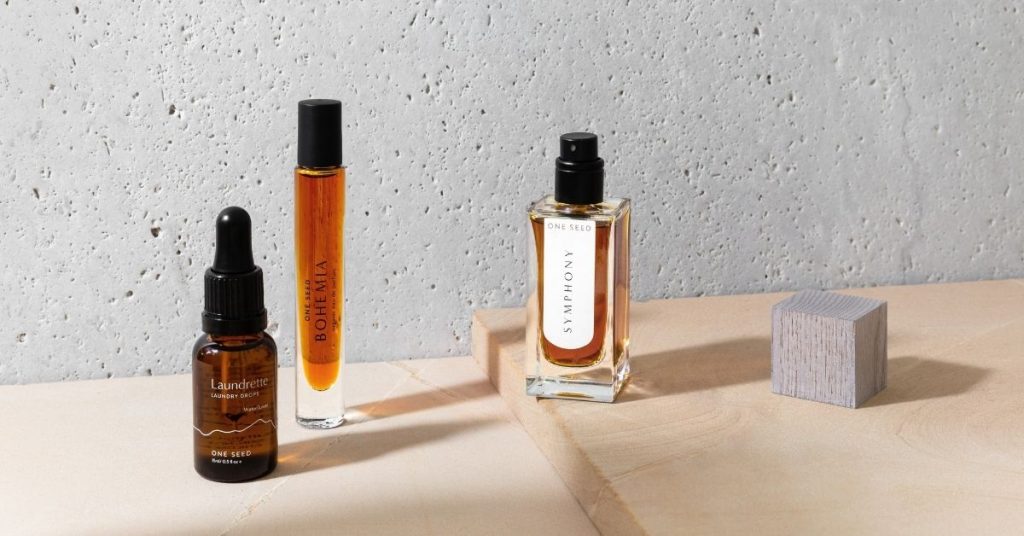 Love Liz and her drive for a transparent scent industry as much as us? We're not sure it's possible but we highly recommend heading on over to ONE SEED and checking out all the beautiful new natural perfumes, or even DIY one yourself.