We dove deep with Amber Boyers, founder of Baiia Swimwear, and she's just as versatile as her award-winning, 2 in 1 wrapsuit.
Growing up in the Solomon Islands, Amber has always been very connected to the beach and the ocean. After an extensive background in fashion—she studied fashion and marketing, went to South America with the goal of employing women to create Latin American garments, and worked at CUE—though realised there were no beachwear labels fully respecting the ocean. So, she plans to change that.


What made you start Baiia?
I think there's so many things that lead up to the idea of starting a business you're passionate about. I spent my earliest years in the Solomon Islands which I believe is responsible for my love of the ocean & a coastal lifestyle – living there in my formative years allowed me the gift of connecting with nature in a way that has shaped my whole being.
I then studied fashion during high school and soon went on to my degree in marketing. It was during my University studies where I fell in love with the subject 'Corporate Social Responsibility'. A few years and some not-so-pretty-fast-fashion-revelations on, I guess the interests all wove into a responsible fashion label that paid respect to the ocean, environment and people.

Why swimwear? Will you be extending to any other products further down the track?
The 2016 Summer was approaching, and I couldn't find a bikini that I absolutely loved. I have a few boxes that need to be checked before I purchase anything, but a big one is versatility. There was really nothing out there checking all the boxes. So I made my own! A friend of mine wanted a pair – and then I figured others might like them too. And that's how Baiia came to be.
I'm currently in the process of extending to a full beachwear range! Having spent the earliest years of my life in the Solomon Islands, and later growing up on the east coast of QLD, I've always felt a deep connection to the ocean, and living with respect to it. Ironically, there are no beachwear labels that I know of that have business practices with respect to the ocean. But I really plan to change that.
What is something others wouldn't know about creating mindfully made swimwear that you think they should?
My designs (and particularly my upcoming collection) were all made with multifunctionality in mind – and they always will be. I'm obsessed with looking at things and thinking "how can we turn this into something with even more functionality? How can we get more mileage out of our material? Instead of only doing 2 things, can we make it do 4?"
Currently, everything in BAIIA's Minimal Collection are all reversible, so that was a good start. But with our new range, I've created designs that can be worn in 5-15+ ways, without compromising on fit, design and quality. I'm currently working toward getting them patented so it might take a while for them to be on the market! Watch this space
What has been the most challenging part of starting up Baiia?
I'm a naturally a very sensitive person, and the world of business is one where there is little room for sensitivity. My sensitivity allows me to connect with others & create, yet it is also very consuming. My practicality keeps me grounded, yet prevents me from thinking outside the box. Finding the balance has been quite difficult.
Oh, and another major challenge has been time management for sure!
Best piece of advice you have ever received?
"When in doubt, spend time in nature. Breathe. Listen to the trees." – my Mum.
My Mum actually writes meditation books for children, and despite all of 3 of us (my sibling and I) practically being raised by a single mum, we've all had quite a happy and grounded childhood. I would credit a lot of who I am today to her teachings and unconditional love.
What does your everyday morning look like?
I work for an online Bamboo Linen Store part of the week, but if I'm not working I'll usually sleep in until 9. For 5 minutes, I then meditate on what I'm grateful for, do some breathing exercises and then go for a jog. By 10 am I'm then making breakfast and checking emails.
How do you define success?
My definition of success has changed a lot over the years, and no doubt it will continue to do so. But really, I think success is creating a lifestyle in which you have the freedom to spend time 1) with those you love 2) doing things you love 3) sharing that love.
One piece of advice you would give to others starting out in their own business?
It's seriously an all-consuming path to take. Please, only do something you are so desperately passionate about – that will give you the energy to keep going when the hard times set in (which they will) but what you learn from the experience, regardless if your business makes money or not, will be absolutely worth its weight in gold.
Here's something I've only just come to learn: A lot of people will praise the 'hustle' in the entrepreneur-sphere. I would advise that 'hustle' shouldn't mean the same thing to all entrepreneurs. If you're a creative, I think hustle absolutely goes against the nature of your work. Work hard and push yourself to experiment with new things, definitely! But don't try and rush or 'hustle' through the creation process. Taking TIME is the only way the love and passion you have for your work, will genuinely transfer onto those who wear/watch/read/consume it.
Where do you envision Baiia in the future?
Honestly, I would love for the business to grow to a level were we could help finance textile innovation labs. There are so many innovative fabrics to be discovered that could help take the load off our planet tremendously – I would love for BAIIA to be a part of that.
Within the ethical fashion community, there's a big question that we ask which is 'who made my clothes?'. In the scope of Baiia, who made your swimwear? Can you tell us a bit about them?
We get our swimwear made in a very small factory in the south of China, not too far from Hong Kong. I chose this particular business to take care of BAIIA's pieces as I was initially drawn to the charitable work they do – for example, every year their employees are given paid voluntary hours to visit the elderly in age care homes of their town.
The people who make our BAIIA kinis are always covered by medical insurance, sick pay, receive 20 consecutive days off each Chinese New Year as well as holiday leave. They are given the option of free transport and housing, and their work stations are well lit, well ventilated and spacious. The factory owner himself was a seamstress for 10 years. He prides himself in his ability to care, understand, listen and respect his workers and their needs because he's been there before.. So of course he also holds regular staff parties, excellence awards and surprises his workers with birthday gifts! He strictly does not hire anyone under the age of 18, and pays his best seamstress roughly $1753 AUD per month (well above the $369/month minimum wage of the area).
Here is a photo of Xiaoyu, who has been making swimwear for six years now, and on the right is her husband Xiangming who joined her to work at the same factory. Just two of the beautiful humans who make the high quality Baiia kini's.
One book everyone should read? Why?
We are all Stardust by Stefan Klein. It perfectly illustrates the absolute magic of our planet, the universe and the mystery that is the natural world. It's always so humbling to read.
Are there any other Movers & Shakers in your world that you think we should know about?
There are quite a few I follow but I'll mention some from the top of my head
Yael Aflalo – founder of the Reformation.
Suzanne Lee – founder of Biocouture (a pioneer in the fashion-meets-science scene)
Clara Vuletich – advocate for sustainable textile/fashion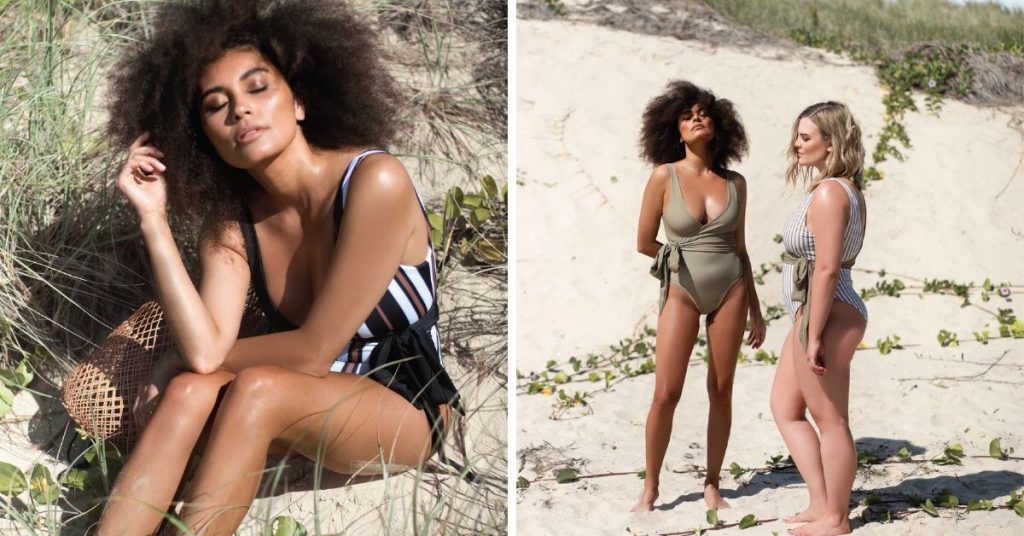 Has this interview made you want to support Baiia and get two swimsuits in one? Us too.
Ps you can also use the code EME10 for 10% off. You're welcome.