We had A Very Good chat with A Very Good Bra founder, Steph Devine.
Stephanie Devine, aka the fabulous founder of The Very Good Bra, had her heart set on "creating the world's first zero-waste bra". After starting a wire-free bra brand through which she learned about everything from natural materials to sizes that fit all body types, she decided to make her dream become a reality, and the environment (and our girls) could not be happier about it.

What made you start The Very Good bra?
I'd been obsessed with making the perfect non-wired bra in proper cup sizes and natural fibres since going through Breast Cancer treatment in 2007. I started making bras in 2014 and ended up losing my first business in a failed backer relationship. Devastated, I thought my bra story was over but that week, mid 2016, I met a Dutch circular economy guru and the idea formed that I could make the world's first circular bra! I spent months researching materials but it was hard to see how bras could be recycled. On the way back from a trip to Europe late that year, Trump had just been elected and women in the US were marching and burning their bras. At the same time, the poor in New Delhi were dying from the pollution originating from burning toxic rubbish to keep warm. I decided there and then that a bra had to be designed with its end in sight, a bra so safe that it could be burned, or buried in the garden at end of life, with no impact on the natural world. The bra needed to be botanically circular.

Do you have a morning routine? If so what is it you do to set yourself up for the day ahead?
I'm lucky enough to live at Bondi Beach. Every morning, rain, sun or shine I head down, practice 10 minutes of gratitude walking the beach, then I run a couple of laps before sitting to meditate for 10 minutes. If I get no extra breaks during the day, this sets me up perfectly.

What's the biggest barrier you've found to succeeding as a socially conscious business?
The cost of materials is extremely high in my world, and not being a big brand, the high minimum quantities hit me hard also in terms of materials and labour. Hopefully over time costs will come down as demand increases, and my products will be more available to many more people.

Within the ethical fashion community, there's a big question that we ask which is 'who made my clothes?'. In the scope of The Very Good bra, who made the things you sell? Can you tell us a bit about them?
This is always a tough one for me! I have to make in China because making in 26 sizes is very technical. In the end, the bra can be compostable, but if it doesn't fit and function as a bra, then it is completely useless! I work with a family-owned factory in China that works with premium brands. I am their smallest brand and they work with me because they understand how important what I am doing is. They all have young families and they are acutely aware of the impact pollution is having on their lives. The factory is too small to afford the expensive accreditations that larger factories have, so our relationship is built on mutual trust and I visit them often. I make my sleepwear in a local Sydney factory managed by a husband and wife team. Their work is beautiful but they're not quite up to 26 sizes of bras yet!

Why did you pick the fabrics you have chosen to work with?
Everything I work with, every label, thread and material, has to be 100% botanically sourced to be 100% compostable at end of life. This is extremely limiting! I work with organic cotton and tencel for now, and I'm looking forward to being able to use a clean spandex replacement when it becomes commercially available. As much as possible I work with Cradle 2 Cradle approved products. I can only find one global supplier of elastic that I can buy in my smaller quantities but that is changing, once my numbers increase there is another option.

Best piece of advice you have ever received?
Start before you're ready!

What's next for you and The Very Good bra?
In February/March next year I'm launching a new style of bra using liberty of London's first organic cotton knit, in a beautiful print. I'm very excited about that one and there's a chance Liberty might stock it in their London flagship store. Beyond that I'm working on a nursing bra and men's undies.

One book and/or documentary everyone should read/watch? Why?
I love William McDonough and Michael Baumgart's Cradle 2 Cradle book. I could get myself very depressed watching documentaries, they affect me deeply and almost make me want to give up, but C2C is a perfect example of how innovation in all areas of design is possible if we put our minds to it. Also local hero Clare Press' Rise and Resist of course.

Are there any other Movers & Shakers out there in your world that you think people should know about?
I love what A.BCH does locally, and I'm thrilled Jac + Jack are increasing their sustainability component – I wear their stuff anyway because it wears for years and that's my kind of sustainable. I'm a massive Ethique fan – such a simple idea that is so important, and I also love Bondi Wash. NO great discoveries here but I also don't shop much, I've shopped enough during my life that I can afford to take the next ten years off and just wear what's in my wardrobe!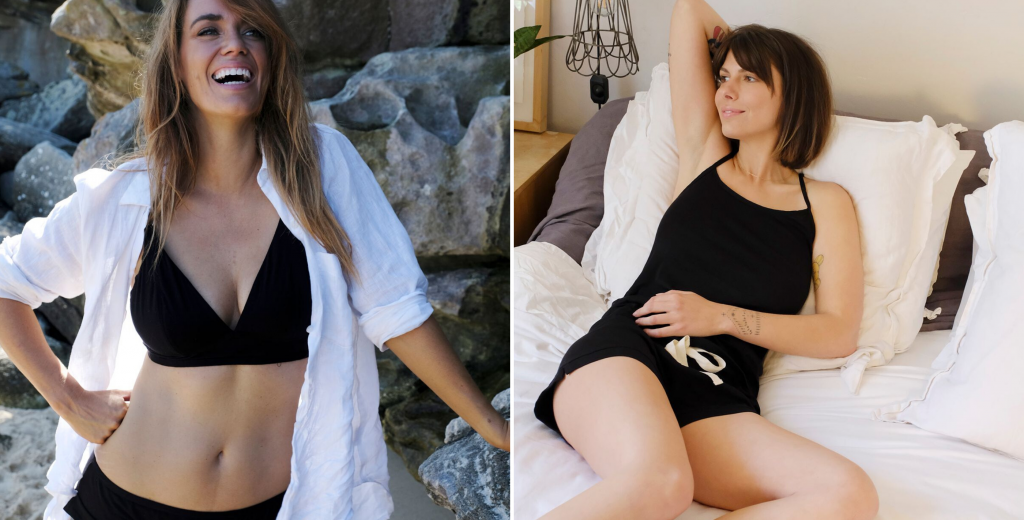 Shop The Very Good Bra here. If you want 15% off while you're at it, use the code ETHICALSLEEP15. You're welcome.