We joined Amanda Jones for One Day in her life.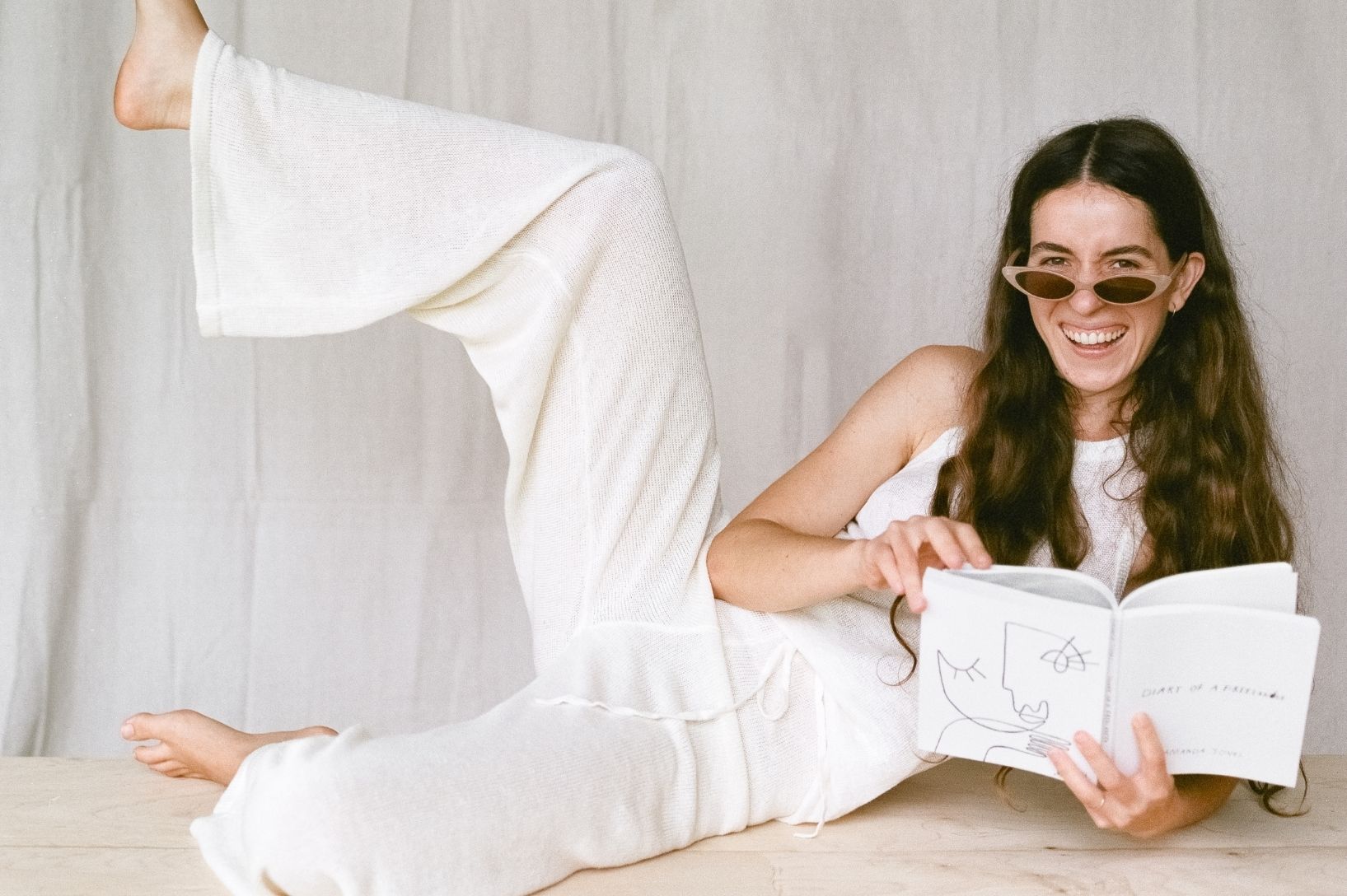 Amanda Jones is a Jill of many trades. She has studied contemporary dance then fashion styling at Whitehouse Institute, freelanced as a set designer and directed an ARIA-winning music video, amongst other impressive endeavours, and is now creative director of The Honest Jones, a company she founded with her partner "as a way to combine two of their main passions, creativity & people."

Thanks to her new book, Diary of a Freelancer – a book of "scribbles from the daily trenches of forging an untraditional career path" – she has also added author to this impressive list.

We've joined Amanda for One Day in her life.
Morning
What was your day one?
There was no plan. There was no abundance of creative work flooding in. In fact, there was no work for as far as the eye could see. Just a definite knowing, it was time to quit my 'day' job.
The fact that I definitely didn't tell my parents straight away says it all. It wasn't the smart thing to do. What I found in that leap of faith was the urgency I needed to figure out how to make a creative career. I had to. It was a pay-me-or-I-don't-eat situation.
It became obvious early on that this path was the long way around. It's not a straight line to the top kinda career or life choice and it's much much slower than I would like. The big dreamer heart of mine has had to learn to see how much magic is in slow.


Where do you live?
Our home is a humble hillside abode, with a spectacular view of the ocean from every corner. We love simple, considered design. Our space regularly morphs from lounge to workspace to dinner parties to larger gatherings (we've thrown a few wild shindigs in our day). So our aesthetic is a blank canvas for whatever life is currently looking like, sprinkled with gathered art and quirky objects from our travels.
Routine is fluid in our home, but each day will always and forever start with coffee. The male Jones counterpart (whose name is Kristian) will make a pour over coffee and bring it to the female Jones (me) in bed. Mornings start with the sun rising, watching it peer over the ocean horizon and paint the sky. We like to stretch out this part of the day as long as we can, usually involving some form of pilates, maybe breakfast in the garden, probably reading and definitely journaling.


Day
What does your working day typically look like?
This is absolutely a trick question because the word 'typical' is quite elusive around here. Our work has expansive ebb and flow, and I thrive from its variety. The days that are 'typical' are the most challenging to this adventurous heart.
Sometimes I will wake with enthusiasm and get all my tasks before 9am. Other days I will sit on one task for the entire day. Motivation is a tango for me. I like to think beyond a day. If I'm hitting walls in my to-do list, I'll often call it a day and spend time recharging in order to tackle the tasks with more energy later on. It's tempting to think every day has the same amount of potential to achieve things, but I don't find that to be true.
Currently, my to-do list is centred around our second print run of Diary of a Freelancer (we sold out of the first print run in the first fortnight, which still baffles me). Self-publishing has a beautiful rhythm, albeit quite rugged. It has taken more trust than I was expecting to give and I've had to stick to my convictions even when they have cost more time and money. I've learnt so much from this process — I am very proud of the result.


What is your professional background and how did it lead you here?
Speaking of the long way around…I studied contemporary dance for 3 years, then fashion styling at Whitehouse Institute, which followed with a stylist internship. The internship was terrible, truly terrible. It taught me everything I don't want to be. I fell into freelancing part- time for a few years as a set designer. Art directed a music video that won an ARIA award. Then came the aforementioned quitting of my 'day' job and founding of The Honest Jones, which began with any creative work that someone was willing to pay me for and slowly grew more specific and stylised until One Minute Film was born, which is now our main work as a studio.
Quite poetically, the process of publishing Diary of a Freelancer has marked the end of my freelancing. Last year I began handing over the creative reigns to my studio manager and three amazing young filmmakers who now make all of our client's creative dreams come true. As of January, I am full-time creative director and "I'm here if you need me" role. It's a gift to watch them thrive in the business I created.


Do you have any new collections in the works?
My first real art piece I'm turning into a large print. I specifically left it out of the book, it belongs on walls.

Evening
What is your One Day?
I am inspired to grow our creative studio in a way that prioritises health in every corner. Maybe especially emotional health. I've had so many experiences with unhealthy culture in creative industries and it seems so unnecessary to me. There is a kinder way.


What does a better tomorrow look like to you?
Competition is an illusion. Faster is not superior. Being mean is not a good way to motivate. A better tomorrow is a kind creative culture, with buckets of respect for the process and the humans involved…and (lots of) laughter.