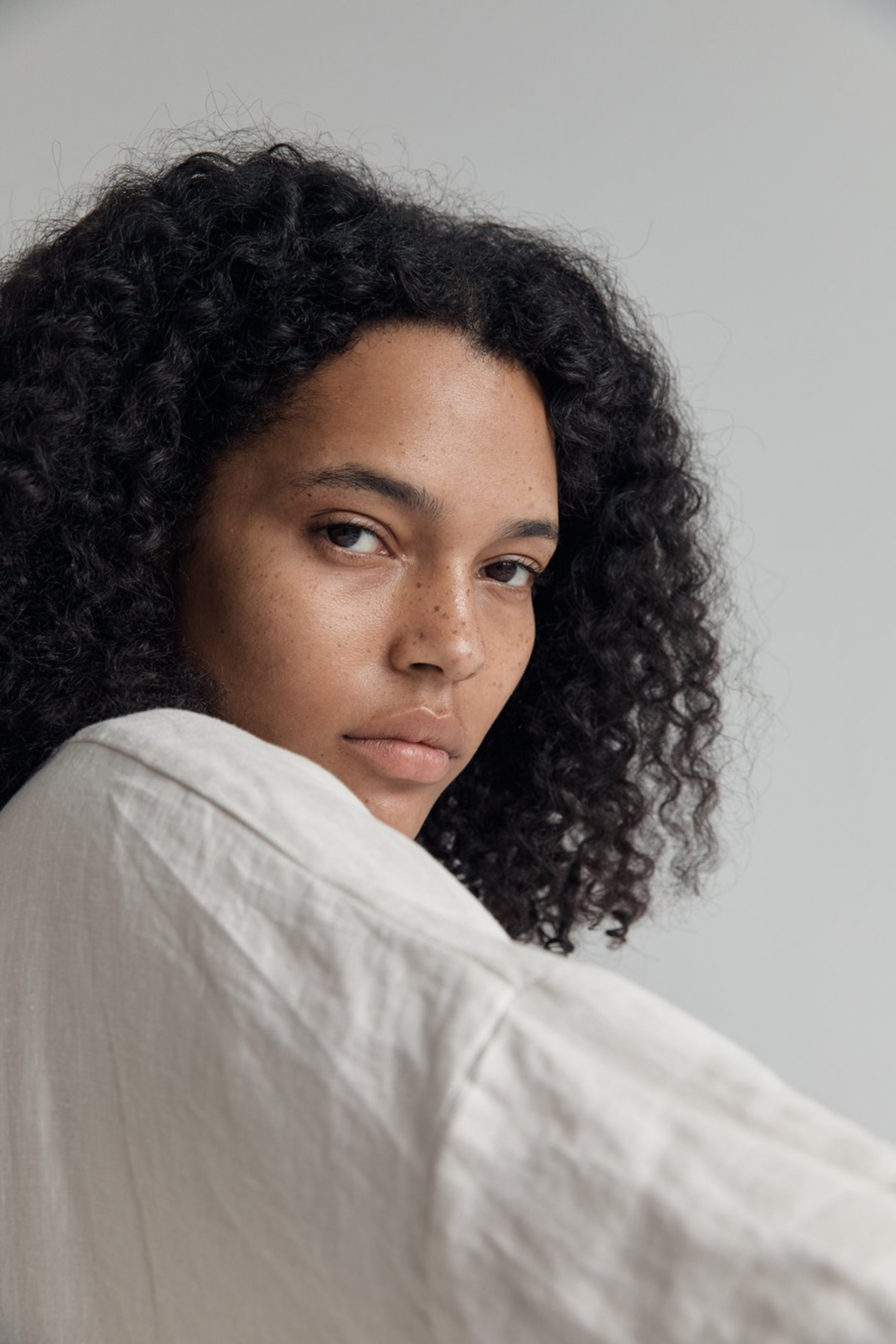 Image by ethical label Deiji Studios
Clean beauty (or green/non-toxic/natural/organic beauty, depending on which buzzword you prefer) is something we all have a decent understanding of, right? We discovered that answering 'what is clean beauty?' isn't as simple as it seems.
With greenwashing on the rise, a lack of regulations—not just in Australian but around the world—and more and more clean beauty brands popping up every single week, clean beauty can be hard to define. So we thought we'd clear up this topic in the same way your favourite face mask clears up your monthly hormonal breakout.
So stay tuned for a deep-dive into everything you need to know about clean beauty – what is it, why is greenwashing important, what regulations exist (or don't exist) and what ingredients we should avoid if we want to stay clean.
What is clean beauty?
"Safe for people and the planet, clean means that a beauty product should have considered human and environmental health, using a nontoxic element as a baseline and plant-based ingredients for active results." — Harpers Bazaar
"Clean beauty products are made without ingredients shown or suspected to harm human health." — Goop
"Clean beauty refers to products that are safe for both people and for the planet, with an emphasis on non-toxic and plant-based ingredients as well as transparency in the sourcing and manufacturing of products." — Our dear friends at The Green Hub
Our definition falls a little more closely to The Green Hub's. We believe there are two key elements that makes beauty clean. Safe, non-toxic ingredients that don't harm people (both makers and wearers) or the planet, and how transparent brands choose to be about those ingredients. It sounds pretty straightforward, but the beauty industry lacks regulation both in Australia and around the world, and brands use that to their advantage by greenwashing consumers.
What is clean beauty greenwashing?
Unfortunately greenwashing is not a fancy name for a brand new clean beauty face wash. Greenwashing is a marketing ploy used to convince us that a product is more environmentally-friendly than it actually is. It's used to mislead the consumer—more often than not, the consumer who is trying to make lasting positive changes in their everyday life—that the product they are about to invest their money in has been made with the good of the environment in mind. Consider greenwashing false advertising in one of its worst forms. You can read more about it in this article: What is greenwashing, and how can we avoid being greenwashed?
What's the deal with beauty regulations?
Thankfully some regulations exist in Australia. All cosmetics and beauty products sold in Australia are regulated by the National Industrial Chemicals Notification and Assessment Scheme (NICNAS), which assesses the safety of new and existing chemicals. Products must comply with certain requirements, including labelling of ingredients, which is overseen by the Australian Competition and Consumer Commission (ACCC). 
On the other hand, brands do not require a licence to start manufacturing cosmetics, Good Manufacturing Practice (GMP) is not a mandatory accreditation, and they are not required to submit products to any government agency for safety assessments or approval before releasing them onto the market (Formula Botanic).
In addition to that, Australia does not have its own pharmacopoeia, nor are there any specific government-mandated guidelines on testing cosmetics for safety and stability. There is also no checklist covering all the elements you're required to include on a cosmetic product label.
This means that brands don't have to include things like fragrance on their labels, and they can use buzzwords like clean beauty, eco-friendly and organic on their labels. Have you ever seen a green label on a beauty product but you haven't the faintest idea if it actually is clean? That's greenwashing and it's totally legal.
Keep in mind that all of this doesn't necessarily mean the Australian cosmetic industry is void of any regulations, but it is definitely more self-regulated.
What ISN'T clean beauty?
Ingredients often used in cosmetic and beauty products have been proven to cause great harm to a person's health. There is a link between talcum powder and ovarian cancer, with some studies finding an increase in risk of about 20%. It's why Johnson & Johson's is set to pay over $100 million to settle more than a thousand lawsuits claiming its iconic talcum-based baby powder caused cancer.
Professor Paul Pharoah, Professor of Cancer Epidemiology at the University of Cambridge notes: "The association is biologically plausible. Talcum powder applied to the genital area might get into the fallopian tubes and onto the ovaries and cause inflammation, which in turn could cause ovarian cancer… [however] it's important to remember the size of the possible risk."
Some ingredients are associated with endometriosis, early puberty in girls, and reproductive organ abnormalities and reduced fertility in males (phthalates), while others can irritate skin, eyes, nose and the respiratory tract, and can cause cancer among those with high levels of exposure (formaldehyde).
So what ingredients should we avoid for a clean routine?
If you want a clean routine, here are the ingredients in cosmetics and beauty products that we should do our best to avoid. According to choice.com, these include:
Talcum powder
Phthalates
Parabens
Nanoparticles
Formaldehyde and formaldehyde donors
Lead acetate
Coal tar
UV filters
Triclosan
Resorcinol
Toluene
Butylated hydroxyanisole (BHA)
How do we actually stick to a clean beauty routine?
You might be feeling a little unsure of where to go from here. Some cosmetic ingredients can cause you harm, some brands work hard to hide those ingredients from you, and the industry lacks regulation. But there's absolutely no reason ditch your beauty routine all together! The best thing you can do is to find brands you trust, ones that go out of their way to find the safest ingredients and keep you informed in the process. Our directory is home to the very best in clean beauty so you can clean your face knowing the products you're using won't cause you or the planet any harm.