What is polyester, and is recycled polyester actually a better alternative?
In case you weren't aware, polyester is a type of plastic. Its chemical name is PET. It's made from a chemical reaction between petroleum, coal, air and water. It is the most used fabric in the world. Here, we go into depth about polyester.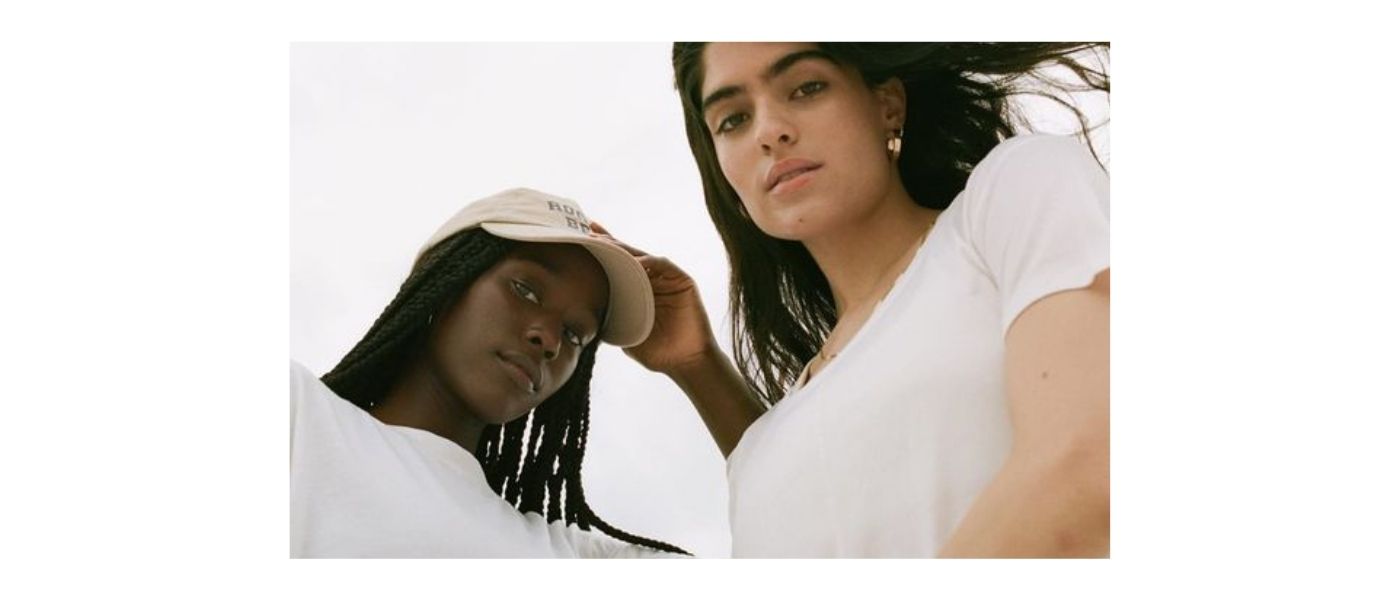 If it were up to us, everyone would go into their closets, find everything made out of synthetic, and take it out of their clothing rotation.
Okay, maybe we're being a bit hasty. Our systems aren't set up for that yet. But it is terrifying to us that there is so much polyester out there, because via our washing machines, it's ending up in our oceans, our sea creatures, and then back in our own bodies when we consume seafood. 'When the microplastics enter animals and plants in the aquatic environment, they bring contaminants with hazardous properties with them' (Mistra Future Fashion 2017, p. 1). If you've wondered at the rise of obesity, reproductive health issues, and cancers, you're not imagining things. The rise in plastic in our world is a contributor.


Wait, what is polyester?


In case you weren't aware, polyester is a type of plastic. Its chemical name is PET. It's made from a chemical reaction between petroleum, coal, air and water. It is the most used fabric in the world. Vomit.
Brands use polyester because it's cheap. A brand may choose to use polyester if they are vegan and don't want to use silk, because nothing can really mimic the look of silk except for polyester. Just remember; nothing can mimic the feel or function of silk. Silk, being a natural fibre, is breathable, light, and magically floaty. Polyester will trap in sweat, create the ideal environment for smelly bacteria to thrive, and whatever floatiness you might witness on a coat hanger can quickly become a static electricity nightmare once you're wearing it.

Polyester is appreciated for its anti-wrinkle properties, the fact that it's strong (although c'mon, polyester garments are often so hastily made they fall apart at the seams anyway*), and the fact that it dyes easily (and polyester will almost always be dyed synthetically, yet another toxic petrochemical).


When was polyester first invented?


Polyester was invented during World War Two (about 1941), and was known as Terylene. It was originally an English state secret! Ah, if only it had stayed that way. Unfortunately, in 1946 the inventors sold it to a corporation who then used it to create and sell lace curtains. By the 80s, the weight of global polyester production per year reached 5.2 million tonnes. Now, it's at about 46.1 million tonnes per annum.


Are there different types of polyester?


Look, this question could mean a few things, and we'll try and tackle them all.
Are there different types of synthetic fabrics?
Yes! Nylon, acrylic, spandex (also known by its aliases, elastane and lycra). Synthetics are all originally from petrochemicals, but the way the chemical compound was originally created and the way it is turned into a fibre is different for each. You'll notice different qualities between the finished fabrics.
2. Can different fabrics be made out of polyester?
Different finishes and weaves can be created from polyester to achieve different effects. You can have a polyester satin or a polyester georgette. A georgette or a satin is not a fibre or fabric but, in fact, a finish. We know this is confusing, so we'll be writing an article explaining this better soon!

3. Are there more harmful and less harmful polyesters?
Yes! You might have heard of certain brands using recycled bottles or fishing wire to create their clothes (like Amble and BAIIA), and this is actually a type of recycled polyester! While it is not without its flaws, with the current world order, we think it's a fairly good option. We'll talk more about it below.


Is polyester a sustainable and biodegradable fabric?


Lol, no. With all the greenwashing out there, we can see why you'd think so. And with the rise in ethical brands using recycled polyester, you might think so, too! Unfortunately, even recycled polyester is not biodegradable. It's still just… plastic. It can be more sustainable if you buy recycled, but we'll get into that in more depth later.


So, how bad is polyester for the environment?


In terms of the environmental impacts of polyester, it's a disaster. It's single-saving grace is that it is more water-efficient than most natural fibres. Van der Velden et al. (2013) provide the data;
4.06 kg Co2/kg of fibre OR 14.78 kg Co2/kg fabric
21 (!) kg of acidification/kg of fibre
1.2 kg of eutrophication/ kg of fibre
Polyester's level of acidification is by far the highest seen in any fabric. For reference, acidification is where CO2 is absorbed into waterways, the pH level of the water is changed, and so ecosystems are destroyed (Common Objective 2019).

Polyester's levels of eutrophication are significant. Eutrophication is when chemicals, like pesticides, run into waterways, create algae growth, and then inhibit oxygen for marine life, killing them. This in turn impacts food supply for locals (Common Objective 2019).

And in terms of carbon emissions, it emits more than three times that of cotton. You probably understand carbon emissions, but just in case you don't (and let's be honest, we aren't climate scientists, so we don't really understand this either), CO2 is a greenhouse gas that traps heat close to Earth. Small increases in CO2 cause rapidly increasing heat levels, throwing entire ecosystems out of balance and causing the melting of ice caps (which will flood the Earth).
Something important to remember is that these data sets do not take into account the life of a garment. They only cover the process of creating them in the first place. We are currently creating about 50 million tonnes of polyester globally per year, and we know that not only can it take hundreds of years to break down, when it does, it doesn't really go anywhere. It exists, forever, in microplastic form. Once we create plastic, we can never un-create it. So next time you go to buy something synthetic, remind yourself; turtles will eat this and it will make my BO worse.


Does polyester release microfibres?


This links back to our former washing machine concerns. In a single washing load with only one polyester garment, 1900 PET fibres are released. Those are now in the environment somewhere, forever. And for every 100,000 people wearing polyester, the equivalent of 15,000 plastic bags are released into our landscape every day (Common Objective 2018).


Are there any solutions to combat microfibre shedding from polyester garments?


This links back to our former washing machine concerns. In a single washing load with only one polyester garment, 1900 PET fibres are released. Those are now in the environment somewhere, forever. And for every 100,000 people wearing polyester, the equivalent of 15,000 plastic bags are released into our landscape every day (Common Objective 2018).
For the sustainable among us, the above microfibre statistics might be the worst part of the article. What about all that polyester clothing we bought on depop and in op shops? What about all those perfectly good clothes that will go to waste if we don't wear them? It's a conundrum that feels like there is absolutely no good solution. And it's partially true. Your polar fleece jumper is going to release tiny fibres while you're out-and-about. The older your cossie gets, the more microfibre it will release into the ocean when you swim.
But, although there's no perfect solution, there are things you can do. You can buy a guppy friend, and wash any clothes with synthetics in them (including your poly-cotton blends) in the bag. To make it easier, you could separate synthetics from naturals as you go, like lights and darks, or you could wash everything in the bag- it's deceptively large.
There are also a few brands who accept returns for recycling at the end of your cossie's life. So if your swimmers are pilling, maybe it's time to send them back. Make a careful judgement call on this, though. Recycling polyester does weaken the fibres; they won't be able to be recycled forever. You'll also need to buy a new set of swimmers, which comes at an environmental cost. Maybe it's time to invest in that crochet bikini!


Better polyester; Is recycled PET plastic a more sustainable alternative?


You may have a garment made out of recycled bottles or recycled fishing wire, and that is this.
First of all, obviously all the microplastic information from above still applies. Please use a guppy bag if you're wearing recycled polyester.
Secondly, if the plastic is already in existence and is going to be out there in the environment anyway, it absolutely makes sense to turn it into something new & usable. There are still limitations, which we'll go through in a bit, but first, here's the comparison data:
2.13 kg CO2/kg fibre
8.67 kg acidification/kg fibre (still high, but far better than virgin PET)
1.27 kg eutrophication/kg fibre (actually a little higher than virgin PET)
Although there are obvious benefits of recycled plastic- no extraction from crude oil is required, and you're reducing waste that could end up in landfill- it's not the endless recyclable loop we'd like it to be. Plastic must always be downcycled. It gets weaker in the recycling process, and if a polyester has been blended with another fabric, as is so common, we do not have the processes for recycling either of those fibres yet.
There are two types of recycled PET; mechanically recycled and chemically recycled. The most common by far is chemical recycling, and the heating process required to melt the plastic down releases a carcinogenic antimony compound into the atmosphere.
Mechanical recycling is the process of breaking up PET into small enough pieces to spin it into new fibre, and it is usually too weak to use as a fabric without the addition of some virgin PET to strengthen it.
Although we don't have exact data yet, we know that because of the discolouration of recycled polyester, more water and dye is required for uniformity than with virgin polyester.


So, what's the verdict? Is recycled polyester a good alternative to the virgin original?


We think you should make up your own mind! Ideally, naturally occurring, polyester-consuming bacteria would remove all polyester from the planet, and we would start again without it. It's certainly not the most sustainable fabric alternative. But as it is already here, perhaps it's okay to make use of recycled polyester- especially if we're taking care to minimise microfibre shedding and look after our own health.


---



* This is by no means an attempt to undermine the capabilities and hard work of garment workers in the global south. But if you're given an enormous amount of work to complete in a very short time frame, or any equipment you're working with is not high quality, then corners must be cut.
Image by Girlfriend Collective, one of our favourite activewear brands – inclusive, transparent and showcasing that ethics and style can infact go hand in hand.