What is fashion transparency anyway?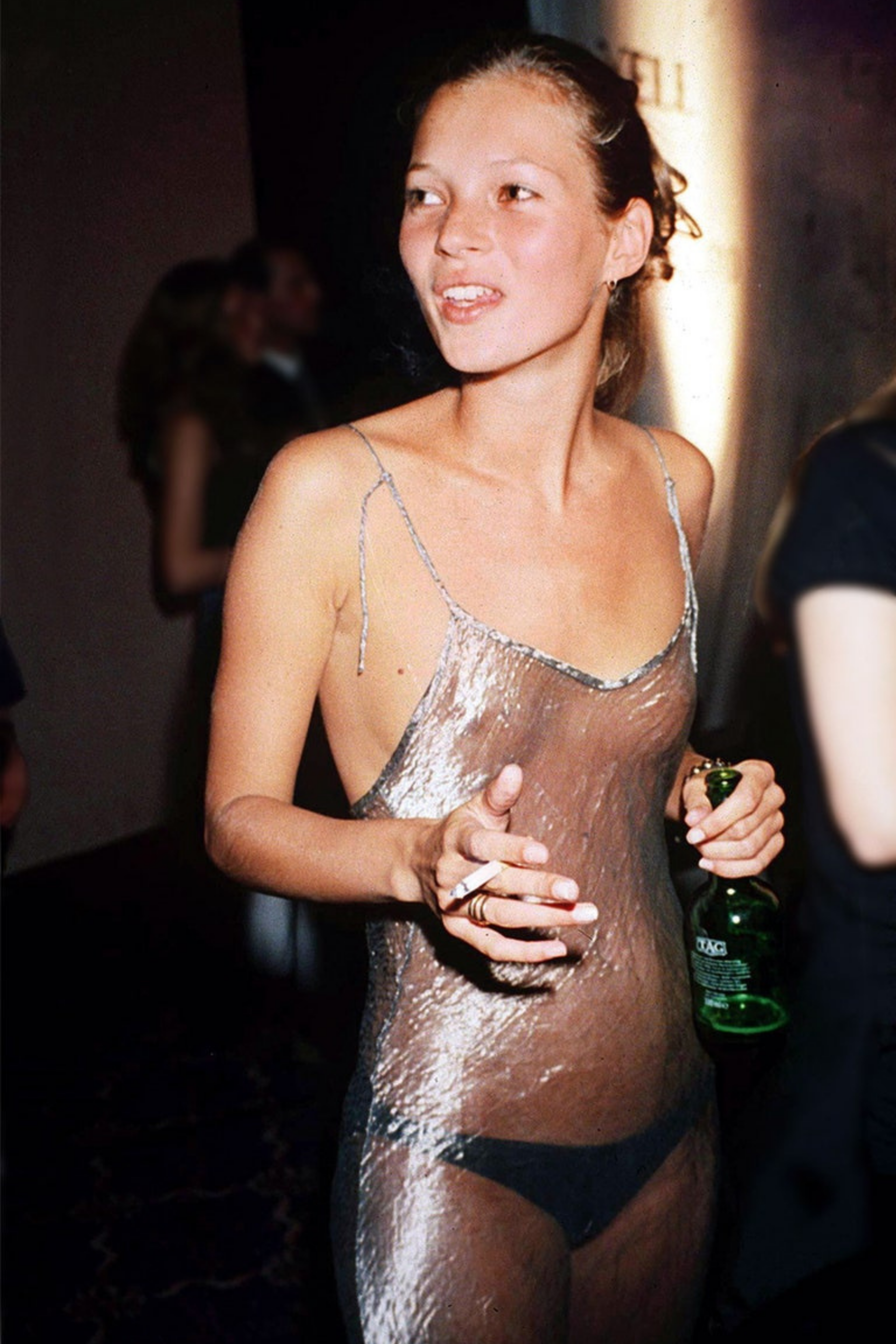 Written by Caitlyn Spanner
Image from vogue.co.uk
You may have come across the term 'transparency' on Ethical Made Easy or via reports like Fashion Revolution's Transparency Index in the past. Although we may think of transparency as something that's "see-through", a transparent fashion label isn't one that exclusively creates sheer dresses, al la Kate Moss circa 1993. Transparency in business can be defined as a "lack of hidden agendas or conditions, accompanied by the availability of full information required of collaboration, cooperation, and collective decision making."
We like to think of a transparent fashion label as one that bares all (just like ya girl, Moss), and one that springs to mind is Australian slow fashion brand Sanct. Sanct takes transparency seriously – so seriously, in fact, that all costs regarding the production of a garment, from the raw materials and patterns to the profit and staff wages, is made available to the consumer. We'll use Sanct's Core Pant in Black as an example:

Patterns | 2%
Raw Materials | 26%
Manufacturing | 15%
Staff Wages | 19%
Overheads | 8%
Marketing | 4%
Tax | 21%
Profit | 5%
Not only does this help us understand why ethical fashion is more expensive, it also gives us an example of real transparency from a designer's perspective.
But it's not always about money. A brand we're incredibly proud to house on the EME brand directory, Yuki Threads, recently spent 12 months creating a range of hoodies and jumpers but the final product wasn't up to their standards. Instead of discarding the products (something that wasn't even an option for Yuki Threads) or donating them (making them someone else's problem), Yuki decided to sell these hoodies for a fair price to give them a good life. Creative Director and Owner, Luke Mitchell, and his team knew they had to make the most of the resources that went into producing the garments and find the hoodies homes so they could be loved, worn, then recycled.
Consumers may be willing to pay 2% to 10% more for products from companies that provide greater supply chain transparency.
What's more, it turns out it's good business to be a transparent brand. MIT Sloan School of Management found that consumers may be willing to pay 2% to 10% more for products from companies that provide greater supply chain transparency, according to a Harvard Business Review article. Yuki Thread's discovered this when their 'unsatisfactory' collection sold out in record time.
All of the brands on our directory are small ethical businesses that have made huge commitments towards being as transparent as possible. They are honest about who makes their products, how those people are paid, what the products are made from, how they get to us, and more. Sometimes that means they are transparent about the fact that they can't always be 100% transparent.
Yeah, so this is where transparency gets a tad confusing. One thing about the fashion supply chain (that is slowly but surely changing) is the fact that it's extremely hard to know who all of your suppliers are because traditionally supply chains were designed to be opaque.
Although sustainable fashion company Outland Denim can now trace their denim from seed to garment, this was not always the case. In one of their previous annual sustainability reports, Outland Denim was incredibly transparent about their supply chain—from the energy they used to power their factories, to the suppliers of their the cotton seeds. However, they were only able to trace 60% of their tier 4 suppliers (the primary raw material extraction tier). This doesn't mean that Outland Denim had failed, it simply means they used due diligence to uncover every last corner of their supply chain in order to be honest with us as consumers and to put goals in place to do better – and do better they did.
Interestingly—if transparency is about honesty—it means fast fashion labels can be considered transparent too (yikes). We wrote an article earlier in the year called, How did H&M top the 2020 Fashion Transparency Index? that covered the report's findings. Policy director Sarah Ditty explains that their report "is not an examination of how ethical or sustainable the brands are but rather measures their transparency." The fact that H&M was named number one makes it abundantly clear that being transparent isn't a direct correlation with how environmentally-friendly or ethical a brand is. It just means the business is being honest about how they operate. Brands can "publish considerable amounts of information about its policies, practices and impacts, and still be contributing to poor working conditions and environmental degradation," reads the home page of the report.
On the other hand, brands can use marketing to come across as transparent, even if they aren't. An example of this was reported in regards to Everlane, the US brand with the tagline "radical transparency". On top of being accused of "hypocrisy, anti-black behaviour, union busting, and selling an image to the word that did not reflect their damaging experiences inside the company," according to the New York Times, Everlane also received a "not good enough" overall rating from Good On You. The article shared a quote from Luke Smitham, a sustainability expert at Kumi Consulting in London that Everlane, "does good work, but I wouldn't describe it as radical. The most radical thing about Everlane is the marketing."
It allows us to scrutinise what they are disclosing (good or bad) and how they are going to address those findings.
But transparency is good, right? Of course! When it comes to transparent fast fashion labels, it actually means we get to put a magnifying glass to their supply chain and business practices. It allows us to scrutinise what they are disclosing (good or bad) and how they are going to address those findings. It means organisations like EME can share more information with you about how these brands operate so you as the consumer can make informed decisions about your purchasing. Fashion Revolution says it best: "Transparency is not a silver bullet that will solve the many complex and deeply systemic problems in the global fashion industry. However, transparency provides a window into the conditions in which our clothes are being made and allows us to address them more quickly and collaboratively." And when it comes to good marketing, the best thing you can do to avoid being hoodwinked is to look up brands on platforms such as ours.
Finally, if you want brands to be as transparent, there are things you can do. If you can support ethical brands and you need to make a new purchase, always shop ethically (our directory and online store can help with that). By avoiding brands that aren't transparent and supporting ones that are, you're demanding a change to the system (you know the old supply/demand principle?). You can also share this article or the social media post about this article if you think your followers could benefit from learning about the importance of transparency. Or you can talk directly to the brands and ask them if they are, in fact, transparent. We love seeing screenshots of your conversations with brands via Instagram DMs or emails—keep 'em coming!