Bluem
USE 'EME' for 10% OFF
Values
Certified Organic

Circularity

Fair

Gender Equality

Give Back

Made Locally

Transparent

Vegan
"I welcome you to close your eyes, and feel your senses come alive. With the earth beneath your toes, feel your breath begin to slow. Hear nature whisper words of ancient wisdom, the time is now to claim your freedom. The sound of self love is so tranquil, feel your cup overfill. Forget everything you've been shown, let your smell guide you home. Where forest fairies play all day, and the natural world is here to stay. Notice as calmness gently ensues, as you arrive at the Bluem Lagoon."
Bluem is an Australian-based clean beauty company that perfectly balances a targeted and effective skincare experience with simple, organic, and harm-free ingredients. Bluem's philosophy is built upon integrity, and their mission is to transfer ancient knowledge and traditional practices into a modern beauty line, and to both advocate for and participate in self love and sustainability. Tbh, they had us at "targeted and effective". 
Natural perfume, serums, soap bars, Konjac sponges, and self love kits are the products currently on offer from Bluem, and all have been crafted and sourced ethically and sustainably. If you haven't yet heard of her, Montana Lower, the founder of Bluem, is a prominent figure in the eco space, so we would expect nothing less from a skincare company bearing her own beautiful daughter's name. 
"Ideally I'd be washing my face in creeks, exfoliating with sand, moisturising with aloe vera snapped straight from the plant… But unfortunately, we can't always live that way. So what do we do? We find nature in a bottle. Pure. Potent. Clean. Unadulterated. No excess gunk – just nature." – Montana Lower
If you come here often (thank you, love you), then you'll know by now that this brand wouldn't be on the directory unless they were dedicated to sustainability. But how are Bluem doing this, you ask? Well, Bluem is carbon positive and gives back to the local community in their harvesting regions; their key ingredients are native australian plants; their Konjac sponges are ethically sourced and transported from their native Japan; their soaps are hand-selected offcuts from the mainstream beauty industry and would otherwise be in landfill; and their plant innovative extraction process for the Bluem potent plant serums uses requires the use of less plant material and rain-harvested water.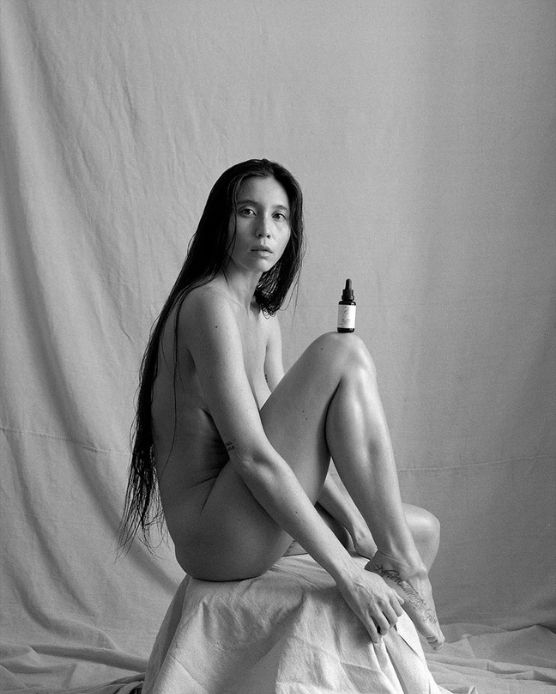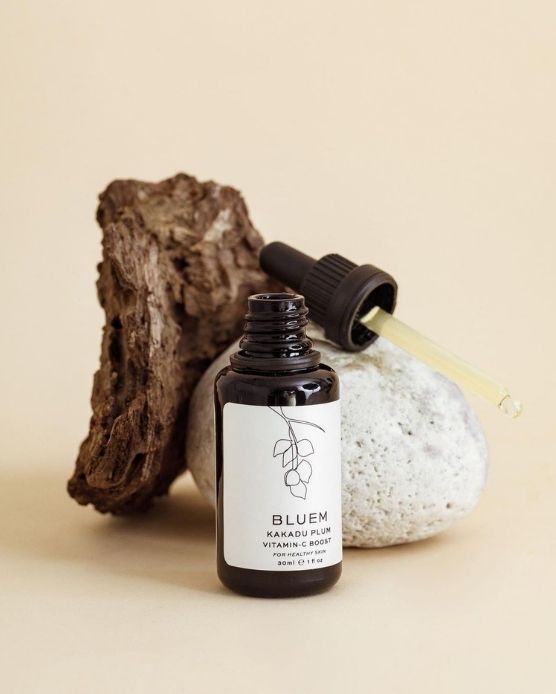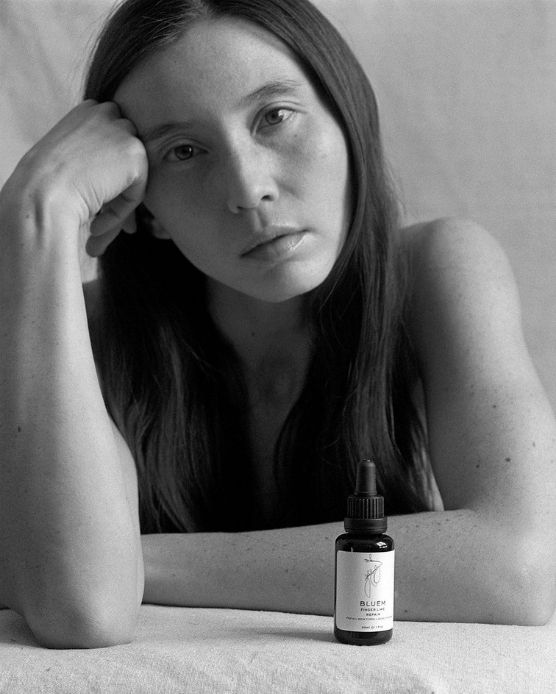 As for the ingredients, Bluem is completely aware that mainstream beauty products contain ingredients that not only have negative impacts on the environment, but also on the user. This is why Bluem uses Kakadu Plum that has been wild-harvested from remote areas of Western Australia, as well as Finger Lime that is locally grown in the Northern Rivers, and the entire range is completely vegan, completely cruelty-free, and completely free from those naughty hidden nasties. In order to protect the phyto-active nutrients Bluem skincare is full of, they use miron glass; a kind of glass Cleopatra is rumoured to have used. No milk baths here, though. 
Skincare aside, Bluem is passionate about self love, and encourages women to find time in their busy lives to do just this. Bluem sees the process of applying skincare as one such act of self love, and reminds us to slow down, take a deep breath, and love ourselves first. They even have a Self Love Club where self love is encouraged, and where everyone is welcome. After all: "glowing skin is more than just what we put on it – it's a light that comes from the inside and one we share with others around us as we float through our day."
Oh, and just in case you weren't impressed enough, Bluem is working towards not only becoming a B-Corp certified business, is already carbon positive and will continue to work with give back programs prioritising indigenous wellbeing and climate action, but also to have a system in place to recycle all by-products from their minimal waste beauty line. How do you like them non-GMO apples? 
That may seem like a lot of information, but it's more necessary now than it has ever been to understand where the products we use come from, and how they came to us in the first place. Bluem is a clean beauty company that prides itself on its pure and potent products, its transparency, and its commitment to tracing its supply chain. So, do yourself a favour and visit the Bluem Lagoon.
Want to know where Bluem sits and what they're working on in terms of these 5 values? Hover over these values to find out.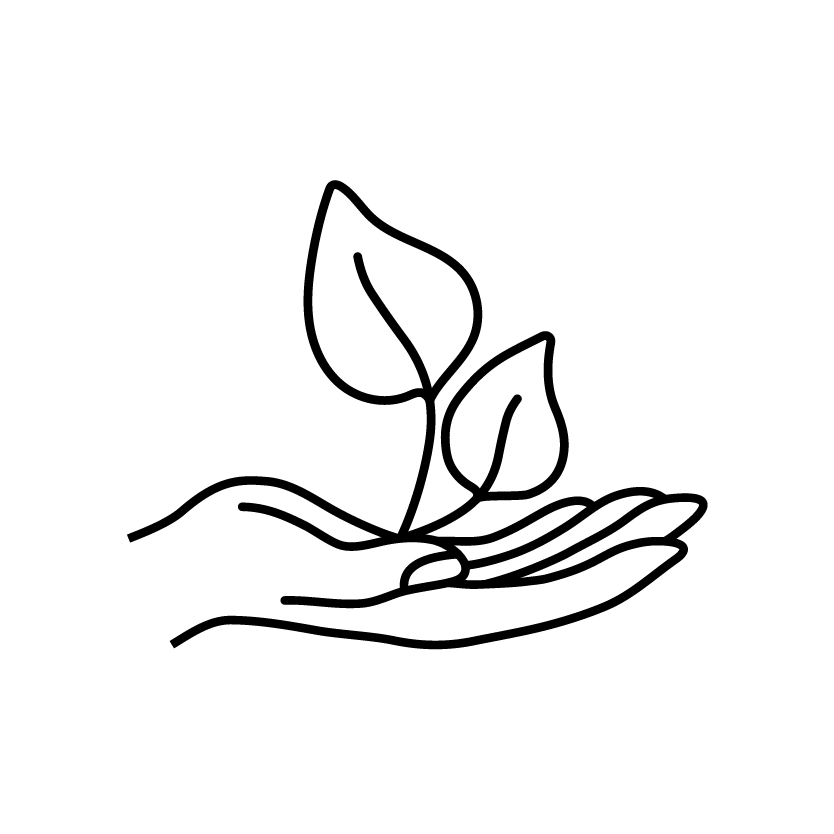 Eco Friendly
Plastic free packaging, certified carbon positive, a portion of every sale is donated towards organisations prioritising indigenous wellbeing & climate action, bottles made from recycled glass, soaps are salvaged from offcuts otherwise destined for landfill, sponges will biodegrade before your eyes, everything is 100% reusable to experiment making your own plant tinctures.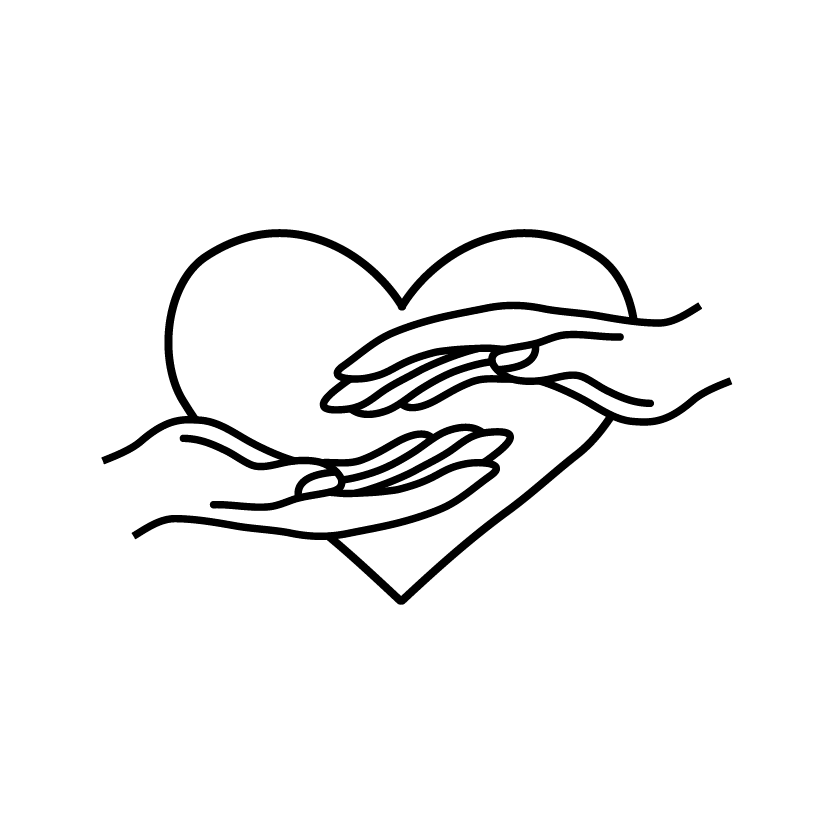 Fair
Bluem is australian made, family owned. We work with ethical growers around the country, including rural indigenous communities who wild harvest the kakadu plum. we know everyone from start to finish of our supply chain by name or face. every bottle is hand poured by one of our family members.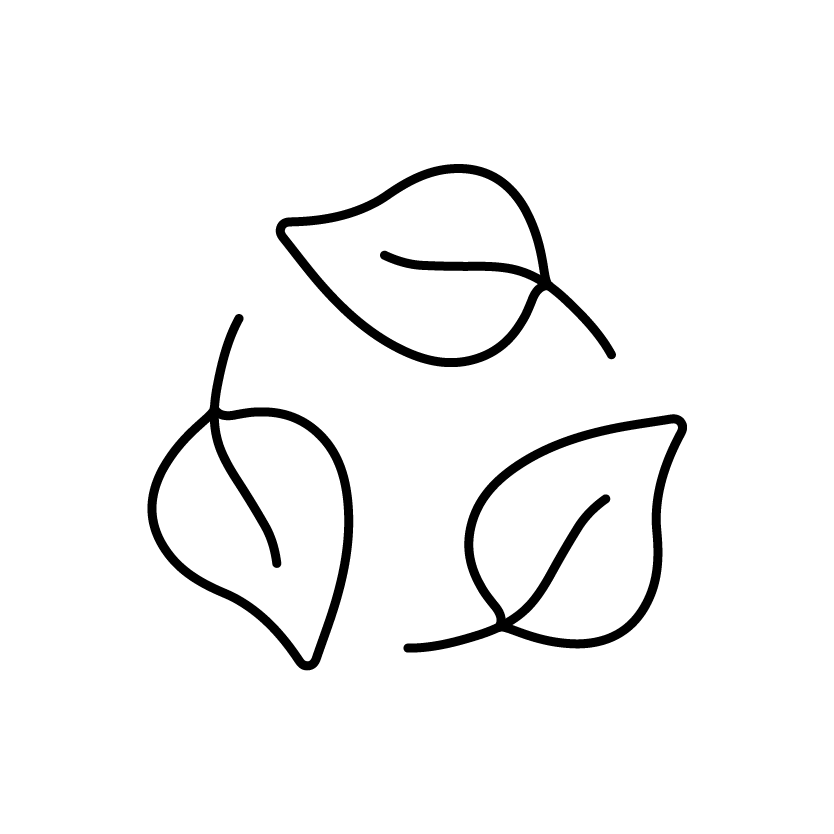 Minimal Waste
We are committed to becoming zero-waste by 2022. The only thing in our way is our pipette bottle lids (which are completely reusable and easy to seperate for recycling). We are part of the terracycle program and are able to recycle all bottles sent back to us or drop to your local terracycle location. We ensure minimal packaging that is all compostable and upkeep our sustainable values from employees right through to you receiving your skincare. We minimise transport miles on all of our products & people, and ran our business completely off grid for the first year of operating!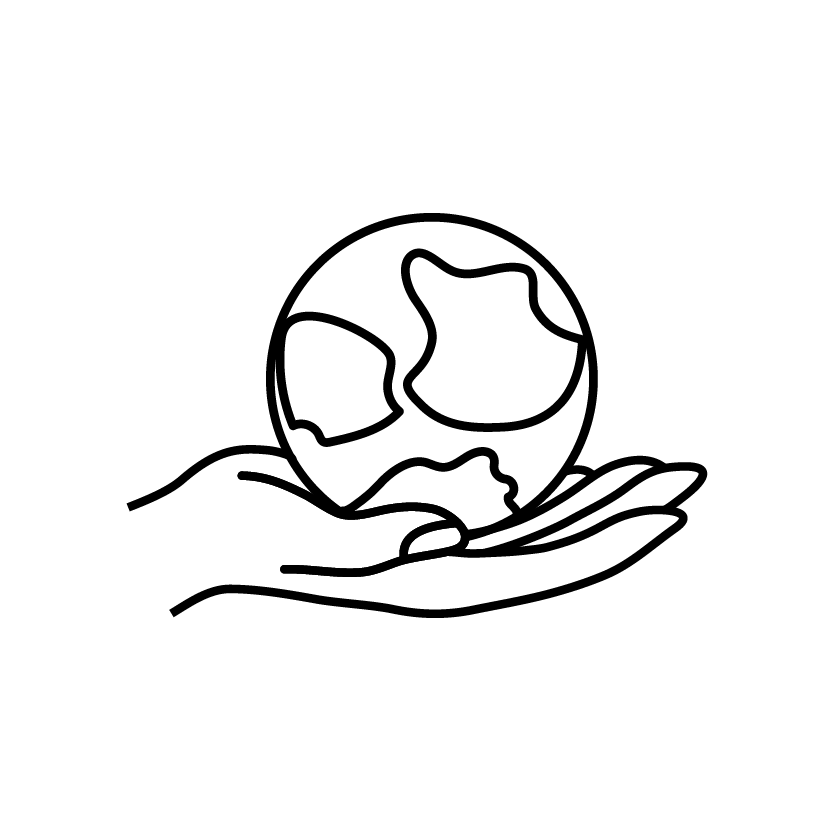 Give Back
Though we have only been running for under a year, we have already been able to donate thousands of dollars to organisations concerned with improving indigenous welfare and climate action. We have planted hundreds of trees and are currently exploring a consistent give back program that allows shoppers to donate where they are most passionate about in check out.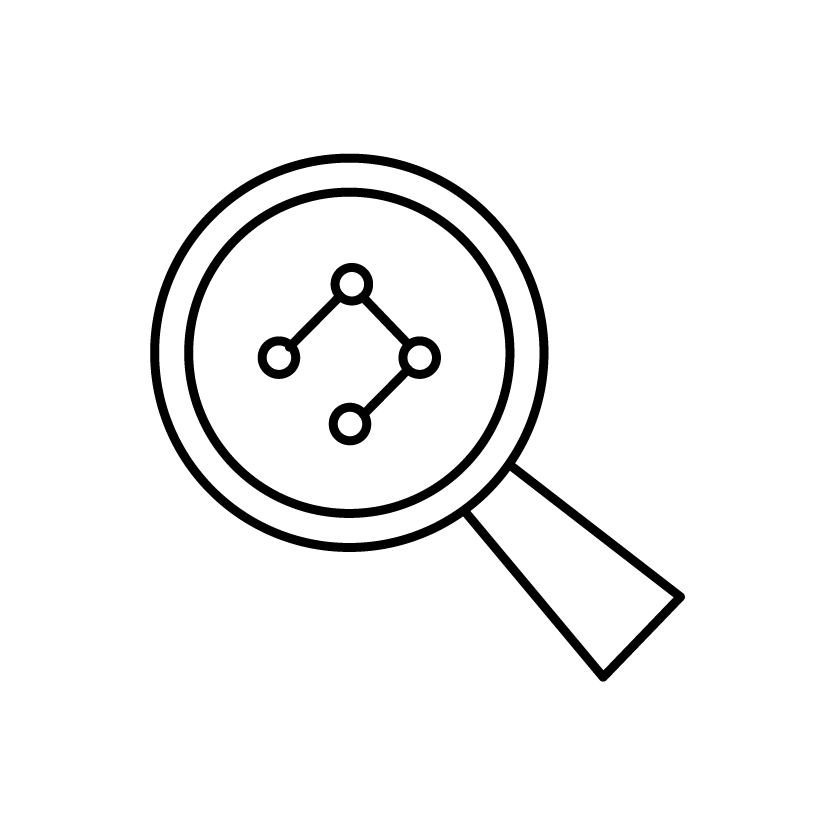 Transparent
Our supply chain is completely transport and ethical from seed to skin. Bluem was created to nurture our earth, using skincare as a vessel to positively impact climate change and prove that nature has the answers we are looking for.
Behind the Brand
"Knowing who you work with means you're investing into lives beyond your own and is essential for shopping ethically AND sustainably. The Kakadu Plum is wild-harvested from remote regions of WA, and the Finger Lime is grown locally in the Northern Rivers. We are very excited to be sharing more about how deeply considered Bluem is from seed to skin".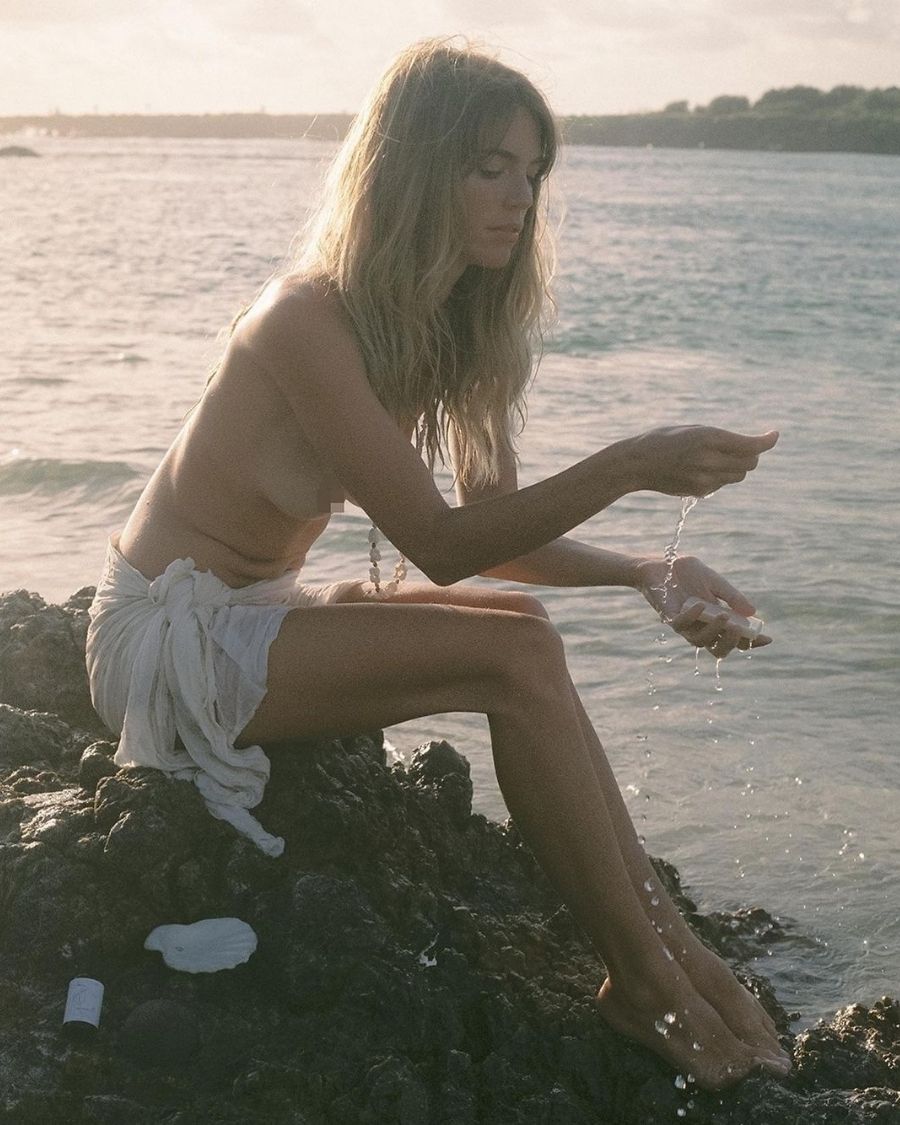 What made you start Bluem?
I was newly pregnant, my partner had just been run over by a boat, and the current industry I was working in did not support my wishes to be able to be a priority caregiver for my expected daughter. I knew I had to come up with something sustainable (in every way) quick.
After a colourful career as an international model since my teens as well as just being a member of the human race, I have always been passionate about empowering women and pulling apart the stereotypes of beauty. Natural skincare just made sense.
Do you have a morning routine? If so what is it you do to set yourself up for the day ahead?
Morning routines are cut pretty short in a house with a toddler. These days I'm grateful to take a moment, a deep breathe and ensure I'm nurturing myself through the use of Bluem. If I ever forget, the directions on the back of the bottle are there to remind me how important it is to love myself first. We're all about rituals, not routines.
What's the biggest barrier you've found to succeeding as a socially conscious business?
I really haven't faced many barriers, it's all been a very natural succession of trusting in divine timing, doing the right thing and the universe leads us to where we need to be. Although if I did have to say one – Overcoming the stigma that if you're doing something good then it should be free. I've never understood this about sustainability. If anything, we should be paying more for it because we are caring for the people and our planet in every step of the way.
Within the ethical fashion community, there's a big question that we ask which is 'who made my clothes?'. In the scope of Bluem, who made the things you sell? Can you tell us a bit about them?
I think this is so important and should be considered first and foremost. Knowing who you work with means you're investing into lives beyond your own and is essential for shopping ethically AND sustainably. The Kakadu Plum is wild-harvested from remote regions of WA, and the Finger Lime is grown locally in the Northern Rivers. We are very excited to be sharing more about how deeply considered Bluem is from seed to skin.
Why did you pick the ingredients you have chosen to work with?
Working with native plants means we are able to protect and invest into Australian ecology as well as. the people working with these plants. Australian natives require particular conditions to thrive, so it's our way of ensuring we're doing our part to keep things in balance and focusing on our own back yard.
Natives also mean: incredibly potent and powerful results, significantly less travel miles and easily being able to visit our ethical growers whenever we want.
Best piece of advice you have ever received?
What's meant for you, will always be for you.
What's next for you and Bluem?
We're looking forward to exploring more sustainable solutions for self love and creating a positive impact on the beauty industry.
One book and/or documentary everyone should read/watch? Why?
Captain fantastic, a romanticised story of alternative living and the beauty that awaits in the simple moments.
Are there any other Movers & Shakers out there in your world that you think people should know about?
I love the artist Rachael Sarra and the initiative 'Pay The Rent'.