Outland Denim
TAKE 10% OFF YOUR FIRST ORDER WITH THE CODE 'EME10'
Values
Certified Organic

Circularity

Fair

Gender Equality

Give Back

Transparent

Vegan
If you haven't yet heard of Outland Denim, we can guarantee that you're going to be an avid customer by the time you've finished reading this. Not only does Outland Denim ethically make stylish, high-quality jeans, but they're also tackling an industry that may seem quite distant to us: the sex industry. They're also using their business to properly equip women with tools that will serve them for the rest of their lives.
After an encounter with an anti-trafficking group, Outland Denim's founder, James Bartle, could not be passive with his anger, so he travelled to Asia to see first-hand how human traffickers preyed on young girls; young girls intended to be sold in the sex industry. He soon learned that even when a girl has been rescued, a sustainable career path is essential in securing a promising future for her, so he set up the "Denim Project": a project with an aim to enable and empower these rehabilitated girls who have shown an interest in sewing.
This epic business is endeavouring to provide empowerment to these vulnerable women through training and opportunity. Outland's intention was never to follow in the Western World's footprint of exploiting these smart and extremely capable people, but rather to educate them in order to ensure their own personal sustainability. Taking someone with nothing but a desire to learn and an interest in sewing and teaching them how to make every part of a jean is a process that takes around two and a half to three years, and Outland is getting helping to get them there.
As Outland has grown, however, they have also been able to welcome staff from varied vulnerable backgrounds, and allow their business model to centre on four key pillars: training, living wages, opportunity, and education. Not only are their employees working in a safe environment and earning a living wage but the profits are also enabling Outland to provide education and personal enrichment programs for their staff, including budgeting, women's and infant health, computing, human trafficking awareness, English, and self defence.
A living wage, one of Outland's four pillars, is integral to their processes. A living wage ensures workers have enough income to not only afford a decent standard of living by covering necessary expenses (food, housing, healthcare, and education, just to name a few), but also to prepare and save for unexpected events. In James' words: "For many of our staff, this level of financial security is freedom in itself. Freedom from worry. Our staff can send their children to school, provide for extended family, and plan for the future."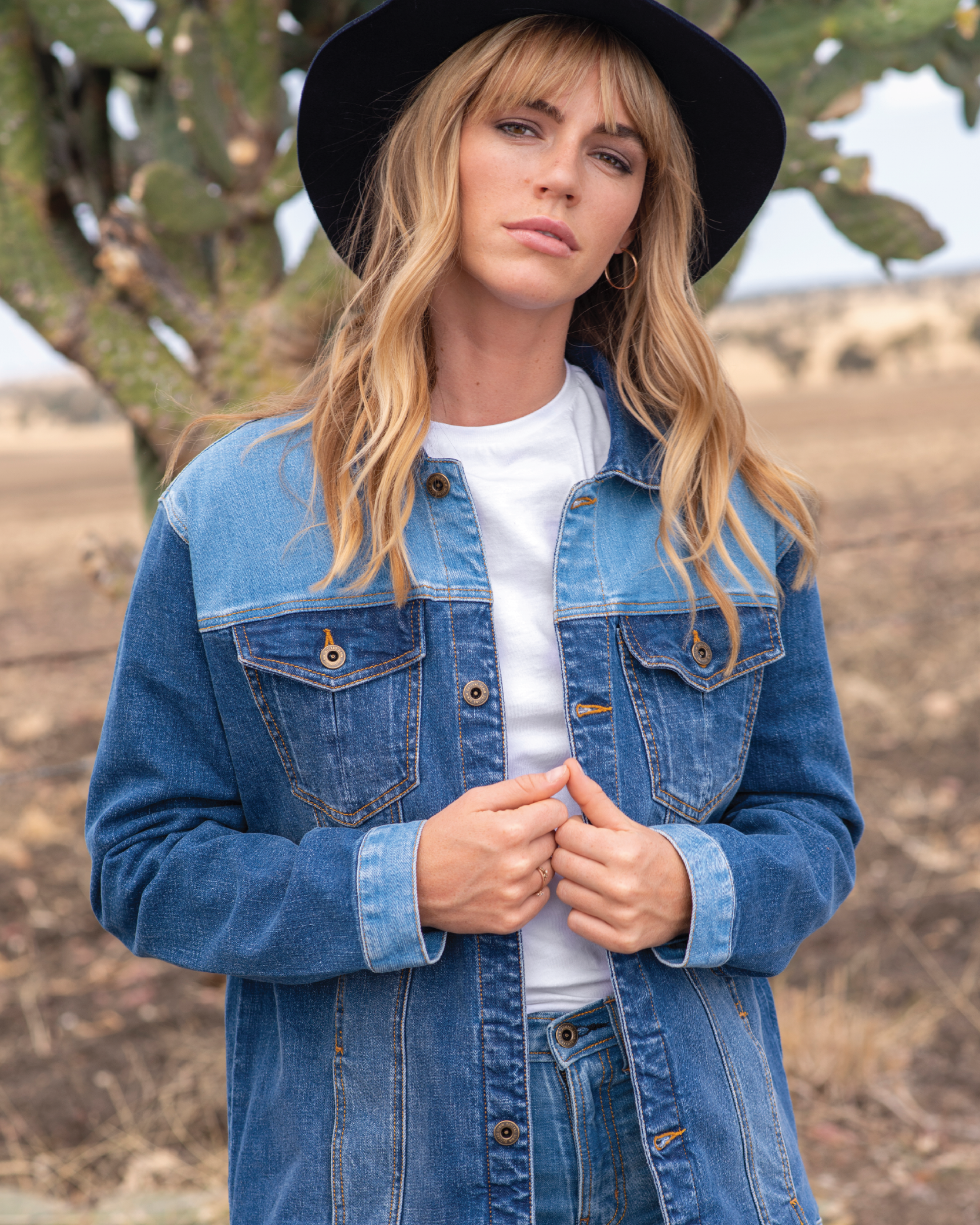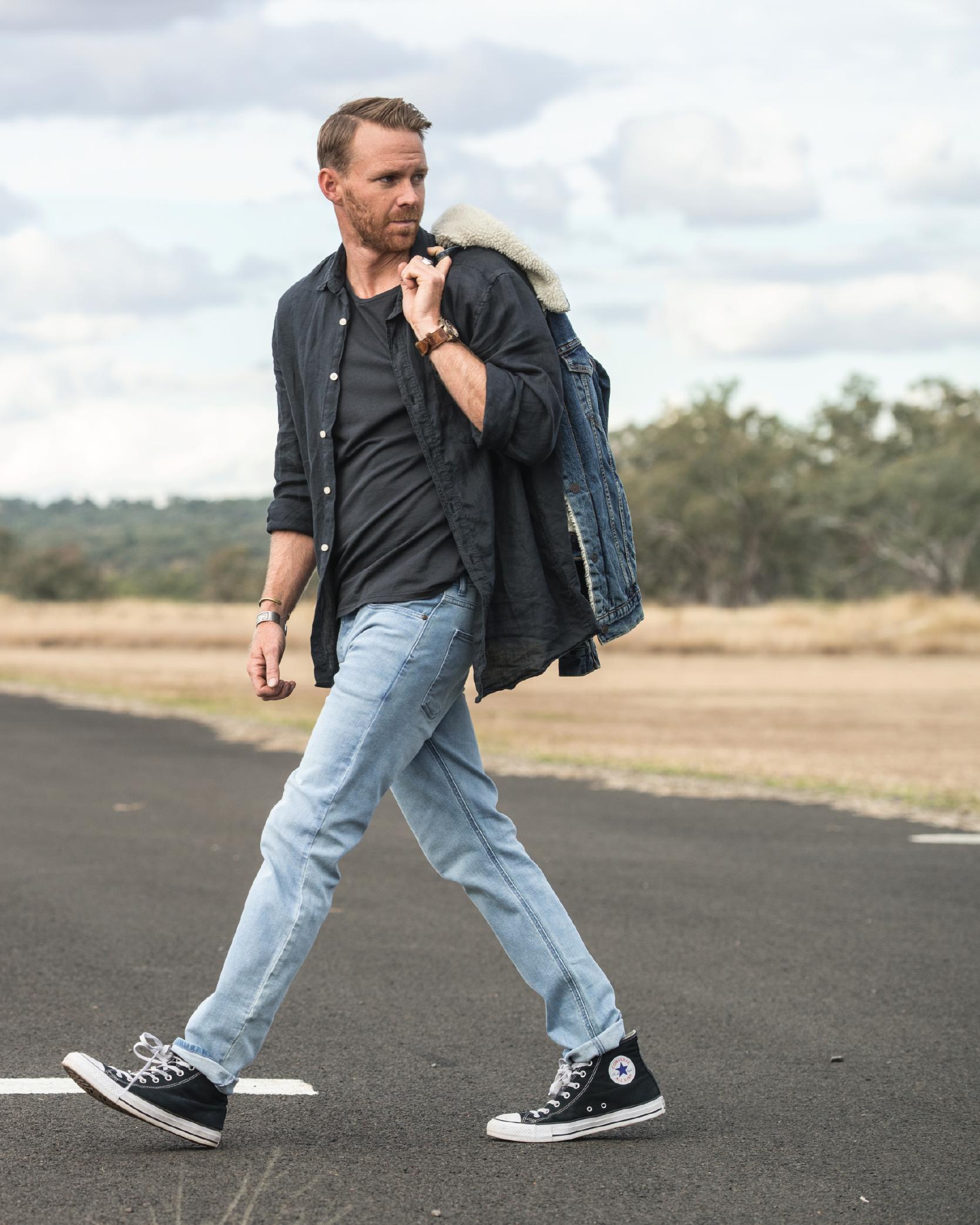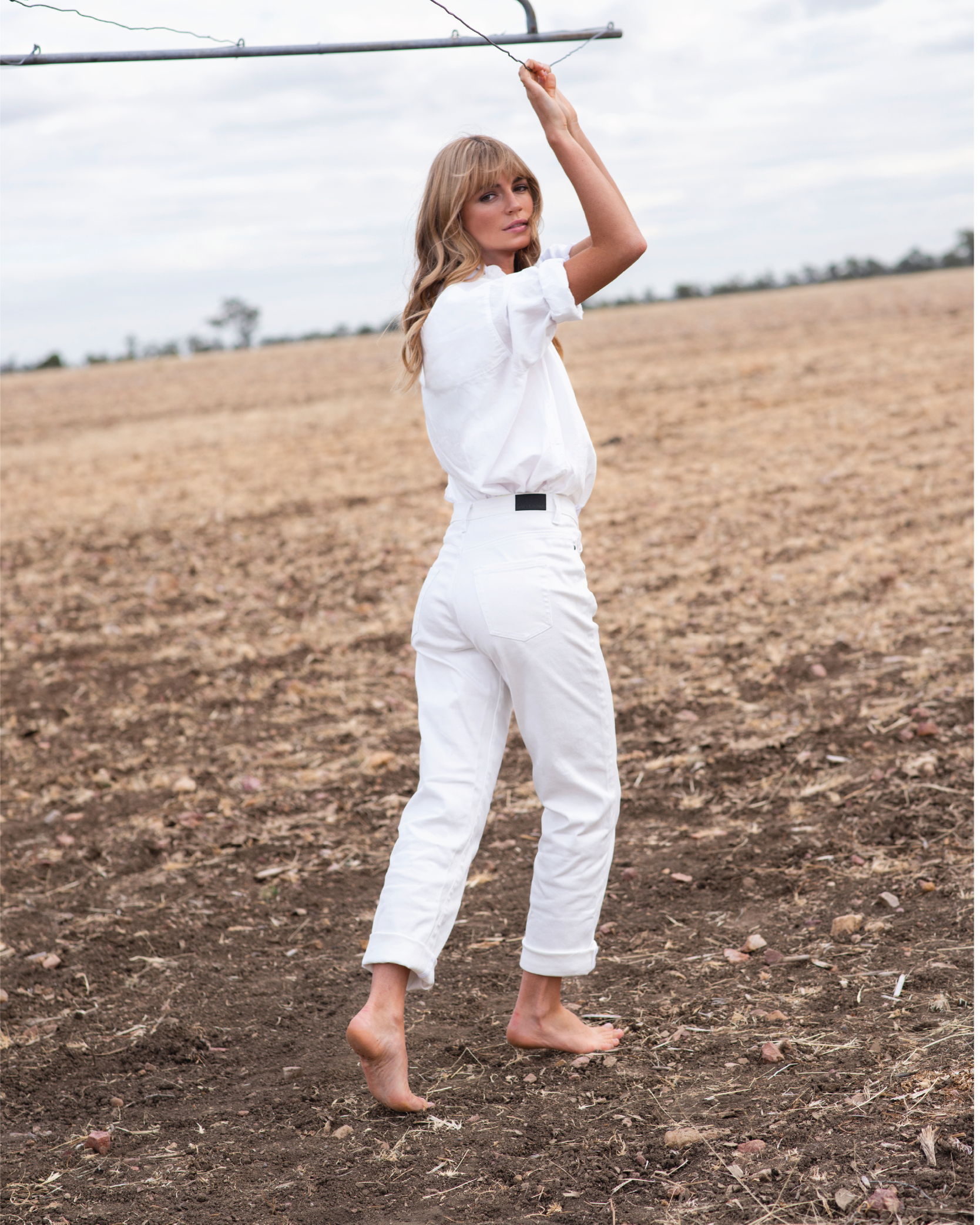 Now to the other way in which Outland's pulling apart the fast-fashion industry by the seams. They're very aware of the negative impacts conventional jean manufacturing has on the environment, and are doing everything in their power to minimise their footprint. They're also extremely conscious of every aspect of their denim products, from the zippers and pocket lining to the shipping and power usage. You can read all about the process and materials on their website, but here's a little snippet of their ethical awesomeness:
Denim
Outland's denim is sourced from Bossa, a Turkish mill that has been actively involved in environmental and ethical issues since its inception in 1951. Outland Denim's jeans are made from organic cotton that has been proven to use 20-25% less water than conventional cotton. Bossa is also part of the Better Cotton Initiative (BCI), where the main aim is to increase the sustainability of cotton production through reducing the negative environmental and social impacts of cotton.
Dyes
Most dyes are made from synthetics and are toxic to both humans and the environment, but Outland Denim uses a natural indigo dye that is derived from plants. This means the workers are less exposed to toxic chemicals, and the likelihood of water pollution is reduced dramatically.
Print/Packaging
Outland Denim uses Print Together for all of their stickers and cloth bags. Print Together is focused on saving the world's virgin rainforests through using only post-consumer recycled paper in their products. Single-use items like juice containers and workbooks are recycled into a new form for a new purpose, which, in turn, is better for the environment. On top of this, Print Together only use natural vegetable dyes in its products to ensure minimal chemical pollution.
Outland Denim is a business that is changing the game for the better. The level of thought that has gone into every facet of its workings is beyond comprehension. We could reiterate all of the incredible feats achieved by Outland but the work they are doing—and continuing to do—completely speaks for itself. They care. Whether it's about the environment or the suffering people in less fortunate countries, Outland Denim actually gives a shit. Please, if you need a new pair of jeans, invest in a quality, hand-made pair that'll last you the long haul. Outland Denim stretches their profits to reach many, many different hands, and we as consumers can help them in this process.
To top it off, they've just released their first ever sustainability report that we highly recommend you take a look at, that is, if you want to see what true good business is in action.
Want to know where Outland Denim sits and what they're working on in terms of these 5 values? Hover over these values to find out.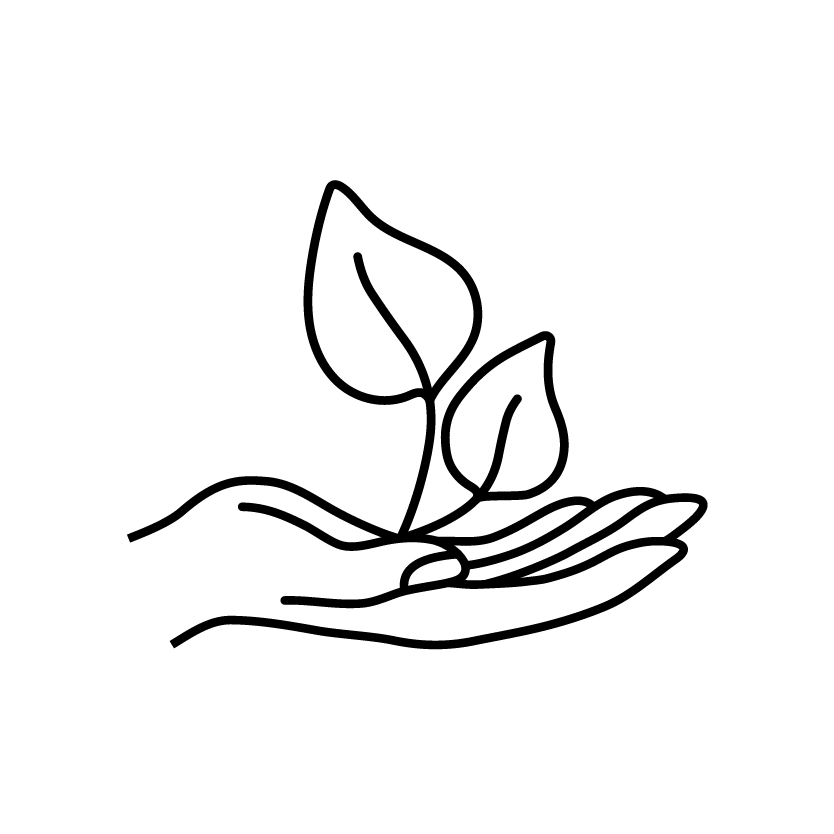 Eco Friendly
Our stand-alone wash and finishing facility is equipped with industry-leading water and energy reducing technology, and every Outland Denim piece bought online is delivered in a recyclable and compostable cardboard box that has been designed for easy re-use in the event a return or exchange is required.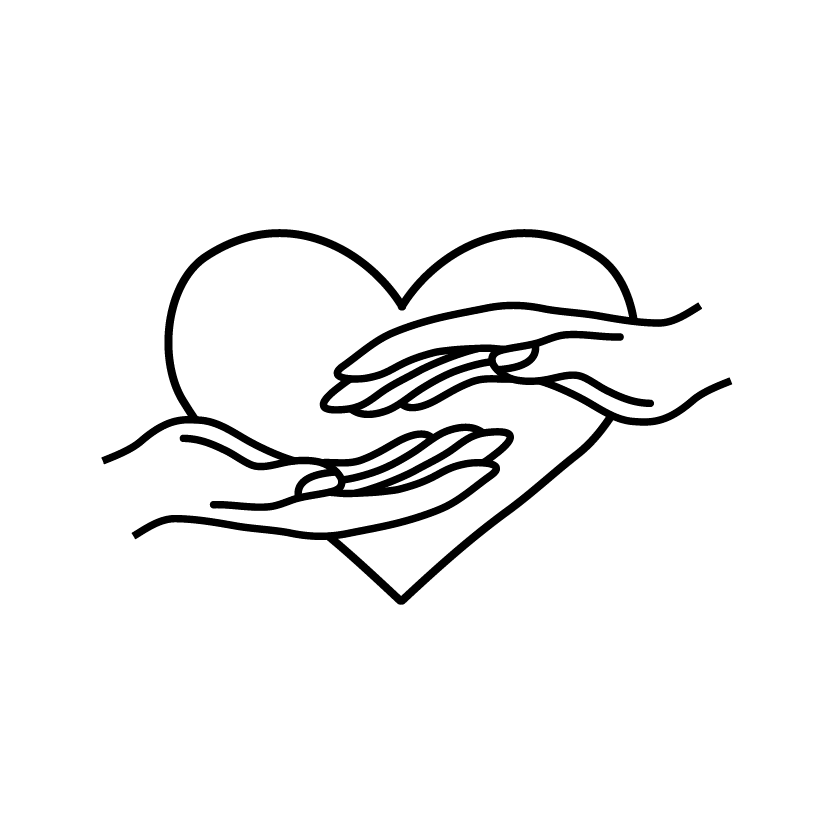 Fair
Outland Denim began as a means for victims of sexual exploitation to engage in safe, dignified employment as they rebuilt their lives. We have since widened our doors to accept employees from varying backgrounds of vulnerability, from those with disabilities to those who have experienced harsh conditions in larger garment factories.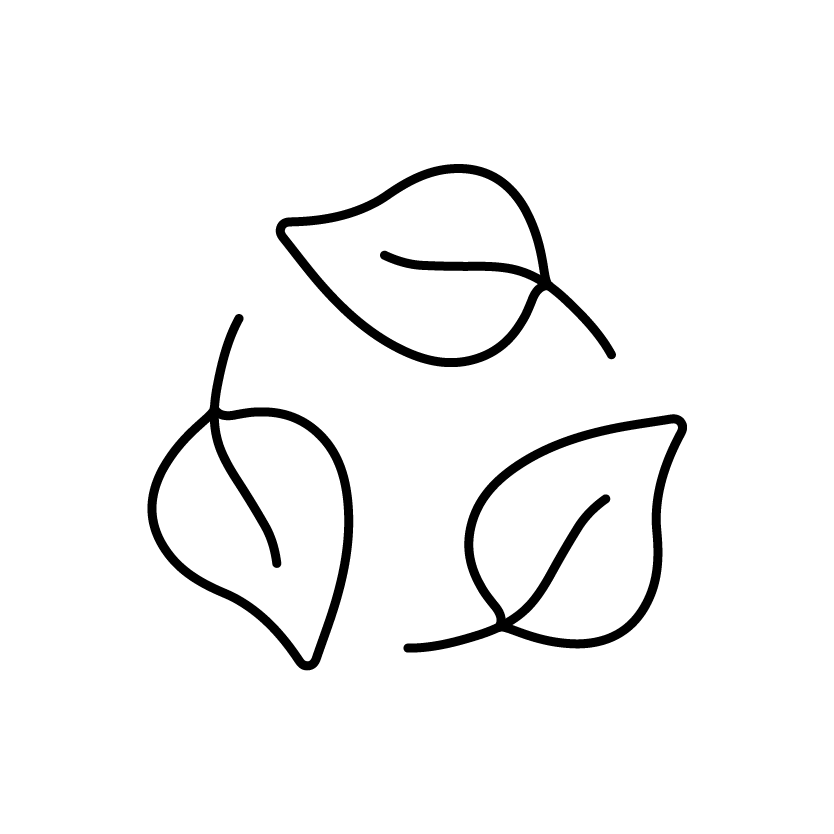 Minimal Waste
Outland Denim employs fabric cutting technology, which reduces the amount of off-cut waste created per jean, and each Outland Denim piece bought online is delivered to our customers in a recyclable and compostable cardboard box from Austcor.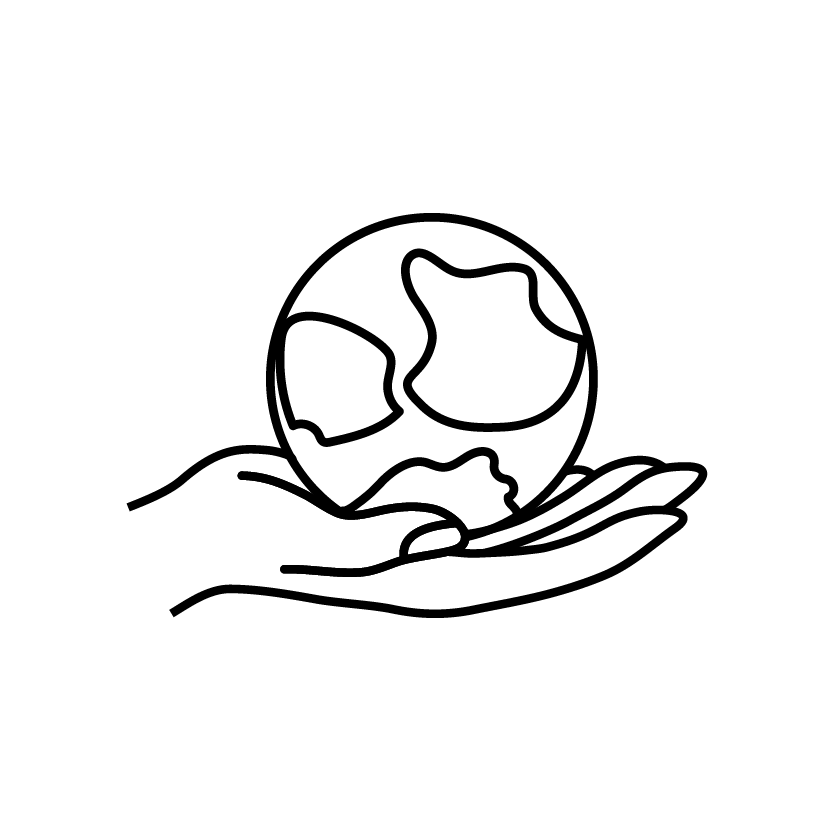 Give Back
With a holistic approach to supporting our staff based on the four pillars of training, opportunity, a living wage, and education, we have proven that a sustainable career path is the key to true social change in not only the lives of our staff but their families and communities.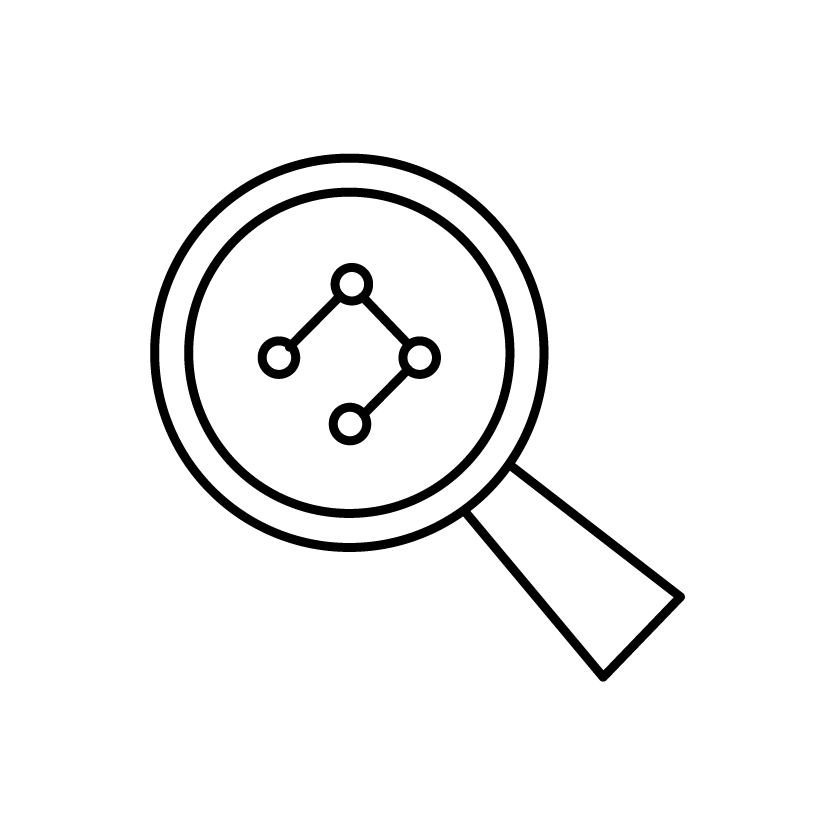 Transparent
Outland directly connects with its 2nd tier material suppliers (denim, buttons, zippers etc) to not only disclose the location their products are manufactured, but also information about which countries their raw materials are sourced from.
Behind the Brand
"I was impacted by the reality of human trafficking after seeing a very young girl being prostituted on the streets in Thailand, and had to do something to make a change to the way young girls are exploited by giving them a way out".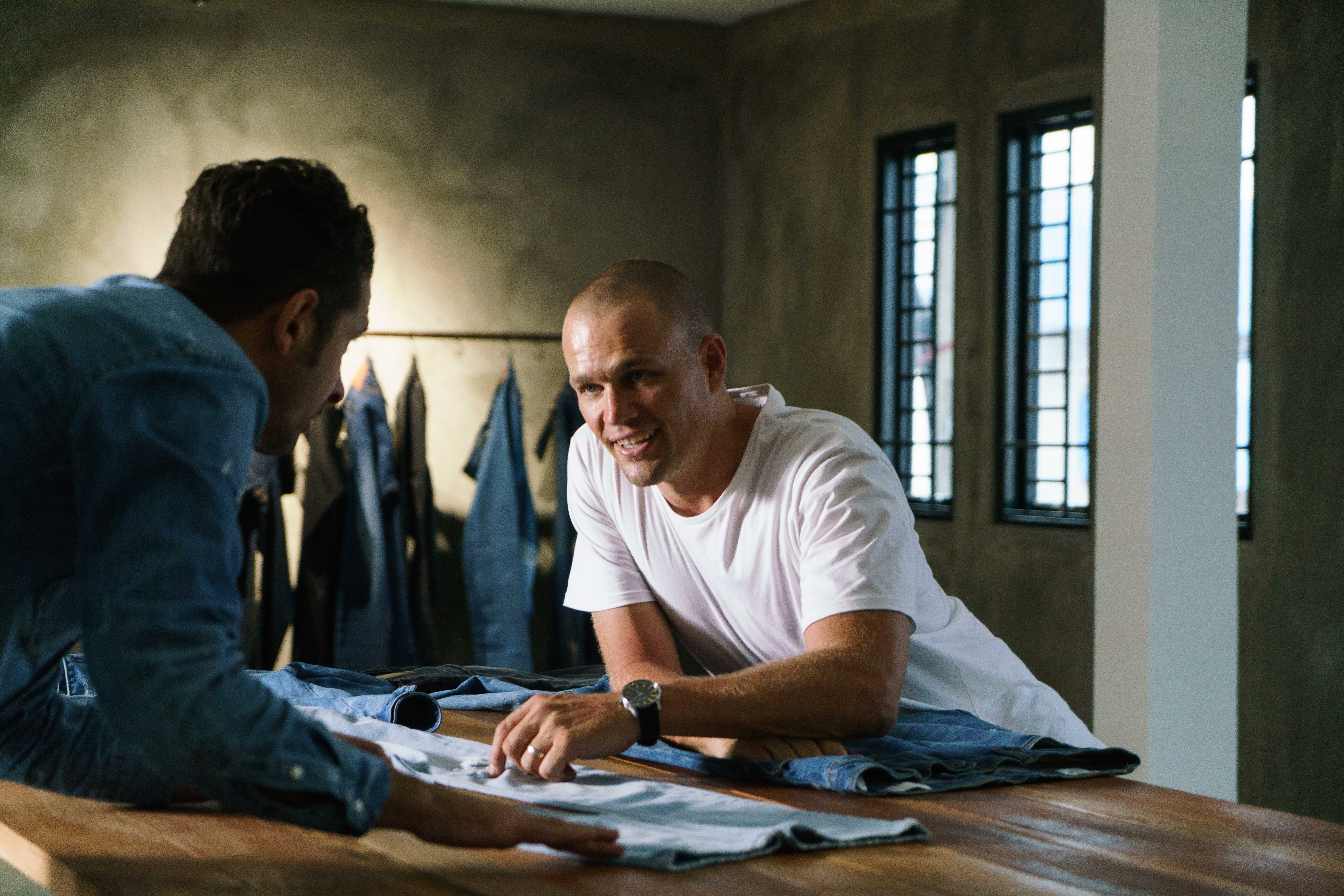 We know the story of how Outland Denim came to be, but do you remember the exact moment that something had to be done? Where were you? What were you doing? What were you wearing?
Oh gosh, what was I wearing? Not sure about that one! But I can tell you where I was. I was in Pattaya, Thailand and I'd been taken to see what human trafficking really looked like on the ground by rescuers, and it was during that trip that I saw a young girl for sale. That was a life-changing moment; to see somebody so young in that position and knowing what her fate would be was a pretty world-changing moment for me. That was the moment where I committed, and where I knew I had to be part of the solution.
I understand that, before Outland Denim, you founded an extreme sports group that toured around Australia promoting a healthy lifestyle. It sounds like purpose-driven work has always been your goal. What led you down that path?
I was raised by parents who had always been looking out for members of our community, so I was always in and out of my room for somebody who needed a bed. Just watching how my parents always wanted to help really rubbed off on me. I was also exposed to a lot of challenges, so I think I grew to have a level of compassion for all of these things.
I guess when you're faced with some of the injustices that we're dealing with with Outland Denim, it was a really easy transition to make. I was also raised within the Christian faith, and that faith has really set foundations for me and my world view. We are here to help each other and to love each other, no matter our beliefs or our backgrounds.
The Meghan Markle effect is very real, and Outland Denim was a deserving recipient. How much more good could you do from the impact of her wearing your jeans had?
Oh man, Meghan Markle was a game changer for us. Obviously she has the power to sell out products, so when she wore that jean, within 48 hours we sold out of that particular jean. But it wasn't really about that for us – it was exposing our brand to the world and exposing our values, and it completely changed the trajectory we were already on. But I think what it's also done has impacted and exposed our industry, an industry that is built on purpose and impact first and foremost. She gave us credibility and exposure that we may never have had otherwise.
More than this, though, is the fact that this exposure allowed us to employ 46 new seamstresses. What it proves is we're able to build a brand where the product itself is not only creating opportunities and activating a cycle of freedom for people that don't have the same opportunities as we do here in Australia, but that also reduces its negative impact on the environment – and will maybe one day actually leave it in a better state. Seeing how that celebrity endorsement can expose these things to the world and all the good things that come as a result is really where celebrity status has the most power.
From where do you draw your inspiration, and what keeps you going on the cold, rainy days?
I think seeing that there's a lot of vulnerable people who are hurting and recognising my idealistic view that business can be used to solve some of the greatest problems is what really excites me. I think that's the idea that keeps me going.
I also have a lot of support. I'm really lucky because I've got a very supportive family and supportive friends, and my wife has given up a lot for us to choose to lead this life. I'm very, very lucky that I've come in line to where I have that, and without it it probably wouldn't be possible to do this. It's never just one person that's able to make these things happen, it's always a team of people; I'm just the one who gets to be out in the spotlight.
How do you hope people feel when they put on an Outland Denim jean?
This is actually something I do think about. The thing that excites me the most is this idea of producing something that has actually left the people who created that product and the environment in a better state after the creation process. I often say a jean is like a song – it has a unique ability to absorb history – and when you go to throw that jean out it's difficult because it carries so many memories and experiences with it. So when somebody puts an Outland Denim jean on, I want them to walk through life with them, and I want them to know that the creation of that jean activated a cycle of freedom, and that they've helped the maker of that jean change the trajectory of the lives of the makers and their families. The ultimate goal would be that when somebody puts our jeans on, they're reminded of the extreme impact they themselves have made. The consumer is the change-maker, not Outland Denim, as its the consumer who activates this cycle of freedom.
What does a better tomorrow look like to you?
It really comes back to a heart change. Globalisation is a real thing, every country depends on each other at some level, but we often forget about the people who aren't in our own initial sphere of influence, and I think this is an unhealthy way to conduct anything in this day and age. So many people are relying on us and the decisions we make, and when we really get that it makes it easier for us to get started on a solution. We're all connected into these other things and we all have a part to play, and I just want enough business to create solutions that we can all be a part of. So a better tomorrow for me looks like an awareness and willingness to be a part of the solution.
When you're 80, what do you hope to have achieved with Outland Denim?
I hope that it's played a part in inspiring other businesses to have a go, and to put the ethics and values of their business in front of their product. Business is key in changing the lives of some of the most vulnerable people in the world, and I see it as being a fairly easy transition. It comes down to us choosing what we want to support, and I think a product is a reflection of us. So putting on a pair of Outland Denim jeans says that you care about the people who made that garment, you care about the environment, that you're willing to put your money where your mouth is, and that you're willing to take a stand. I want there to be more products like that, and I ultimately want Outland Denim to be inspiring others on that journey.
What is your go-to Outland Denim jean?
The Ranger. Every single time.
Why have you chosen this kind of investment scheme?
We've often thought of ourselves as The People's Brand, and we want people to come on the journey with us! As more people come on the journey of having ownership, it makes those who invest in Outland Denim real impact makers. They put their money where their mouth is and they invest in something that has the potential to generate even more positive social change. On an environmental level, people are investing in a business that is turning the product they're creating into something positive.
We want to bring people into this journey with us so they can then go out into the world and become ambassadors for the brand. Commercially there's a really strong case for raising capital in this way. In our last raise we brought 900 investors in, and I would like to think that we get close to 2000 in total at the end of this one. That means there's 2000 people out there who believe in the values of Outland Denim, and when you think about that it's a really good, solid base for a business. We could go and raise money for private equity and get a VC to come in, but that wouldn't expose us to those incredible 2000 people. So I think it's more impactful on that level. Those 2000 people will have a say; they're a resource, they will bring ideas in, and that's what we're really trying to activate.
For more information about how you can invest in The People's Brand, click here.