Sanct
TAKE 10% OFF WITH THE CODE 'ETHICALMADEEASY'
Made In
Wurundjeri Country
Values
Transparent

Fair

Certified Organic

Made Locally

Gender Equality

Circularity

Size Inclusive
Sanct, an Australian-based slow-fashion label, is basically the girl we all want to be: she is firm in what she wants, she knows what she doesn't, and she is impeccably dressed in ethically-made goodness. Goals.
Danielle Abery-Miller, the founder of Sanct, left her 9-5 in commercial fashion with a sewing machine and a vision, and boy are we glad she did. Not only has she crafted an environmentally and socially responsible ethical fashion brand, but she is unwavering in her values, and her commitment to transparency in each aspect of her business is completely commendable.
GOTS certified organic cotton, Tencel, natural tree rubber elastic, and deadstock cotton, linen and wool are included in the list of Sanct-approved fabrics, while synthetic materials like nylon and elastane, and animal products such as conventional wool, fur, and leather have never and will never make their way into the Sanct studio. As for wastage, Danielle controls this by initially producing only 3-4 garments per size, cutting and making everything in house, and keeping any scrap pieces of fabric in order to eventually craft smaller items with.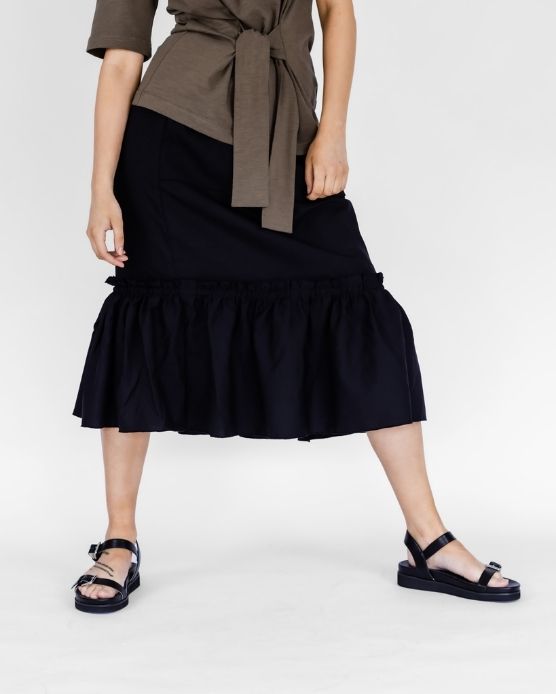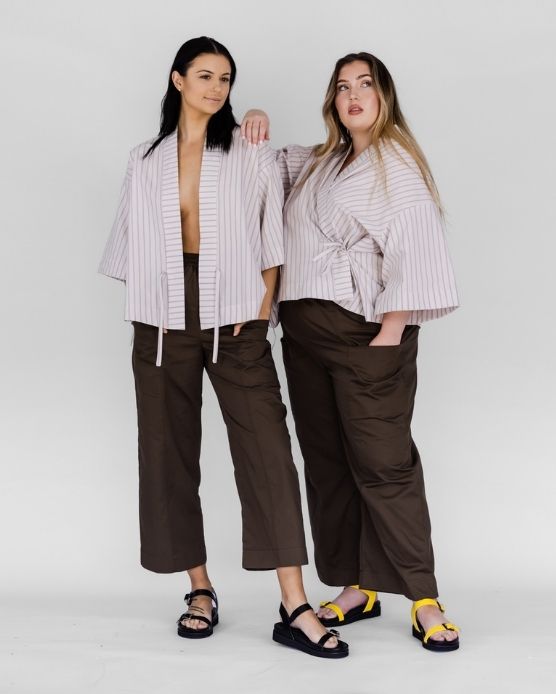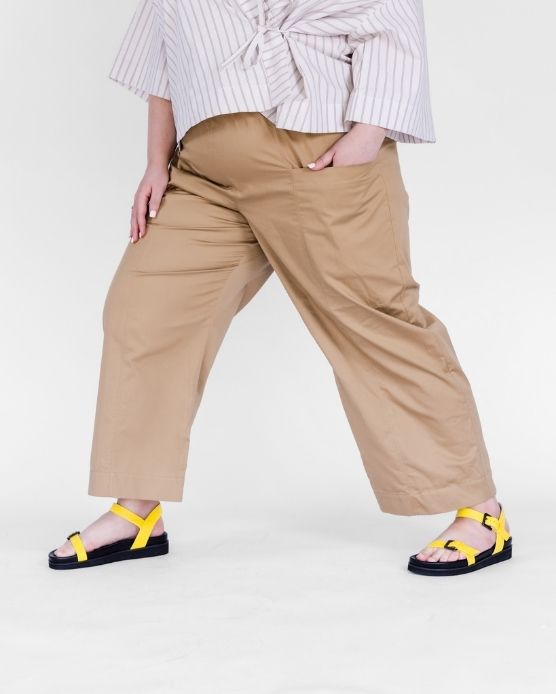 Each and every single Sanct piece is carefully crafted by Danielle in her studio on Wurundjeri Country (East Melbourne), and although there are plans to outsource some of the manufacturing as the business grows, Sanct will always be an Australian-made label. The Sanct patterns are given the big old tick of approval by ECA accredited pattern-making extraordinaires RB Pattern Making, and every manufacturer Sanct has ever and will ever work with will hold the ECA (Ethical Clothing Australia) accreditation as well.
When we say Danielle has thought of everything, we actually mean it. Even though great care is taken in making the garments, and "a Sanct piece is intended to outlive us all", Sanct offers lifetime repairs on their clothing within Australia, and the company is looking into potential textile recycling partners in order to eventually offer a garment recycling program. Pretty groovy, huh?
So, next time you're in the market for a black skirt that will see you from bruch with the in-laws to dancing on the bar at your local pub, look no further than Sanct.
Want to know where Sanct sits and what they're working on in terms of these 5 values? Hover over these values to find out.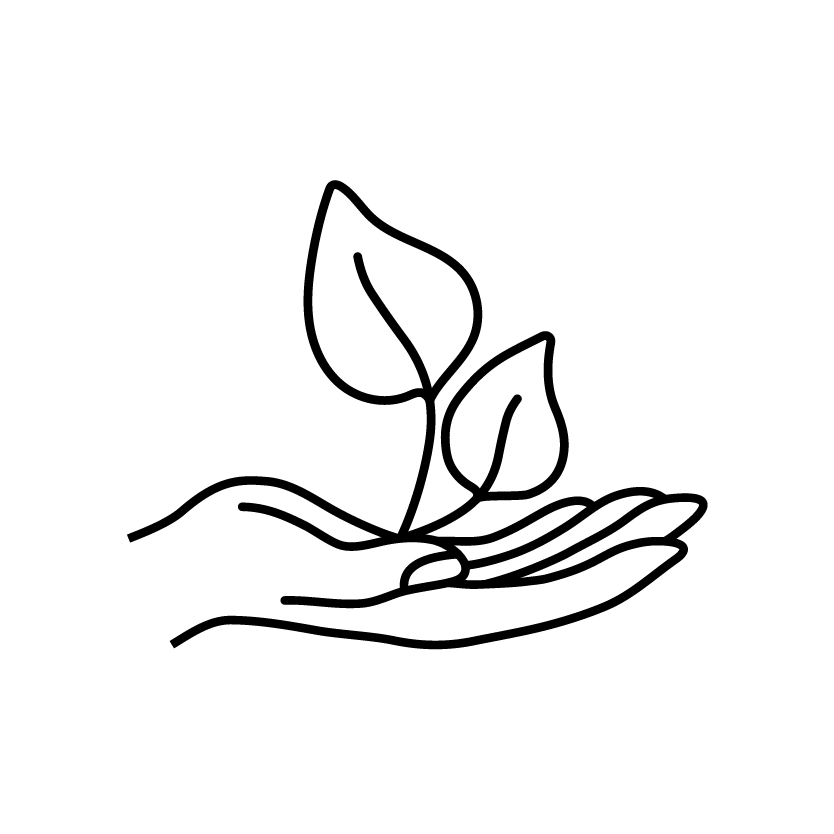 Eco Friendly
Sanct is incredibly passionate about reducing plastics and only using natural materials. Our garments are all plastic free, made from natural, biodegradable materials from our fabrics in GOTS certified organic cotton or deadstock cottons/linens/wool, to our natural tree rubber elastic, tencel or organic cotton sewing threads and cotton brand/care labels. All garments are manufactured to the highest standard to ensure they will last. Our packaging is also 100% plastic free! Our swing tags are made from FSC certified paper and attached with a natural, un-dyed cotton cord. Your purchase will be posted in an 80% post consumer recycled cardboard box, carefully wrapped in FSC certified, acid free tissue and sticker. Our care cards are made from recycled paper and printed with soy inks and our boxes are tapped up with water activated paper tape!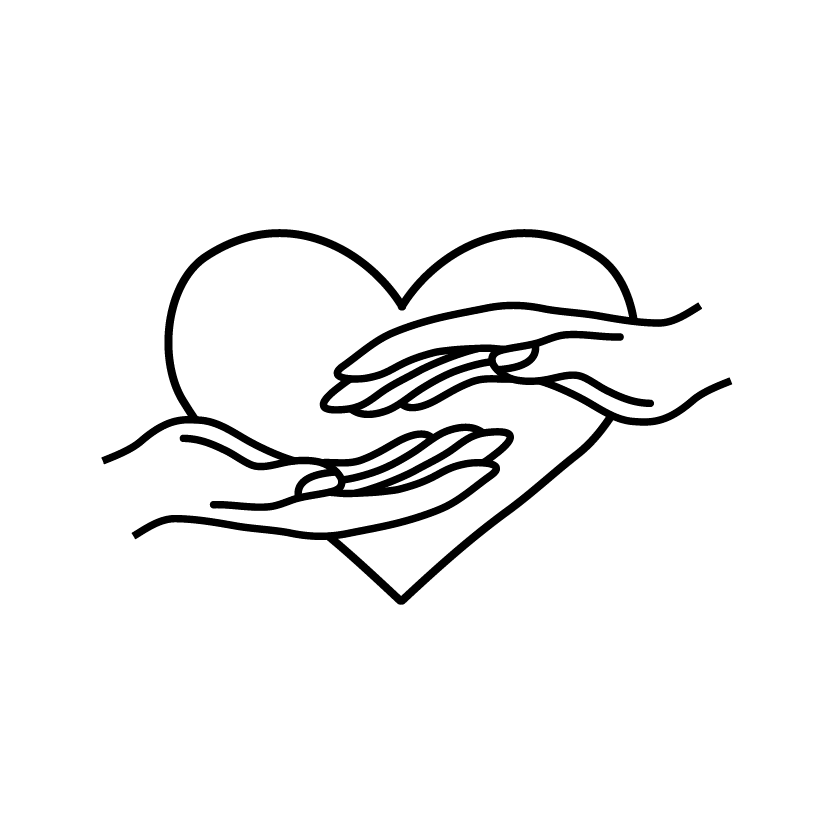 Fair
All Sanct pieces are lovingly made by my own two hands in the Sanct studio on Wurundjeri Country (East Melbourne). When we source new fabrics (not deadstock) we ensure we purchase from factories who are independently accredited by certifications that ensure workers maintain certain rights. We look for certifications like GOTS (fabrics, cotton threads and the cotton component of our natural tree rubber elastic), Cradle to Cradle Gold Standard (our Tencel threads). These independent certifications all audit factories to ensure workers are protected by; the right to association, living wages, freely chosen work, no excessive hours or forced overtime, regular employment and freedom from discrimination and harassment. We are working to encourage our elastic supplier to offer a more rigorous certification for the natural tree rubber component of our elastic.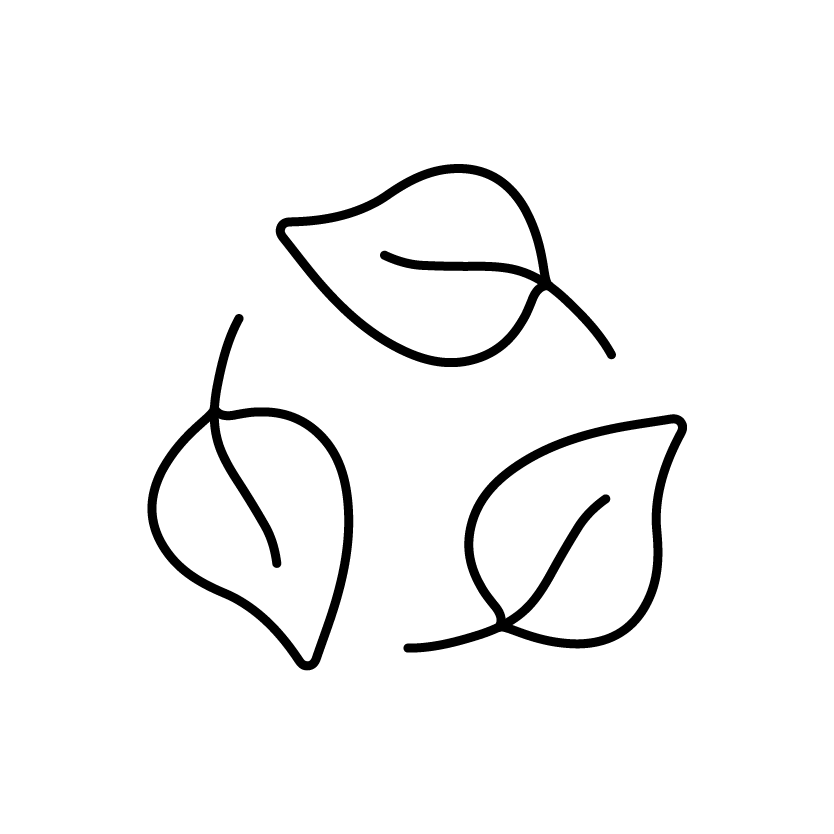 Minimal Waste
We love using quality deadstock fabrics because it allows us to take responsibility for some of the textile waste produced by the garment industry. We produce super small runs of everything (usually a max of 3-4 pieces or less per size) and produce more as demand arises. This allows us to avoid overproducing. Cutting and making in house also allows us to control the cutting efficiency. We offer lifetime repairs to keep our styles in circulation and out of landfill. Our off-cuts and scraps are all kept and not thrown away. We will produce smaller items with our off cuts and are looking into using textile recycling companies like TerraCycle or Textile Recyclers Australia to regenerate our smaller scraps into new fibres. Our packaging is all made from part post consumer waste materials. In our packaging I use a strip of scrap pattern making paper, secured with a sticker to hold the tissue around your parcel, this means the sticker won't rip the tissue when opening your parcel and you can reuse our beautiful custom print tissue again and again!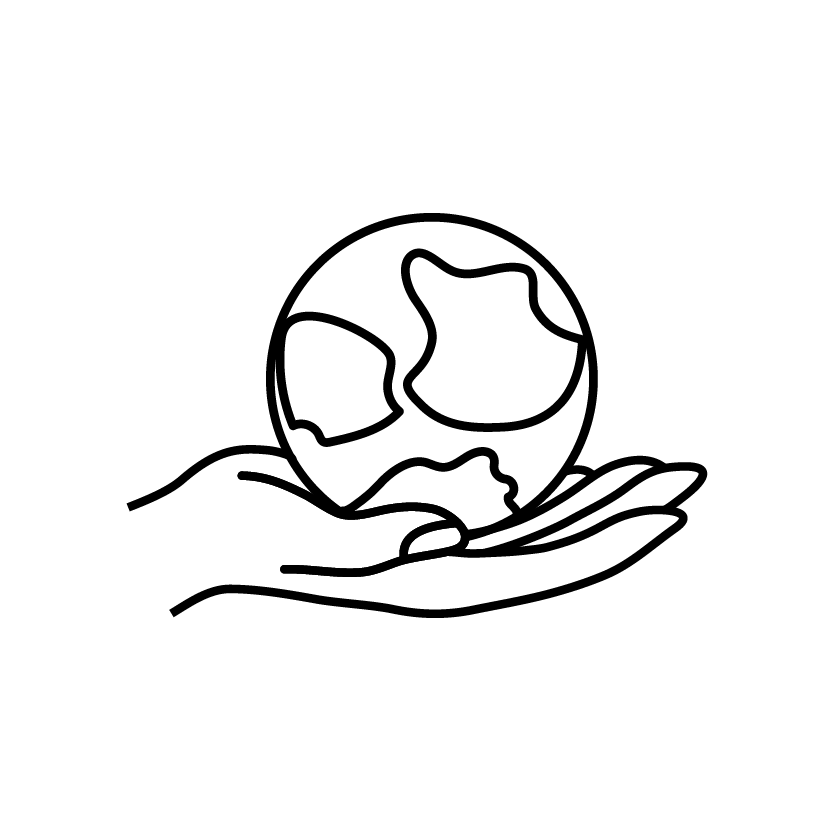 Give Back
Sanct is passionate about supporting local. We will always select local businesses, even at a higher price point if it means we can support the local garment industry in Australia. This includes our care cards (Sustainable Printing Co), Australian made cardboard boxes (PackQueen), Tissue and stickers (No Issue co) as well as working with Australian and NZ textile agents like Wall Fabrics, Melman, Saspac and Australian based fabric mills like MTK. As Sanct has just launched we don't currently work with a selected charity but give personally to charities we love and feel passionate about.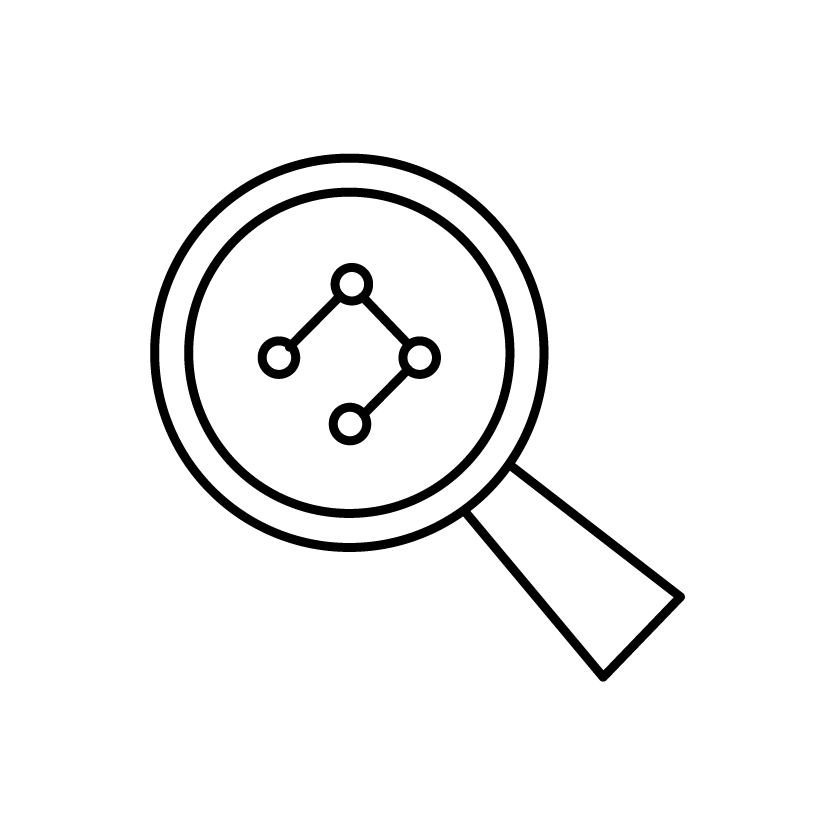 Transparent
We are really passionate about traceability and transparency. With so much misinformation out there, 'sustainability' has become a bit confusing. We like to do our research and give you all the info so you can decide if our pieces fit your values. Our garments each have a transparency section where you can see where we source each component. Generally, we like to use components with certifications that ensure traceability from plant to product. Due to their nature, we can't always trace recycled/deadstock fabrics in this way, however we try and gain as much information as we can and only source through trusted local agents. We can currently trace where our new fabrics (not deadstock), threads and elastics materials have been grown and manufactured. We are working on improving the traceability of our cotton brand/care labels by moving these to GOTS certified organic cotton rather than standard cotton.
Behind the Brand
"The current, standard fashion model is not set up to support sustainable, slow fashion practices. So gaining detailed and transparent information about materials can be difficult, because it's not the norm to ask and the information isn't often on hand. Accessing minimum order quantities for materials or CMT is difficult because it's not the norm to produce slowly, rather than mass produce".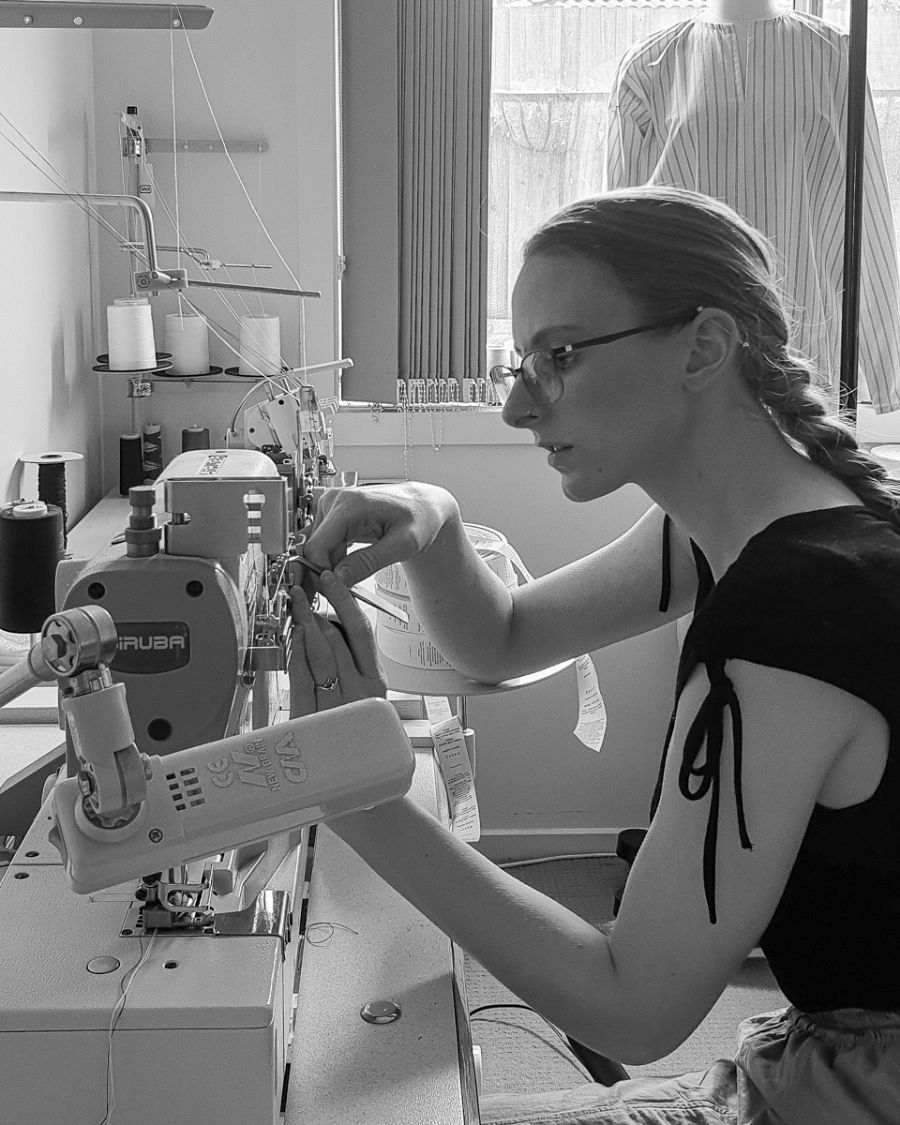 What made you start Sanct?
I have always been passionate about sustainable fashion. When I heard of the Rana Plaza collapse my heart broke, but unfortunately, I wasn't surprised. This wasn't the first wake up call I'd had that the fashion industry ruins lives. I thought I could help reshape the industry from the inside, but I quickly saw this as a lost cause after working for multiple companies where bullying and intimidation of staff was the norm in head office, and fair treatment for garment workers was a taboo topic.
My last official role was the first I actually enjoyed. I was getting to research and implement sustainable materials alternatives for my job. I learned more in this position than I had in all my other roles combined. This really inspired me. Until this point I had always said I would NEVER start my own label, I thought it would be too hard to do this with the values I would want to bring to it. But all the research and work I was doing started to show me how I could actually start an ethical label successfully.
I listened to A LOT of the Startup Creative podcast and decided to make a start. I eventually hired Kaylene as my business coach and quit my 9-5 to work on Sanct full time.
Do you have a morning routine? If so what is it you do to set yourself up for the day ahead?
I'm a Taurus, and I 100% identify with being SLEEPY. I'm not an early morning person, but when I do get up, I like to have a coffee and sit outside with my cat Poka.
I also like to do some restorative yoga and then afterwards meditate and address my fears for the day. I get out my pen and paper, light a candle and play some music for a bit of ambience, then brain dump any fear I'm feeling onto paper. After this, I write mantras addressing my fears. So if I'm feeling inadequate I might write 'i have so many tools to draw on to achieve my goal'. I'll write a mantra or many for each fear I've listed.
Sometimes I'll speak the mantras aloud if that feels right, other times I will just read them and sit with them until I start to feel the truth outweighs the fear.
What's the biggest barrier you've found to succeeding as a socially conscious business?
The current, standard fashion model is not set up to support sustainable, slow fashion practices. So gaining detailed and transparent information about materials can be difficult, because it's not the norm to ask and the information isn't often on hand. Accessing minimum order quantities for materials or CMT is difficult because it's not the norm to produce slowly, rather than mass produce.
Research into sustainability is also very complex and requires a lot of time and digging. I spend just as much time researching as I do designing, making and marketing combined.
Within the ethical fashion community, there's a big question that we ask which is 'who made my clothes?'. In the scope of Sanct, who made the things you sell? Can you tell us a bit about them?
My supply chain looks like this; I will make first samples and patterns and refine these until I'm happy. I then take these patterns to my ECA accredited pals RB Pattern Making who optimise my patterns and grade all my sizes.
I source all my fabrics currently from GOTS organic or deadstock sources. For my first collection, I worked with Shino Shouten's Japanese GOTS certified cotton, Wall Fabrics' deadstock cotton and my own sourced deadstock wool suiting.
The make of Sanct Season One was all in house. I made every piece myself in the Sanct studio on Wurundjeri Country (East Melbourne). In the future I will outsource some Sanct production, using ECA accredited factories in Melbourne.
Why did you pick the fabrics you have chosen to work with?
I choose my components for environmental and social impact as well as their transparency.
I like to use GOTS certified fabrics because the GOTS standard is rigorous and transparent through the use of transaction certificates that have to be independently verified at every stage of production. GOTS ensures environmental sustainability and fair treatment of workers with their provision of a living wage and freedom from discrimination/harassment.
I also use some GOTS certified cotton sewing threads.
I like to use 100% natural fibre deadstock fabrics to help take responsibility for some of the textile waste generated by the fashion industry.
I will only include 100% natural fabrics in Sanct collections so they are biodegradable at end of life.
The trims I use are also selected for environmental and social sustainability.
Sanct uses Lenzing Tencel sewing threads which are certified Cradle to Cradle Gold standard. This ensures the Tencel fibres from Lenzing are made into sewing threads with care for the environment, that they are biodegradable and the employees are paid a living wage.
We also use natural tree rubber elastic woven with GOTS organic cotton instead of your typical synthetic elastane.
Our elastic is biodegradable and woven together by a family business who obtain their electricity from an in-house hydroelectric power plant. Their heating energy comes from a private wood pellet heating power plant with the wood gathered from their own forest.
We chose to work with cotton brand labels and care labels instead of polyester ones. We made this choice so our garments would be fully biodegradable without components needing to be removed.
Our swing tags are FSC mix card and are attached with a natural, un-dyed cotton cord instead of your standard plastic cord. We source these from Avery Dennison who have transparent supply chains and sustainability initiatives with even more sustainability goals set to achieve by 2025.
Best piece of advice you have ever received?
'If not now, when?'
I can be a bit of a procrastinator when it comes to jumping into big change. This question always helps focus me and encourage me to take positive action, even if it will be challenging.
What's next for you and your company?
I will be expanding the size range to 8-26 for the next collection and will be working towards a system to offer custom sizing.
I am also working to establish a garment recycling system and take-back program for Sanct items at their end of life where they can be recycled into new fibers or composted.
Stay tuned!
One book and/or documentary everyone should read/watch? Why?
I'm not a huge non-fiction consumer of books/documentaries, I research A LOT online. However, I think everyone, especially those living in Australia should definitely pick up Dark Emu by Bruce Pascoe.
I read this book in 2020 and it opened my eyes the technologies and histories of First Nations people well before colonisation and how these were covered up by colonists.
I consumed this as an audiobook which Pascoe himself narrates and it is a very special experience.
Are there any other Movers & Shakers out there in your world that you think people should know about?
Laura Thompson and Sarah Sheridan who founded Clothing the Gap and the #freetheflag movement as well as being the directors of Spark Health, a social enterprise with resources to promote health for Aboriginal communities. These ladies are incredible and I assume, very busy!
I love what Courtney Holm has achieved at A.BCH, the amount of research behind their design choices is incredible.
Lois Hazel is another favourite for her supply transparency and commitment to sustainable values.