About
Who We Are
Setting the standards of tomorrow
Ethical Made Easy is a global platform that discovers, curates and amplifies the best conscious brands in the world today to help you adopt a more ethical lifestyle for tomorrow's world.

"Every time you spend money, you're casting a vote for the kind of world you want" – Anna Lappe.

In 2016, Jasmine was struggling to find a place that made it easy to find ethical brands and discover the stories behind them. She began documenting her search and quickly realised she wasn't the only one who wanted to uncover ethical brands (minus the uncertainty). So she created Ethical Made Easy.


Fast forward four years and Ethical Made Easy is a global platform that houses a refined curation of brands that are building a future we're excited by.Through our process of curation and analysis, we set the standard of what it means to be an ethical brand in tomorrow's world.


It's also a place that celebrates the stories of these ethical brands and the founders behind them. By telling these stories, we inspire our audience to connect and champion brands that are building a better future. We exist to make the process of selection simple, easy and inspiring.

Our journal features interviews with Movers and Shakers; it breaks down technical terms and fabrics in the fashion vernacular; it provides resources such as apps, books, documentaries and podcasts to continue your conscious education; it dives deep into important news stories and issues that affect all of us; plus we share some personal stories about our ethical journey so far.

We're so excited to have you here and we can't wait to welcome a better tomorrow with you.
Team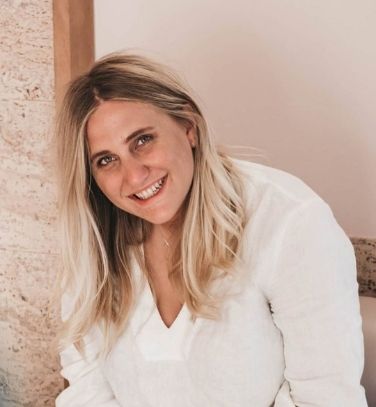 Jasmine Mayhead, Founder + Editor-In-Chief
Jas grew up on a flower farm in New Zealand's picturesque Bay of Plenty region. It was there she fell in love with nature and got her hands dirty helping out on the family flower farm. But it was a far cry from anything remotely related to fashion. In fact, Jas didn't even consider a career in the fashion industry until she started a little project on Instagram called Ethical Made Easy (you may have heard of it?).  It all started on a holiday in Cambodia. After bartering for a $9 handbag in a local street market, Jasmine returned to her hotel one evening and coincidentally watched The True Cost documentary. It opened her eyes to many of the injustices that occur in the fashion industry, and a fire grew in her belly. So she began documenting her search for the best ethical brands on Instagram. Somehow people related to her exploration into ethical fashion and joined her quest for a better tomorrow. You know the rest.
Jas is currently based in Melbourne, Australia . She enjoys a black coffee or chai, being in or by the ocean, hanging out with her bunny Skip, dressing for the weather she wants not the weather she has (thanks Melbourne), weekends spent offline camping, a good book that makes you forget time - she's not fussy as to whether it's fiction or not, and being around people who believe in a better world. When she's not working on Ethical Made Easy you can find her here.
Contributors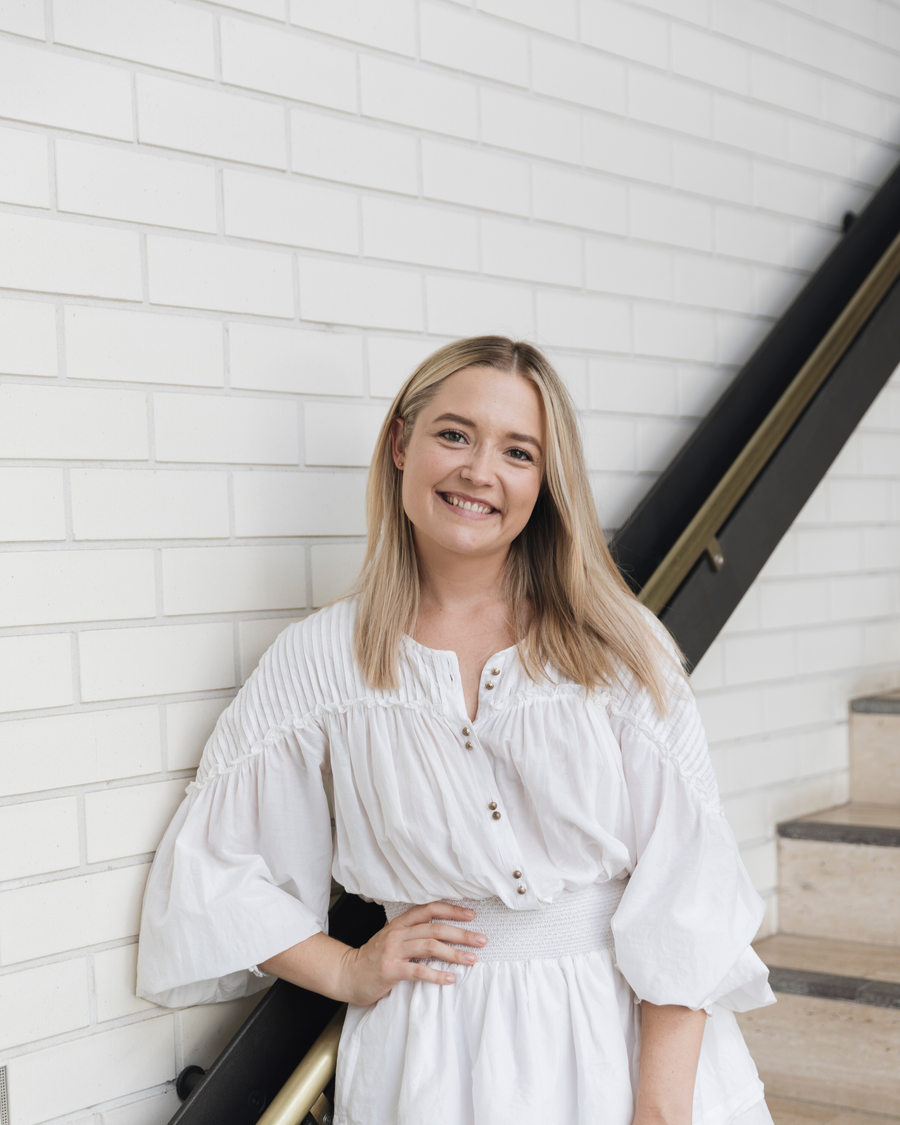 Caitlyn Spanner, Editor
Favourite resource: Let My People Go Surfing, Yvon Chouinard
Loves: Her dogs (Ziggy and Diego), a hoppy IPA, black coffee, gardening, a good book/podcast, loungewear that passes as daywear, cheese boards, telling stories about people who want to change the world
Her first introduction to ethical fashion:
A sustainable fashion subject at university (QUT) and her quest for the perfect basic tee (and all the rabbit holes she fell down while searching for it)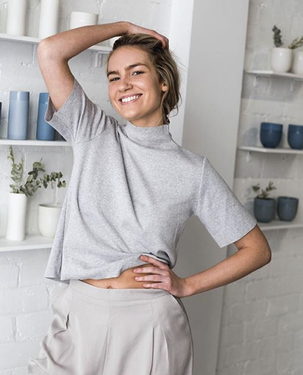 Gabi Goddard, Contributer
Growing up with a fashion designer for a mum had its pitfalls; You had to watch for stray needles that found their way round the house and into places with heavy foot-traffic (or, you know, your pillow). But it had it's upsides; by the age of ten developing the mundane superpower of spotting a silk cotton blend from ten metres away. It also grew a life-long love of creative sartorial expression in Gabi. Aside from that, she has an interest in arranging words into sentences which pushed her to study creative writing, which she's currently doing at snail's pace at UTS. Gabi cares deeply about protecting the Earth we've been entrusted with, and treating every human on it with dignity. She combines her passion for all these things to bring you articles focussed on how you can be ethical and sustainable in your fashion choices without exclusively wearing undyed hemp made from your own marijuana plot.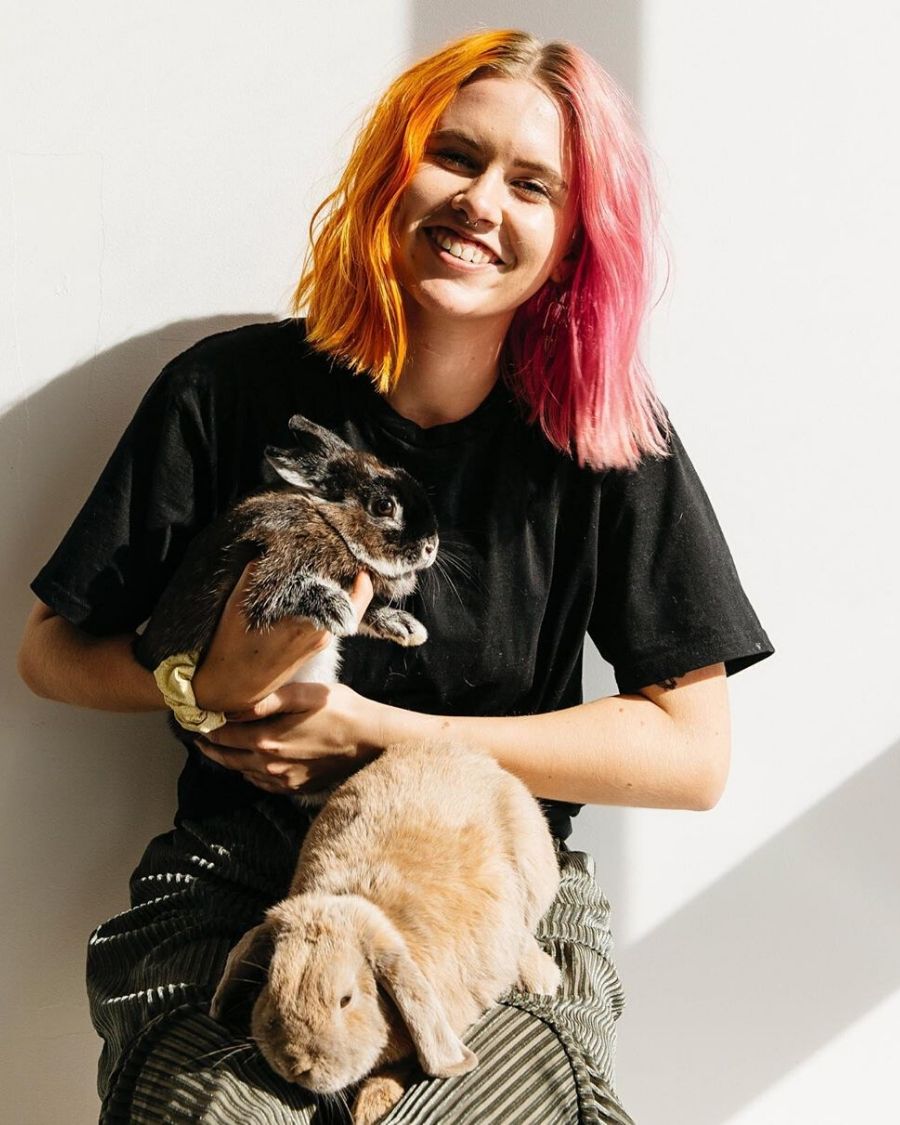 Emily Seerup, Contributer
Em always had a love for animals and the world, and lived a pretty sustainable life - or so she thought. But it wasn't until spending her early years as a hairdresser working for one of Melbourne's top - and least ethical - salons that her eyes were opened to just how much needed to change. Finding herself hitting her head against a brick wall trying to make a difference from within, she went on the hunt for something better. Then she found Bob - a vegan, zero-waste and low-toxic salon that cares about making good choices, and shares her passion for creating beautiful hair without harming the Earth.  Years of informative conversations surrounding sustainability inside, and outside of the hair industry have made her more considerate of living ethically in all aspects of life.
A dual passion for putting scissors to hair and pen to paper (or keyboard stroke to word document) led Em here - educating the EME community about reaching the #hairgoals of your dreams, whilst caring about health. Yours, and the planets. She promises a good hair day feels, and looks so much better when it's achieved consciously.
Free eBook + Checklist - Everything you need to know about building a more ethical and sustainable wardrobe (without having to spend all your money).