A minimalist's approach to beauty: How and why you should simplify your beauty routine
Minimalism is a method and practice that you can apply to all areas of your life to avoid the literal and metaphorical clutter that comes with living in a consumer-driven world. If you haven't heard of Marie Kondo and her book 'The Life-Changing Magic of Tidying Up', minimalism is deciding what's important to you (or what sparks joy), clearing space for it, and prioritising what you really care about. It's also been described as a way to reduce distractions so one can do more of what matters, according to Anthony Ongaro from Break the Twitch. What began as an artistic movement has morphed into a way of living more, with less stuff. In this case, we're talking about beauty stuff. We're here to help you Marie Kondo (yep, she's so famous her name has become a verb) your beauty cabinet so you too can reduce distractions and clutter to do more of the things you care about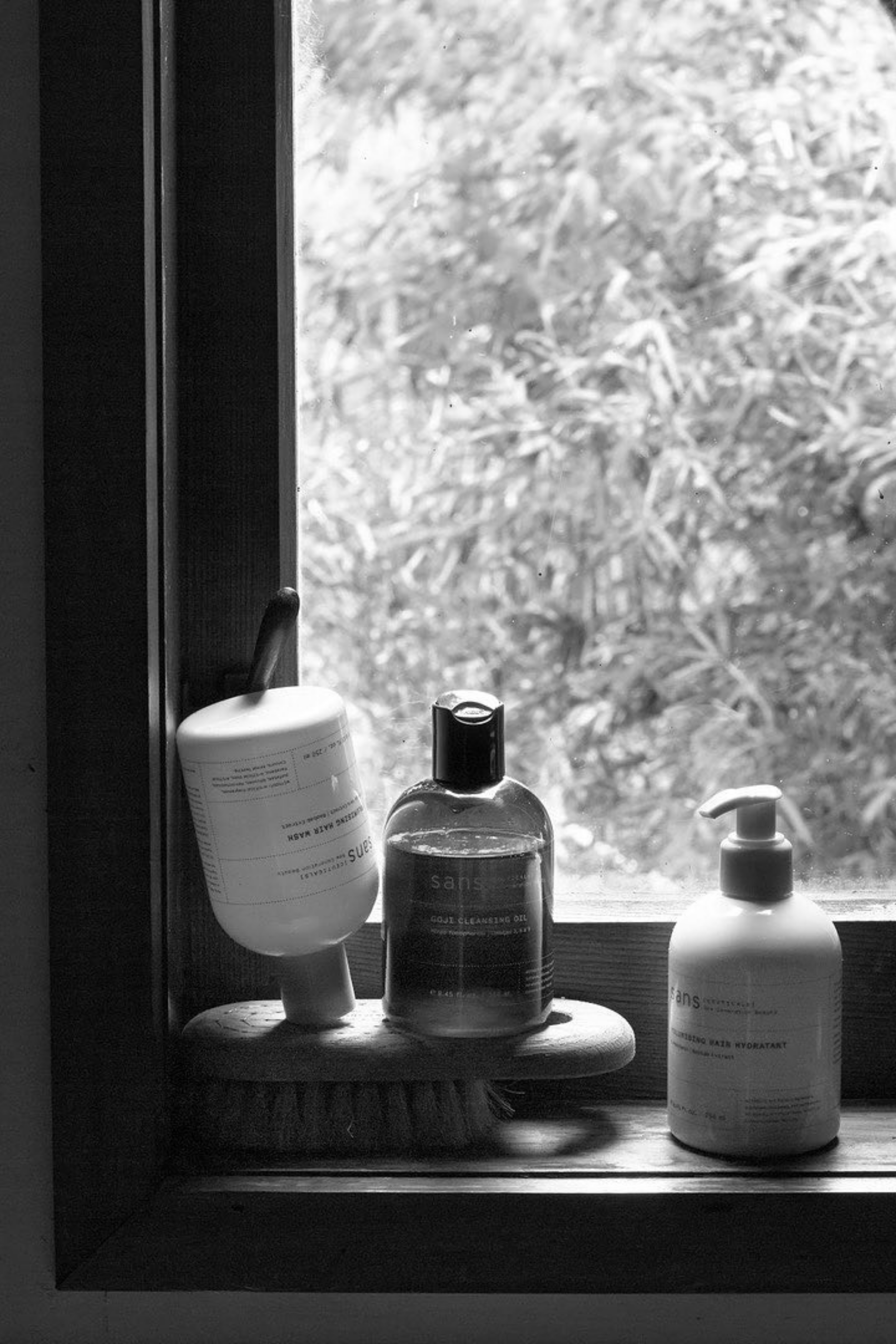 Image by one of our fave natural beauty brands Sans Ceuticals.
Minimalism is a method and practice that you can apply to all areas of your life to avoid the literal and metaphorical clutter that comes with living in a consumer-driven world. If you haven't heard of Marie Kondo and her book 'The Life-Changing Magic of Tidying Up', minimalism is deciding what's important to you (or what sparks joy), clearing space for it, and prioritising what you really care about. It's also been described as a way to reduce distractions so one can do more of what matters, according to Anthony Ongaro from Break the Twitch. What began as an artistic movement has morphed into a way of living more, with less stuff. In this case, we're talking about beauty stuff. We're here to help you take a minimalist's approach to beauty by simplifying your beauty cabinet and beauty routine, so you too can reduce distractions and clutter to do more of the things you care about.
The highs (and lows) of buying 'stuff' for my beauty routine

We've all had the serotonin rush when you add something to your cart, or eagle eye the postman from your window as they walk up to your door carrying a delightfully mysterious package, because you've ordered so many deliveries you have no idea what's even coming anymore. But then as fast as the rush comes, it's gone. Because despite owning the eyeshadow palette and spending hours on YouTube you can't quite recreate that look (maybe it's all in the lighting, afterall). You've done your new clay face mask twice, and now it's in the back of the bathroom drawer because your skin didn't miraculously change and you don't magically feel better after sitting in the bath with a glass of wine for an hour in the name of self care.
Why should I take a minimalist's approach to beauty?

Instant gratification is just that—instant. In a world saturated by clever marketing and social media influencers telling you to buy, buy, buy, it's hard to resist, but we promise that a minimal beauty routine has its benefits.
Marie Kondo's book 'The Life-Changing Magic of Tidying Up' exploded across the stratosphere with her radical way of decluttering, the KonMari Method. The KonMari Method allows you to keep items for only two reasons:
They spark joy
They have a purpose
We don't know about you, but that ten year old purple liquid eyeliner that was opened once isn't sparking joy.
Sorting through your skincare, makeup, body lotions and hair products can seem intimidating but making space for what you actually use brings clarity to your mind and beauty cabinet, and makes you a more conscious consumer. Now that you know what you're using, you'll know what not to impulse buy again. Big ups for your budget and the planet.
How to simplify my beauty routine sustainably

In your KonMari mission, we obviously want you to think sustainably. Do you know someone you can give it to? Great. Can you sell it on Facebook Marketplace? Awesome. Can you clean out a tub and use it for storage? Perfect.
You're probably still going to have a lot of stuff that you assume can only go to landfill. Old and expired products, broken containers, things no one in your life will take off your hands because they are just plain ugly. It's okay! There is a solution.
TerraCycle has been working since 2001 to create waste solutions for recyclable and non recyclable products. You can order one of their Zero Waste Boxes and fill it with all of your cleaned out old products, then send it to be recycled in their Beauty Products Stream. They are quite pricey, but if you have a L'Occitane store nearby they accept all old products for free through their partnership with TerraCycle.

Why the benefits of minimising my beauty routine goes skin deep

"The thing about this industry is that it always wants to convince you that you need MORE. That you aren't capable of experiencing the shine, the beauty, the light in you unless you have the new hot thing they're offering. They'll tell you it's the new best thing that you can't live without, and then the trend will change and suddenly you're looking at a bathroom cupboard full of things you 'might use one day' and an empty space in your heart that is still searching for what they tried to sell you in the first place."
– Montana Lower, Creator of BLUEM Skincare.
VICE spoke to ten dermatologists about minimal skincare routines, and why using 25 different cleansers, toners and serums for targeted issues is actually complicating the problem. Here's what LA based doctor Rachel Cayce said:
"Patients will come in and tell me they have one kind of cleanser for the day, another for the night, toner, spot treatments, some sort of oil, some kind of antioxidant cream, a facial brush, which usually makes acne worse—just a ton of stuff. I see 30 patients a day and I'm having this conversation with 15 of them. Usually what I'm doing is just decreasing their products."
What we're putting on our face is just one element of a glowing complexion. Eating well, reducing stress (or trying, thx 2021) and drinking water can help nourish your skin from the inside out. It's also important to remember that skin is so individual. What worked for your friend, your sister, or the TikTokker you love might not work for you, so do your research before you go buying an arsenal of products that could just end up causing breakouts.
The lesson: you probably don't need as much stuff as you think you do. And if your skin is playing up regardless of how much water you drink or how many products you use (or don't use), it's probably best to get in touch with an expert.
How to adopt a minimal beauty routine from the get-go

Now that you've decluttered your drawers and discovered whether your products are working or not, what about when you're ready to get something new?
Have a browse through the beauty brands we trust, and if there's a company you think we should know about that's not on there, let us know.