How to make a living, living with Nina Karnikowski.
We were so encapsulated by travel writer and author Nina Karnikowski's new book, Make a Living Living that we just had to pick her brains about giving up the 9-5 and pursuing a life she loves. In this interview Nina shares her favourite travel destinations and the best advice she's ever received from one of her favourite authors. Warning: This may convince you to quit your 9-5.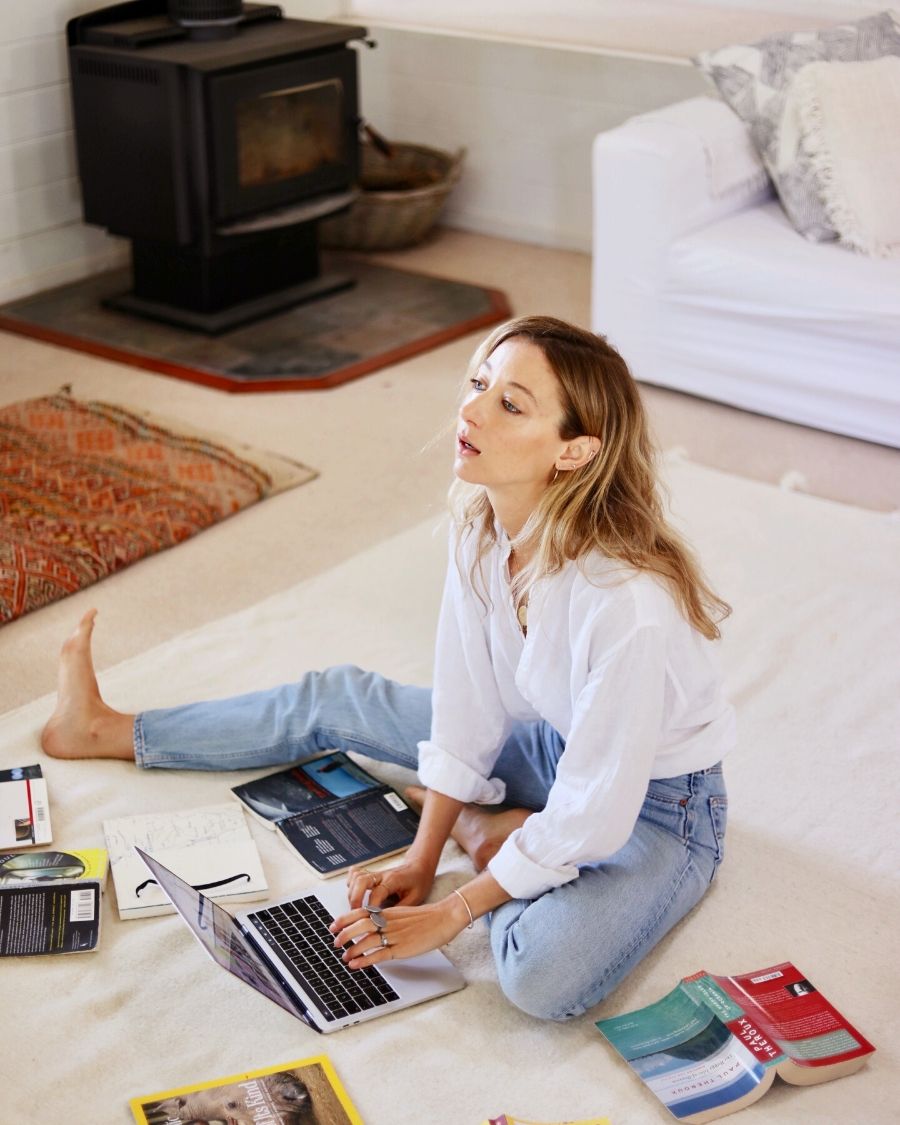 We were so encapsulated by travel writer and author Nina Karnikowski's new book, Make a Living Living that we just had to pick her brains about giving up the 9-5 and pursuing a life she loves.

In this interview Nina shares her favourite travel destinations and the best advice she's ever received from one of her favourite authors.
Warning: This may convince you to quit your 9-5.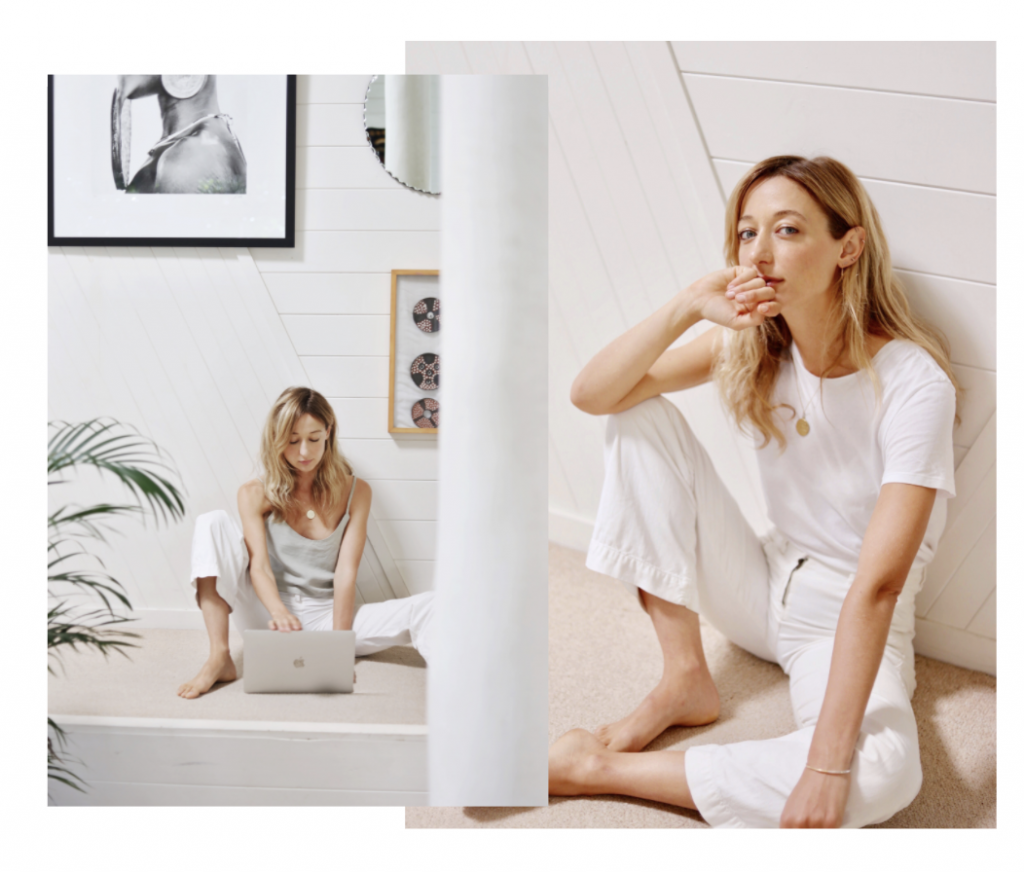 Nina, your book has become a consistent go-to at EME HQ, what made you come up with the idea to write a book where the focus is on being successful doing what you love?
Being a travel writer, I get asked so often how I make a living from travelling, and how the people asking me can do it too. This made me start thinking about how many people out there are working jobs they don't love, to buy things they don't need, and are stuck in this endless unhappy cycle of work, earn, spend. Meanwhile, they're looking to find an alternative way to make a living but usually either don't know where to start, or don't believe that making this change is possible for them.

So, I decided to write a book that shows what goes on behind the scenes for people who make a living out of things we think of as hobbies – like chocolate making, pottery, art and knitting. I wanted to show both the hard work, determination and sacrifices that it takes to turn your side hustle into a job that pays the bills, but also prove that it can be easier to take the leap than people might imagine.


How do you define success?
Success, to me, means freedom. It means being free to build a creatively fulfilling career on your own terms, while managing to pay the bills, and having some money left over to share with others and also to invest back into your craft. It means having enough time, money and energy to be able to explore the world, and to feed yourself well with good food, good books and good ideas. It also means having enough time free to find balance in your life, and do the things that ignite you. A good life is so much more than a large bank balance.


What are your top three must-see destinations? Why?
INDIA. My husband and I lived in Mumbai for a year in 2013 and the country changed us both. Whether you're visiting yoga ashrams in Rishikesh where the Beatles found enlightenment, hiking to Buddhist monasteries through lunar-like landscapes in Ladakh in the far north, or having your astrology chart read by a sadhu on the banks of the Ganges in Varanasi, India will get inside your soul the way a pebble gets in your shoe. It will wake you up to what's really important in life.

ETHIOPIA. The home of coffee, the Queen of Sheba and the oldest known ancestor on the planet, Ethiopia is the only African nation to have escaped European colonialism, which means it offers travellers a richness of culture that is unlike anywhere else on the African continent. I took my husband there as a surprise for his 40th birthday. From meeting the remote tribes of the Omo Valley in the south and dancing the night away in Ethiopian jazz clubs in Addis Ababa, to exploring the 900-year-old rock-hewn churches of Lalibela and hiking alongside gelada baboons and Ethiopian wolves in the Simien Mountains, Ethiopia is a country that surprises and delights at every turn.

NAMIBIA. I spent a few weeks road tripping through Namibia last year for a travel writing assignment, visiting tribes, exploring the wild Skeleton Coast and climbing the world's tallest sand dunes in the desert. Realising the vital role wildlife and landscapes played in attracting tourism, Namibia was the first nation in the world to write provisions for environmental protection and conservation of natural resources into its constitution. Community conservancies and privately-owned nature reserves now cover about a sixth of the country's entire land mass, and it's wonderful to know your tourism dollar is going towards this when you're travelling there. Namibia filled me with inspiration for how every country in the world could be using tourism in a symbiotic way, inspiring travellers and opening their minds while also enhancing education and financially benefiting local people, and saving the environment.


How did you come across those that you've featured in your book? Was there a specific process?
I made a list of creatives I'd admired online, as well as a list of inspiring makers I'd met in person either on my travels or at home in Australia. I also did a callout on Instagram, and asked some of my most creative friends who they thought I should speak to. I left some room for chance too. A month from deadline I still had one spot to fill, I was travelling in India and had a feeling I'd meet my final subject there. Sure enough, I was eating breakfast at my hotel in Mumbai one morning and started talking to a beautiful Tanzanian woman who turned out to be a successful fine art photographer who ran an artist's residency in Tanzania, and had a wonderful story to tell.

I wanted an expansive geographic reach so I also made sure most continents were represented, as well as both genders and those with and without kids. I then did a preliminary interview with each subject to make sure they didn't have any sort of financial privilege holding them up. I wanted all the subjects to be self-made, and to prove to the reader that this really is possible for anybody, no matter what their situation.

What or who inspires you to do what you do on a daily basis?
The greatest inspiration for me is stillness. Creating that space each day to just sit and breathe. Without all the external noise that comes from living in a tech-addled world, I find I can get in touch with thoughts and ideas that I wouldn't be able to reach any other way. When it comes to travel writing, my favourite author is Pico Iyer, inviting readers to explore both inner and outer worlds. He reminds me that the best journeys often arise from going nowhere at all.


Best piece of advice you've ever received?
"Write only those things you would be embarrassed to admit and to publish, then publish them." I met another of my favourite authors, the inimitable DBC Pierre, at a reading in 2010. Blushing like a lovesick teen, I asked him to sign a copy of his latest book Lights Out in Wonderland, with some guidance for an aspiring author. His advice, which was basically just another way of saying "tell the truth", has underpinned every decent piece of writing and living I have done since.


One book everyone should read (besides your own)? Why?
Ocean Vuong's On Earth We Are Briefly Gorgeous. It is true and beautiful and will teach you everything you need to know about writing and life.
One documentary everyone should watch? Why?
Marion & Leonard, Words of Love, about the relationship between the musician and poet and Zen Buddhist Leonard Cohen and his lifelong muse Marianne Ihlen, and their time spent on the Greek island of Hydra in the 70s. It's beautifully shot, and reminded me about making a life that is all about creating fables for future generations.

What are your top three tips to make a living, living?
Be brave. Many of the subjects in my book had to take leaps of faith in order to do what they're now doing. Taking risks is the only way you learn and grow.

Simplify your life. It will leave you with more time, money and energy to discover the deeper meaning of your life and will give you more freedom.

Tell the truth. To yourself and to the world. People can sniff out a lack of authenticity, so unearth your truth and live it every day.


Who are three people in your world that you think we should all know about and support along their journey?
Nikki Reed. Nikki gave up a successful acting career to pursue a more authentic existence as a sustainable jewellery designer, with her beautiful brand Bayou With Love. She uses gold salvaged from old computers and air pollution to create some of her pieces, and is a committed environmental activist who will make you want to do better for our one wild and precious home.

Nathalie Kelley. One of my oldest and dearest friends who stars in the sweet and uplifting show Baker and the Beauty, and who is also a committed environmentalist. Her page is filled with accessible ideas for how to live more lightly on the earth, and it's fascinating to watch her transformation into a more conscious, heart-centred human.

Sahar Zadah. Another soul sister whose work as a transpersonal therapist and meditation teacher touches many in the community I live in Byron Bay. Luckily, social media means we can all access her wise thoughts regularly and she has recently opened up to doing virtual sessions, so get in quick.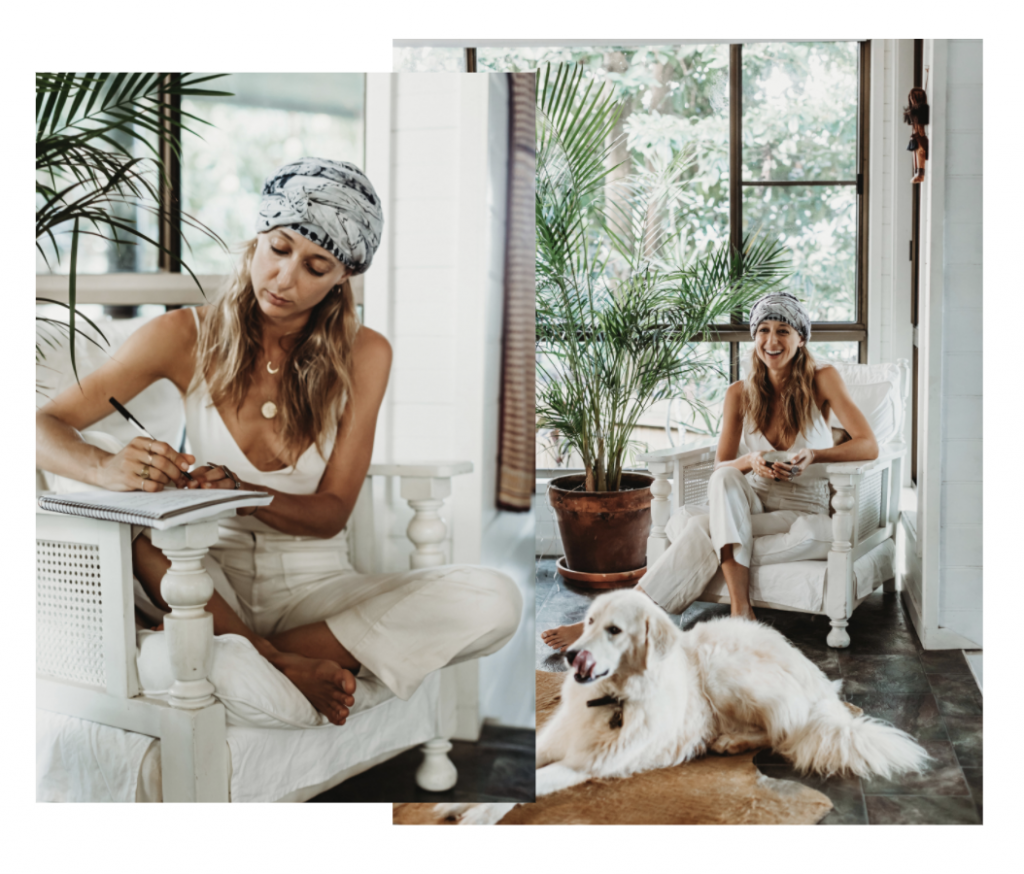 Grab your copy of Nina's book Make a Living Living: Be Successful Doing What You Love ($30, Laurence King Publishing), thamesandhudson.com.au.
Imagery by Bridget Wood and Peter Windrim.