A growing list of ethical, sustainable and timeless dress brands you'll be proud to outfit repeat.
The traditional fast fashion model has caused an over-saturation of both cheaply made goods and unsustainable processes of garment creation, and the shift towards weekly trends has not helped to stop this. This is why it's so incredibly important to normalise the re-wearing of clothes. We've put together a list of seven Australian and New Zealand-based brands ethically and sustainable making completely re-wearable dresses you will be proud to wear time and time again. Whether it's a classic shirt dress that you wear to work week after week or a little black dress for weddings and after work drinks, you'll be proud to outfit repeat these dresses.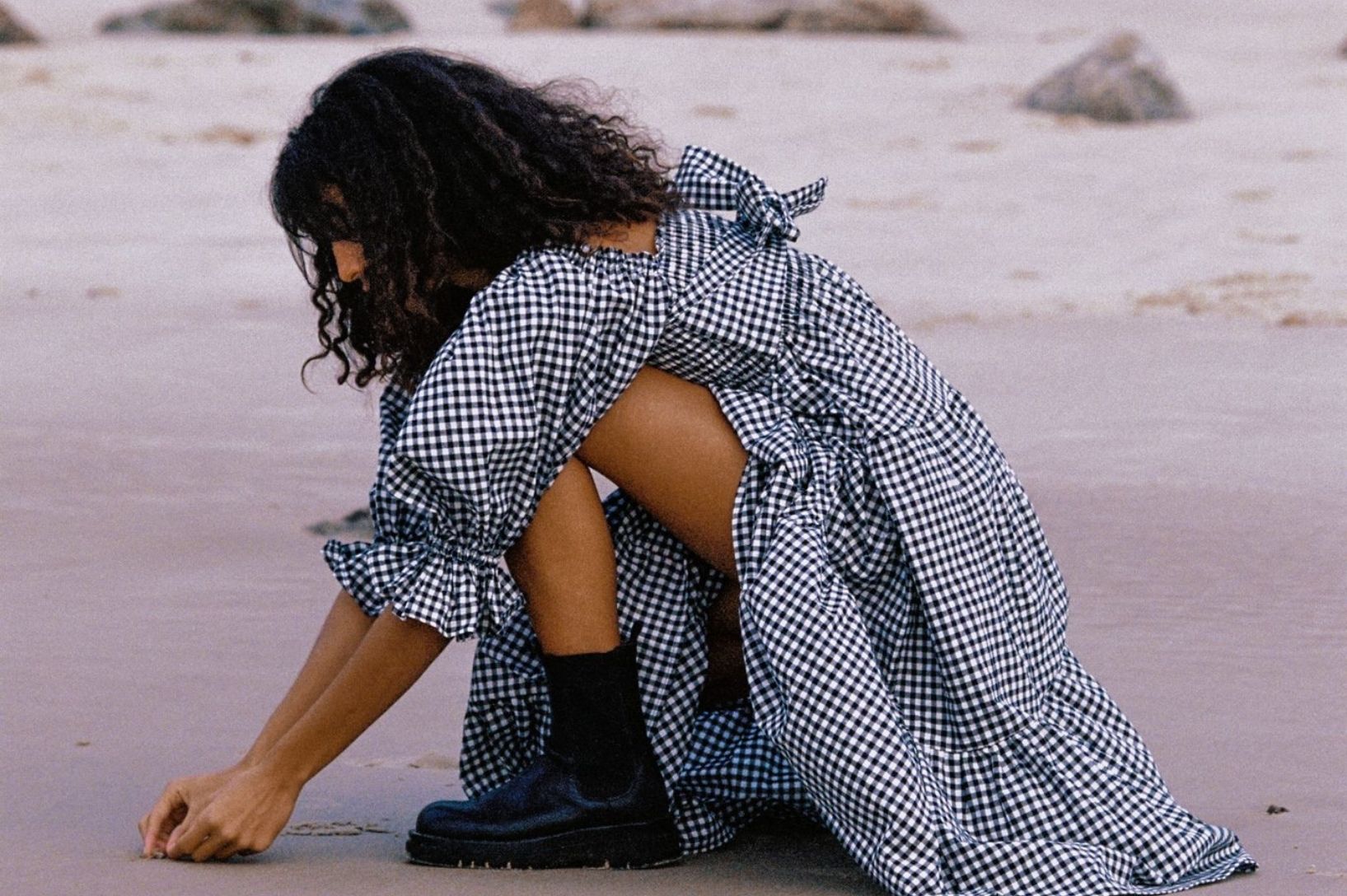 Location | Australia

There's probably nothing more satisfying to us than seeing a brand adopt sustainable practices to produce ethical patterned dresses we would happily wear every day of the year, and Alcana is one of them. Alcana preserves the traditions of the artisans who create their sustainable dresses by weaving (literally and figuratively) their traditional textiles into them. Amongst Alcana's array of dresses, including their organic cotton kaftans, linen maxi dresses, and hand-made midi dresses, you will find one that suits your own personal style, taste and ethics.
SHOP ALCANA, and take 10% off using the code 'EME10'


---
Location | Australia
BAIIA stands for "one who has the capacity to change the world for the better", and we can't help but agree with how well this fits with the company's ethos. This is a label that encompasses the idea of creating versatile swimwear for women by using recycled plastic that would otherwise be polluting our precious land and ocean, and clogging up our eco systems.
The fabric used to create BAIIA's swimwear is certified Standard 100 by OEKO-TEX, and since their move into resortwear, they have chosen to opt for cotton to create their timeless ethical and sustainable dresses. Their dyes are water-based and have been certified by the GOTS (Global Organic Textiles Standards), OEKO-TEX, and CLEAR TO WEAR. The garments are made by seamstresses in a Chinese factory that is completely child labour free, and provides its workers with holiday leave, sick pay, and a living wage (hallelujah!).

SHOP BAIIA, and take 10% off using 'EME10'.


---
Location | Australia

We may be Bias, but we've Basic-ally fallen in love with yet another sustainable fashion label crafting colourful ethical and sustainable dresses. There are three core styles in the Bias Basics collection with various shades to choose from, including rockpool, shell, sea, and algae, and the multi-functionality of each respective piece reflects this company's absolute commitment to sustainability and positive change. One of Bias Basics' core styles is the slip dress, a timeless, versatile, layer-able midi dress that suits every body shape, every taste, every style and every season. Go have a squiz if you don't believe us.

SHOP BIAS BASICS, and take 20% off using the code 'EME'.



---
Location | Australia

If you like being complimented, Bilboa is a brand to look at for your next colourful ethical and sustainable dress purchase. Unlike big fashion houses who design and then find the fabric to match, Bilboa designs for the fabric they have available. The hand-crafted garments are fun but flattering – in Bilboa's own words, 'elegant yet quirky'. We can all but guarantee these clothes will draw appreciative attention, and their collection of sustainable dresses – including cotton rib mini dresses, hemp/cotton maxi dresses and linen smock dresses – is no exception.

SHOP BILBOA, and use the code 'EME10' for 10% off.


---
Location | Australia

Bird + Kite is an ethical clothing company based in Bali that does female empowerment, fair working conditions, preservation of traditional artisan techniques, and charitable giving extremely well. Do you know what else they do well? Sustainable bohemian dresses. Bird + Kite has a beautiful range of dresses on offer, including cotton smock dresses, linen wrap dresses and full length cotton dresses, amongst many others. Head on over to check the range out for yourself.

---
Location | Australia

Founded in 2021, days of grace is a Melbourne-based ethically and socially conscious fashion label "built on a love for beauty, social justice, creativity, healing and restoration." The well-made, hand-crafted garments bearing the days of grace name – including the exquisite collection of ethically-made dresses – are a testament to this philosophy.

The days of grace garments are crafted sustainably and ethically. Currently, days of grace employs one seamstress (who is paid above award wages) who brings all of the incredible designs to life. Cotton, organic cotton, eucalyptus, silk and linen are the natural fabrics used to bring the selection of days of grace women's dresses to life, and deadstock fabrics – leftover, unwanted or unused fabrics sourced from other manufacturers and designers – are utilised, too.

This Australian ethical fashion company is small but mighty, and the team is ensuring that every part of the business is as ethically and sustainably conscious as possible.
SHOP days of grace, and use 'EME10' for 10% off.


---
Location | New Zealand

Latin for 'existence' or 'to be', Esse was the name chosen to represent a brand whose focus was to invoke thoughtfulness. Esse's design concept is beautiful, classic investment pieces, all of which seem to mix and match perfectly, and their range of colourful ethical and sustainable dresses is no exception. Figure-hugging bamboo maxi dresses, organic cotton dropwaist dresses, and strappy Tencel midi dresses are a few of the beautiful styles included in Esse's range of ethical dresses, and there's one for every style, taste and budget.
SHOP ESSE, and use 'EME10' for 10% off.


---
Location | Australia

fredric is a Sydney-based ethical fashion label mindfully producing dynamic, engaging and playful women's clothing for those of us who want to tread a little lighter. Whilst other companies in the ethical and sustainable fashion sphere aim to produce garments that are classic and simple in their design, fredric's designs are playful and eye-catching and, of course, that don't cost the planet or its people to make. fredric's range of sustainable dresses, for example, are made up of GOTS certified organic cotton midi dresses and mini dresses, and each stays true to both fredric's design concept and commitment to sustainability.

---
Location | New Zealand
Not going to lie: we have a massive girl crush on Liam. Liam is a sustainable fashion label from New Zealand that is bringing beautiful, ethically-made, size inclusive garments to life from materials including ECONYL and European flax linen. With a range of ethically-made dresses to choose from, including maxi dresses, mini slip dresses and elegant full-length halter dresses, Liam has got a dress for every sustainably-minded gal. Oh, and Liam also sells all of the garments in their latest collection as patterns, so thanks to Liam Patterns, you can bring your very own hand-made dress to life in the comfort of your own home, and customize it as you see fit. Sustainable and stylish!

SHOP Liam, and use the code 'EME10' for 10% off.

Location | Australia
Layer/d is an ethical fashion company totally dedicated to providing conscious consumers with beautiful garments that do not cost the planet or its people to make, and their range of exquisite sustainably-made dresses is absolutely no exception. Satin cotton maxi dresses, patterned women's dresses and cotton maxi dresses are just a few of the dresses you can expect to find in Layer'd's range, and each supports local manufacturers, reduces wastage, and was made in adherence to an ethical mode of production. That's what we love to hear.

SHOP LAYER'D, and use the code 'EME10' for 10% off your first order.



---
Location | Australia
Ethical and sustainable dresses are Lois Hazel's jam, and every one of the collections has not been brought about without complete transparency; transparency on the sourcing of their materials, the production behind each individual element, and the craftsmanship that's gone into the creation of every piece.
Sustainable and ethical practices are at the core of Lois Hazel's ethos. In a commitment to minimise their waste they incorporate dead stock, organic, and completely traceable fabrics into their collections. Dead stock is not a common term, so here's the run down: it's essentially leftover fabric from garment factories that is considered to be pre-consumer waste. Lois Hazel's utilisation of this "waste" results in an array of multifunctional and versatile pieces that can ultimately be worn for years on end. That's a big thumbs up from us at EME.

SHOP LOIS HAZEL, and use the code 'EME10' for 10% off.



---
Location | Australia

The Luna + Sun linen midi dresses and maxi dresses need to be seen to be believed. Luna + Sun is a completely cruelty free, vegan friendly label, and does not use any silk, wool, cashmere, leather, or any other material that was once an animal's coat in their productions. Plant-based fabrics adhering to the Standard 100 by OEKO-TEX are used for the Luna + Sun garments, garments that are made with an Ethical Clothing Australia accredited Brisbane manufacturer that ensures appropriate pay and safe working conditions for all employees.
SHOP LUNA + SUN, and use the code EME for 15% off.


---
Location | Australia

Purpose-driven, sustainable, ethical and circular slow fashion brand madre natura is a Sydney-based company both crafting and designing with an optimistic outlook on the Australian fashion industry. Utilising crisp, subtle trims, quality and durable fabrics and natural and earthy colour palette, madre natura's gender-neutral designs, including the sustainable dresses bearing the madre natura name, are a credit to the ethical and sustainable fashion movement.

---
Location | New Zealand

MANE Project (Made At No Expense) is a New Zealand based company (founded in EME's founders' hometown, may we add), that is ethically and sustainably crafting high quality, on-trend, timeless and versatile garments that will be welcome additions to your sustainable wardrobe. Their colourful ethical and sustainable dresses range, for example, is made up of long sleeve floral midi dresses, full length puff sleeve cotton/linen dresses, and hypnotising mini dresses, and each has been designed with a season-less and trend-defying edge.

SHOP MANE PROJECT, and use 'EME10' for 10% off.


---
Location | Australia

One Fable is a Byron Bay-based ethical and sustainable company providing beautiful garments and homewares to the dreamers of the world. With the help of talented makers all across the globe, One Fable is driven by its commitment to simplicity and natural beauty, and the exquisite garments produced under the One Fable name – including a beautifully-crafted selection of ethical and sustainable dresses – are a testament to this. They are, in their own words, "always creating with love, intention, and respect for both fibre, and those who work with it around the globe", and we are so here for it.

SHOP ONE FABLE, and use the code 'EME10' for 10% off.

---
Location | Australia
Outland Denim is an Australian ethical clothing company that is completely re-defining what it means to do good business, as well as providing conscious consumers with a vast range of ethical and sustainable dresses. As well as using organic cotton, natural dyes, and eco-friendly packaging, Outland Denim educates, employs, and empowers vulnerable members of the Cambodian community, including victims of sex trafficking.
As Outland has grown, they have also been able to welcome staff from varied vulnerable backgrounds, and allow their business model to centre on four key pillars: training, living wages, opportunity, and education. Not only are their employees working in a safe environment and earning a living wage but the profits are also enabling Outland to provide education and personal enrichment programs for their staff, including budgeting, women's and infant health, computing, human trafficking awareness, English, and self defence.


SHOP OUTLAND DENIM , and use 'EME10' for 10% off.
---
Location | New Zealand

New Zealand-based boutique fashion label ReCreate is well and truly helping to shake up the fashion industry by pulling it into the ethical and sustainable lane. Not only is their clothing (including their ethical and sustainable dresses) made under excellent Fairtrade working conditions, but the brand also uses only certified organic fabrics that are sustainably produced from crop to customer. Oh, and did we mention ReCreate has also become a 100% circular company?

ReCreate really is re-creating the fashion industry for the better by providing its customers with quality, ethically made clothes, and its sewers with a better future. ReCreate is empowering their workers, not exploiting them, and they're leaving as little of a footprint on the earth in the process as possible.


SHOP RECREATE, and take 10% off using the code 'EME'





---
Location | Australia

Ricepaper The Label is a Melbourne-based ethical fashion company. Designed in Kensington and made in Abbotsford, Ricepaper The Label is a brand that operates as a direct reflection of their name: with complete transparency (clever, right?). Eve Walton-Healey, the genius behind Ricepaper, began the brand in 2017, and since then it has blossomed into a thriving company dedicated to crafting simple, elegant, and ethical pieces – including a beautiful range of sustainable midi, maxi and mini dresses – designed to remain in your wardrobe through seasons and trends.

SHOP RICEPAPER THE LABEL, and use 'Ethicalmadeeasy' for 10% off.

---
Location | Australia

Born from one woman's desire to ethically thread the Indonesian, Australian, and German cultures together, RUPAHAUS has become a company focusing on interweaving traditional artisan methods with ethical and sustainable methods fit for the modern world—methods crucial to the sustainability of our planet. RUPAHAUS' consciously curated range of ethical patterned dresses, for example, directly reflects the values by which the RUPAHAUS team operates.

SHOP RUPAHAUS, and use 'EME' for 10% off.

---
Location | Australia
Selfe Studios is a newly established Australian-based ethical fashion company placing an emphasis on slow and mindful production, and producing mindful essentials and ready-to-wear luxury lifestyle garments for the modern day woman.
Ethically designed and manufactured in Sydney, the ethical and sustainable dresses, tops, skirts and pants are made in collaboration with local industry at every stage of the process. Each "well-made" design is timeless, and features both a sculptured fit and beautiful artistry. What's more is in order to adhere to a slow mode of production, Selfe Studios releases fewer volumes throughout the year, and ensures every single garment will carry the wearer through the years, the trends and the seasons.


SHOP SELFE STUDIOS, and use 'EME' for 15% off.





---
Location | New Zealand

New Zealand based brand Seer & Wilde is wholly focused on mindfully producing timeless swimwear and resort essentials in an ethical and sustainable way, including a generous range of ethical made mini, maxi and midi dresses. This is a brand for the highly sensitive women, the fierce women, the women who feel too deeply, and the women who want to change the world. Seer & Wilde is a brand for all women, everywhere, from the ones who proudly craft the garments to the ones who wear them with pride.


SHOP SEER & WILDE, and use 'EME10' for 10% off.


---
Location | Australia

sticks + stone may break my bones but the label will never hurt me. That's how it goes, right? Well, whether it is or not, sticks + stone, the label hurts absolutely nothing in the creation process of their garments, from the consumers who buy their goodies to the workers who made the clothing to, of course, our incredible earth. So, if you're in the market for a sustainable dress that will defy seasons and trends (and bring plenty of compliments your way) sticks + stone is the ethical fashion label to see.

SHOP STICKS + STONE, and use 'EME10' for 10% off.

---
Location | Australia

Sorrentino Studios is a Melbourne-based slow fashion label producing garments with flare, and with a commitment to ethical and sustainable production, as well as minimal wastage. Their collection of women's dresses range from deadstock mini dresses to cotton-viscose blended maxi dresses, and thanks to their bold designs and unique embellishments, will draw the gaze wherever they (or you) go.

---
Location | India, Singapore

Based in India and Singapore, SUI is a sustainable fashion company consciously crafting trend-defying garments with as low an environmental impact as possible. Meaning "needle" in Hindi, SUI is all about connection: the connection between needle and thread, the connection between garment workers and the company they work for, and the connection between fashion and nature. All of SUI's dresses are eco-friendly, organic, sustainably made and ethically sourced, and each looks just as beautiful as the process in which it was created.
SHOP SUI, and use the code 'EME15 for 15% off your order.
Valid only to shoppers outside of India and Singapore.

---
Location | Indonesia

SukkhaCitta is an ethical fashion company wholly focused on empowerment, ethical and sustainable production and environmental responsibility, and this is reflected in each and every single way this great business operates. SukkhaCitta's colourful ethical and sustainable dresses, for example, are crafted from fabrics including eucalyptus fibre and handwoven raw cotton (amongst other natural fabrics), and were made by women who are creating a sustainable livelihood for themselves, their families and their communities.

---
Location | Australia

Tasi Travels is an Australian ethical fashion label producing "slow clothing for conscious wanderers." Tasi Travels utilises a range of eco-friendly fabrics to bring their ethical women's dresses to life, including Tencel and Lenzing Modal, and not only is each a breathable and durable material, but is made from wood pulp from certified sustainable forests. With floral midi dresses, bias cut Tencel dresses, and flattering wrap dresses, Tasi Travels has a dress for every sustainable wardrobe.

SHOP TASI TRAVELS, and use 'EME10' for 10% off your first order.


---
Location | Australia

"The ANJELMS Project aims to create collections ethically produced through sustainable and socially responsible practices while using fashion as a vehicle to protect and empower disadvantaged communities in India." Social responsibility, sustainable practices, uniqueness, community, and quality are the pillars by which The ANJELMS Project is supported, and it's just an added bonus that their garments – including their incredibly generous range of ethical patterned dresses – are as absolutely beautiful as the company's mindset.

SHOP THE ANJELMS PROJECT, and use 'EME10' for 10% off.


---
Location | Australia

The Hemp Temple is a brand that needs no introduction; their dreamy clothing completely speaks for itself and the way in which they conduct their business is one of the many reasons we love them so. They're also completely devoted to shedding light on and harnessing the power of hemp, not only from the viewpoint of a profitable business but also as a means of sustainable practice. Their fabric of choice, hemp, is one of the most sustainable fabrics available, and with The Hemp Temple's range of sustainable bohemian dresses as proof, is one of the most beautiful, too.

---
Location | Australia
The Rushing Hour is an Australian-based ethical fashion company that cares as much about the environment as it does for the craftsmanship of its garments, including its ethical and sustainable dresses. The Rushing Hour uses deadstock fabrics, recycled/repurposed materials, and organic and ethically-grown fabrics; doesn't use photoshop to alter their models; doesn't rush their production; and operates with complete transparency.

On the topic of transparency, The Rushing Hour doesn't use photoshop to alter their models, they don't rush their production, and they have even pulled the brand off a large fashion retailer because they didn't believe in mass-producing in order to stay relevant on their website. How's that for transparency.


SHOP THE RUSHING HOUR

---
Location | Australia
Z. The Label is an Australian ethical fashion company producing beautiful, made-to-order garments from quality, responsibly-sourced materials. After working in the fast fashion industry, Josi Jentzsch (Z. The Label's founder) wanted to "create a label that reduces its footprint and is consciously circulating money within the Australian economy." Every single order is made in the Gold Coast by a small (and local) team; a team that draws the patterns, cuts each piece, and sews every garment.

What's more is every piece bearing the Z. The Label name is breastfeeding friendly – with particular emphasis on their ethical and sustainable dresses – and although they aren't designed solely for current or expecting mummas, each garment is intended to travel with its wearer throughout all seasons of her life. Z. The Label is completely committed to ethical production, sustainability, local craftsmanship, and transparency, and this is obvious throughout every aspect of their processes.


SHOP Z. THE LABEL, and use 'EME10' for 10% off.


---
As you can probably tell, if there's one thing we love here at Ethical Made Easy, it's a good, re-wearable and timeless dress. By good, re-wearable and timeless we mean ethically-crafted from sustainably-sourced materials, and designed with "timeless" and "trans-seasonal" as the main criteria.
These 7 companies not only provide us with ethically and sustainable dresses dresses that are beautiful to look at, but the processes in which they were made will also make you a proud outfit repeater. To be able to tell the story of how a garment was made, rather than the criminally cheap sale price you purchased it at, will always be the more valuable conversation starter.
These brands won't just make you proud to be an outfit repeater, though; they will also save you time (when choosing what to wear, because it'll obviously be from one of them), and money (because they design timeless, trend-defying pieces that will last you for years to come).